BXT rewards are about to go LIVE!
This is a game changer for HIVE-DEFI, and I am very happy to be a part of this from the beginning.
Beeswap Token (BXT) is a token that will share the swap.hive:hive fees on their hugely successful side pool. Here's why you should use BeeSwap.
BXT distribution incentivizes bigger pools and more arb
There are some pretty high APRs right now, which should lead to the pools increasing in total liquidity, and drive the aprs down, resulting in a lot more money in the system. We will see how this works and how fast people are able to move into these pools.
There is a nice trifecta from BNB to BUSD between HIVE and HBD, which should make arb between binance chain increase.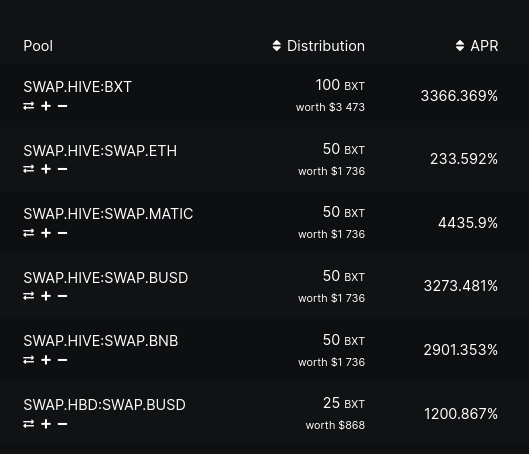 More arb = more volume = more fees
And more volume is good, since I got BeeSwap listed on DappRadar, new users could find out about HIVE and HIVE DEFI opportunities through this launch.
We also have some pools supporting SPS and DEC to swap.hive. These pools are more closely related to HIVE price but still enjoy some tremendous volatility and since they are listed on outside exchanges, good opportunities for arbitrage.
Don't forget our favorite, Swap.HIVE:SIM! Swap.HIVE:LEO is also getting a nice 400% apr bump, so that should help facilitate some more arbitrage through the LEO bridge, hopefully that can continue to get upgraded and work all the time.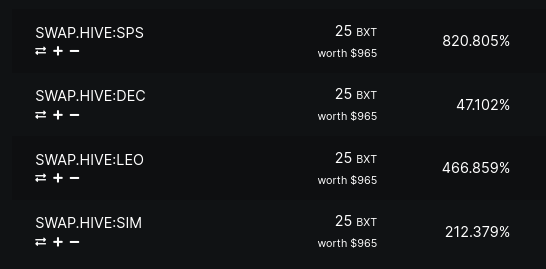 BeeSwap also has the richlist in its all new BXT tab - it doesn't include who is LP% in the Swap.HIVE:BXT pool though, maybe in a future update, or maybe it will be secret information 👀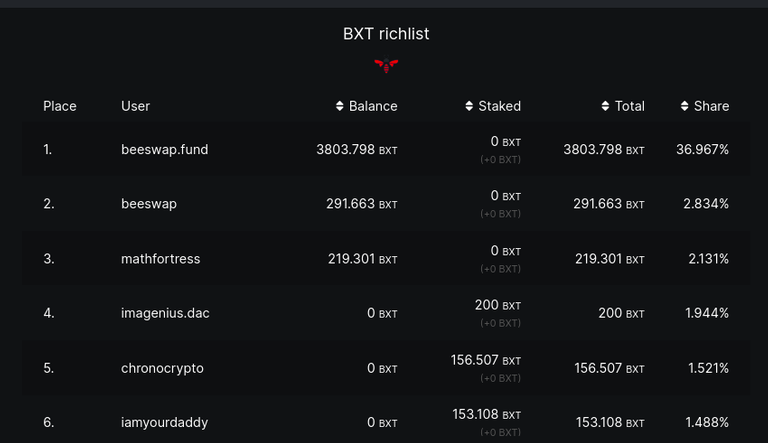 Let's talk about price.
After the first month of rewards there will be 20k BXT, and after the first year there will be 53k BXT. With these numbers we could calculate expected fees, but the wrench in the system is the Swap.HIVE:BXT pool rewards.

Here we have the reward pool information. 211.3 HIVE per day will be given out to BXT stakers, and currently 24.5% of the tokens are staked. This is probably because the staking apr is for now, way less than the Swap.HIVE:BXT pool APR, currently sitting at just under 3000% apr.

This will likely attract some attention, and keep the number of staked tokens relatively low even as the supply expands. This is a really clever mechanism for the token, as the only way people can get into the Swap.HIVE:BXT pool is to buy BXT, driving up the price.

BXT price has been driven up to 19 HIVE, even with HIVE pumping, or maybe precisely because of HIVE pumping, as the rewards are in HIVE.
Imagine what would happen if the fees over the next year 10x, which I think is completely possible if the incentivization of the specific reward pools leads to increased arbitrage opportunities.

For now, the Swap.HIVE:BXT pool is small, but its likely to suck up most of the new BXT inflation supply for quite a while.
500 per day BXT will be printed starting this week, 400 next week, 300 the following week, and 200 per day for the 4th week of promotion. From there on out, it will be just 100 BXT per day being printed.
Make your moves, plot your course, its going to be an explosive ride with BXT I think!
Freedom and Friendship!
---
---