dCity Starter Packs - Smallest cities to get started - ~10-15 HIVE cities
One of the fun things about dCity is getting started, but you have to spend some money, and getting started sucks when you don't have all the information, even though finding and experimenting about the information is fun.
Its really a math based game, some people use spreadsheets, I have developed some of my own heuristics to deal with the waves of numbers related to dCity.
I am about to call @apemingclub 3 HIVE experiment a failure. It is just way too slow and boring, and with 21 popularity has not mined a single citizen in the last month. So I am going to be revealing one of my smallest cities, and experimenting with it a little bit in this post - to create STARTER CITIES.
Here has been my staple - citizen miner city - for a long time.
33 park + 14 art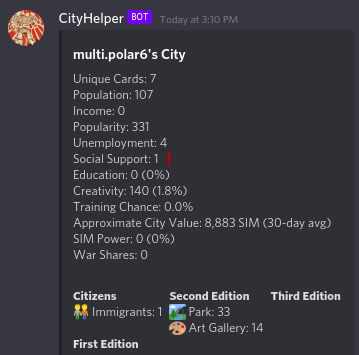 Parks can be grabbed for as low as 90 sim sometimes, and art galleries used to be a bit cheaper, but they are still about 390 sim, for a total cost of 8430 SIM, or about 10.1 HIVE.
This city doesn't mine a citizen every day, but most days it has a really good chance to do it! There is also a 1.8% chance each day to mine a background card! The LAKE is the most valuable background card currently, while Atlantis and Volcano are the rarest.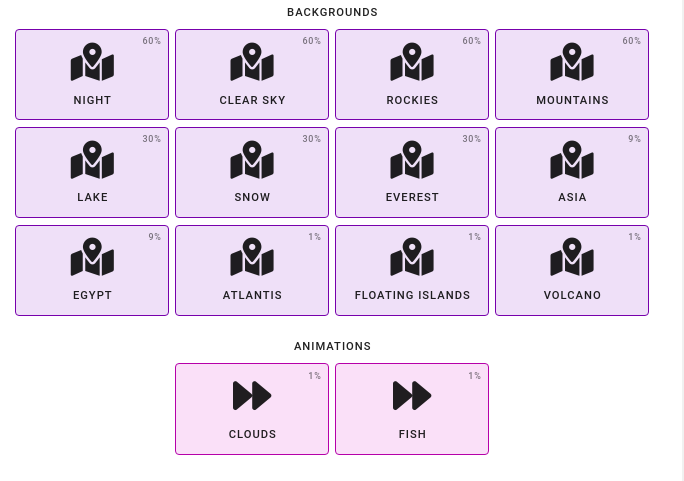 If we move away from creativity mining, the percentages drop down. Here's a small city with a 0.5% mining chance, plus a small SIM income each day: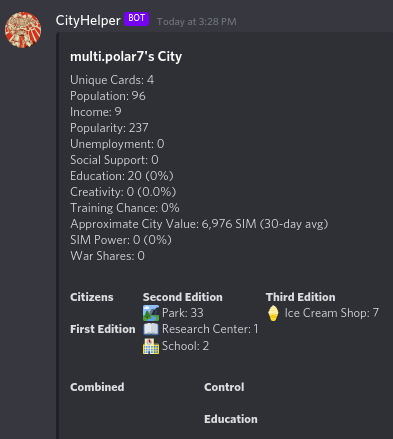 This city sports a 12% chance to catch a new citizen ever 2 hours, which makes me think that it will probably not bring in as much Net Profit as the previous model.
Cost:
33 Park @ 90 SIM = 2970
1 Research @ 600 SIM = 600 SIM
2 Schools @ 320 SIM = 640 SIM
7 Ice Cream Shops @ 525 SIM = 3675
Total: 7885 SIM = 9.462 HIVE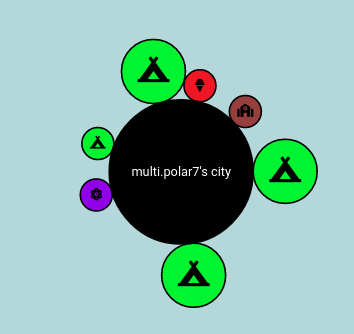 I think the real ROI for these lower investment amounts is not going to be the SIM income, which is currently at 8 SIM per day, only about 37% APR.
Could it possibly be profitable to do education mining?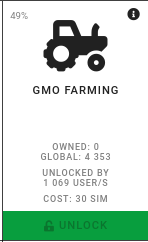 If any card could be profitable, its the GMO tech. It only costs 30 SIM to unlock, and you must have at least one research lab, but it is greatly in demand for the FARM CORPORATION combine, we will look at its market price in a bit.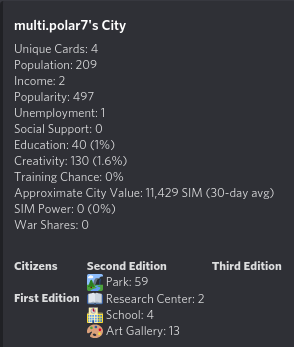 This city, apart from its 1.6% chance of mining a background card or animation every day, also has a 1% chance of a tech drop.
That's 1% chance of a GMO tech, for an expected value of 3.65 GMO techs per year.
They seem to be selling as high as 2000 sim, but sell immediately price of just 333 SIM. Looking at the chart it seems safe to assume that one could get rid of a GMO tech above 1000 SIM if one weren't in such a rush.
The cost of our city giving 1%?
Park 59 @ 90 SIM = 5310 SIM
Research 2 @ 600 SIM = 1200 SIM
School 4 @ 320 SIM = 640 SIM
Art Gallery 13 @ 390 SIM = 5070 SIM
Total: 12220 SIM = 14.664 HIVE
So if we expect to get 3.65 cards per year worth 1000 SIM, that would represent 3650 SIM/ 12220 SIM = 29.86% APR - of course if we sold them for 2000 SIM each it would be 59.7% APR!
If we dumped them at 333 sim we would be getting 9.9% APR.
So Tech Mining can be slightly profitable at this level. Since population gets cheaper the more popularity you have, its probably a better APR at a larger TECH mining %.
But this is about the largest the city needs to get to maximize the citizen mining APR.
This city is at the maximum range of attracting immigrants and homeless, on 99% of days they will be mined in a city like this (with equivalent popularity).
Immigrants are curently going for 42 sim, and Homeless for 32 sim on the market, which averages out to 37 SIM per day. Over a whole year that is 13505 SIM, yielding a 110% per year return on just the citizen mining!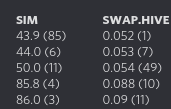 Of course this depends on citizens maintaining their SIM value, and I think this is reasonable, most of the population cards have been discontinued as part of first edition, and @gerber has announced that he has upcoming changes in store that will further use the citizen mechanics.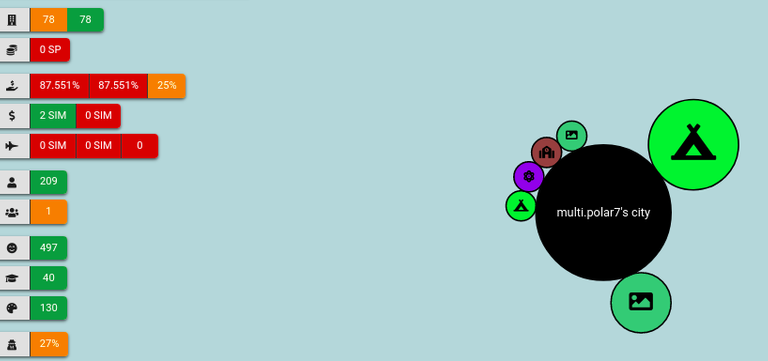 I have spent the 30 SIM to unlock the GMO tech for mining, and will be anxiously tracking this city. I plan to replace the current @apemingclub 3 HIVE challenge with something a little more exciting - a 15 HIVE challenge!
I am willing to sell start packs/starter cities at different sizes, leave me a comment down below if you are a new player and want to invest a small amount of HIVE.
Freedom and Friendship!
---
---