INCOME fund: HIVE-ENGINE portfolio analysis
This is an update for the INCOME Synergy Fund. See the most recent updates below, even though its only been 16 days since my last update, I want to break down today more about exactly how we are positioning to continue our growth during this bear market.
Positioning for Q4
Q3 2022 Update
INCOME token stronger than ever - NEW ABV calculations
Roadmap Complete!
Update to Linear Divvies
Fund Portfolio Update March 10, 2022
PsyberX Fund position Update
Fund automation projects and New Roadmap
Fund Portfolio Update October 6, 2021
Fund Reorg, final swaps from STEEM
In the previous update about Positioning for Q4, I mentioned that we continue to power up HIVE during this phase, so that we have a strong backbone and don't lose our footing during a future HIVE pump (being indexed to HIVE after all).
And we have continued to do that, yesterday I powered up 200 HIVE on @ecoinstats and calculated that we have just ~1350 HIVE to go to achieve our goal of 60k HIVE-backbone (of liquid HIVE, HP and HIVE SBI).
But as this bear market looks like its going to keep extending in the medium term, we have also taken some positions within our 'speculative' hive-engine portfolio, and its these that I want to review today.
Here are our main positions: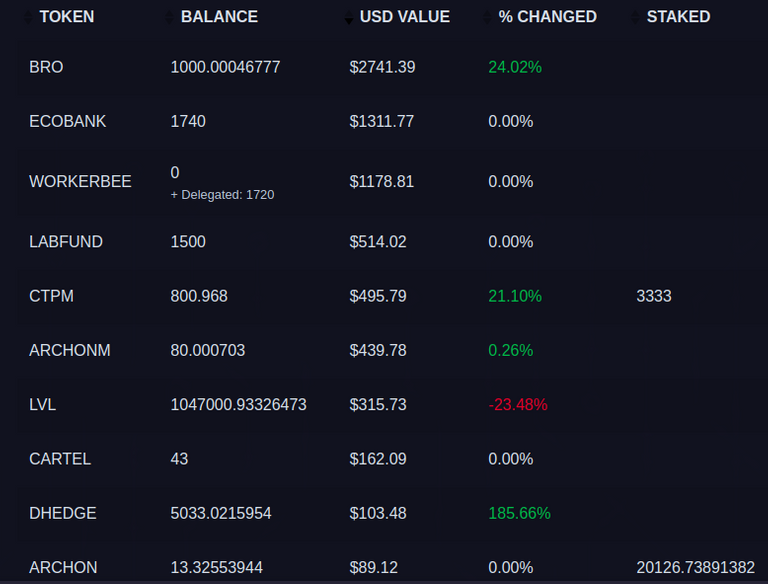 We have sold all our surplus BRO at this point, we are keeping 1000 on hand, I think this is fair as the votes from @brofi more than motivate us to stay in the Dragon's Club. We are also delegating 4000 HP to @brofi, which is giving us about 0.135 BRO per day right now, or almost a BRO per week.
We have accumulated 1750 ECOBANK tokens, we have 10 listed for sale 'making a market', but we are slow playing this one. While I would love to hold 10,000 ECOBANK tokens someday, I know that the time for accumulation of the ECOBANK tokens will be in the future when HIVE is expensive. I have patience, we can wait.
We still are hanging onto 1720 WORKERBEE tokens, they are producing a BEE or two per day through the @archonbank WORKERBEE mining pool. We support @locolombia as a Hive-Engine witness as a part of our network.
New selections for the portfolio
I've been blasting about LABFUND for days now, but in all honesty the opportunity is there to 3x the HIVE we put into this, there is no counter-party risk as I am managing it myself, and what else is there to do in this bear market? Even if we only manage to 2x because of SIM price weakness, its a win in my book.
I am going to try to accumulate 2000 for the fund before they run out or I close the market at the end of the month. There are less than 3000 left on the market!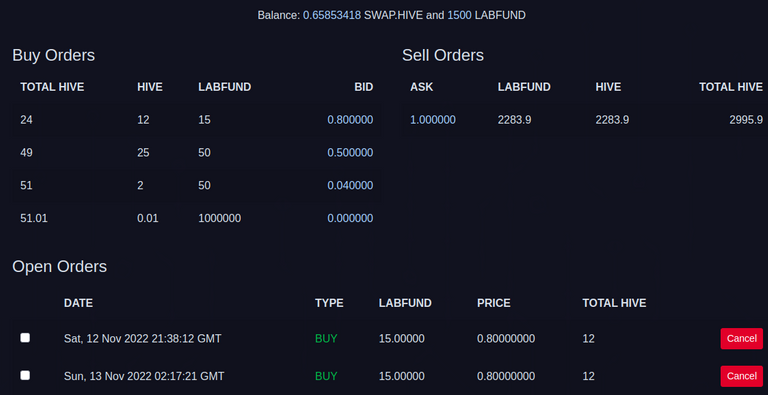 I'm not sure I will make it to 2000, since there are not too many places to find HIVE any more, I have worked this wallet pretty well over the last month.
Let's move on to CTPM. I am not sure if I have announced this publically before, but we took a big stake in the CTP tribe's miner tokens, CTPM. We bought 4999 CTPM at an internal price that I will not reveal here, but it is a position that is big enough that makes us want the best for the whole tribe - exactly how the Synergy Fund was designed.
The fund has staked 3333 CTPM in good faith of the potential of the tribe. I think we can get our initial money back and maybe a bit more from the rest of them, ideally making our 3333 miners a 'free ride'. Time and market forces will tell, but for now we are 'mining' CTP tokens and watching happily as that market does seem to have some life to it.
ARCHONM and ARCHON
A classic entry in our Synergy Fund. I love ARCHON and if there is any way in the future to add value to it, I continue to be open, I still poke @taskmanager from time to time. Its a tribe with a lot of potential and several bits of published and unpublished automation code behind it, plus a great community of sub-communities that use the ARCHON discord for their organizational needs.
While we hold 8% of the miners and something like 10% of the ARCHON tokens, this together represents less than 2% of our total portfolio. ARCHONM are paying tiny HIVE dividends daily and ARCHON stake is generating ARCHON rewards for the appropriately tagged posts.

LVL and PsyberX
Next we have our 1 million LVL, and I think too that this is something of a cut off level where we don't want to sell anymore. We have already made a huge amount of HIVE on our initial flip from 5 million LVL, we have bought and sold along the way and now we have this million left, plus a commercial plot, 2 small plots and a bunch of crates and a few assorted cards.
I have some inside knowledge that the development of @psyberx continues and, though not without its struggles, there is pre-alpha testing going on plus back-end integration being worked on. Time will tell but we are sitting very pretty if these dreams to come to fruition in a playable game, which seems likely at this point - only question is when.
CARTEL
We have taken a position in CARTEL token, mostly buy doing what we do best (buying low) and accumulating CARTEL from 6-7 HIVE in price. We also took a position in the CINE-SWAP.HIVE pool, the only current source of CARTEL inflation right now, one that is set to end in 59 days.
Our fund has already entered and exited this LP position, buying CINE at 0.021 and withdrawing and selling CINE at 0.028, and making CARTEL and some other tokens in the middle.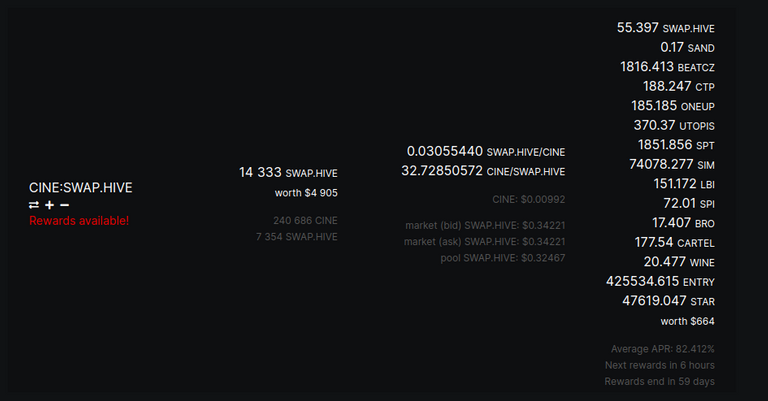 As I check now CINE, which was down back at 0.021, is now up again to 0.03. Be careful out there in the market folks, but get your hands on some cheap CARTEL if you can! CARTEL is an interesting organization mostly manhandled by strongman @flauwy but with a growing operator network, of which I am happy to be a part.
DHEDGE
We have moved out of a significant portion of our DHEDGE position recently, but we are keeping an eye on the market activity. The project is still alive, and even has a brofi knockoff that we delegate 1k HP to and pays out DHEDGE tokens. This HP levered market activity has shown to be really powerful, and I think we will see more projects copy this successful model.

Backup slate
As we move down the wallet, obviously our positioning in these projects becomes smaller. Take a look at the second slate on the first page of our leodex wallet:
We took a 500 HIVE position in the Myrianode Project, it is completely speculative and we will see what happens. This will likely be a cyclical play, Myria is another team of builders on ETH, and in the next bear market they may get a chance to shine, if so - we will be looking to benefit for our early support.
We also took a recent small position in BXT while it was under 2 HIVE, about 1.95 average price. We are happy to earn ~40% staking in liquid HIVE and unstake (3days) at some future day when the price is higher (currently 2.12 HIVE/BXT).
I don't waste time crying about our UTOPIS position, the market is doing its job in marking it to size in our portfolio. The project will live or die based on @chronocrypto, I don't see the point in pulling out ~100 HIVE now over a chance to see the project worth something again. Anyways we got 1 HIVE worth of divs just now!

Some napkin math tells me that means its about 33%apr at the current price, which is pretty reasonable mark-to-market price. If it pumps you can be sure I'll try to unload some.
We have our sad sack of SEED here as well. For a while the swap pool was way over valued so we were able to convert very profitably to SWAP.HBD then SWAP.HIVE, now the pool has almost come in line with the new price, lets check it on cointracking: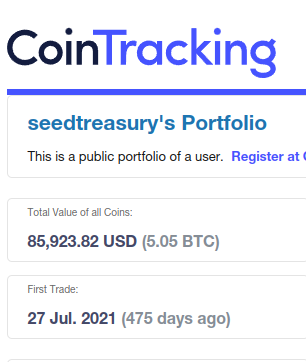 @empoderat can confirm if this includes any of the LICENSE that may be associated with the SEED fund, but if the swap pool dips this crypto winter below the initial buy in price of 1 HBD each, I will definitely be thinking of converting some post rewards into SWAP.HBD and buying in. Probably will DCA in below 1 HBD and see if we can ride to the moon next bull market.
The LBI trade has possibly started to move in our favor, although I don't think we have sold a single one yet. It helps that HIVE is low and that is letting LEO recover. Hopefully we can move some tokens out of this LBI position while conditions are like this.
VIP is still giving us votes! Not sure what else about the project, although I do know that @hotsauceislethal continues to hustle. We have some of his BRK tokens as well further down in the wallet.
We have managed to accumulate over 3000 SCV, its been tough to get in near 0.02 where we want but we have managed it and continue to pack our bags.
I am interested in @liotes still, and could see about increasing our stake in LENM. The team there seems to have a handle on long-term fund management, and we want to support that.
ONEUP maybe dead on price, but there we have a small stake sinking into our wallet. The next pages are even worse, I will just allow you all one more: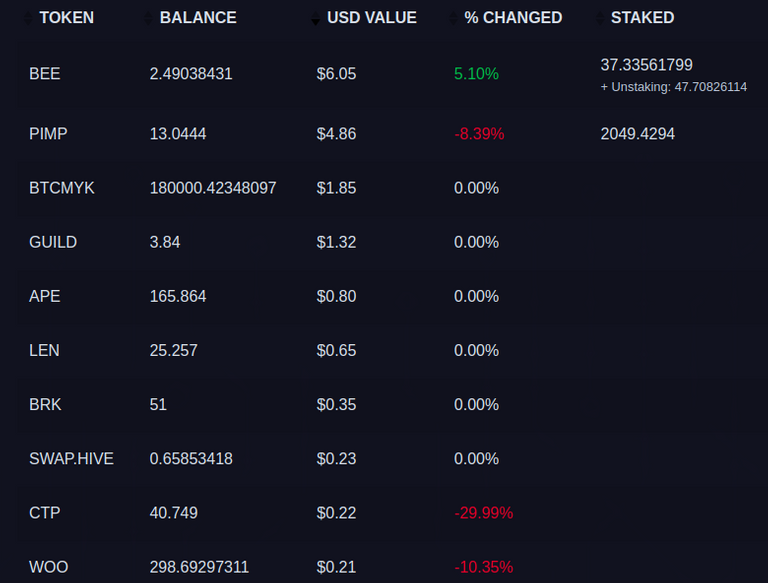 Unstaking our BEE, starting to stake PIMP, BTCMYK still hanging around to pump every once and a while even though we try to sell every time, those market orders that expire every month get me almost every time. I think GUILD is a dead token, and don't get me started on APE.
Here are the LEN that get produced by the LENM (and can be swapped into miner tokens 🤔), the CTP produced by CTPM tokens, and the BRK mentioned earlier. WOO was paid out from holding CARTEL, should we dump?
So there it is.
Here are our positions, in all their glory. I will somehow try to squeeze out 500 more HIVE to get into LABFUND, be looking at the SEED price to buy the dip on that, dumping or swapping various reward tokens and selling high any token that manages to pump in this winter-time.
Anything in your portfolio that you think should be in this one? Let me know in the comments below!
Freedom and Friendship
---
---