INCOME token fund Update - New positions and developments
Hello INCOME token holders! I am grateful for each of you, as this project is entirely small-scale and home-grown. I have not done all that much marketing, if I have created hype it is mostly for the members of the fund. I always laugh when people think I am the owner or founder of projects that are in the fund, but in a very real way 'they are my projects too'. I love you all and this has become a huge part of my life, a full time job and labor of love.
Check out the previous update if you are interested. Read that post for a more thorough background on the project.
As a reminder this is all for entertainment, there are no promises involved, I run this as profitably as possible with no guarantees, only because profits are incredibly entertaining! Only my reputation is backing this project.
Let's get to it!
New positions, new projects
BYT
I want to mention BYT, the Blurt Yield Token, run by long time fund member @rycharde. It pays out weekly in swap.hive, and as such is the only swap.hive drip we have so far, unless you count the dCity art galleries, which are a bit underwhelming still.
If you are at all interested in exposure to BLURT, take a look here. There are potential airdrops coming up, if you have staked BLURT make sure to attest your cosmos wallet, I am happy that @rycharde will take care of all of this work for us.
We picked up a nice stake in BYT at a discount, and will be hodling it for the foreseeable future.
UTOPIS
We have always had a bit of UTOPIS, but after some long chats with @chronocrypto, we sunk in deeper. UTOPIS is now backed by INCOME tokens as well, and is the 2nd largest holder after the @brofund.
BUDS from HashKings
We got in touch with Dan from the @HashKings team and got a drop for our old KFQ tokens. Its amazing that there is still value to be extracted from our old steem-engine bags!
Check out the game at https://farm.hashkings.app/play
LVL founder's level!
The largest update to our portfolio is the recent acquisition of 5 million LVL tokens, making us 'founders' and eligible for a rare NFT that will be printed on the 17th of October. Check out more about founders status here and oh man, watch this trailer for the game!
The more I look into this game and the team, the more excited I am. I am talking with the lead dev in their discord - this game has me quite excited! We will see how it pans out, give the @psyberx blog a follow if you are interested.
Let's get down to some evaluation of our valuation:
HIVE-Engine totals.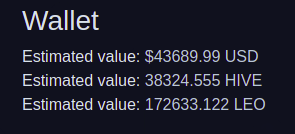 I am happy to take this shot after a major hive pump, which probably takes some of the 'speculative wind' out of the sails and brings us closer to some trusted 'true value' metric. Here we are seeing 38324.555 of HIVE value, and I will leave a shot here of our main holdings: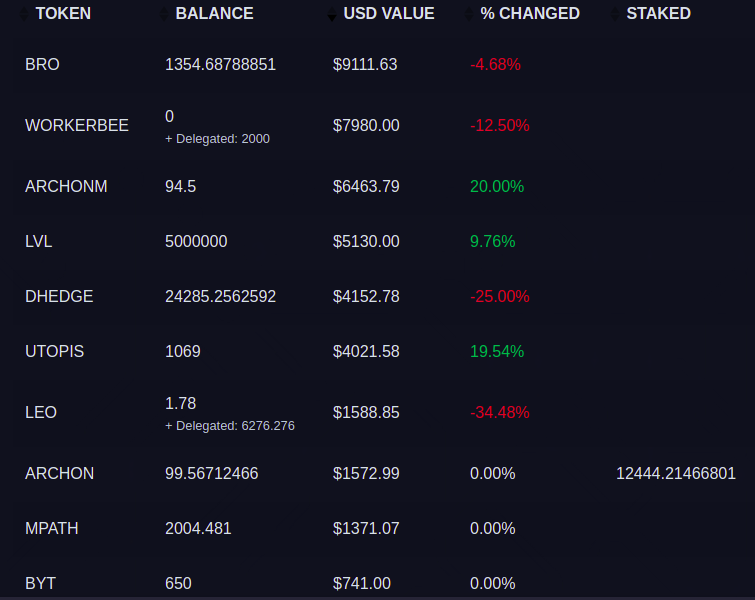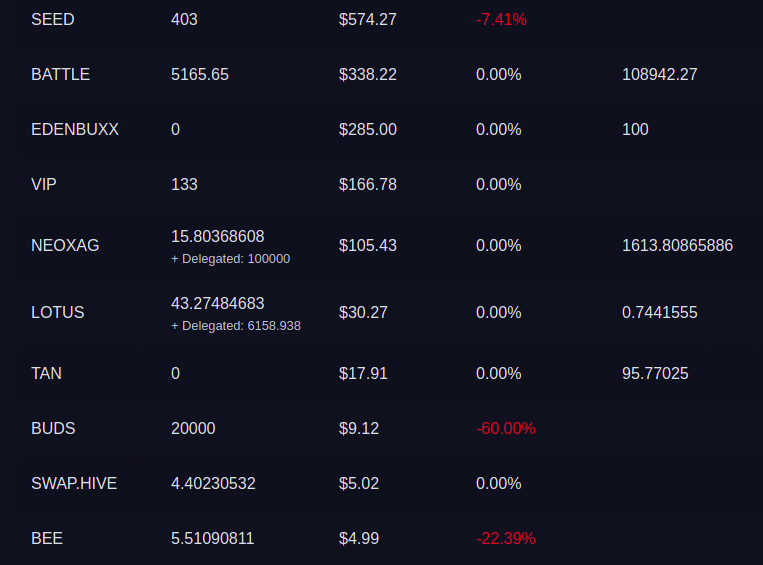 We delegate the WORKERBEE to @archonbank mining pool, and the LEO, NEOXAG and LOTUS are delegated to @brofi.
HIVE wallet
We have also been able to power up a few times since the last report, our HP continues to grow, we now have over 24 thousand. We have been sticking the HBD earned on posting into the savings account: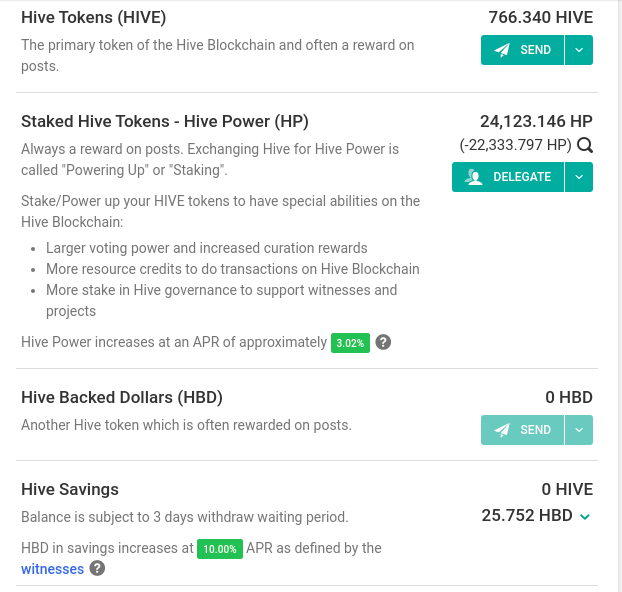 The total value in this part of the wallet is 24913,962 HIVE.
LP positions
We have some small amount of position in the SIM:SWAP.HIVE liquidity pool, earning SIM rewards each day and HIVE rewards from holding SIM.

This is equivalent at the time of posting to 2711.758 HIVE.
SBI units
We have some great and beloved SBI units - up to 13020 after converting some more over from STEEM.

This is valued at 6510 HIVE in the fund.
We also have some 9572 SBI units on STEEM, which have become devalued with the recent HIVE pump - these are valued at 4786 STEEM, which we are valuing conservatively at 2393 HIVE. We will likely continue to close the last pages of the book on STEEM by transferring these over to HIVE over the coming weeks and months.
TOTALS: New high ABV!
Hive Engine - 38324.555
Hive Wallet - 24913,962
LP positions - 2711.758
SBI Hive - 6510
SBI Steem - 2393
Total - 74853,275
With only 10,000 INCOME tokens in existance, this brings our new Asset Backed Value (ABV) to 7.485 HIVE per token.
This figure will be used from now on until another update supersedes it.
Roadmap Update
We have finally completed our previous roadmap! That means I need to start putting together a new one, but before that, let's look at what we did -
A note on Auto-posting
We first built out the dCity curation digest, which rewards players twice a week for posting about dCity. It selects posts, and we have had some upgrades to filter out for misuse and quality problems, we did this by selecting special curators and filtering out any posts that have been downvoted by them.
We reward selected authors with SBI units, and we also nominate the @dcitygame account, this is a win-win-win type system where everybody benefits - the game and the players, and us by getting eyes on our posts!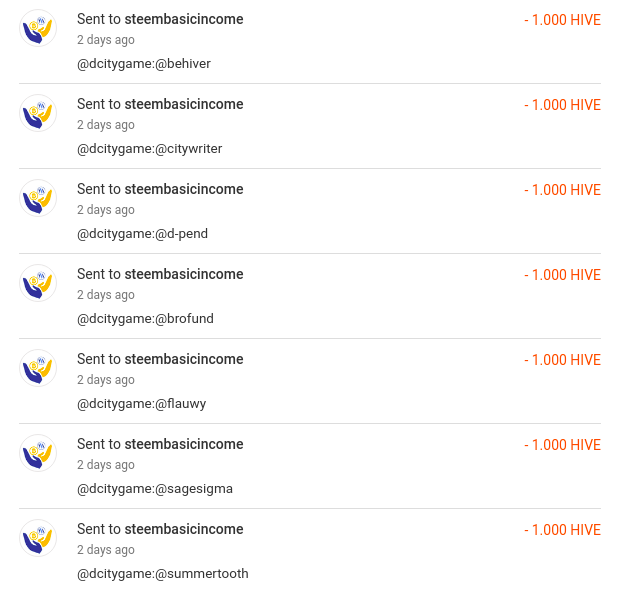 Now we have taken our daily dividends post and put it back on @ecoinstats account, and we have added some functionality that we have worked on over the years - specifically a daily faucet.
New users can leave a comment on the faucet and get a small power up each day.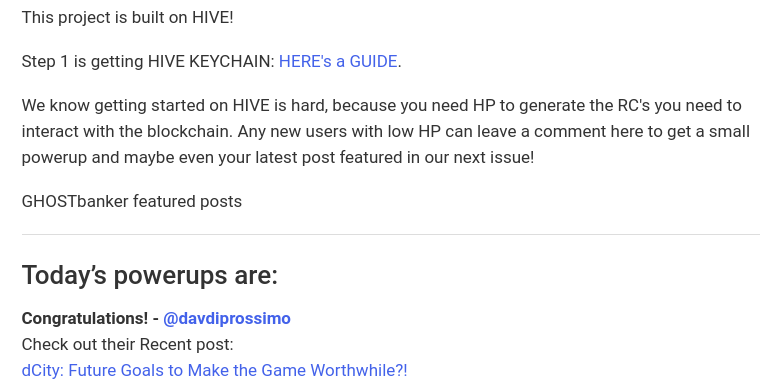 If you have low HP, go ahead an comment on these posts to get a small power up and get your most recent post featured in our daily issues.
The daily post also gives an update on some of the balances in the fund, as well as lists and pays out the daily dividends. I should write a whole post on how to play the game-ified APR dividends game.
Wildcard update
Finally, I want to mention some extremely good news, we are foundering holders of the game Radaquest, long delayed and moved to WAX blockchain, and they have started printing their first cards!

I am not sure exactly what this means for us and our large stake of TARUK tokens, but I will keep you all abreast, this is definitely a wildcard for the fund, and has yet to be included in the ABV valuations.
Conclusion
Thank you all for reading this update, if you are interested in INCOME token you can buy it on https://leodex.io/market/INCOME or https://tribaldex.com/trade/INCOME, and you can see the richlist here: https://he.dtools.dev/richlist/INCOME
If there are any questions, give me a reply down below.
For those of you with short attention spans:
TL;DR
ABV: 7.485 HIVE
Post upgrade complete!
New roadmap in the works!
Freedom and Friendship
---
---