INCOME token roadmap COMPLETE! - Where are we now?
Did you know that I run what I believe is the longest running fund based hive-engine token? Its called INCOME and I don't post about it a lot. I haven't made a new logo for it since the HIVE-Steem episode, and since then there appears to be more 'income' tokens on other blockchains, look at this one from BSC: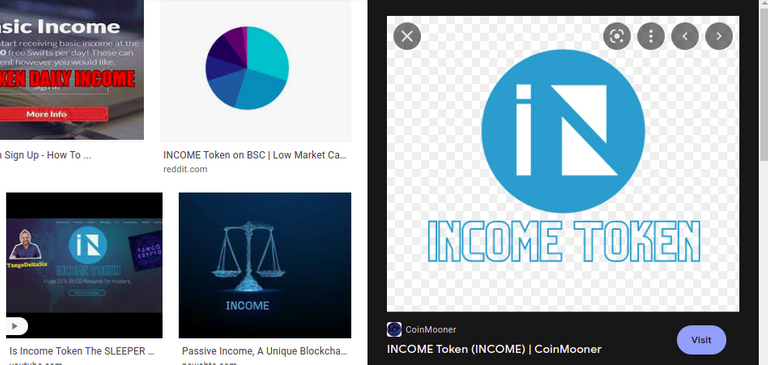 Here are the previous posts on the topic if you want to dig deeper:
Update to Linear Divvies
Fund Portfolio Update March 10, 2022
PsyberX Fund position Update
Fund automation projects and New Roadmap
Fund Portfolio Update October 6, 2021
Fund Reorg, final swaps from STEEM
This is an 'entertainment' fund, its all for fun, any discussion of profits and dividends ('divvies') is just because that sort of talk is really entertaining!
Finally updated dCity Digest!
With the release of my (new) beginner tutorial, I finally was able to update the basics of the dCity digest, and now as I make a few follow-on guides, it won't be very difficult at all to add them in.
The issue with many of the old guides has been, that dCity has changed so much - for example the Popularity Update. Its a slow game but the meta changes over time, which is why you need to play in the 4th Dimension.
So there is still some tutorial work to do on my end, including some better quality spanish tutorials, and that will reflect in the digest post in the future, but generally I am more happy now that before.
Another problem we fixed was that of a @dcitygame post, we were submitting nomination for HIVE SBI units with incorrect syntax. I believe this to be fixed now.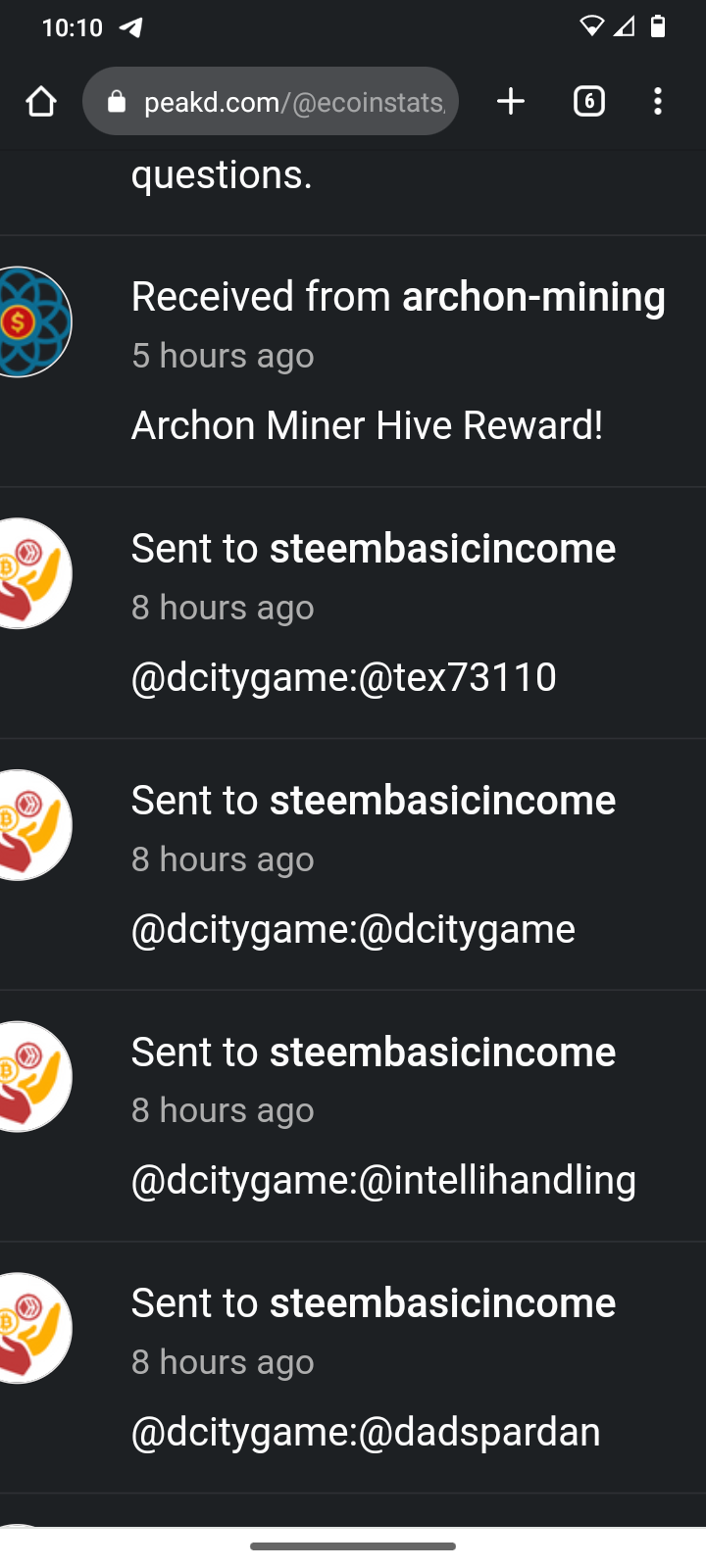 Original issue of manual non-sender self-nomination memo issue when dcitygame account made a post featured in the digest.
This has been on our current roadmap, and so, apart from maintenance, I can consider it complete. That leaves 'expand faucet reach' and boy has that happened! We are getting 6-10 a day now! In the faucet, many of the same accounts each day are using this faucet as a way to grow.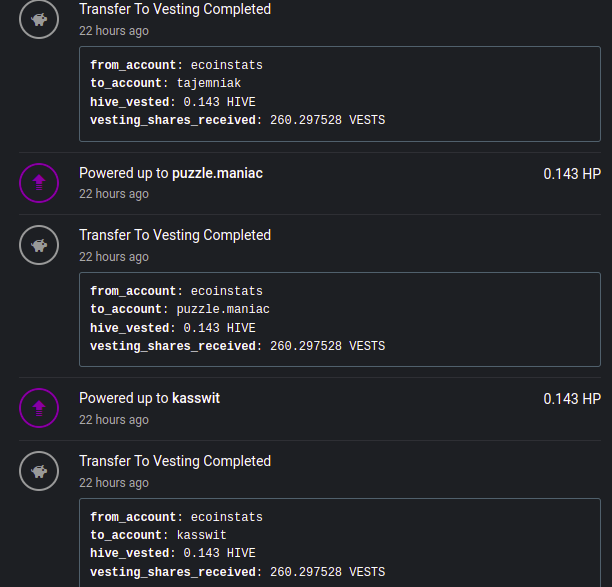 I will keep analyzing this, I have some ideas, and have also thought about ending the program, I am of two minds on how to move forward with the faucet. It obviously could be easily abused, and I wonder if that is happening already. Its basically just an experiment, and is in no way central to the fund, just a fun activity that (finally!) it seems that some users have caught on too.

So that officially means -
Our old roadmap is toast!
We need a new one. I guess that's the first item on the new roadmap - Make a new roadmap.
How is the fund doing?
Really good. Its amazing to me sometimes, but we keep moving forward -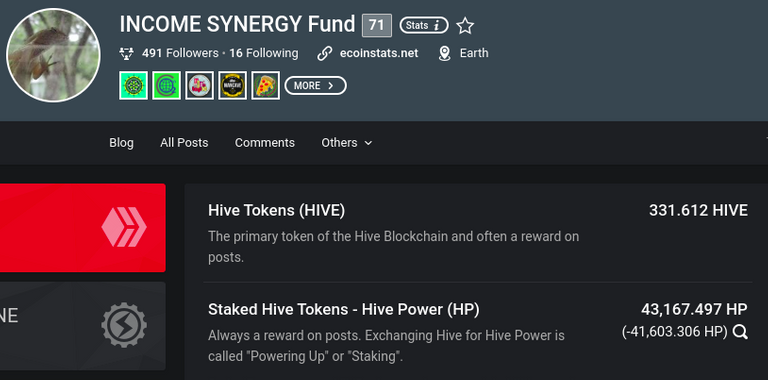 Between liquid HIVE, HP and HIVE SBI units, we are sitting on 52,100+ HIVE backed value for the fund, this is without considering HBD, liquidity pools, or Hive-Engine holdings. We have Taruk tokens on Wax and still a few bits and bobs on STEEM, which probably will get converted here shortly, just been maybe too lazy to do it.
I will not be doing a full ABV update at this time, but soon I will do an official one, as I have some ideas that will require an up to date ABV.
Here are our main Hive-Engine holdings now: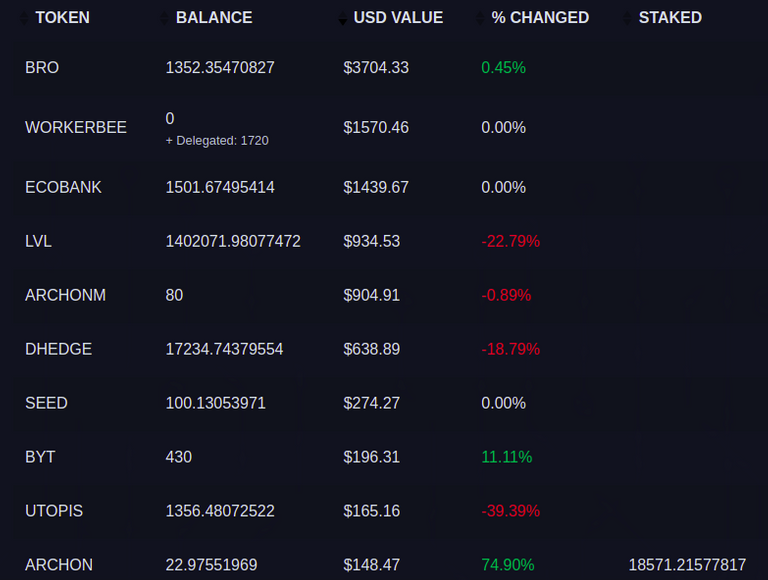 I am very comfortable with where we are sitting, over the last year (or more!) we have been consolidating out of hive-engine gains into HP, and this has resulted in our very large HP holdings. What we still hold is a number of good projects, and maybe some legacy stakes in projects that are not doing so hot, but sometimes that happens. I am particularly pleased with our stake in BRO (we also delegate to @brofi), WORKERBEE, ECOBANK and LVL. BYT is winding down, our SEED is a hold for now.
ARCHON and DHEDGE I don't think are 'dead yet'. But who knows. UTOPIS has also shown some signs of life recently, and started paying out divs again.
Today I have raised the buy back price for INCOME tokens to 4.75 HIVE each. There are 86 tokens left to sell at 5.3, and I don't think I will relist them at that price, the next price tier will be 5.5 HIVE.

As a reminder, if anyone wants to sell more INCOME tokens than I have buyback for, feel free to reach out to me. I currently have liquidity for 100 INCOME tokens listed, not many people have more than that (and those that do have proved resistant to dumping!). But I am always more than happy to buy back INCOME tokens. In fact, I still own greater than 75% of the fund!
It's MY fund
Yes, I allow you to participate in an entertaining way. With the new linear divvies, we are able to target a yearly APR somewhere just north of the curation rate + chain level increase rate. The fund has some exposure to some exciting projects, it has some very conservative positioning as well, and gets its cash flow mostly from HP delegations now.
But I own most of it and don't mind that at all! If you want in, just buy some off the market. You know who is buying? @ecobanker!

I should emphasize, none of the fund raising that was done on this account for development has been used for anything else than just that - but there was a question of what was to be done with 'the other stuff'. First of all, I put @ecobanker as a beneficiary of my posts for a long time, I have stopped that for now on my regular posts, but will continue to do it on ECOBANK related posts.
The main source of income buying INCOME right now is actually a result of our stable coin management - the BXT we earn from using the SWAP.HBD:SWAP.BUSD pool to hold our stable coins. Currently, I am converting BXT to SWAP.HIVE and buying INCOME tokens. I feel that INCOME tokens are a perfect fit for the account, pay just as well (or better) than HP (compared to delegations, more so), give out liquid HIVE and are subject to potential price appreciation (in HIVE) without much downside risk.
For now, the account is at the 11th place on the richlist: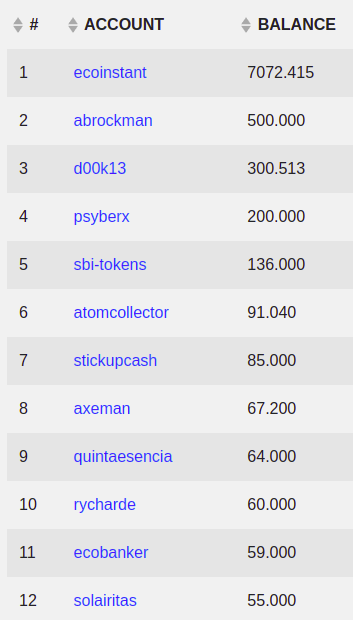 If you have any questions about the INCOME Synergy Fund, feel free to reach out, preferably as an open and publicly viewable comment on this post (though I am also known for chatting on discord).
Likely the next updates I have in mind (upgrading the main post) I will do without a new roadmap; as of this post I consider the roadmap to be complete. Other than 'adjustments' to the main post, and perhaps making a logo, and finishing a line of dCity tutorials, I will have to think carefully and critically about what to do next.
Now that I think about it - those three things to do are basically the next roadmap.... until next time!
Freedom and Friendship!
---
---