LVL4 CHAIN GOLEM is MINE!!!

I've been saving up, and saving up - this was the most expensive item ever sold in the ENTRY shop - by a long shot. If you don't know about the ENTRY shop, get caught up with this official announcement post.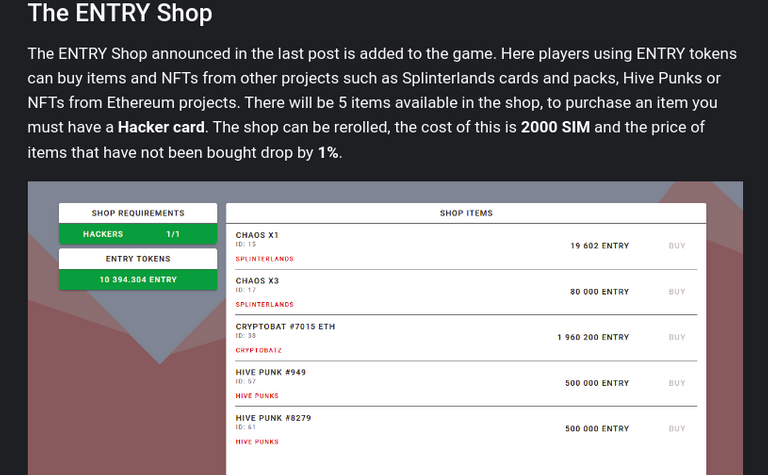 Can you believe that the card I just bought could only be purchased for 807 dollars right now??? Its not any indication necessarily about what it is 'worth', but it is the price you would have to pay to buy it right now.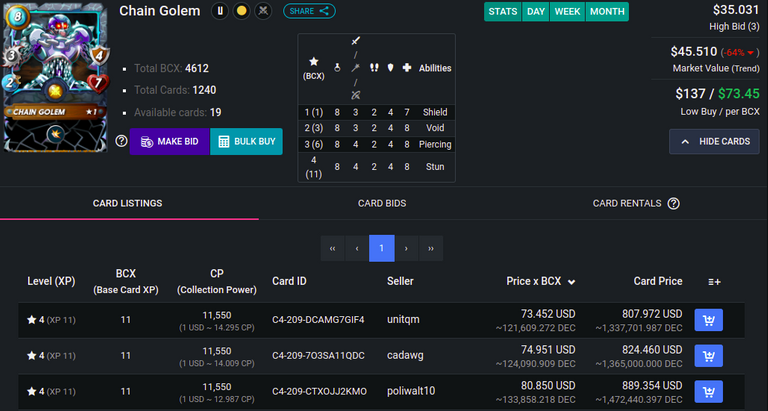 The high bid for it is less than half of that, so technically I could only dump it for ~400 USD right now. Although its might be tempting to have some cash on hand, I think this promotional card is going to be worth something serious on the next Splinterlands surge forward.
I know the history of this card - I had this card! I participated in the Untamed Kickstarter, I got Chain Golems, and was such a noob that I combined them into lvl 4. I felt dumb, since I never needed a lvl 4, never competed in such high levels, and also probably limited the price (and times) I could sell it for. I did sell it though, I have been an unapologetic seller of all my home runs in the crypto spaces; You're not supposed to fall in love with digital items, but you sure can fall in love with real land in the real world - that's my theory anyway.
Now I once again have a lvl 4 Chain Golem!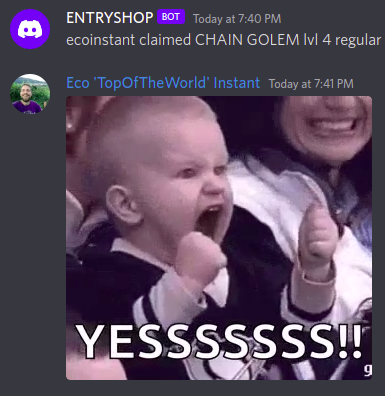 ENTRY is an interesting case, did any of you know that there is this secret bonus token that you can earn in dCity? I knew. And I mined them.
Someone asked me how I could identify when cards are cheap versus expensive. I am not sure I could explain all of the metrics and reference points that I use in my head and with my methods, I'm not sure how much I want to spell it out for you all either. But I have picked up some indications about playing this game over time - don't forget that we are playing the game in the 4th dimension as well.
4D blockchain gaming
If you are not playing in the fourth dimension, you are not doing it right. And the fourth dimension is time. The game is not the same today as it was yesterday, and last month is was different than a year ago - it was a different game in each moment.
Since I've never said this before out loud, I have always mostly had the expectation that today's market prices of cards are a reflection of today's game. All the other players are looking at the game as it is today, and pricing the cards appropriately for today's game.
(This may not be actually true, some players are playing in the 4th dimension with me, and especially now that I make a post about it more will think about it.)
So the meta game is to think about tomorrow (or the day after) or some arbitrary future game, and think about how the value of the cards will be in that time.
Will there be war tomorrow but peace today?
Will there be taxes tomorrow but aren't today?
Will gerber make some change to the game?
As far out in the future as you might want to think, there is a strategy that you could employ today to potentially make 'money' or at least tokens on dCity. Its a 'game' about numbers, and how those numbers change and the way those numbers change and how the way those numbers change changes over time.
Back to the story:
I bought the most expensive card ever sold for ENTRY
How did I do it? I certainly didn't do it by knowing anything about what gerber was going to do, I never had any more information than anyone else. But what I did have, was a four dimensional mindset.
I said to myself -
🤔 Hey, gerber made this random token 🤔
And ENTRY was worth bubkiss for the longest time. It had no use but every once in a while Splinterlands Tournaments and every once in a while months without Splinterlands tokens.
Now I didn't buy ENTRY (actually I was selling ENTRY over the years). I bought Stadiums, that produce ENTRY. I bought when they were cheap, and cheap becuase their strange 'special property' of printing ENTRY tokens wasn't worth much at the time.
Stadium is an INCOME card. You can go around the market and calculate the price per INCOME. Before taxes, and even for most of the game with taxes, the cards that people have been focused on were cards with INCOME. It doesn't really matter your cards, it matters your stats, so price per POPULARITY or price per INCOME is just a way to spreadsheet a market and make sense of it.
All INCOME is alike. That is, unless it prints ENTRY tokens too.
Even being impossibly generous with the price and liquidity of ENTRY, I couldn't get more than 700 hive (~325,5 usd at current writing), realistically I can only sell 1.25 million ENTRY for 80% of that rate right now, after that there no liquidity until orders of magnitude lower price.
So the ENTRY store, where I can buy other NFTs for ENTRY, is a wonderful gift from gerber.

I wonder who will compete with me for the rest of these NFT's - for now mostly there has been a churn of CHAOS packs through the shop for as far as I can see. There are a few tricks to minting ENTRY, but I wonder who else is playing this game within a game?
There are a lot of NFTs up for grabs: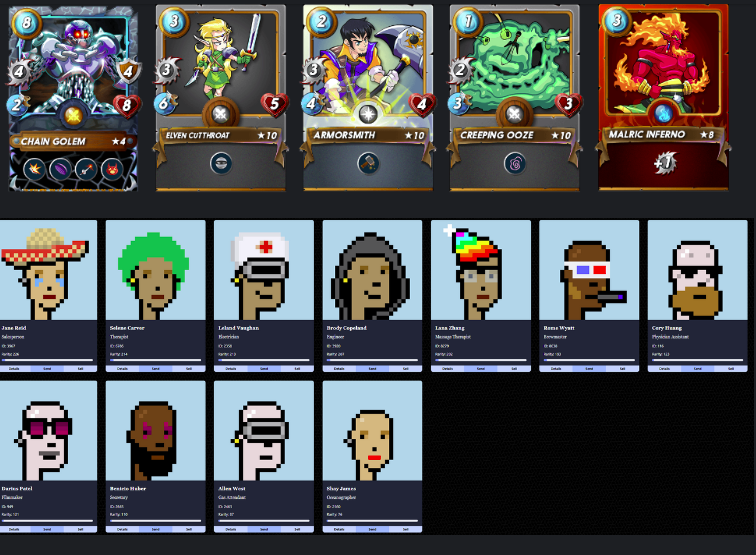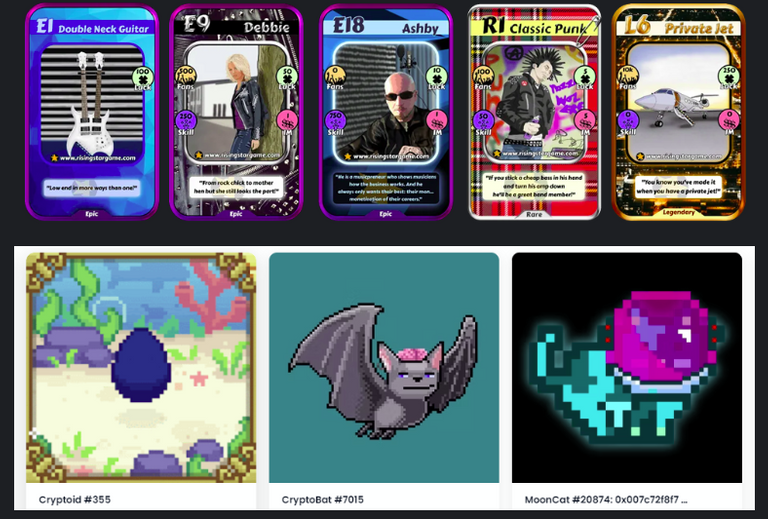 So now you know that you can print ENTRY as another way to play dCity. Will you try it? Or will you find some other way to play??
Freedom and Friendship
---
---