START TODAY - and don't stop
The Man who cannot correct his own bad habits, never will be able to change society.
--Amalia Domingo Soler
There is a relationship between scales, our universe repeats itself over different scales, this is the fractal nature. A fractal is just a pattern that repeats over different scales, in this case scale means sizes. Just like our brain is filled with billions of neurons, we humans make up the 'neural network' of the planet with billions of us. And likely there are 10s of billions of solar systems in our galaxy, and billions of galaxies in our universe - we don't understand much about consciousness at these levels, but we can make some estimations based on ourselves and our planet using the law of 'As above, so below'.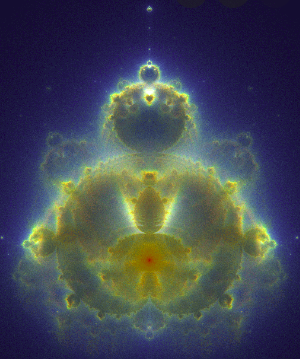 It's all connected, as they say, and this is why in order to change the world, we must start with the "Man in the Mirror". But have you considered the contra-positive? A few days ago, a friend of mine from Libano, who likes to send out inspiring and wise messages through whatsapp, usually entire discourses, sent me this simple message - in spanish, so this is my translation. "The Man who cannot correct his own bad habits, never will be able to change society."
I have always heard "Change your ways, change the world". But I had never delved into the truth that is "If you can't manage to change yourself, you'll never change the world". As the M.J. song says - "You've got to get it right while you've got the time". That means we should start today.
I've talked about how I knew the tools but hadn't been using them, and how I would start immediately to put a morning routine into place - now for 9 days I have gotten up early (5:35-5:45 am), meditated, done my push-up regimen and written. I will continue to do this into the future - it is my new habit!
For meditation I am working through Damo Mitchell's Internal Arts Academy Library, especially Wu Ji - standing meditation. I have now started with some seated meditation as well (after standing), but I started over a year ago with Wu Ji and prefer to continue standing meditation - my practice is improving due to the daily nature of my discipline.
It really is as simple as this - The world is changing, and if we don't prepare some positive change in ourselves, this current and upcoming transition is going to be really hard. Harder for us, and harder for those that depend on us. Sure, the Hero suffers, but the Hero uses that suffering as fuel to become a force for good in the world. The tragedy is pointless suffering, which is what you are inviting by not working each day to become a better person, correct your morning routines, set your goals and say them out loud each day.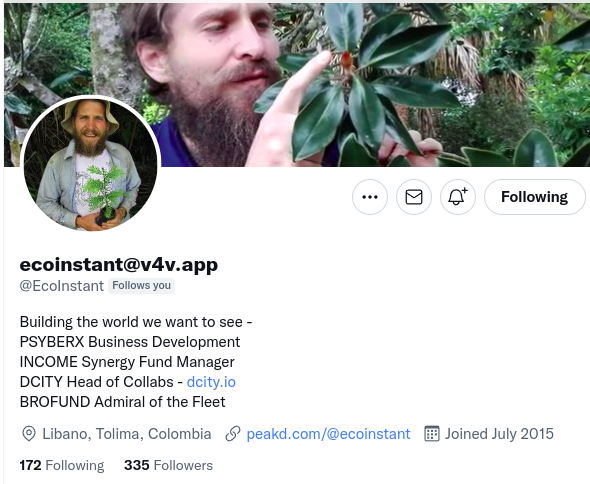 I've updated my profile on Twitter; as the Synergy Fund Manager I tend to get invited onto teams that need help, because my brand of Synergy is so incredibly helpful. I have included "Business Development" for PsyberX, after coming alongside the team and seeing where they were, making some suggestions and helping with a few things - including making some posts and participating in a partnership negotiation with Myria - I feel quite confident about where the project is headed and my ability to help them move forward.
I updated my profile from "Ex-President of dCity" to Head of Collabs - after helping to negotiate an exciting collaboration between CINETV and dCity it seems I will be getting an official title - dCity has a lot to offer new projects in terms of collaboration; sometimes I think my mind works in terms of collaborations - I see the possibilities everywhere!
My connection to CINETV tribe is through @brofund, I am a so-called "Admiral of the Fleet" and also a Dragon by rights, in fact now that @chronocrypto has sold off a lot of his BRO, if you combine my Synergy Fund stake with my personal holdings, I am the second largest holder of BRO behind Marky.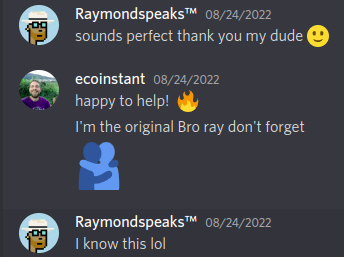 Okay so maybe I am not quite at the level of 'changing the world' - yet. But I have the power to change myself. I have to power to help promising projects, not just wait to see "Can devs do something?". I use everyday, every moment, as time to improve - to get better, to be better.
This is the way.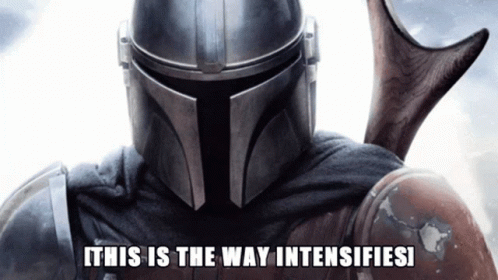 Looking up to a larger scale, one level of the fractal higher, it really is true that we can harmonize into a better world if and only if we harmonize into a better life. The world is nothing more than the sum of the beings living in it. The Solar System is nothing more than the sum of the planets and star living in it. The Galaxy is nothing more than the sum of the solar systems living in it! Likewise, our universe is the sum of all its constituent parts, all the way down to you.
Wake up, do your push-ups and be conscious, and you might just find that there is more to consciousness than you thought!
Wake up! The world is passing you by - today is the day - START NOW - immediately - get out of your chair right now and do as many push-ups as you can - before its too late.
Freedom and Frienship
---
---