Taking Cartel-dCITY to its next level - the slow race to SIMmillionaire
I have been hemming and hawing about what to do with our @cartel-dcity city for a long bit. I had loaned the account some cards, mostly population and education, and it was grinding out some nice GMO tech cards that I was happy enough to buy myself and continue to increase the SIM balance on the account.
The real money is in being a SIMmillionaire, but even with 15 days of @dadspardan, we haven't made much progress, we are currently sitting around 300k sim holdings, while our SimPower is a bit further behind.

Well with @jelly13 likely to win again, and our relatively small cartel-dcity still 700k SIM away from making SIMmillionaire, I think the idea that we are going to print our way there is now out of the question. We need to go another way, and for that I had a great idea, why don't we strategically sell some of our cards.
I mean even at 300k sim we are already making more from holding rewards than ranking rewards: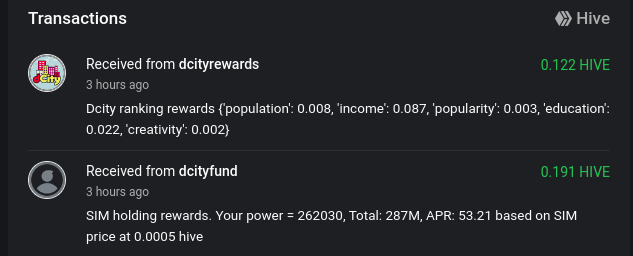 It didn't used to be this way, but life goes on and I think this is the right wave to ride, let's assure our SIM millionaire status by strategically shrinking our city at a time when INCOME is going to go to zero for a while anyway.
I sold 3 more GMO tech to myself, a long standing deal where I round up the market rate,
I started by listing some basic homes and factories on the market to see who will bite. The first edition cards are generally (but not always) overpriced for their actual stats, just because they can no longer be printed.
And I keep looking for the best overpriced cards to help us shrink our city into SIMmillionaire status, here is our market offers at the time of posting (all 5 are first edition cards):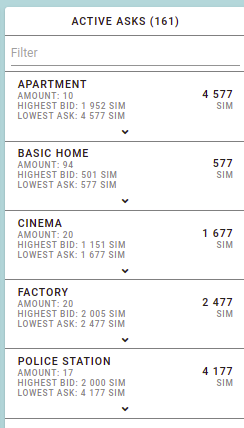 I took some of the cards myself, at the 'buy now' price as defined by the market and dcity's generous 'city value' number, which I sent directly to the account:


Here are the cards I took, valued about 25% lower by city helper's less generous 30-day average of actual prices enacted.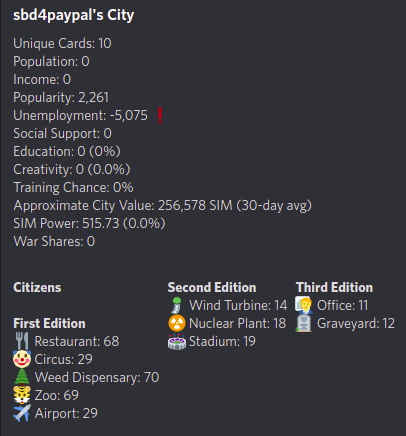 While I get to select the cards I buy and which cards I list on the market, I am not looking to do these trades in my favor but instead fairly, indeed I am going out of my way to not be accused of operating these trades in my favor, and so I bought these cards at these prices and have it all transparently documented here. (I used @sbd4paypal as a staging account in the meantime).
Our city still is sizeable, here is what we have after the sales and listings just reviewed: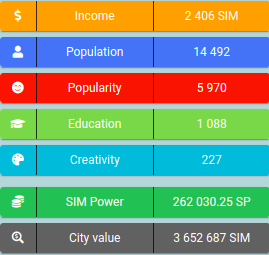 So after all of that, we have over 640k SIM on the account, and over 250k listed on the market - its starting to get hard to know what to squeeze.
The most obvious would be our advanced robotics, which was previously in our industrial zone which we have since decombined, as we couldn't keep up enough workers to man it while squeezing our city, and I want to make sure we can get in on a data center when that new combine becomes active, which will require the warehouse.
We will need to sell more factories if we want to get rid of advanced robotics, which is viable as their price is high for their income, and they use up a ton of workers compared to the income they do bring, which is a harder burden for a small city like ours, so we will see how fast the factories are selling and will consider letting go of that advanced tech after we sell several dozen more of them.
If we want a Data center, we will also need an advanced management tech, but we might be able to come up with a trade or a swap to make that happen.
Here are the techs we currently have on hand on @cartel-dcity:
| Different techs | that we have on hand |
| --- | --- |
| | |
Does any CARTEL member think they need any of the ones we have doubles of?

Either way, we are well on our way to earning the SIMmillionaire status, whereby I have a fun activity to play along with the CARTEL members, and one paid volunteer in specific, if you are interested in earning a bit of extra cash for typing something in discord everyday, stay tuned to my blogs over the next month as we earn the SIMmillionaire status and new options for earning open up to us!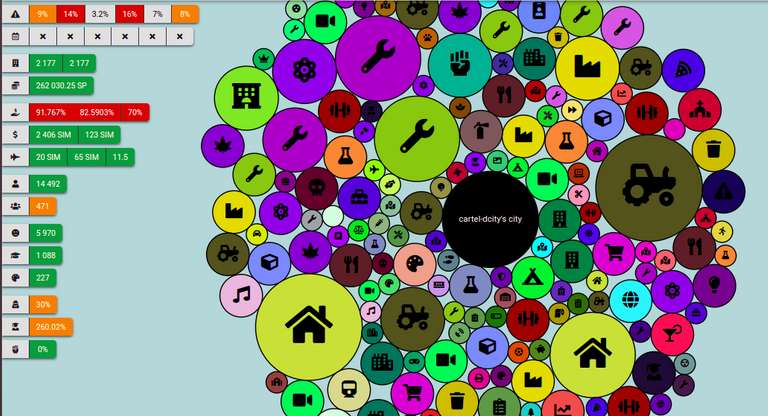 Freedom and Friendship
Previous Cartel Posts:
Students and debt meta
Citizen mining and roadmap
---
---