The Hero always Suffers

Its just a fact of life, and you can look at basically any story to confirm it, heroes suffer, and through that suffering they get strong, and with that strength they do good, they make the right choices. Today with so many stories, it can be perhaps perceived more easily that these 'narrative tropes' hide hidden knowledge, perhaps even secrets.
Let's bite into this - does suffering bring power? Not exactly, its more like successfully bearing the suffering, finding the strength to move on, move through, gives one power. Because wallowing in the suffering, moping, complaining, taking mind altering drugs that make you not feel the suffering, committing suicide - these do not bring power.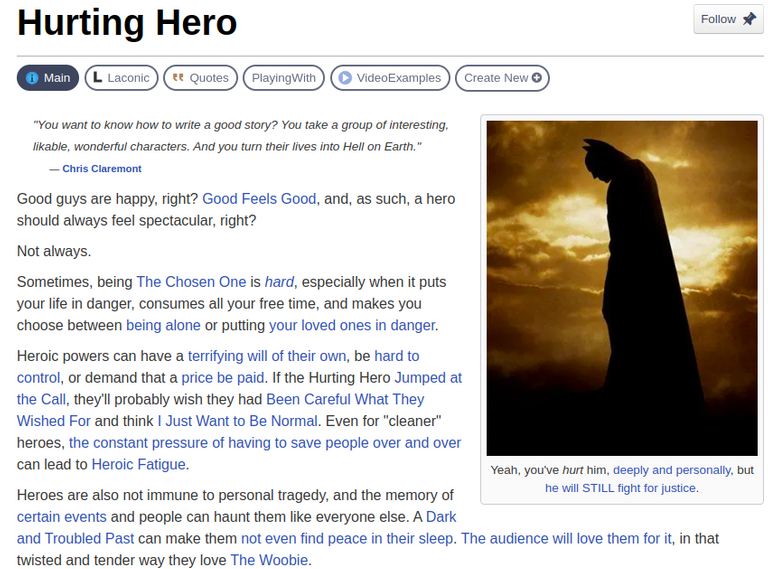 Source: TVtropes
It doesn't matter if you want to talk about heroes or superheroes, the story telling narrative uses the same tropes, because we are human and our world view is based on narrative.
The narrative is this - Person suffers, pushes through, finds the strength to do what he needs to do, people (or perhaps audience/reader) recognizes this person as a Hero. The Hero always suffers, its what happens next that defines the narrative. But its important to note here - a person that cannot handle the suffering is not the Hero. The person who takes their own suffering out on others? Not the Hero. The person who blames everyone else for their lot in life? That person is not a Hero.
These narrative tropes are positive programming. As a society we are confirming together, over and over, every time we collectively celebrate a story/movie/book, that this is the right way to be a human. A good story connects deep inside of us, our fundamental narrative might even be biological/genetic - its in our DNA to be Heroes.
We are the Heroes
Who ever you are reading this, you are the hero of your own story, or at least you are supposed to be. If you are living as the sad sack of your story, with tremendous Love I must reveal to you that, "You are not doing it right!".
Wake up and hear the call to arms - You are the Hero. Are you suffering? See, I told you so! Heroes always suffer, and you are a Hero and you are likely suffering with something - we have a whole world full of suffering and sometimes its seems like there are no heroes left. But we heroes are here, we just need to wake up and accept our roles.

We are going to need a Montage
I started this line of thinking six days ago with a post about daily routine, a tool that we all know about, but I personally wasn't using to its maximum effect. A Hero of course will use all the tools, because he must defeat the Villain, and the Villain is training every day.
In real life, there are actually not villains, there are opponents in competitions, there are sad sacks, there are weak humans who haven't put forth the effort to control their baser instincts, but there aren't really any villains - remember everyone is the Hero of their own story. So who is the villain?
There is a villain inside of you - the one who says "give up", or "we can start tomorrow" or "I don't feel motivated today". We are fighting against our own inner weakness - and I shall not lose! We know the tools, we must put in a bit of effort everyday, best in the morning hours, and some magic effect will come over our lives in short order - we will improve.
Here is the narrative trope describing that 'magical improvement': The Montage.
Of course in real life its not possible to do "a montage" literally, but the trope connects with us because when you put in the effort everyday, it actually seems like your life can change pretty fast. If you start doing push-ups everyday, it won't be long until you can do more push-ups, until somebody notices, until you feel better about yourself. If you practice anything everyday, in a month, two months, in six months your progress will be astounding, compared to the person who never practiced, who didn't "put in the work".
A Hero puts in the work
Despite, or because of, suffering, a Hero (which we all are, or at least should be) puts in the necessary work to overcome, to improve, to conquer. Conquer the villain, overcome injustice, improve the world. I didn't make this stuff up, its in nearly every narrative ever made - but is it in your story?
Have you taken the decisions necessary to start on your path to becoming the Hero? Becoming a person that can, starting with themselves, heal the damage and cure the ills of this world?
Today is the day to decide.
Freedom and Friendship
---
---