TL:DR: President Petro speaks to the UN

This is my 'reaction post' to Colombian President Gustavo Petro's speech before the United Nations, the translated text is published here by me, with my own translation forked from here.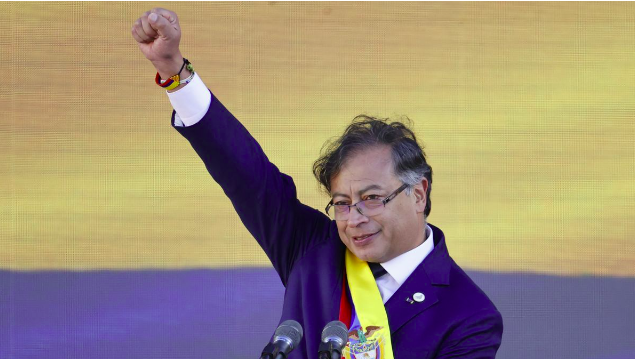 All the main topics of the speech included cocaine as the link between Latin America and the West. Cocaine defines the relationship between Colombia and the World and its "Climate" - Gustavo Petro laid out a surprisingly lucid view on ending the "War on Drugs". He also proposed some interesting economic vehicles. Petro has studied economics, and even though many write him off as 'a leftist', I am sure he is not as dumb as they think that means.
Coca
Coca is a plant, a sacred plant to the Incas and many living indigenous tribes still today. The leaf is chewed. Coca is an Amazonian plant. Coca is one of millions of species of plants and organisms living in Colombia's biodiversity.
Coca is also cultivated to transform into cocaine to feed a vast drug addiction in Western markets. To combat this, the current Plan Colombia involves spraying RoundUp (glyphosate) onto the jungle, to wipe out the coca crops. The US counts buying the RoundUp from Monsanto and donating it to Colombia as Foreign Aid.
Petro wants to legalize the coca plant (not necessarily cocaine) in Colombia, Bolivia has already done it.
The Amazon and Climate
Since the War on Drugs is a War on the Jungle, stopping the War on Drugs is a natural conclusion. The poisons are killing more than just coca, its killing plants and insects and pets and people and life as we know it. There is something most scientists do actually agree on: BIODIVERSITY is important, and Latin America has a lot of it.
I also heard Petro tie 'climate' back to much more real issues of soil fertility and water availability - so its not all 'climate models'.
That being said, he did push the 'Climate Crisis/Climate Disaster' button. Whether he believes the hype or he is just looking for Europeans to put their money where their mouths are, I don't know. But he is out for money.
Before we move on to the money, I am not personally convinced that everyone is on the same page about Carbon.
Carbón
Carbón in spanish means coal, charcoal or carbon - the element. This carbon (dioxide) is the stuff that is supposedly going to annihilate all life on Earth, or whatever because its just a model. But coal mining, which is fossilized carbon, as well as oil drilling (oil is a carbon chain), in these jungly parts of the world (as opposed to deserts), can get messy, it can affect water supplies, it has and it does.
So when Petro talks about 'Which is more dangerous to the human race, cocaine, carbón or oil? It seems to me that he is playing on the fact that carbon dioxide will supposedly kill us all. But all three of these things Colombia exports - it is energy independent and net energy exporter at the time of writing.
Its not always clear whether he means the element carbon or physical coal, but I think that's because he means both.
Where's the money?
So now we get to the crux of it. Petro proposes to raise a worldwide fund to save the Amazon Rainforest. And of course Latin America should unite in this effort.

But, even if you don't want to give money, that's okay. Just forgive our external debt. Exchange Debt for Life, Debt for Nature. This is his real economic message, and he calls on all Latin America to unite around this idea. Latin America has the BioDiversity, and now it wants out of its FX debt-trap. The same squeezing trap that is pinching right now as the dollar (DXY) soars as liquidity seizes.

The Power of Peace
Its not just the call to end of the War on Drugs, from Colombia, a country that is going through its own "Peace Process", signed in 2016 - Petro proposes peace over all wars. He suggests Russia and Ukraine should come to Latin America to dialogue. "Let the slavic peoples talk to each other, let the peoples of the world talk to each other" is a call for dialogue and speaks to a more multi-polar world.
In a world of evolving geopolitics, a peaceful and united Latin America is a powerful force, a powerful economic engine; it is full of resources, with some of the densest biodiversity numbers on the planet and tons of fresh water.
Leftist or Outsider?
Petro is a keen strategist who comes from an outsider perspective to the powers that currently run the world. The old 'right-wing regime' in Colombia was clearly within the US sphere of influence. The previous president left a multi-million dollar purchase contract for RoundUp signed right before he left office.
With his recent signing of the Escazú Agreement, and now this firmly worded speech, Petro is working to shore up Latin American integration and shake off periphery status as a third world country to extract resources from. Anyone interested in the concept of multi-polar, regional integration must check out Pepe Escobar's writings on Eurasian Integration.
Let's see what the West will offer. In the current geopolitical climate, a united, sovereign Latin America will try to rise - with the moral high grounds of 'biodiversity' but also 'anti-colonialism' at their back. Petro is more than a leftist, he is a cunning navigator of a shrewd (realpolitik) global chess board.
The West is addicted to what Colombia has. Let's see if Petro manages to get any leverage - he is couching his message of regional independence inside their favorite talking point - climate change.
Freedom and Friendship
---
---