Understanding Currency Chains yields outsized returns
As it turns out, the world is changing. Even now, what we are perceiving will not last forever, in the future some things will be different, and some things will be the same - the cycles of human development will not stop. I didn't make the rules, I just live here.
And its not enough just to guess the cycle, you also have to learn to operate as a contrarian investor if you want to make any money.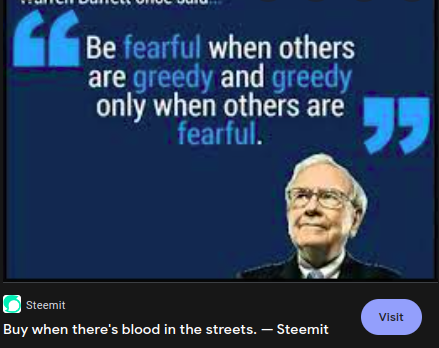 Everything we have been doing has been training us for this day, to operate in this place with more wisdom than we had before, to put to use the new tools that are available and constantly under development.
So we must understand the cycles if we are to operate intelligently, and this is the topic that I want to touch on today. What are the cycles that most affect us in terms of investing in this climate. Remember, we are almost one year into this bear market, something that many didn't think would happen but has happened for almost a year already while we were waiting.
Currency chains
Prices go up and down, this we know for sure. But in a world of multiple currencies, we can do way better than just up and down by understanding how currencies relate together in chains. Here's a simple chain:
HIVE <> US Dollar <> Colombian Peso
Right now, as we all should know, the US Dollar is high. It is in, by my estimation, its final death squeeze (liquidity squeeze), which could continue but can't continue forever. Much is being written, and a good bit of it on ZeroHedge, about how Emerging Markets are being squeezed to death, less overall about how when this reverses, it will be the greatest EM boom in the history of the world.
Here is the price of the dollar against the Colombian Peso, the highest ever recorded in history: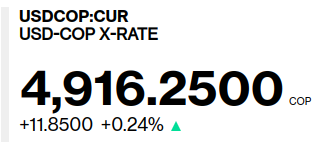 Source: Bloomberg
In a similar vein, HIVE is also quite weak against the dollar. Not its weakest, that would be much lower close to 8 cents, but after rising above $3 usd each last year, it is now down to just 45 cents and continues to hover roundabouts.
If we analyze these cycles, and we think contrarian wise, we should be thinking about selling dollars and buying either HIVE or Colombian Pesos. Many other EM currencies could fit this bill as well, I just happen to have focused my efforts on Colombia.
But lets get a little closer into this simple chain to make sure we are being clear:
HIVE <> USD
You could think of it as simply as this: When HIVE is low, buy HIVE; when HIVE is high, sell HIVE. The HBD token and internal market works perfectly for this, and this is a standard strategy now amongst HIVErs (or should be), to help stabilize the price. The reward for successfully helping to stabilize the price of HIVE (buying low and selling high) is profit.
Now let's add an extra point of leverage in this chain - BRO tokens.
BRO <> HIVE <> USD
When HIVE was expensive, the BRO market ranged from 2 - 4 HIVE per BRO. This is the historical reality, and I loaded up. Honestly I have been buying BRO below 5 and selling above 6 for quite some time, it has always had a bit of a volatile streak. But with HIVE price crumbling in USD terms, BRO surged to over 8 HIVE a piece. Naturally, I unloaded as many of my extra tokens as I could while the party lasted.
As of the time of writing, its trading between 4 and 6 HIVE each again, and the accounts that sold for 8.5 can choose if they want to buy back in.
Trading BRO for HIVE is the same as trading HIVE for USD (or HBD), try to 'BUY LOW, SELL HIGH'.
But its when we manage to chain these things together that the real multiplicative power comes into view. Imagine this scenario.
Let's say we had 350 HIVE to buy 100 BRO 2 years ago when they were originally selling at that price. If we had sold those BRO at 6, we would have 600 HIVE - a decent trade in anyoness book. With those 600 HIVE, we could today offer to buy 150 BRO back at 4 HIVE each. But consider this:
The 600 HIVE could have been traded for 1800 HBD when HIVE pumped. And buying back HIVE at 50 cents would yield 3600 HIVE, which could now be used to buy 900 BRO at 4 or even 600 BRO at 6, increasing the total yield (in BRO) from 50% to somewhere in the 600-900% range.
Now my numbers are of course cherry picked, easy numbers suspiciously close to the tops and bottoms of the markets. Its unlikely that anyone can trade perfect tops and bottoms, and while we can 'try', we shouldn't ever expect to get perfect entry points, its just not possible to predict the future like it is to calculate the past.
But as the example clearly shows, there are ways to multiply growth by understanding the currency chain.
Here's a look at the full chain I am working with:
HE Tokens <> HIVE <> USD <> Colombian Peso <> Land
The prices of each of these links in the chain moves up and down. All we have to do is have some understanding of these movements, and then its just 'straight on through the chompers'.
Try not to get crushed. Because of course this currency chain leverage can go against us, and give out outsized losses instead of the outsized gains we are looking for. But as the video clip above clearly shows (from my favorite movie: Galaxy Quest), survival is all about timing.
Predicting the future timing of events
Predicting timing is not something I am prepared to write a post about. I am no expert, I blew most of my load getting back into HIVE around 80 cents, and now we are sitting here seeing if we can reach 40. I have no magic sauce to predict the future, I only do the best I can to try to judge when things are overbought, and when things are oversold.
I am selling dollars for pesos, even though the dollar could quite likely squeeze higher in the short term. I am buying land with pesos even though a flash crash might make some land very cheap for a moment in time. I am selling many H-E tokens for HIVE, even though HIVE might keep grinding lower and some tokens might outshine even now. The future is unknown.
But we still have to act. Get your strategy together, write some numbers down on paper, and stick to it, even if you need to make mid-course corrections as you go.
This is the way.
Freedom and Friendship
---
---