Updated Plan for (dCity) Domination
Just to keep this fresh, Hello once again from your once again President of dCity - @ecoinstant - which is me, A. Trapp, a nice reference to yesterday's Abe Lincoln Joke.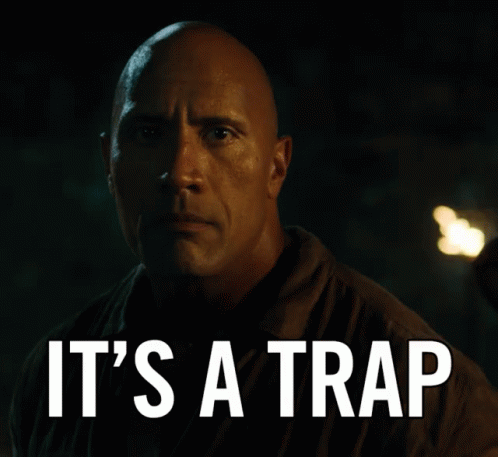 I have made a lot of announcements and pronouncements about dCity, this is not really that type of post. Here, today, I would like to see if I can show you guys a bit about how the sausage is made - some of the behind the scenes discussions and considerations behind what is our 'secret plan'.
Its not really world domination, I think of it mostly like an experiment in decentralized token-governance. We are ahead of the pack in the early days of what could be a decades-long exploratory phase in new forms of human group decision making.
There is an idea, that we can, in a weird way, vote to print more or less SIM, and if we do print less of it, its likely to be worth more. But the more it is worth the more tempting it is to print more of it, making it worth less until one day it might even be worthless. These are challenging and sometimes paradoxical considerations.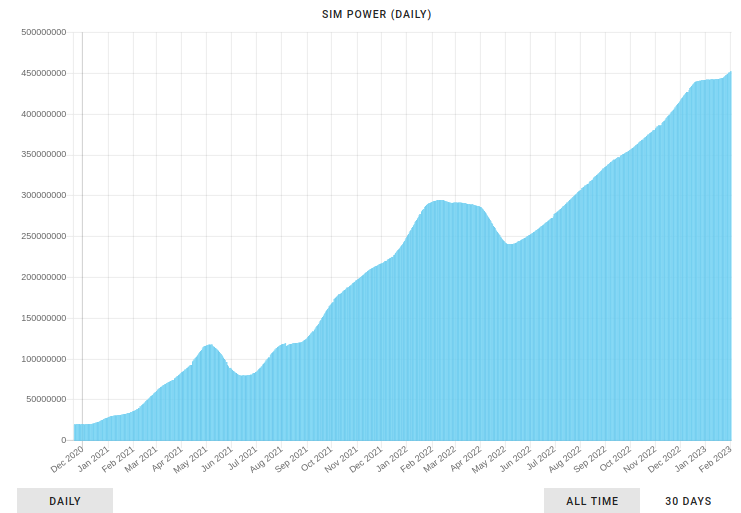 I know that eventually we might get tired of this graph. But something interesting occurred to me. Based on that slope deviation, it looks like there might be somewhere on the order of 50M SIM less in the game based on our efforts in my previous weeks as president.
Has that had an effect on the price being higher? Where would the price be if there were 50M more SIM? I'm not sure if we can actually answer that question, but some evidence indicates the price would be back at the lows, or even lower; 27% lower perhaps?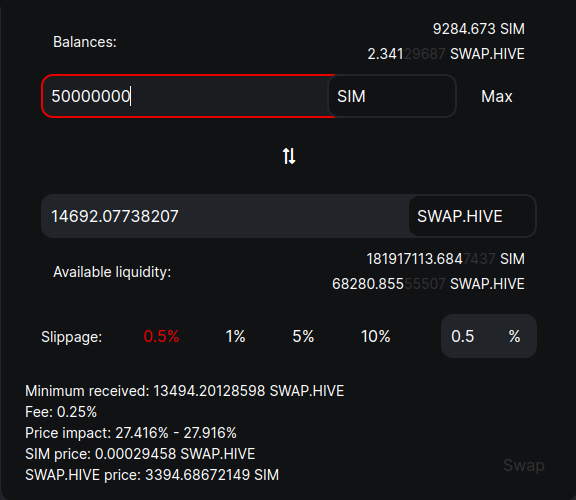 That is the additional value (~14692 HIVE) that has gone into our SIM price, paradoxically given out to each one of us by way of receiving less, and also implicit in the value of our dCity NFT cards as well as our SIM holdings. This effort that we are making, is worth it. And we can keep it up!
Just buy and hold SIM, and keep electing me. 😜

For me the Swap.HIVE:SIM LP is great place to be. Consider that because the main dividends are in SIM, the APR should improve as the SIM price increases. We also add to this holding rewards, giving us about 45% apr right now.
As we squeeze the SIM price, LP providers will DCA out of SIM and gain in Swap.HIVE holdings, impermanently gaining on their position, in HIVE terms. This might make it harder to control governance as the price rises (since we will have less SIM), unless new holders are also on board with the supply squeeze.
And as we keep squeezing, it will become more and more important who is getting the new SIM. There are 4 sources of inflation, let me review them with you all.
1. LP rewards
These SIM are non-negotiable, untouchable, 275k per day. Get used to it because there is nothing governance can do until next year when we can help gerber decide how much inflation to give it for the future.
2. Direct INCOME after Taxes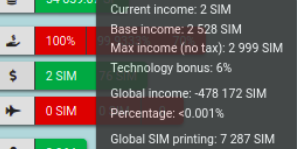 Right now, as of time of posting, the taxes with law firm are 99.9333%, leaving very little of this inflation source - according to the UI just 7287 SIM per day from this source.
I will often keep this at greater than 100%, leaving it at zero, but I find it interesting to keep it close to the edge since player governance can make marginal changes. Marginal changes, at the margins, can have fun effects. It feels like more of a game this way.
If just one person changes their lobby vote to War Tax, we are back over 100%. If we move the SIM price up near 0.0004, we lose 1% of taxes and now we increase SIM flow again. This is fun!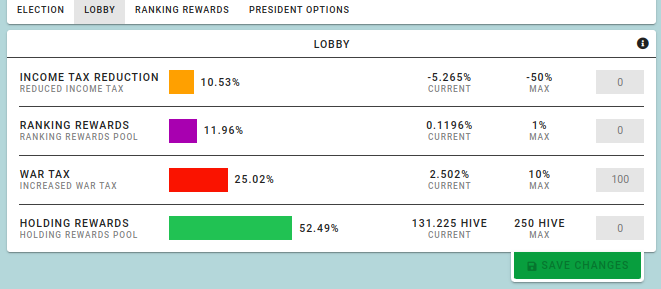 3. Tax Rebates
Rebates are a fun mechanic that has been intimately related to the Citizen Cycle. Young Citizens, Students, and their respective transformations have lots of rebates. So do Super Citizens and Sick Citizens from experimentation (a big SIM sink).
The biggest lever here is the Sick Citizen rebate. I have lowered from 2 to 1 to promote less SIM printing, but I have decided to boost it to 3 for shorter periods of time and keep it mostly at 1. This should be fun lets see how it goes. For reference, each additional point here appears to print about 100k SIM per day. And I like to activate it to encourage people to keep experimenting, it truly is a great sink.
Currently at 1 the total rebates reported by the UI is 265k SIM per day.
4. War Shares
Finally, we have the War Shares pool, which comes out of the War Tax. 80% of the War Tax is distributed back to the War Shares holders.
Based on my observations, the Pool is about 10% smaller than the UI reported 'Max War Pool', which puts it at ~445k SIM per day at current 5.5% combined War Tax from all sources. This we will be slowly lowering over the coming days.
---
Over all it appears that the minimum possible printing is around 750k SIM per day. We will see what we can do to bounce off of that number a few times, and hopefully continue to stimulate new interest in the game, which has quite a bit of new life coming back in.
The team behind dCity is still developing ideas, adding new features, and deepening gameplay. Follow along or consider one of my deriviative dCity-backed projects as a way to get some exposure.
I think that sometime soon it might occur that 3rd edition card printing closes forever. The game will keep changing. But for now, while you can still print fresh 3rd edition based cities, let's keep telling Splinterlands players that there is an interesting new game you can get started with for as little as 200 HIVE - dCity Beginner's Guide.
Its new to them!

If you are looking for a special starter city bundle to get started from, get in contact with me, my preferred model goes for about 200 HIVE right now, and I would sell for BUSD as well. This has some rare Nature Zones to boost tax rebates, so its more potent than a freshly printed 3rd edition city. I have a small but growing group of new players playing along with me, and have more candidates locally interested in making the investment and entering the world of crypto through dCity.
They will learn with me about markets, tokens, sub-tokens, shitcoins, NFTs, buy low/sell high, inflation, staking, mining, probability governance and all sorts of fun stuff like that. Its going to be a great time!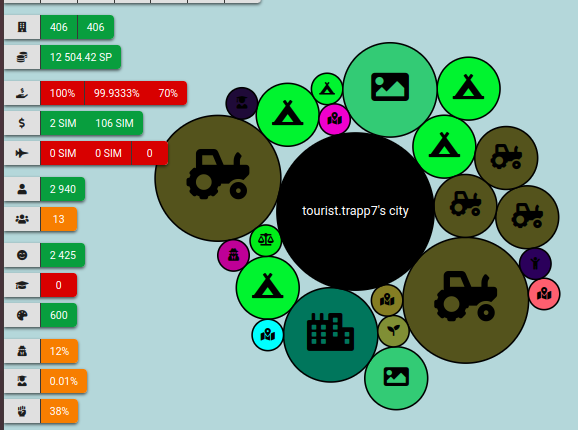 Freedom and Friendship
---
---