Working on Vacation - nothing I like better
A working vacation, is this something I just made up? But from a certain vantage point it seems like the best of both worlds, visiting and helping gives that great sense of accomplishment. I am useful, and people know it. That's sure nice to know as well, way better than being useless and having people know it.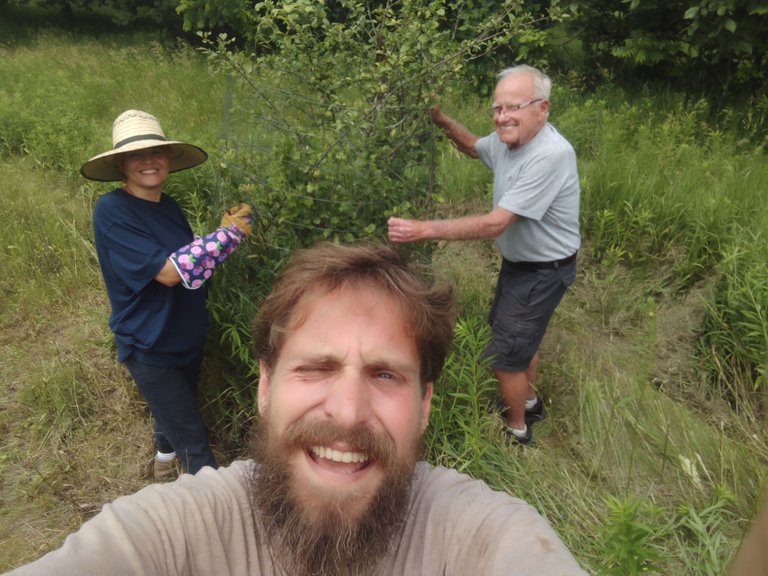 More than just taking my digital jobs with me wherever I go, working virtual tasks from any corner of this Earth, it also happens that when I go to visit my family there is a lot to do. I am an only child of four parents, there is a wide variety of activities for an able bodied man of my age waiting for me when I come to visit.
While I have many many cousins, I am happy to help out my grandparents as well, there is always stuff to do, and everyone is always busy with 'life'. Since I am an outsider now, I can come in and help with tasks that get looked over by busy people.
In my day to day life, I stay busy too, and surely there are things I could get help with by outsiders.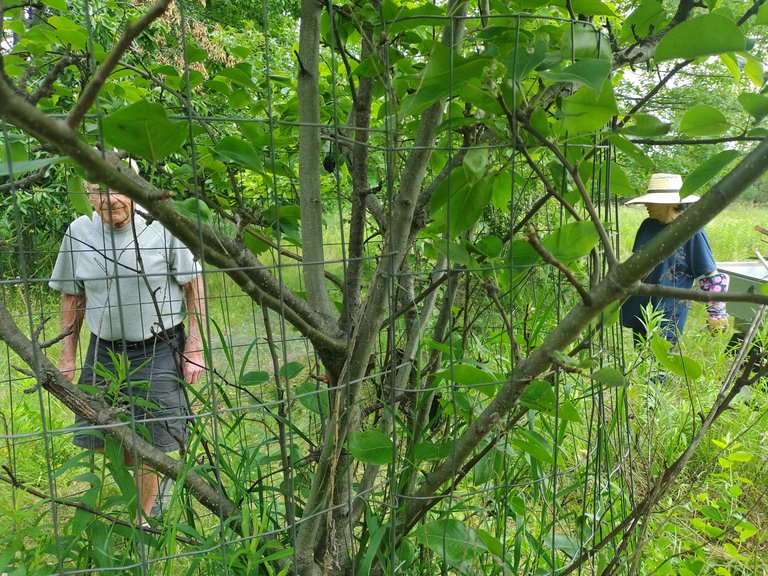 Like this job here, Grandpa has some abandoned apple trees in the back, and wants to let it grow into a woods. But this means we need to take out all the ties, screens and posts. So we did! And we found some other surprises out in the woods as well: mushrooms!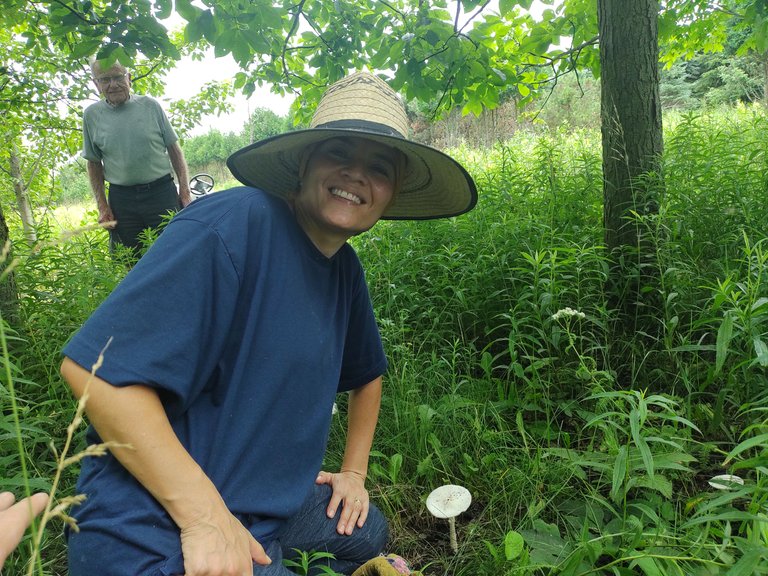 I honestly don't know any other type of vacation, its yard work around the world for me, but I don't even feel sarcastic at all when I say, I enjoy it. Because there are results, positive results and I get to claim part of that.
It isn't my job, I don't owe you anything, except perhaps everything, but you should have had half a dozen more kids if you feel that way. But I am truly happy to help and I really like getting stuff done. Thats what makes me happy - finishing tasks, checking them off the to-do list. Thats what gives me the dopamine rush. Its why I keep so busy and you know what they say, if you want something done, ask a busy person.
If a person isn't busy, its not likely that they will get anything additional done anyway.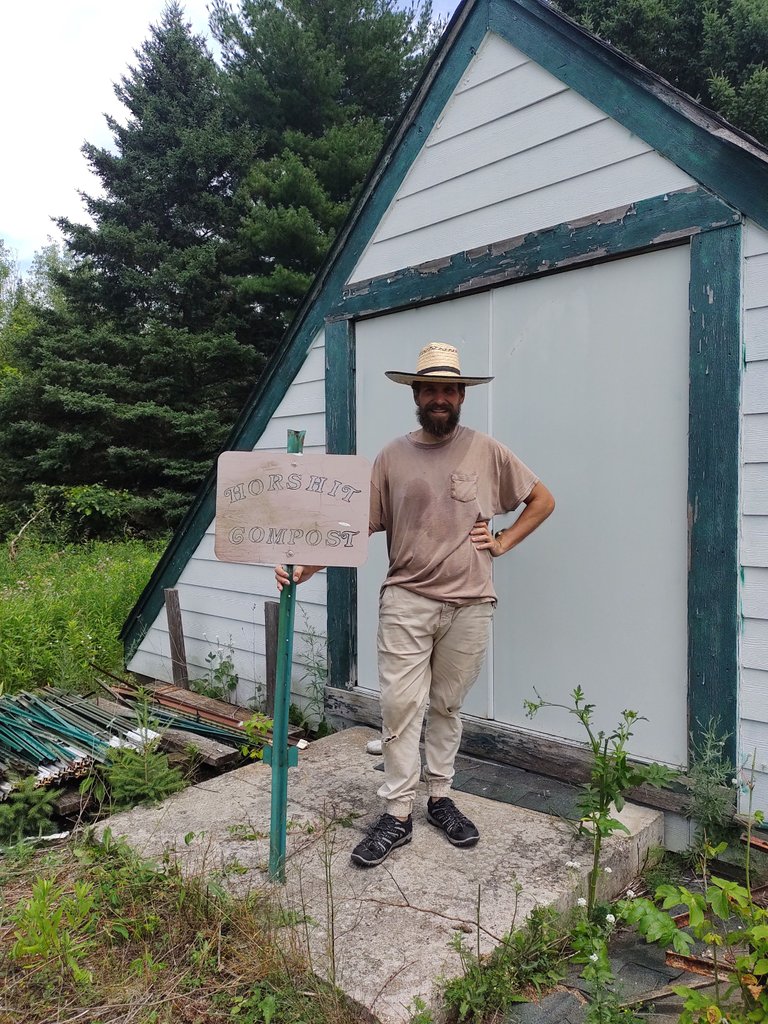 Everywhere around grandpa's farm are memories of the one and only UB, the original next-generation farmer of the family. The bone cancer he died from may or may not have been related to working with agro-chemicals, its not one of the things we can ever know for certain.
No where around is there a place without his fingerprint, but I'm happy to feel an old, good friend still alive in the wind and through the trees.
And afterwards, we showered up and went out for a wine tasting.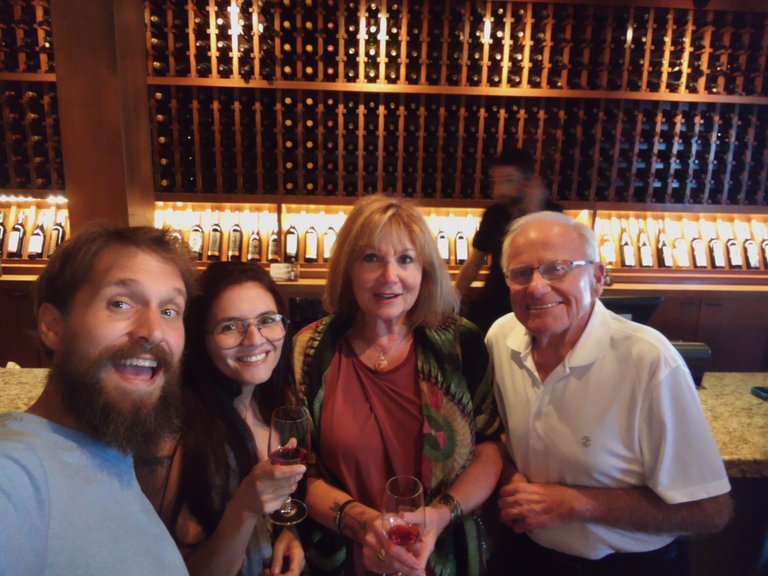 This I suppose is what a vacation is like. Its fun I reckon to go out, except when its over I feel drunk and fat instead of proud and accomplished.
I guess life, and vacation, is about balance. For every apple tree you rescue, enjoy a glass of wine.
Freedom and Friendship
---
---