EDS income token weekly report - 53
Hello EDS'ers. Today is the day we issue the EDS weekly report to keep all your guys up to date and let you know how things are going.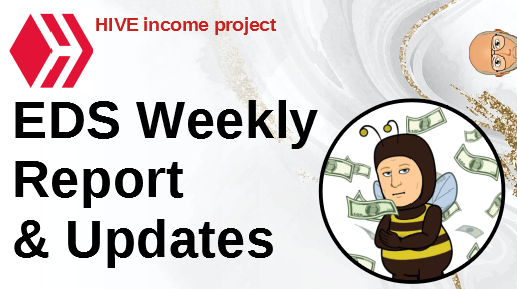 What are EDS tokens?
EDS tokens are HIVE income tokens that pays out weekly dividends every Monday based on 12% of the total power up the balance of the @eddie-earner account. This is currently paying out an APY to token holders of over 25%.
(Example of how the HIVE income pool is worked out)
EDS is pegged to 1 HIVE per token
12% of over 53,000 HIVE POWER pays out (53000*12/52.18) 121.88 per week
24,900 EDS in circulation each yield (121.88/24900) 0.0048 HIVE per week
0.0048 each week for 1 year (52.18) equals 0.255 HIVE
1 EDS pays out a HIVE income of roughly 25.5% per year
EDS tokens launched with a hardcap of 500,000 and a public sale of 20,000 tokens each issued for 1 HIVE each. The only way to mint new EDS tokens is by owning and staking either EDS miners (EDSM) are EDS mini miners (EDSMM) tokens. These miners when full issued and staked will yield a 20% minimum ROI per year.
EDS converts all earnings, airdrops, tribe tokens into HIVE. This account is 100% focused on powering up as much HIVE as possible. It's just that single-minded. This projects weekly saving club content is run by @shanibeer and wallet by @silverstackeruk both on behalf of SPinvest. This is a long term project and should be viewed as a token to stack up and HODL. Buy some miners, let them mint you some EDS tokens, build a pile and collect weekly HIVE dividends. In other words, buy some EDSM miners and forget about it. Add a few every week/month and watch your EDS pile grow. You can also buy EDS directly from the market, if you add a buy order for any amount at 1 HIVE each, it'll get filled. It might take a few days but it'll get filled as some miners like to sell their mining rewards right away to lock in them profits.

Another week has passed and we're still smashing it. The EDS APY has hit a new time high of 36.64% which is amazing and mind-blowing at the same time. I decided to keep the tracking going instead of starting a new year fresh.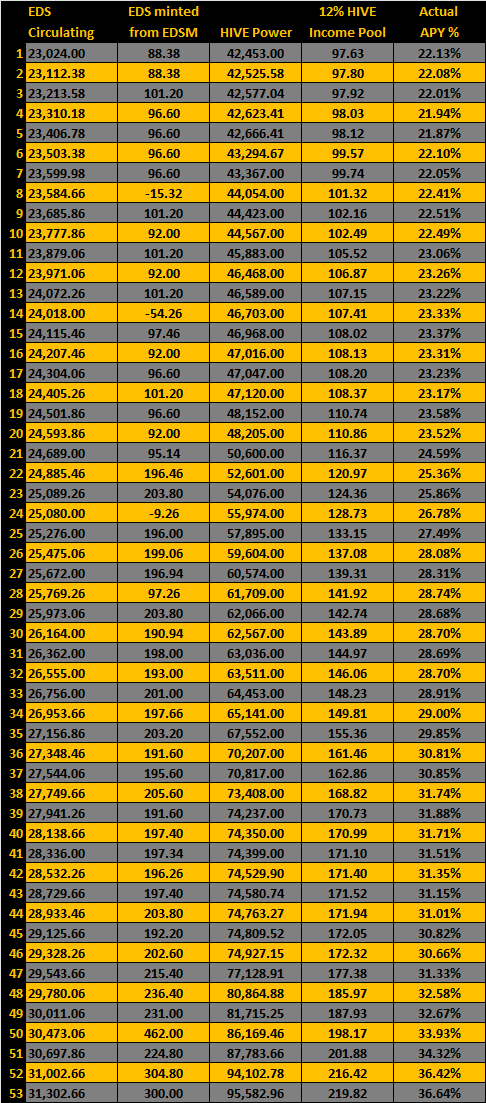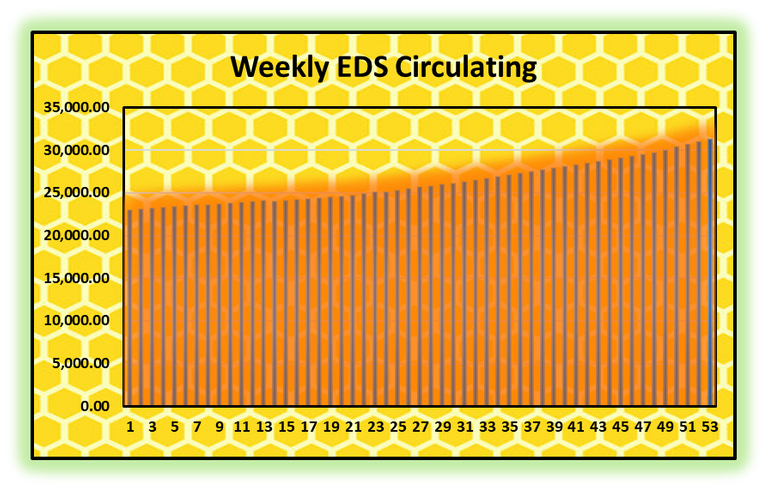 There are 300 EDS minted this week through EDS miners and the token EDS distirubtuion is going as planned so not much to report.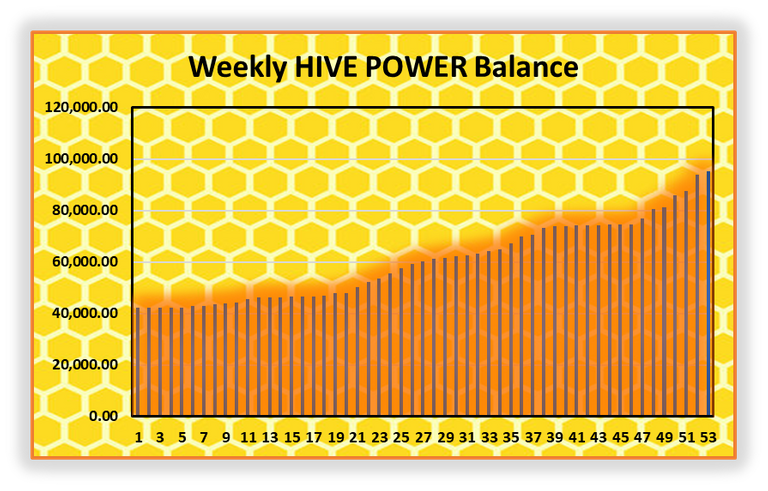 We're getting closer to hitting 100k HP. When the last of the EDSMM tokens sell out, we will just make the 100k mark. Im not sure how much HIVE you need to be a whale but i would guess its more than 100k. The above chart is pretty pleasing to look at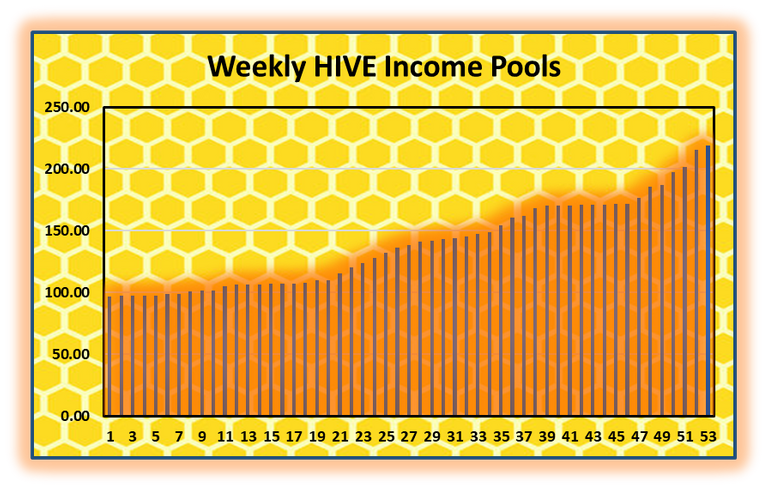 As with every week, this has increased and the HIVE income pool is up to 219.82 HIVE. The past few weeks has seen this increase by 10% which is massive when we consider it's been building for over almost 3 years.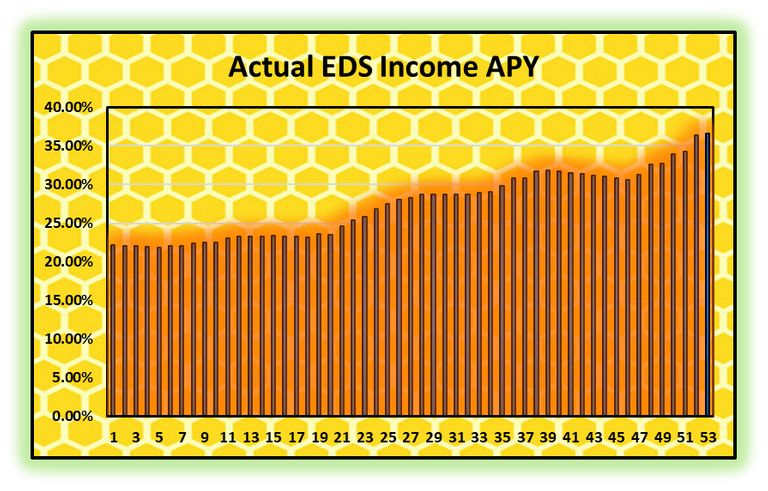 The EDS APY is peaking out this week at near 37%. Its really amazing that this account is to produce such a yield for its tokens holder during the bear market. What a fantastic way to start the year!

How do you build a HIVE income that only ever increases over time?
If the EDS project sounds right up your street, there are 2 ways to get your hands on EDS tokens. Building a HIVE income is one of those things when getting started sooner than later is better. We all put money aside for a pension/old age with the money we earn from jobs, why not do the same with blockchain earnings? If blockchain is the future, why not be playing the game of life 3 steps ahead of everyone else? There's no day like a day to start increasing your income and the snowball effect is real when you have patience.
Mine them
The 1st EDS miner (EDSM) is now sold out and can be bought from the hive-engine market by clicking here
The 2nd EDS mini miner (EDSMM) is still available to buy at the cost of 1 HIVE per mini miner by clicking here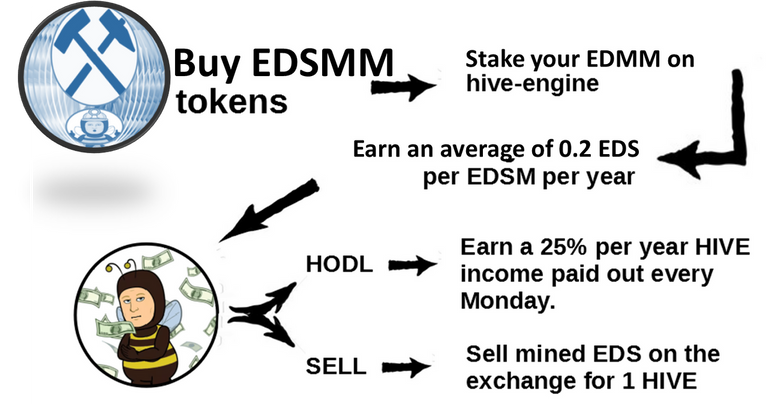 Buy them
Or buy them directly from hive-engine from someone looking to sell out. You can place a buy order for 1 HIVE and just wait, it will get filled. Click HERE

Weekly Roundup
Another great week under the belt for EDS. There are under 5000 EDSMM left for sale and then that's it, 100% no more EDSMM will be minted. Sheet, I might even buy a few myself before they run out.
I have been thinking about an HBD income token again, built up an excel sheet to see how it would work out and the results were choppy. HBD is paid 12 times per year on the same date each month. Most of the months contain 4 weeks but some contain 5 weeks which means some months the interest is split over 5 instead of 4.
Using the EDS model on HBD including miners can work. I'll post up a few results I got to give you an idea of what im looking at.
My numbers are based on an example of issuing 10k EDS$ during an IPO.
Doing nothing for 6 months and then releasing EDS$ miners
Miners are sold over 26 weeks
| No Miners | 5000 miners | 10,000 miners |
| --- | --- | --- |
| 12.36% APY | 17.71% APY | 22.39% APY |
I only looked into 1 year but I can say that issuing 5000 miners would put the EDS$ APY at over 20%. EDS paid out between 12-14% for its first 18 months but those that bought them up are doing well now. 1 other thing i would like to look at is no IPO and going straight into miners. I have a few ideas i would like to run. I'd really like to have an EDS HBD token that paid out a $ income and investors can have the best of both.
Anyways, that's the week, it's been another good one. Income payments will go out this evening and I hope and wish you a great week.

@eddie-earner is operated and its wallets/funds are backed by SPinvest

---
---