The last 12.500 EDSMM are now released!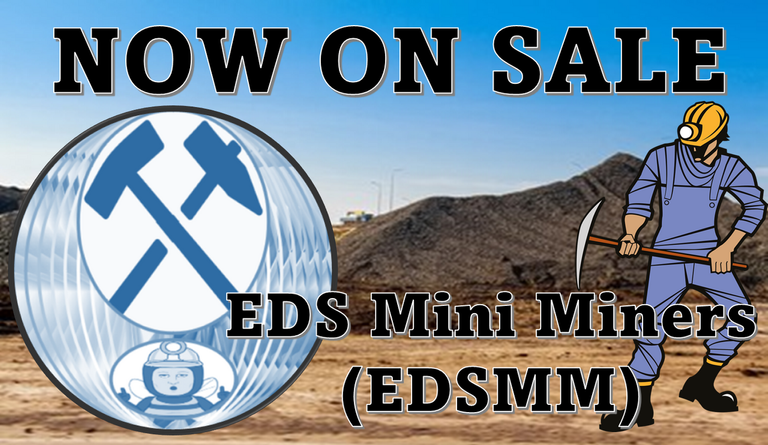 What are EDSMM tokens?
These are EDS mini miners and they mint EDS tokens. They will yield 20% when all miners are issued and staked. If miners are still for sell or some are not staked, the yield will be greater.
What are EDS tokens?
EDS tokens are HIVE income tokens that are pegged to 1 HIVEp. All earnings produced by EDS is converted to HIVE POWER and the EDS APY is based on 12% of the total @eddie-earner HIVE POWER balance every Monday at 8 pm UTC (no staking required). EDS was launched with a soft cap of 20,000, at this point the APY was 13%. Since releasing the 1st and 2nd EDS miners, the EDS APY has increased to over 30%. This percentage will increase as miners are sold and earnings increase through HIVE POWER growth based on my projected earnings below.
There are 470,000 EDS waiting to be minted. Get your hard hat on and grab a shovel.

12,500 newly minted EDSMM listed on hive-engine
There were 25,000 EDSMM minted on 1st release, due to demand I minted 12,500 more and said that if they sold quickly, I would do a final mint of 12,500 EDSMM. The 2nd release sold quickly so I minted and listed 12,500 EDSMM 2 days ago.
If you already hold EDSMM, you will see an increase in your mining rewards. Currently, the ROI for EDSMM is around 25% but it will continue to drop back to 20% as miners are sold and more people join in.
Below is a snap of the EDSMM settings. I edited the Lottery amount to be 33.334% bigger and left anything else as it was. Ideally, i would have liked to have increase the the amount of Lottery Winners to maybe 40. This would have bought us bought the how it was set up originally on 1st release with a Lottery Amount of 0.57. You will win half as often but double the amount because 20 is the max.

So everything is the same, 1 draw per hour with 20 winners per draw. I changed the setting 2 days back so EDSMM holders are already getting boasted mining rewards.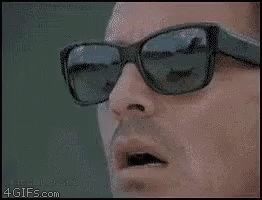 3500 already sold!!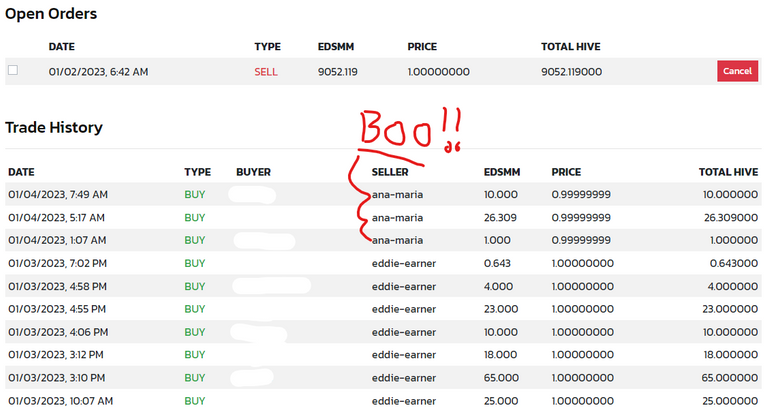 To sell 3500 EDSMM is 2 days is amazing, i would love to mint more but sadly there are only so many EDS (500k). Let me explain EDS allocation and then you will understand why this is the last release of EDSMM.
EDS Token Allocation basic idea
There were 500k EDS created. I sold 20k EDS for 1 HIVE each, this was on offer for 6 months and it was a hard grind to sell those 20k. So after the token was soft capped to 20k, it stayed there for a while, a few months with 480k EDS tokens that could still be created. Thats when I created the first EDS miner (EDSM) and I think actually the first miner on HIVE that issued rewards in HIVE when we factor in that EDS tokens are pegged to 1 HIVE. Same same but different.
When EDSM was released, there were 2k tokens at 10 HIVE each. Those 2k EDS miners have to provide mining rewards for a long time. I decided on a minimum of 20 years. Down the line in 18-19 years' time, if things are 100% self-funding to grow we can explore the idea to create a secondary EDS token pegged to a different value of HIVE and continue on. 20 years is the minimum.
Each time I issue any EDS miners, I have to allocate some of the remaining EDS tokens that can be minted to that miner. All miners are set to ROI at 20% when all are issued and staked. On that first release, there was 20k HIVE raised for selling 2k miners at 10 HIVE each. The miner ROI is 20% which is 4k EDS/HIVE per year from the 20k HIVE received. EDS are pegged to 1 HIVE so i need to allocate 4k EDS per year for mining rewards.
4k times 20 years is 80k EDS.
Here is the current state of EDS's token distribution starting from 500k
EDS in circulation = 30,790.86
Allocated to EDSM rewards = 80,000
Allocated to EDSM rewards = 200,000
Not allocated = 189,209.14
With about 180k to play with, im sure i can think of something good. After these current EDSMM sell out, i might explore HBD and see if EDS could be replicated with HBD and put EDS on ice for a while to let it runs its course. EDS is a long-term project so allocating those remaining 180k tokens can be next month, at the end of the year or in 3-4 years, it's all the same as long as we're doing something and moving forward. I just think that there's something there with HBD and I think I could make it a weekly payout instead of monthly as it is. It providing liquidity because the hive-engine only transacts in swap. hive and not swap.HBD and that a headache.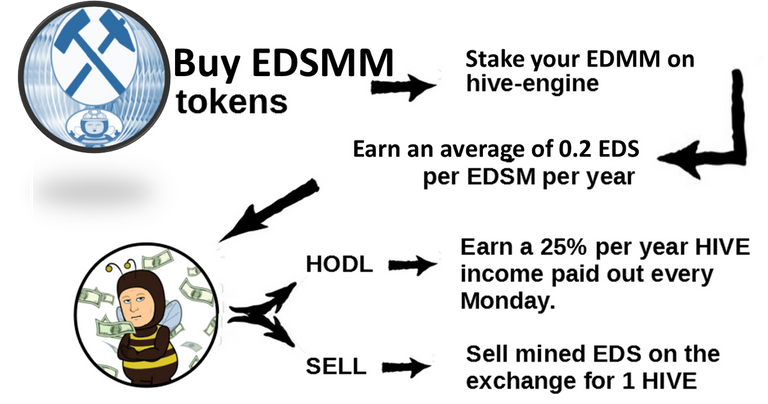 You should have no problem selling your minted EDS tokens if you desire the 20% ROI. EDS tokens are pegged to 1 HIVE and if you list them for sale at 1 HIVE, someone will buy them for the 34% APY in weekly HIVE payments. I would not say that exit liquidity is instant but there are normally a few with buy walls and if not, you can list and they will sell in a few hours/days. 1 thing to note is, you should always get 1 HIVE for selling an EDS token, if you sell it for less, you've made a mistake. There is no official back buy wall but investors know the value of EDS and when listed at 1 HIVE for sale, they don't hang about long.
Listed on hive-engine - 1 HIVE each
see the EDSMM launch post for full details.
---
---