My Experience Learning About Trading - Mi Experiencia Aprendiendo Trading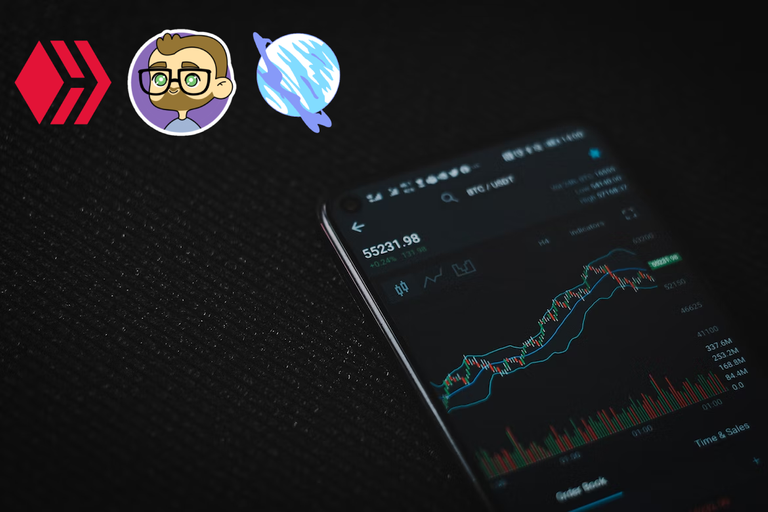 ---
Hello again, Hivers and LEO Community!
In my last LeoFinance post, I shared that I started to learn more about trading. This was a flash course by Octavio Mata, a professional crypto trader from Mexico. The course started last Sunday and ended on Friday. It was a great introduction, and in the post, I want to share what I learned the rest of the week. This post will cover from day three to day six of the course.
There were almost 200 members in the private group, but only about 15 to 20 people connected daily. We were asked to take notes, and I'm writing this post from my notes. One of the first things that Octavio told us was that we need capital to make more capital. To make money, you need to invest money. Trading is a serious job and can be an excellent income source if done correctly.
¡Hola de nuevo, Hivers y Comunidad de LeoFinance!
En mi último post de LeoFinance, compartí que empecé a aprender más sobre trading. Realicé un curso rápido impartido por Octavio Mata, un trader profesional de México. El curso comenzó el domingo pasado y terminó el viernes. Fue una gran introducción a este mundo, y en este post, quiero compartir lo que aprendí el resto de la semana. Este post cubrirá desde el día tres hasta el día seis del curso.
Había casi 200 miembros en el grupo privado, pero sólo unas 15 o 20 personas se conectaban diariamente. Se nos pidió que tomáramos notas, y estoy escribiendo este post a partir de ellas. Una de las primeras cosas que nos dijo Octavio fue que necesitamos capital para hacer más capital. Para ganar dinero, hay que invertir dinero. El trading es un trabajo serio y puede ser una excelente fuente de ingresos si se hace correctamente.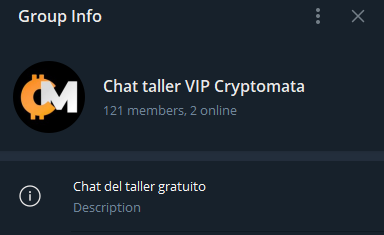 Octavio recommended we have about 1,000 USD to trade. Of course, this is up to everyone's budget, but he recommended this nice round number. He told us that we should set a goal of how much money we would need to live from trending, and the best thing is to have multiple sources of income. I think 50 Dollars a day would be great for me. From that 1,000 USD, we can divide it into two parts. He told us we could build a long-term portfolio using 20% of the total and the other 80%% we could use to generate revenue from trading.
The long-term portfolio will not be touched for a least a year, and if the coins do well, we can earn a good revenue with that portfolio, even three times the value. We also talked about the risk. Coins in the first 50 places have a lower risk than coins near the top 100. If we go for coins in the 300+ rank, we will risk a lot, which could generate bigger revenue.
So we built a portfolio and bought six different coins. We allocated about 33 dollars each and forgot about them for at least a year. As I said before, the other 800 will be used for trading, and we will choose only one coin. Why is that? It is because we have to analyze it very carefully, which can take a lot of time. We must become experts in the coin and make technical and fundamental analyses.
One of the first things we checked was their CoinMarketCap page and see if they have gone up a lot in the last 30 days. We learned that buying a coin that has already gone up is not a good idea. So we found a couple that had negative growth in the last month. Other good options are coins that have their Blockchain, and there are very good examples, but most fight against each other for supremacy. Octavio told us he liked coins from exchanges, such as BNB from Binance Chain, FTT from the FTX exchange, and BIT DAO from Bitly.
Octavio recomendó que tuviéramos unos 1,000 dólares para operar. Por supuesto, esto depende del presupuesto de cada uno, pero él recomendó este número. Nos dijo que deberíamos establecer una meta de cuánto dinero necesitaríamos para vivir del trading, y lo mejor es tener múltiples fuentes de ingreso. Creo que 50 dólares al día sería estupendo para mí. De esos 1,000 dólares, podemos dividirlos en dos partes. Nos dijo que podíamos construir una portafoio a largo plazo utilizando el 20% del total y el otro 80% lo podríamos utilizar para generar ingresos con el trading.
El portafolio a largo plazo no se tocará durante al menos un año, y si las monedas van bien, podemos obtener unos buenos ingresos con esa cartera, incluso tres veces su valor. También hablamos del riesgo. Las monedas situadas en los primeros 50 puestos tienen un riesgo menor que las monedas situadas cerca de los 100 primeros puestos. Si vamos por las monedas situadas en el rango de las 300 o más, arriesgaremos mucho, lo que también podría generar mayores ingresos.
Así que construimos un portafolio y compramos seis monedas diferentes. Asignamos unos 33 dólares a cada una y nos olvidamos de ellas durante al menos un año. Como he dicho antes, los otros 800 dólares se utilizarán para el comercio, y elegiremos sólo una moneda. ¿Por qué? Porque tenemos que analizarla muy cuidadosamente, lo que puede llevar mucho tiempo. Debemos convertirnos en expertos en la moneda y hacer análisis técnicos y fundamentals.
Una de las primeras cosas que comprobamos fue su página en CoinMarketCap y ver si ha subido mucho en los últimos 30 días. Aprendimos que comprar una moneda que ya subió no es una buena idea. Así que encontramos un par de ellas que tuvieron un crecimiento negativo en el último mes. Octavio nos dijo que le gustaban las monedas de los intercambios, como BNB de Binance Chain, FTT del intercambio FTX, y BIT DAO de Bitly. Otras buenas opciones son las monedas que tienen su propia Blockchain, y hay muy buenos ejemplos, pero la mayoría luchan entre sí por la supremacía.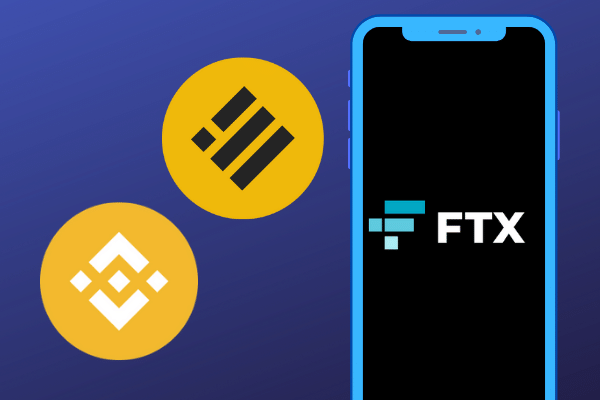 Source - Fuente
The goal was to find a coin where we could gain at least 10% in a month. Our analysis would have to be so good that the deal is sure and we can minimize the risk. We learn how to see a trend, in macro and micro trends. The trend is our friend, and we should never go against it. Another important thing is that we should always see everything in percentages, not dollars.
After we have found the trend, we can draw lines to find the support and the resistance areas. The price can be marked within a range, giving us an idea of where we can buy and sell. Most exchanges have a graphic that can be checked directly in TradingView, and we can check them in seven days, daily candles, four hours, one hour, and even lower. By checking the history, we will find that there will always be opportunities to enter the market and that patience is the key.
I learned something very interesting on one of the last days of the course. The trading lines can be drawn in areas where the price has touched at least two or three times, giving us a better idea of where the price moves. Trends can be broken, and this can be because of many factors, such as news, volume, updates, hacks, and more. Coins are repetitive. They tend to check the same zones multiple times, but most times, they do it three or four times. It is very unlikely for a coin to re-test a fifth time, so we can use these stats to make decisions, as it is very likely that they can either go up or go down. We have to check all the details of a coin. This is why it is important to focus only on one.
El objetivo era encontrar una moneda en la que pudiéramos ganar al menos un 10% en un mes. Nuestro análisis tendría que ser tan bueno que la operación fuera segura y pudiéramos minimizar el riesgo. Aprendemos a ver una tendencia, en macro y micro tendencias. La tendencia es nuestra amiga y nunca debemos ir en contra de ella. Otra cosa importante es que siempre debemos ver todo en porcentajes, no en dólares.
Después de haber encontrado la tendencia, podemos trazar líneas para encontrar las zonas de soporte y de resistencia. El precio puede marcarse dentro de un rango, dándonos una idea de dónde podemos comprar y vender. La mayoría de las casas de cambio tienen un gráfico que se puede consultar directamente en TradingView, y podemos comprobarlo en velas de siete días, diarias, de cuatro horas, de una hora, e incluso inferiores. Comprobando el historial, descubriremos que siempre habrá oportunidades para entrar en el mercado y que la paciencia es la clave.
Las líneas de trading se pueden dibujar en zonas donde el precio ha tocado al menos dos o tres veces, lo que nos da una mejor idea de hacia dónde se mueve el precio. Las tendencias pueden romperse, y esto puede deberse a muchos factores, como las noticias, el volumen, las actualizaciones, los hacks, y más. Aprendí algo muy interesante en uno de los últimos días del curso. Las monedas son repetitivas. Tienden a comprobar las mismas zonas varias veces, pero la mayoría de las veces lo hacen tres o cuatro veces. Es muy poco probable que una moneda vuelva a comprobar una quinta vez, así que podemos utilizar estas estadísticas para tomar decisiones, ya que es muy probable que puedan subir o bajar. Tenemos que comprobar todos los detalles de una moneda. Por eso es importante centrarse sólo en uno.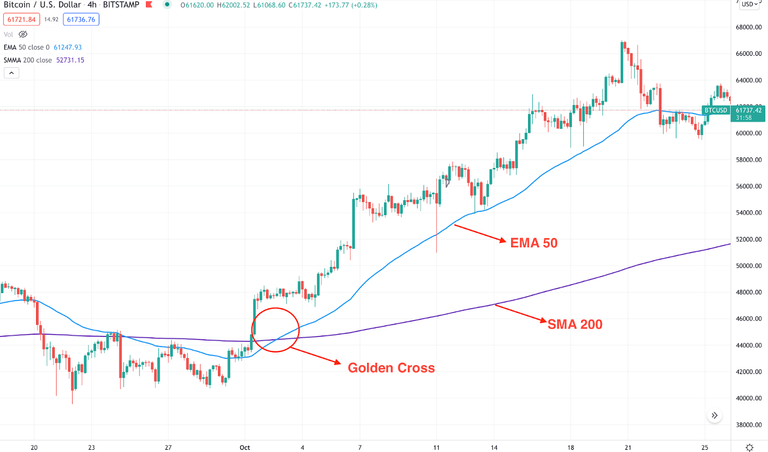 Source - Fuente
Another important thing that I learned is the EMA (Exponential Moving Average). They work as a barrier to the price, and when they are crossed fast and aggressively, it is a good indicator that the price has changed direction. There are still more details I have to learn about this, but I saw an example of this the other day with Hive when it went from 0.50 to 0.67 in a couple of hours.
The last couple of sessions were to draw in the graph and check prize zones. This gave us a very good idea of what the market could do next. After checking all the possibilities, we concluded that the best scenario is to win at least 10% and only risk 5%. Also, check the worst scenario and mark it in the graph. Technical analysis can always fail. In crypto, the fundamentals can have a bigger influence, which is very volatile.
Otra cosa importante que aprendí es la EMA (Media Móvil Exponencial). Funcionan como una barrera para el precio, y cuando se cruzan rápida y agresivamente, es un buen indicador de que el precio ha cambiado de dirección. Todavía hay más detalles que tengo que aprender sobre esto, pero vi un ejemplo de esto el otro día con Hive cuando pasó de 0,50 a 0,67 en un par de horas.
El último par de sesiones fue para dibujar en el gráfico y comprobar las zonas de premio. Esto nos dio una muy buena idea de lo que el mercado podría hacer a continuación. Tras comprobar todas las posibilidades, llegamos a la conclusión de que el mejor escenario es ganar al menos un 10% y arriesgar sólo un 5%. Además, comprobamos el peor escenario y lo marcamos en el gráfico. El análisis técnico siempre puede fallar. En las criptomonedas pueden influir más los fundamentos, que son muy volátiles.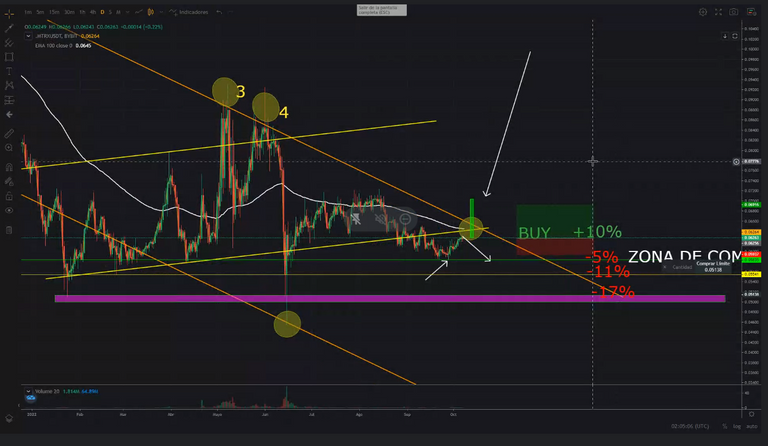 We analyze a coin that, for personal reasons, I am not very fond of, and that is why I decided not to make a move there. But I plan to apply what I have learned soon. I will keep learning and practicing. I will use at least one of my days to analyze crypto. I can start practicing with Hive, but I would like to find another good project that can give me at least 10% that we discussed earlier. I'm still not sure which one.
Thank you for reading. Let me know your thought in the comments. After learning about this topic, I feel lucky to have first found Hive and content creation. It was great to be able to earn without investing lots of money. And now, this money can help me find other opportunities, and I think trading is one of the good ones, so it is good to know the basics.
Analizamos una moneda a la que, por razones personales, no le tengo mucho cariño, y por eso decidí no hacer una compra en ese momento. Pero pienso aplicar pronto lo que he aprendido. Seguiré aprendiendo y practicando. Utilizaré al menos uno de mis días para analizar las criptomonedas. Todavía no estoy seguro de cuál. Puedo empezar a practicar con Hive, pero me gustaría encontrar otro buen proyecto que pueda darme al menos un 10% de lo que hemos hablado antes.
Gracias por leer. Me gustaría saber su opinión en los comentarios. Después de aprender sobre este tema, me siento afortunado de haber encontrado primero Hive y la creación de contenidos. Fue genial poder ganar sin invertir mucho dinero. Y ahora, este dinero puede ayudarme a encontrar otras oportunidades, y creo que el trading es una de las buenas, por lo que es bueno conocer los fundamentos.
Posted Using LeoFinance Beta
---
---