Aceptando qué no estás en casa papá con un sentimiento de dolor.[ESP-ENG]

Hola Hivers
Ya han pasado 11 días desde que mi papá tomo la desición de irse de casa por un tiempo, y les comento que hace cuatro días tuve que acompañarlo de viaje para que pudiera llegar a su destino, ya con solo recordar esos momentos empiezan aguarse mis ojos con lágrimas, por qué no fue nada fácil el simple hecho de verlo en la mañana sentado en la sala con su bolso para este partir de viaje.
Hello Hivers
It has been 11 days since my dad made the decision to leave home for a while, and I tell you that four days ago I had to accompany him on a trip so he could reach his destination, and just remembering those moments my eyes begin to water with tears, because it was not easy to see him in the morning sitting in the living room with his bag to leave for this trip.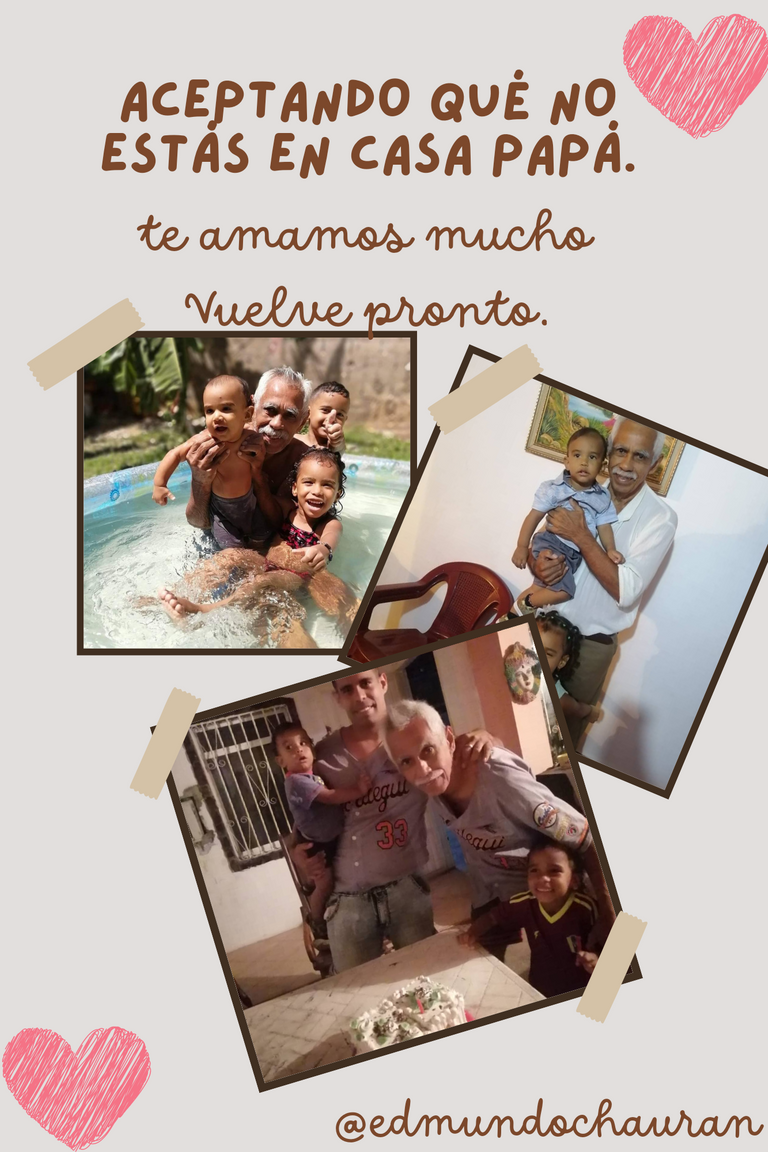 Me levanté y trataba de alargar más el momento de que este cruzará la puerta de mi casa para afuera, pues ya sabía que al poner un pie afuera no había vuelta atrás, pero el insistía en irse pues no quería estar más acá, así que me vesti, me lave la cara y solo tome un vaso de agua pues no tenía ganas ni de comer, al tomar el bolso de viaje y yo salir de casa a lo lejos escuché cuando se despedia de sus nietos y no les niego que rompí a llorar y caminaba rápido para no escuchar esa triste despedida que desgarraba mi corazón, yo volteaba hacia atrás mientras caminaba hacia la parada de autobuses que nos llevaría hasta el terminal de pasajeros y el venía caminando lentamente mirando su alrededor que durante cinco años fue su hogar, dónde deja amigos y familia.
I got up and tried to extend the moment when he would cross the door of my house to the outside, because I knew that when I set foot outside there was no turning back, but he insisted on leaving because he didn't want to be here anymore, so I got dressed, washed my face and only drank a glass of water because I didn't even feel like eating, As I took my travel bag and I left the house I heard in the distance when he said goodbye to his grandchildren and I do not deny that I burst into tears and walked quickly to not hear that sad farewell that tore my heart, I turned back as I walked to the bus stop that would take us to the passenger terminal and he came walking slowly looking around him that for five years was his home, where he leaves friends and family.
Mientras íbamos en el autobús de para llegar al terminal de pasajeros sentía mucha rabia y no quería hablar con el, pues sentía un dolor inmenso el saber que no estaría en casa por un buen tiempo, por mi cabeza solo pasaban pensamientos en los cuales yo era el que había fallado en todo y el no, esto se debe a qué su enfermedad lo exonera de cualquier culpa que tenga en actos que cometió y que pudo haber ocasionado daños, esto lo entiendo ahora que no está a mi lado y no saben el dolor que tengo pues estoy escribiendo acostado en la cama de su cuarto y la soledad en el se siente pues está vacío, ya no lo tengo acá para entrar a ver un partido de fútbol o sencillamente pasar a buscarlo para ir a jugar dominó con sus amigos y compartir con el.
While we were on the bus to get to the passenger terminal I felt very angry and I did not want to talk to him, because I felt an immense pain knowing that he would not be home for a long time, in my head only thoughts were going through my head in which I was the one who had failed in everything and he had not, this is because his illness exonerates him of any guilt in acts that he committed and that could have caused damage, I understand this now that he is not by my side and you do not know the pain I have because I am writing this lying on the bed in his room and the loneliness in his room is felt because it is empty, I no longer have him here to come in to watch a soccer game or simply to pick him up to go play dominoes with his friends and share with him.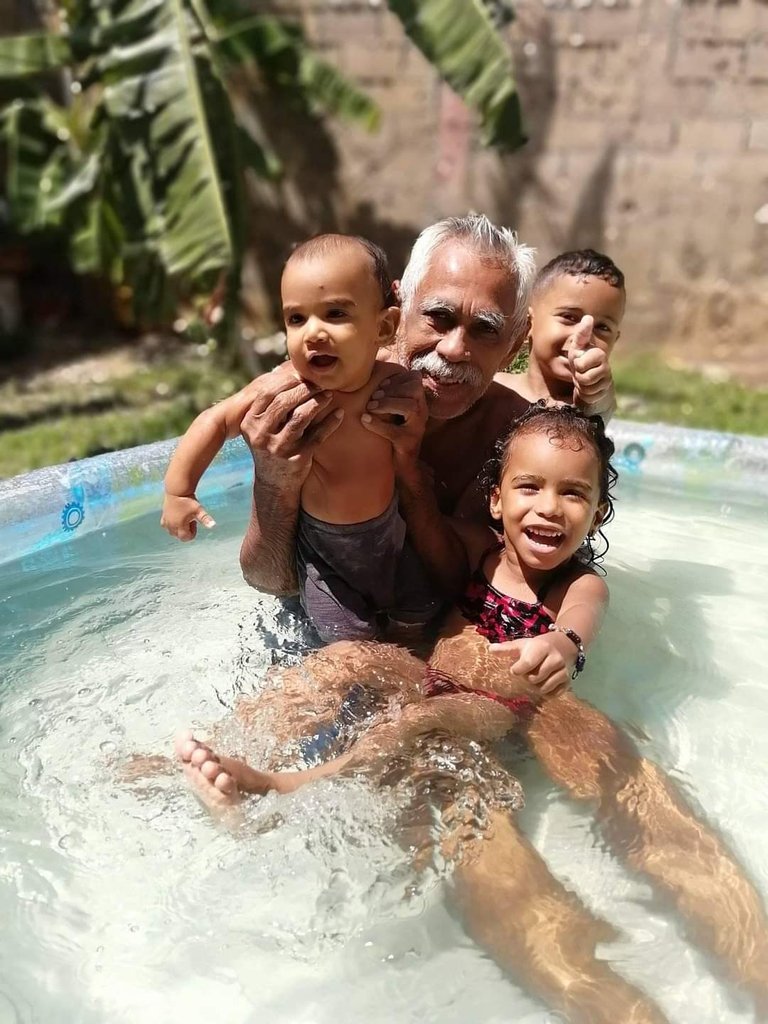 Estando en el terminal tomamos un autobús el cual primero nos llevaría hasta Puerto la cruz estado Anzoátegui, el trayecto hasta allá era de una hora y veinte minutos, así que nos montamos y abordamos el autobús dónde nos sentamos juntos y desde que arrancó el empezó hablar conmigo dandome unas indicaciones o consejos que tenía que aplicar en casa, así que hablamos y dejamos muchas cosas en claro y no les negare que me tragaba las ganas de llorar cada ves que de mi boca salían palabras solo para alentarlo y decirle que respetaba su desición pero que lo quería de vuelta, la conversación con el me la reservaré pues son cosas muy personales las cuales unas me dolieron mucho y otras me dejaban cierta tranquilidad, pero no les negare que está conversación la necesitaba, y estás es una de las razones por las cuales siento que falle por que el siempre me decía que necesitaba hablar conmigo y yo lo ignoraba por no saber manejar la situación y ser un hijo cobarde que no quería que su padre se fuera.
Being in the terminal we took a bus which first would take us to Puerto La Cruz, Anzoátegui state, the trip there was an hour and twenty minutes, so we got on and boarded the bus where we sat together and since it started he began to talk to me giving me some indications or advice that I had to apply at home, So we talked and made a lot of things clear and I won't deny that I felt like crying every time words came out of my mouth just to encourage him and tell him that I respected his decision but that I wanted him back, I will keep the conversation with him to myself because they are very personal things which hurt me a lot and others left me some peace of mind, but I will not deny that I needed this conversation, and this is one of the reasons why I feel I failed because he always told me he needed to talk to me and I ignored him for not knowing how to handle the situation and being a cowardly son who did not want his father to leave.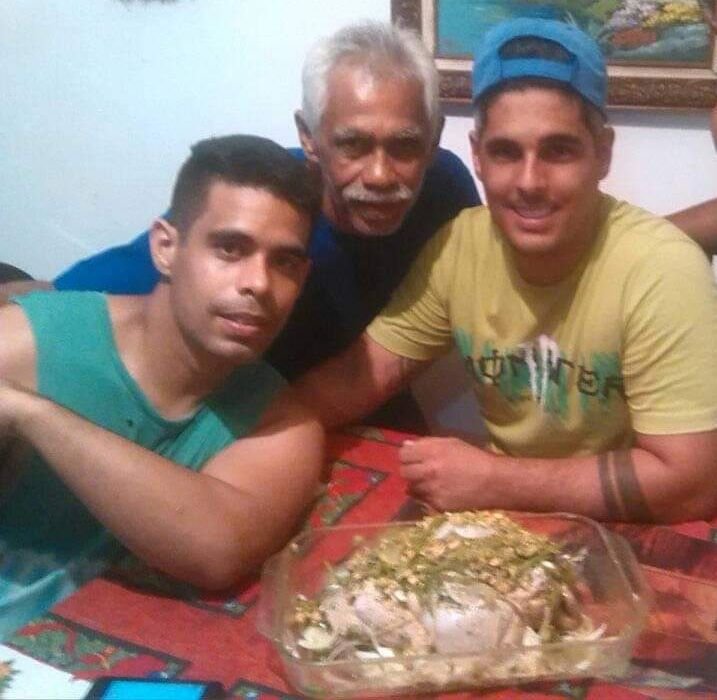 Pero luego de conversar con el por una hora y media sentí un alivio, pues se que tampoco hice todo tan mal, luego de llegar al estado Anzoátegui a él le esperaba un otro recorrido más de dos horas en el mismo autobús y esa travesía si le tocaba ir solo a él pues ell presupuesto que tenía era muy corto para costear los viajes ida y vuelta acompañándolo por completo, así que le pedí el número al chófer del autobús y dos pasajeros que iban al lado de el que rapidamente se volvieron sus amistades de viaje para hablar, antes de salir el autobús del terminal el fue al baño y yo lo espere en la puerta, al el llegar yo sabía que ese era el momento de no verlo más por un tiempo así que el me dió un abrazo y yo también le correspondi con un abrazo fuerte y un beso en su frente el cual al mirarlo a sus ojos ví que estaba llorando y se le salían las lágrimas, pero aguantaba como un toro por así decirlo para no romper a llorar y yo hice lo mismo, luego de eso de decirle que lo amaba el solo me dijo cuida a Nina y Ethan mis hijos que son su adoración, gracias a estos niños el estuvo muy cuerdo por unos dos años siendo su motor de amor en la vida.
But after talking with him for an hour and a half I felt a relief, because I know that I did not do everything so bad, after arriving in the state of Anzoátegui he was waiting for another journey of more than two hours on the same bus and that trip if he had to go alone because the budget he had was too short to afford the round trip accompanying him completely, So I asked the bus driver for his number and two passengers who were next to him who quickly became his traveling friends to talk, before the bus left the terminal he went to the bathroom and I waited for him at the door, When he arrived I knew it was time to not see him again for a while so he gave me a hug and I hugged him back and kissed him on his forehead and when I looked into his eyes I saw that he was crying and tears were coming out of his eyes, but he was holding on like a bull so to speak not to burst into tears and I did the same, after telling him that I loved him he just told me take care of Nina and Ethan my children who are his adoration, thanks to these children he was very sane for about two years being his engine of love in life.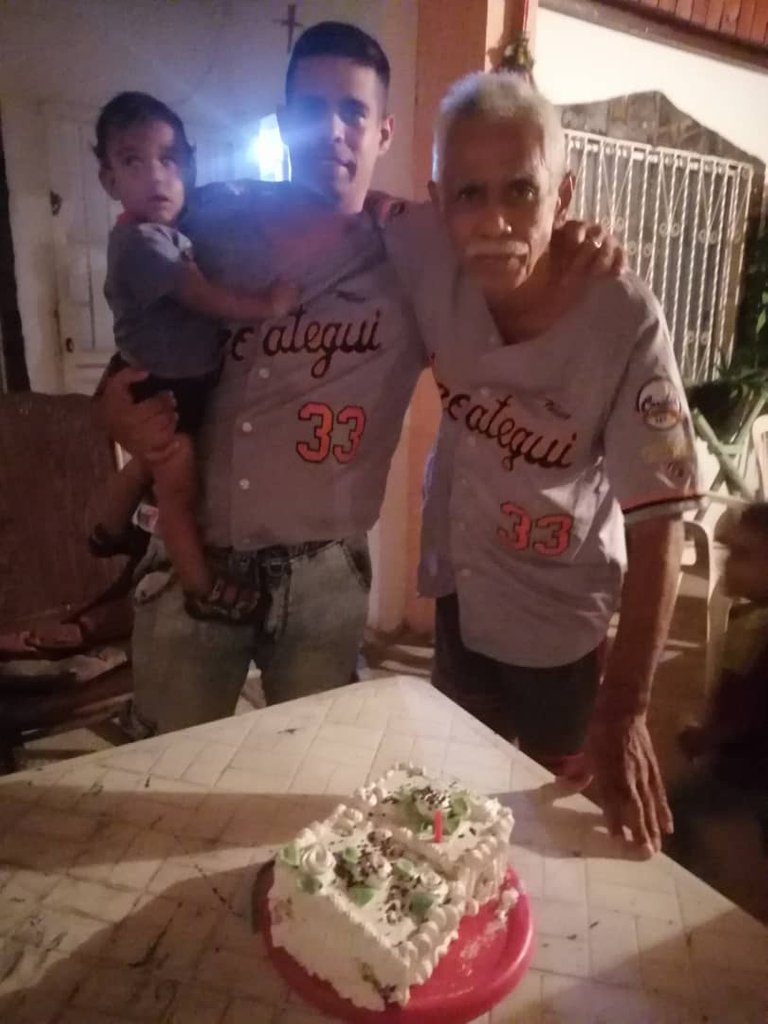 Allí me quedé en el terminal hasta que salió de el ese autobús que se llevaba a mi único familiar directo que me quedaba acá, de aquella familia de papá, mamá, hermano y mi persona, ya me quedaba solo en ese renglón, pasaron unos minutos y llore como no tienen idea sentado en una de las bancas del terminal hasta que agarre aire y decidí montarme en un autobús que me traería de vuelta casa, ese trayecto se hizo rápido pues solo venía pensado e imaginando cosas relacionadas a mi papá, pero llegué a mi ciudad de Cumaná y al entrar a casa solo me duche y me acosté a dormir luego de recibir la llamada de mi papá que había llegado también a su destino sano y salvo.
Luego de ir pasando estos días aún no me siento bien, quizás pueda aparentar delante de mis hijos, mi esposa, suegros y amistades que estoy bien pero no lo es, el simple hecho de saber que no está aquí a mi lado con sus nietos y amigos me parte el corazón, el ver su ropa que dejo acá en su closet me duele pues el merece estar acá a mi lado, es mi papá y debe estar conmigo los años que dios decida darle, como me haces falta papá, yo lo llamo todos los días para saber de él y hablamos pero eso para mí a esta altura de mi vida no es suficiente, tal ves yo sea muy sentimental y tonto por estar en estás condiciones tan susceptible, pero no le deseo a nadie que pase por esta situación.
There I stayed in the terminal until the bus that was taking my only direct family member that I had left here, from that family of dad, mom, brother and myself, I was alone in that line, a few minutes passed and I cried like you have no idea sitting on one of the benches of the terminal until I caught my breath and decided to get on a bus that would bring me back home, That trip went fast because I only came thinking and imagining things related to my dad, but I arrived to my city of Cumaná and when I got home I just took a shower and went to bed to sleep after receiving the call from my dad who had also arrived safe and sound at his destination.
After spending these days I still don't feel well, maybe I can pretend in front of my children, my wife, my in-laws and friends that I am well but I am not, the simple fact of knowing that he is not here with me with his grandchildren and friends breaks my heart, seeing his clothes that he left here in his closet hurts me because he deserves to be here with me, I call him every day to hear from him and we talk but for me at this point in my life that is not enough, maybe I am very sentimental and silly for being in such a touchy condition, but I don't wish anyone to go through this situation.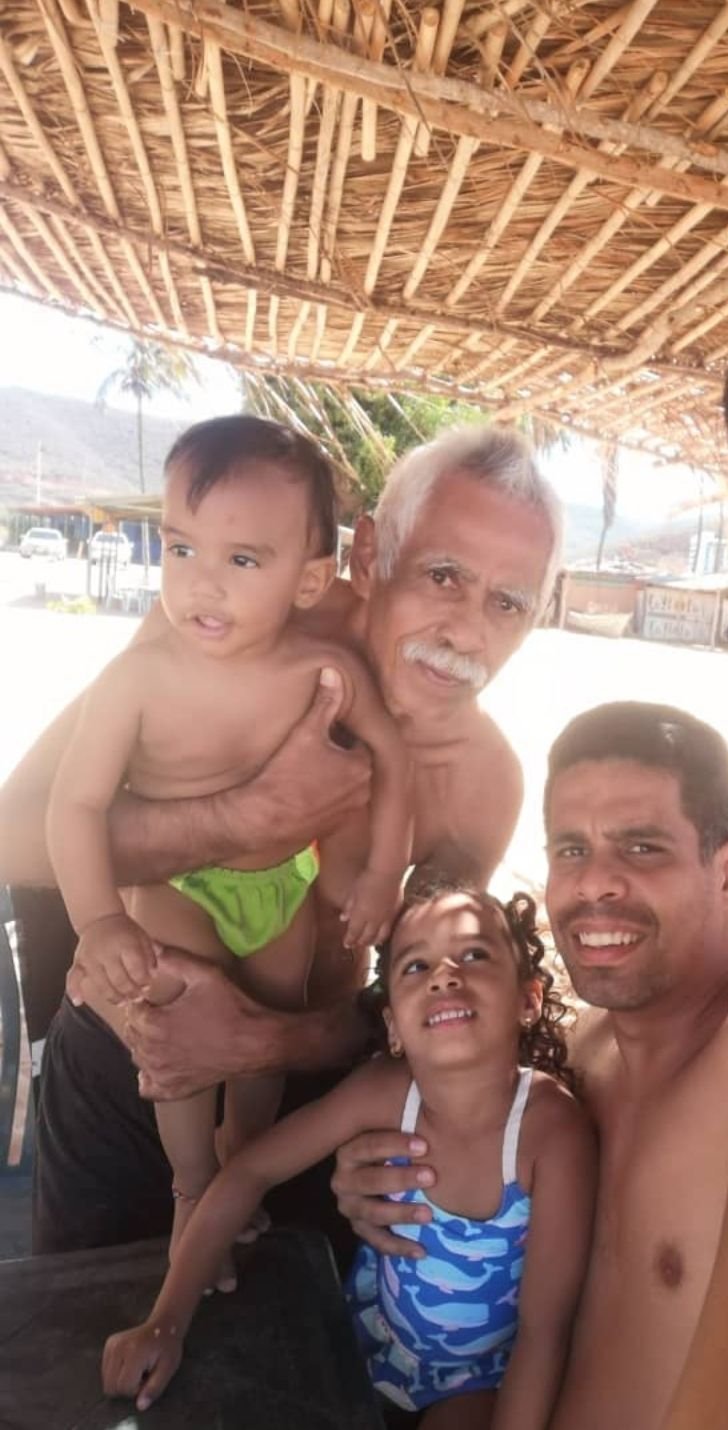 Los dias seguirán pasando y yo solo los cuento para que el vuelva mejor, y poder estar a su lado, esperando que las cosas marchen mejor cuando el vuelva, el amor hacia una madre y un padre debe ser completo e incondicional, no puede ser a media pues estás fallandole a la vida y a ti mismo, quien no daría todo por aquellos padres que desde que fuimos bebés hasta tener el tamaño que tuvimos simpre estuvieron allí a nuestro lado para que crecieramos dándonos amor, cariño y brindar todas las cosas que hicieran falta para tener una vida digna.
Necesitaba hablar y compartir este momento de mi vida con ustedes, prácticar esta escritura catartica me hacía falta, pues escribiendo también llore, ahora me debo despedir deseando que la vida les brinde salud y que esto lo aprovechen para compartir y amar a sus seres queridos un saludo a todos hasta pronto amigos.
The days will continue to pass and I only count them for him to return better, and to be by his side, hoping that things go better when he returns, the love for a mother and a father must be complete and unconditional, it can not be half because you are failing life and yourself, who would not give everything for those parents who since we were babies to have the size we had were always there by our side for us to grow giving us love, affection and provide all the things that were needed to have a decent life.
I needed to talk and share this moment of my life with you, I needed to practice this cathartic writing, because writing I also cried, now I must say goodbye wishing that life gives you health and that you take advantage of this to share and love your loved ones, greetings to all of you, see you soon friends.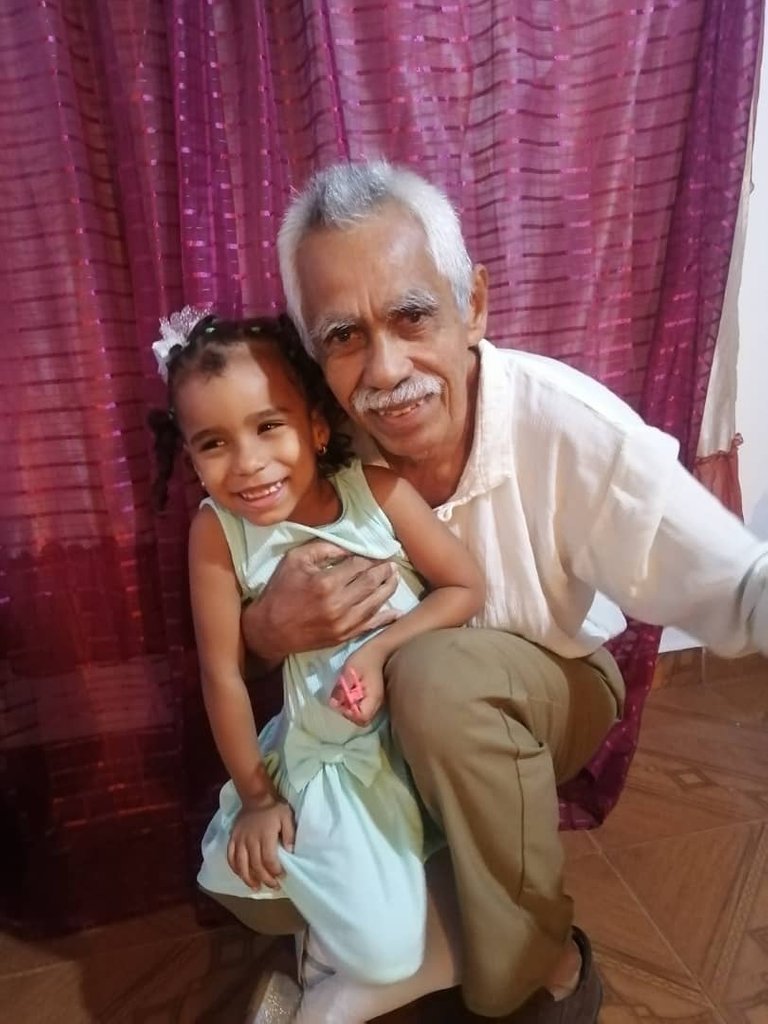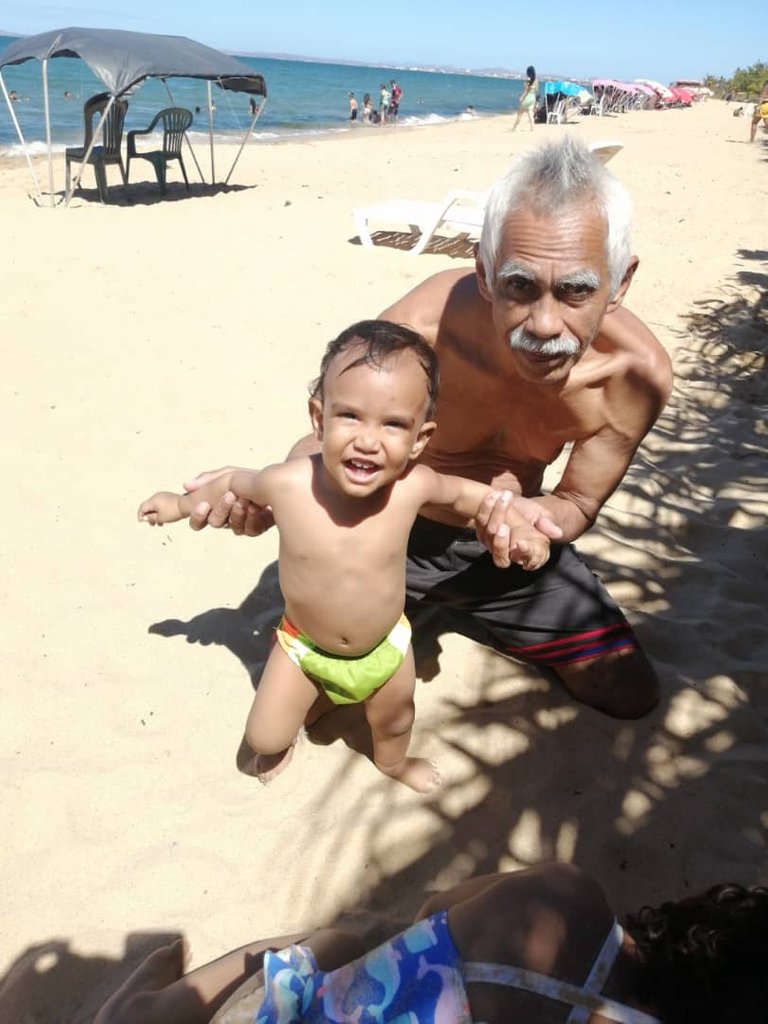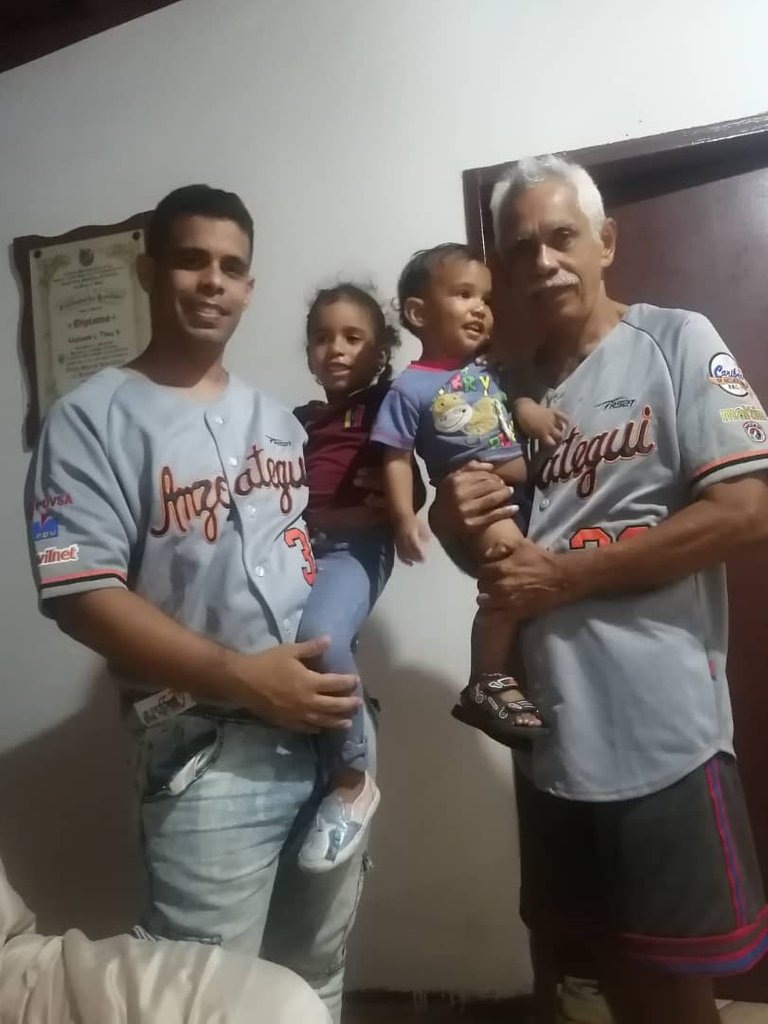 Todo el contenido que se encuentra en esta publicación es ampliamente original del autor, cualquier duda y recopilación del mismo, deben hacer mención de mi persona.
El texto es original de: @edmundochauran.

Todos los Derechos Reservados / @edmundochauran.

Fotografías tomadas de mi telefono Tecno Pova y editadas en Canvas.
All content found in this publication is largely original to the author, any questions and compilation of the same, should make mention of my person.
Photographs taken from my Tecno Pova phone and edited in Canvas.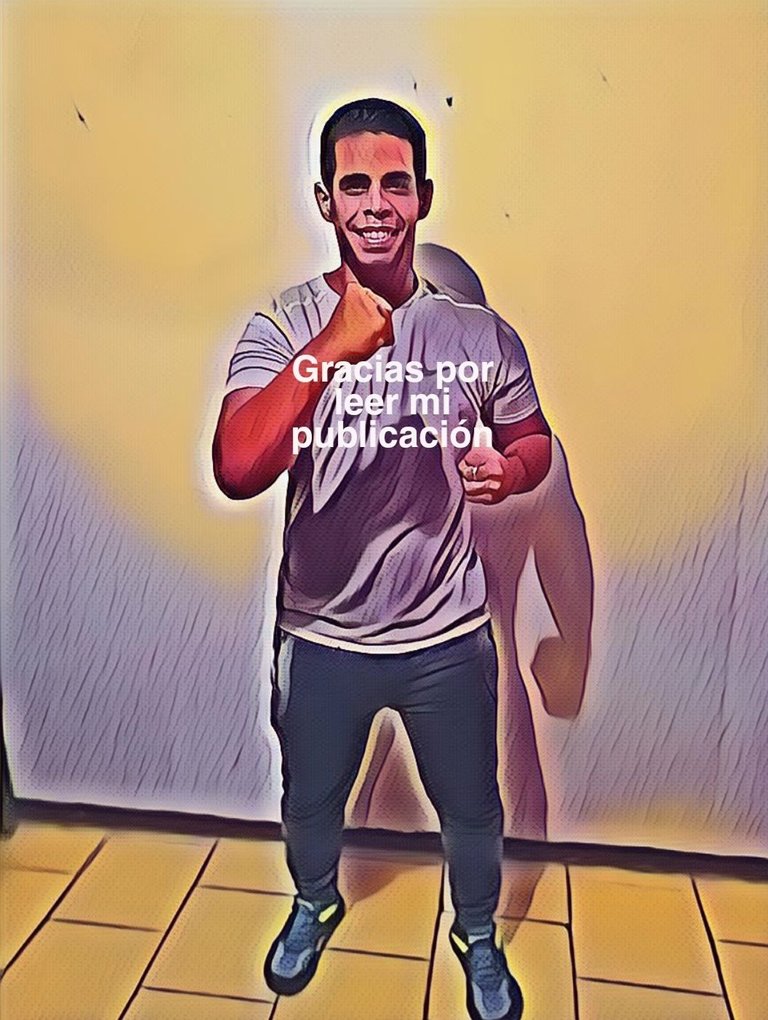 ---
---