Taking control through financial education
We spend a lot of time and energy because we don't see the value in it. Between fulfilling responsibilities, raising children, working to pay the bills, and making money feels like an uphill battle. And therefore, we ignore advice or rely on promises made by people with no vested interest in helping us create a better life for ourselves.
The truth is many people struggle with situations related to money and investing not because they don't know how to get ahead with their lives and their finances but because they just don't know where they should start. There are many aspects without which no performance can be confident and plausible.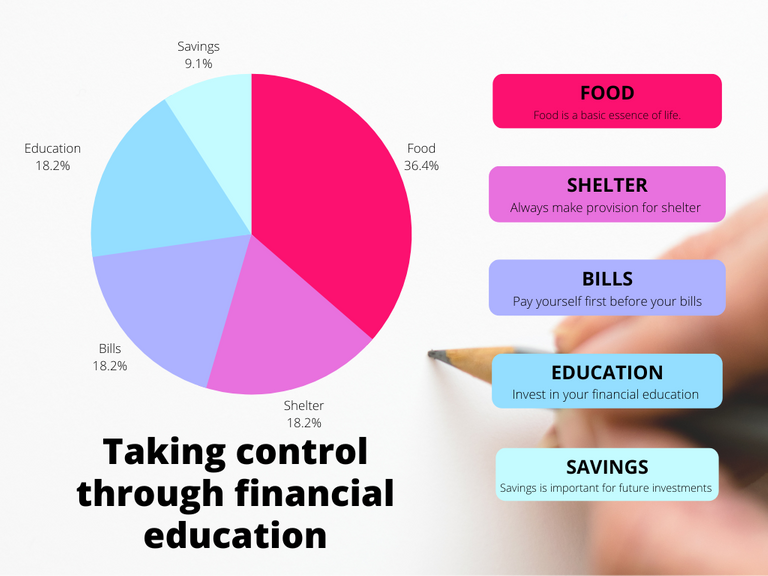 Source
Making it even more complex is that problems come sometimes suddenly while you least expect them and at that same time you will find yourself without a clue what to do with your financial struggles unlike all other types of problems that came before it. So what are you supposed to do?
Have a financial blueprint and try doing the following;
Taking control
Even though you think your finances are a mess now, if you have a blueprint, you will see how much money is available and how it all fits together. And even then, it won't always teach you how that money needs to be invested or spent on anything specific so some further instruction is needed now and then (a coaching call here or there).
Setting up a new habit
The Blueprint will help you set yourself up to start investing, saving, and building wealth. This is where following through on your plans becomes the challenge and your Blueprint always helps with that.
Getting real-time feedback
Receiving regular updates on your financial status allows you to tweak your blueprint so it fits into what life throws at you. You will be getting stronger and stronger. Your finances might be in dire straits but now when you look at your blueprint, you know that even if my money is tight right now, it's coming back around soon. And then it will be easier to start investing. It's going to be great!
Financial education is important for everything from work to family back home. These days, more people are educating themselves about money and their finances. This suggests that there might be a shift in the way we understand needs.
The role of this financial education is to help you have control over your finances and wealth generation in the future by guiding you through the understanding of yourself, your goals, and your resources.
Although sometimes it may seem hard to take control of something, it will eventually be easier once you know how to deal with it because of all this knowledge acquired through financial education.
Conclusion
Financial education can be an effective mode of learning in your life and a way to invest in yourself and your future. Therefore, you can take today to feel secure about your financial future and take control of your life.
Posted Using LeoFinance Beta
---
---