Mi fiebre por los Vibes "1.215 VibesPower" - My Vibes Fever "1,215 VibesPower".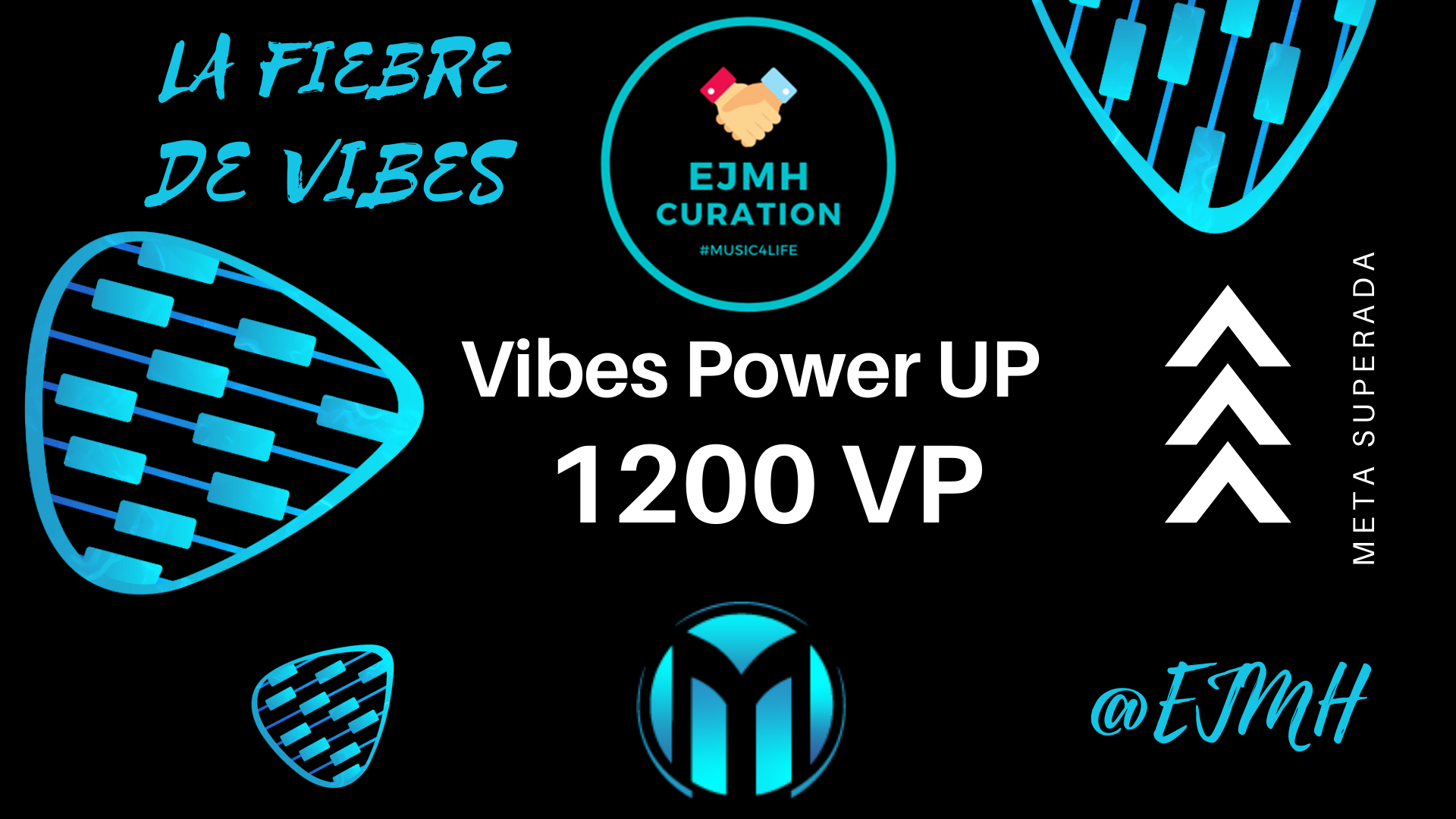 Hola amigos, hace tan solo 5 días que alcancé los primeros 1K de vibes power en la plataforma y la fiebre por seguir creciendo no ha cesado, es algo que me lleva a comprar vibes cada bes que tengo unos Hives extras, parecido a lo que me pasaba con las lands de haskings, por suerte ya terminó la preventa. También debido a que cada vez son mas las personas que se unen a M4L y nuestro valor de voto va disminuyendo poco a poco. Esto me ha hecho seguir adquiriendo y stakeando todo lo que puedo para que mi valor de voto sea cada vez mayor.
En una de mis primeras publicaciones en esta tribu explicaba la inversión que realice en vibesM y como pensaba hacer todo el proceso con las ganancias de la minería, pero la verdad es que cambié de parecer y decidí centrar mi capital en Vibes para aportar valor con mis votos a toda la comunidad y apoyar a todos los que pueda.
Hoy estoy feliz de superar los 1200 Vibes Power. No todo ha sido producción pues con las ventas de los mineros he comprado varios Vibes y sigo comprando cada vez mas.
Hello friends, just 5 days ago I reached the first 1K of vibes power on the platform and the fever to keep growing has not stopped, it is something that leads me to buy vibes every time I have a few extra Hives, similar to what happened to me with the lands of haskings, luckily the presale is over. Also because more and more people are joining M4L and our voting value is decreasing little by little. This has made me to keep acquiring and staking as much as I can to increase my voting value.
In one of my first posts in this tribe I explained the investment I made in vibesM and how I planned to do the whole process with the mining profits, but the truth is that I changed my mind and decided to focus my capital in Vibes to bring value with my votes to the whole community and support everyone I can.

Today I am happy to exceed 1200 Vibes Power. Not everything has been production because with the sales of the miners I have bought several Vibes and I keep buying more and more.
---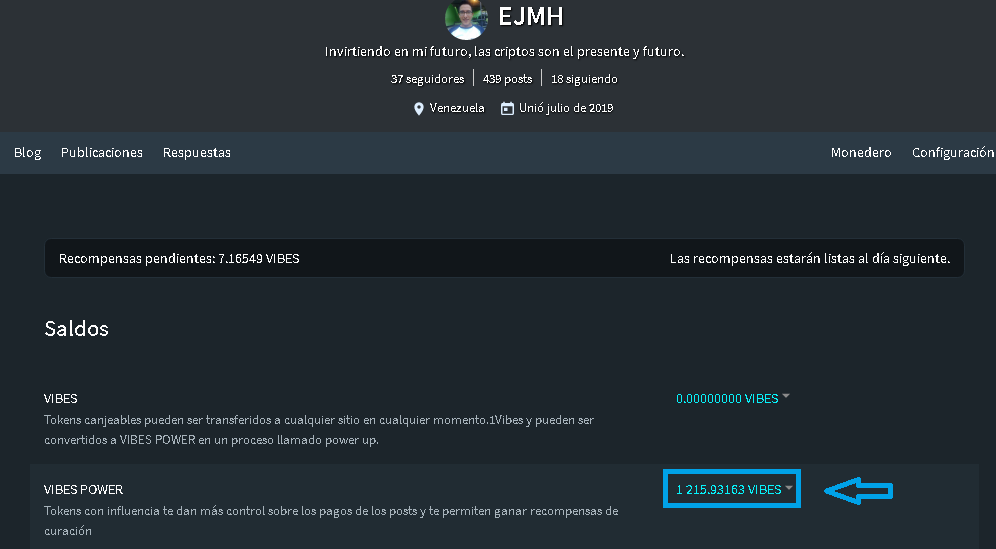 Esto para mi es una inversión interesante y bastante encaminada porque ademas de ser curador oficial en la tribu, también tengo mi cuenta anclada a los votos de la cuenta de curación que es @ejmh.vibes por lo que al recibir un voto mio estaría entregando aproximadamente 4 Vibes en total, lo que a su vez me daría como recompensa 2 vibes como curación gracias al porcentaje de 50-50 establecido en la tribu.
Todo esto sumado a que dentro de poco las recompensas se disminuirán un 25% y que los fundadores iniciarán la compra y quemado de vibes con las recompensas de publicidad me hacen creer mucho que mis ganancias a futuro están aseguradas pues la moneda subirá su valor y yo habré adquirido lo suficiente en todo este tiempo.
This for me is an interesting investment and quite on track because in addition to being an official healer in the tribe, I also have my account anchored to the votes of the healing account which is @ejmh.vibes so by receiving a vote from me I would be delivering approximately 4 Vibes in total, which in turn would give me as a reward 2 vibes as healing thanks to the percentage of 50-50 established in the tribe.
All this added to the fact that soon the rewards will decrease by 25% and that the founders will start buying and burning vibes with the advertising rewards make me believe that my future earnings are assured because the currency will increase its value and I will have acquired enough in all this time.
Para tener solo un mes de funcionamiento y mas del 86% de los token stakeados no me sorprendería que su precio aumente fácilmente. Ademas, desde su lanzamiento no ha bajado tanto el valor como normalmente pasa al iniciar las tribus, y el Vibes se ha mantenido rondando los 0.2$ lo cual es excelente para se nueva y para todas las cosas que están por venir.
For being only a month old and having over 86% of the tokens staked I wouldn't be surprised if its price increases easily. Also, since its launch it hasn't dropped in value as much as it usually does when starting tribes, and the Vibes has stayed around $0.2 which is excellent for being new and for all the things to come.
Lo nuevo de musicforlife es la creación de Vibes Show para que los artistas puedan realizar sus conciertos y recibir vibes como pago, este es uno de los primeros usos que se le dará a nuestro token para hacerlo crecer cada día y darle mas adopción en general.
New to musicforlife is the creation of Vibes Show so that artists can perform their concerts and receive vibes as payment, this is one of the first uses that will be given to our token to make it grow every day and give it more adoption in general.
---
Solo quería compartirles otra meta superada de los 1200 VP y estoy seguro que voy por mucho mas.
I just wanted to share with you my excitement for breaking the 1000 VP Goal and I'm sure I'm going for much more.
Traducción realizada en DELP.

Imágenes realizadas en CANVA

---
Posted via MusicForLife.io
---
---