Tutorial para Convertir Vibes en HivePower - Tutorial to Convert Vibes to HivePower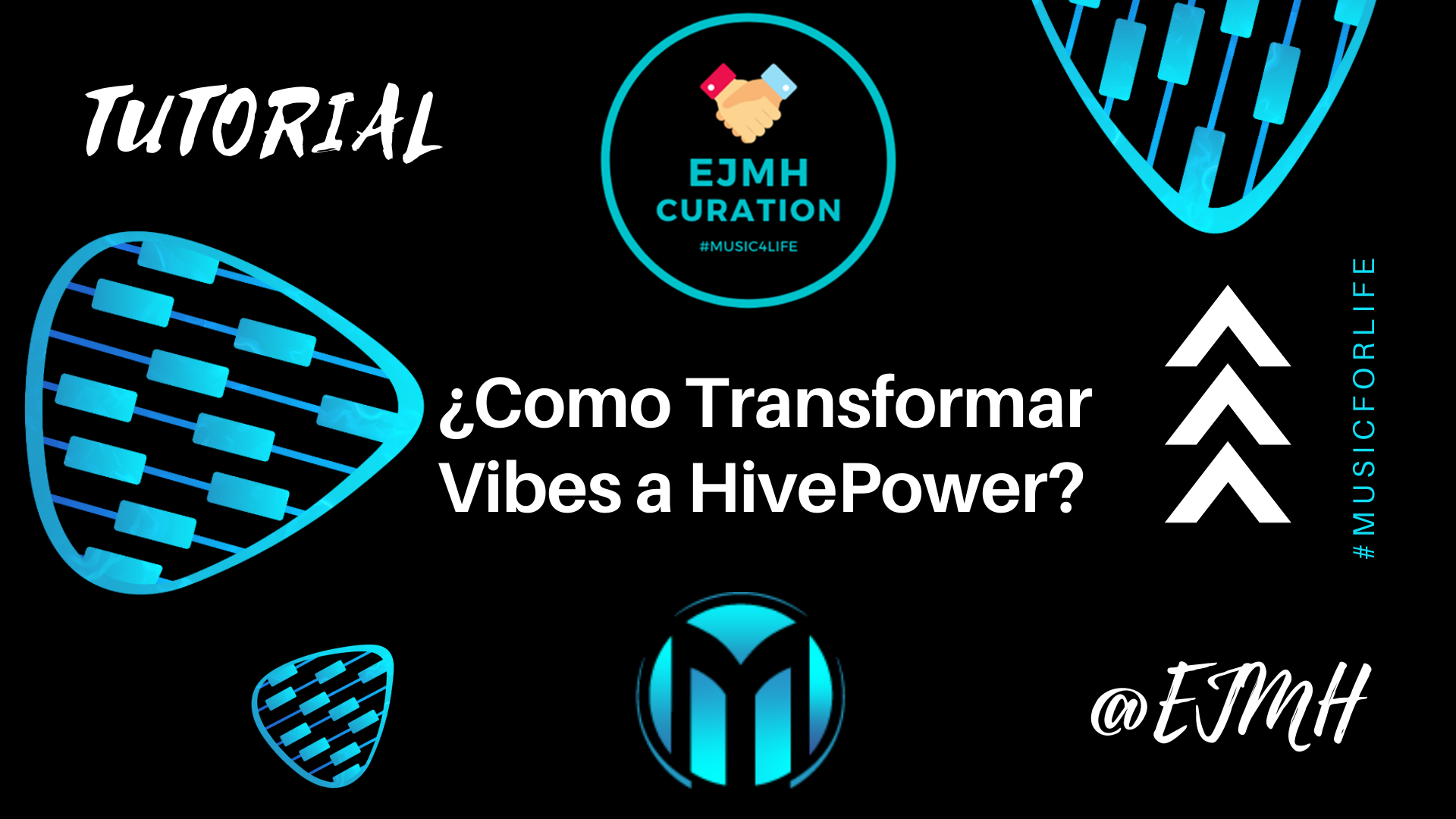 Hola amigos, he notado en varias de los nuevos usuarios de #musicfrolife una pequeña preocupación por no saber transformar los Vibes ganados en sus publicaciones en HivePower para poder seguir publicando.
Pero espera, ¿Porque si hablamos de Vibes y musicforlife debo tener HivePower?
Esta es una de las preguntas que tal vez lleguen a tu mente al ser nuevo en este mundo de #musicforlife pero te daré una explicación rápida y super sencilla.
Aunque esta tribu es independiente y creada por los amigos de @academialibertad, lo cierto es que esta plataforma corre en la red de Hive y por lo tanto necesitas créditos para poder realizar cualquier transacción dentro de la misma. ¿Como consigues esos créditos? Con el HivePower, y no solo lo necesitarás para publicar, cambien para votar, comentar, transferir o cualquier transacción que desees realizar como dije anteriormente.
Entonces, ¿Como cambiamos nuestros Vibes para tener HivePower? A continuación les explico los pasos.
Hello friends, I have noticed in several of the new users of #musicfrolife a little concern for not knowing how to transform the Vibes earned in their publications in HivePower to be able to continue posting.
But wait, because if we talk about Vibes and musicforlife I must have HivePower?
This is one of the questions that may come to your mind being new to this world of #musicforlife but I'll give you a quick and super simple explanation.
Although this tribe is independent and created by the friends of @academialibertad, the truth is that this platform runs on the Hive network and therefore you need credits to be able to make any transaction within it. How do you get those credits? With the HivePower, and you will not only need it to publish, but also to vote, comment, transfer or any transaction you want to make as I said before.

So, how do we change our Vibes to have HivePower? Here are the steps.
---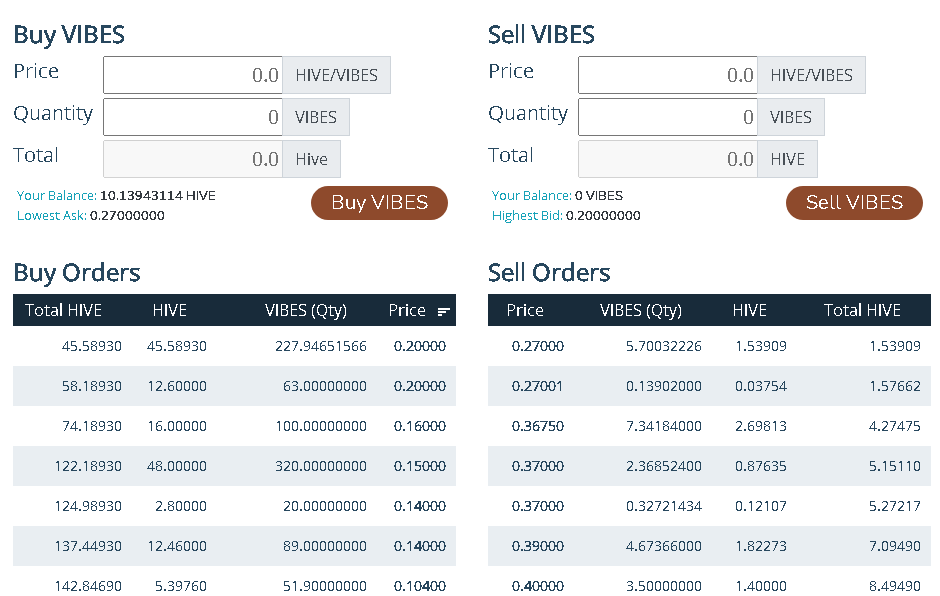 Lo primero es asegurarte de tener los vibes en tu billetera, recuerda que las publicaciones se pagan 7 días despues de haberla realizado. Luego nos vamos al mercado de Vibes donde transformaremos los Vibes a Swap.Hive. Puedes elegir la primera orden de compra si quieres hacerlo instantáneo o colocar una orden de venta y esperar que se ejecute. Luego debes colocar el limite que quieres cambiar, confirmar y listo. Ya deberías tener tus Swap.hive en tu billetera.
The first thing to do is to make sure you have the vibes in your wallet, remember that the publications are paid 7 days after they are made. Then we go to the Vibes marketplace where we will transform the Vibes to Swap.Hive. You can choose the first buy order if you want to make it instantaneous or place a sell order and wait for it to be executed. Then you must place the limit you want to change, confirm and that's it. You should now have your Swap.hive in your wallet.
---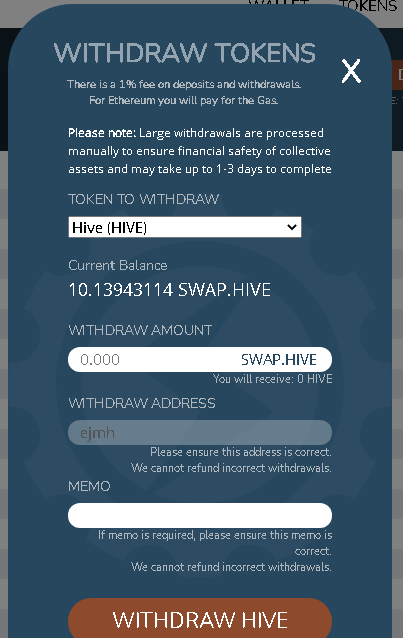 Luego desde tu billetera en la sección Withdraw seleccionas Hive, Colocas la cantidad de Hive que quieres retirar y opcional puedes colocar un memo(También puede quedar en blanco) y así recibirás los Hive en tu billetera de Hive.blog o Keychain (Si la usas) ya que es el mismo balance.
NOTA: Ten en cuenta que este proceso tiene una tarifa de retiro del 1% del monto a retirar, pero existen opciones como Leodex o Beeswap que ofrecen el mismo servicio de retiro pero con solo 0.25% de fee.
Then from your wallet in the Withdraw section you select Hive, you put the amount of Hive you want to withdraw and optionally you can put a memo (You can also leave it blank) and you will receive the Hive in your Hive.blog wallet or Keychain (If you use it) since it is the same balance.
NOTE: Keep in mind that this process has a withdrawal fee of 1% of the amount to withdraw, but there are options like Leodex or Beeswap that offer the same withdrawal service but with only 0.25% fee.
---

Por ultimo desde la wallet de Hive.blog o desde Keychain debes dar clic sobre tu balance de Hive y elegir la opción PowerUp en la que luego de elegir la cantidad de Hive y confirmar podrás tener tu poder disponible o HivePower.
Por lo general con 20 HivePower es suficiente para realizar todas las transacciones necesarias dentro de la red.
Finally from the Hive.blog wallet or from Keychain you must click on your Hive balance and choose the PowerUp option in which after choosing the amount of Hive and confirming you will have your available power or HivePower.
Usually 20 HivePower is enough to perform all the necessary transactions within the network.
---
Pero si eres muy nuevo y no tienes créditos ni para empezar, vente al discord de academia libertad y pide ayuda que seguramente cualquiera puede delegarte un poco mientras puedas reunir para tener tu propio HP.
###But if you are very new and you don't even have credits to start with, come to the freedom academy discord and ask for help that surely anyone can delegate you a little while you can gather to have your own HP.
Traducción realizada en DELP.

Imágenes realizadas en CANVA

---
Posted via MusicForLife.io
---
---