[Week 120] Weekend-Engagement Concept ~ 💙MY DEAR IMMENSE BLUE SEA💙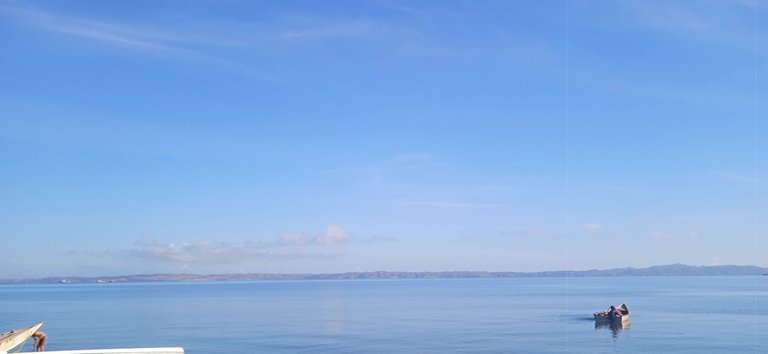 💙💙💙💙💙💙
I loved this initiative and I could not miss the opportunity to describe my great excitement because both the blue, the green and the camping are scenarios that charge us with healthy energies of nature. It is a great privilege to be able to enjoy such a wonderful gift that life gives us.
Today I woke up and at about seven in the morning I went to the beach that borders the coast on Perimetral Avenue (located three blocks from my house) to take pictures for this post and I found this magnificent landscape that transports and relaxes anyone, the truth is that I did not want to leave. I felt relaxed and happy to be there, and the truth is that I am pleased to share my great experience. A pleasure to be here at #weekendexperiences.
Looking at the sea and blue sky with that masterful landscape is to feel that we are alive and every time I find myself in front of this splendor, I give thanks to life for having the opportunity to watch and enjoy. I have the great satisfaction of being very close to this great landscape.
How not to love this blue sea. Friends I live three blocks from the beach and this is a meeting place for fishermen, sportsmen, tourists, travelers and many other groups of people who come to enjoy this magnificent natural landscape.
I have lived in various parts of Venezuela for study purposes. All coastal cities. In Margarita Island, Nueva Esparta State. Puerto la Cruz, Anzoátegui State, and my hometown Cumaná, Sucre State. All of them have the sea in common, and WHAT A SEA! What more can I ask for?

💙💙💙💙💙💙
I want to tell you #hive friends, that particularly in Cumaná this sea and landscape captivates me, makes me fall in love, makes me feel alive. I never wanted to stop seeing this. So I love this blue sea that gives me calm, peace, harmony, vibrant energies that does not compare to anything else. It is a great feeling of balance, health, freshness, so many things I would like to tell you.
If you saw this landscape you would surely fall in love and never want to leave here. Would you like to come? In this corner of the planet there is this sea and this sky, it seems to be a paradise. There are many natural beauties that we have in Venezuela. But here is this beloved blue.
I will tell you an anecdote of a friend who went to emigrate to another country, for some reason she came back and the first thing she said when she landed in Cumanesa she said: -my blue sky, my blue sky, I missed the blue of my sky-. It is true that I have heard from other people that in many places the color of the sky is not like here; I imagine that because of its geographical location,
Dear friends, anyone falls in love if they see this sea and this blue sky, which incites poets to write and delight in such beauty. One of them who fell in love was our poet Sucrence called Cruz María Salmerón Acosta, who wrote a poem, which I learned as a child and I have it saved in my memory "BLUE ".
I write it to you and I will give you the source so that you can know more about this brilliant Cumanes, his life and history who was inspired at that moment in such a shining and beautiful blue of the sky and sea. Source. The poem goes like this and I hope you like it.

💙💙💙💙💙💙
BLUE
Blue of that far away summit
Towards which my thought flies.
under the blue peace of the morning
Color that reveals so many things to me!

Blue that emanates from the blue of the sky,
And blue of this great sea that consoles me,
while I foresee in it the vain illusion of the vision of the wing of a sail.

Blue of the open landscapes,
Sad blue of my lyrical reveries,
That soothes my intimate anxieties.

You only distress me when I suffer cravings
To kiss the blue of those eyes
That will never again behold mine.
I fell in love with this POEM since I was a child and whenever I find myself in front of the sea with these resplendent blue colors, this beautiful and moving poem comes to my mind.
Every afternoon I go to this Avenue to walk and enjoy the benefits it brings to all my senses, breathe fresh air, visualize the sea and horizon with many colors, the smell of the sea, listen to the sounds of the wind and waves. As well as feeling the touch on my skin of the freshness of the wind ruffling my hair.
Friend, live intensely and enjoy!

Thank you for inviting me to this Initiative!.
This si My entry to the [week 120] #weekend-engagement by @galenkp
💙💙💙💙💙💙

💙💙💙💙💙💙
---
All images are my property.

Photos taken from my Redmi 9A phone.

Translator used is Deepl

---
---