[EN/PT] MY LAST SEASON REWARDS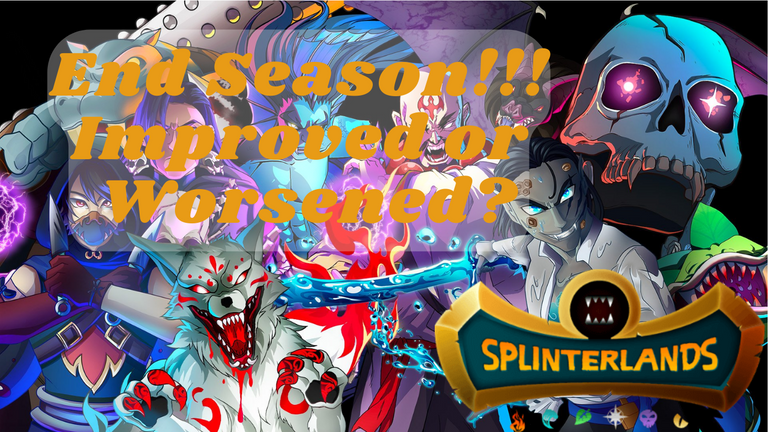 Hello Splinterlands community! I've been a little absent from the community, my last week was very hectic and I didn't have time to post content here in the community. In this poster I will share my impressions of the last season, as well as the rewards received at the end of it.
After the last updates to the New Reward System, which excited the community, @splinterlands has become a more competitive game, as the system now rewards those who have more assets invested in the game and who have the best battle strategies in order to win more matches and accumulate more Daily Quests and End of Season chests.
Daily Quests
Before this update I played every day completed the Daily Quests and most of the time closed the game to do other activities of my interest. With this new update even give pleasure to play, because the more games we win accumulate more chests to be opened at the end of the Focus and the end of the Season.
I was doing analysis on the rewards received through the platform of @peakmonsters were 11 days of rewards during the last season, which at present values if I had sold all the assets received would be worth approximately $14.76. Emphasizing, these values are at the time of writing, as Peakmonsters shows the values of the assets at the current market rate.
Below is the reward for Day 6th of the Daily Quest and a table with a summary of all the Daily Quests from last season.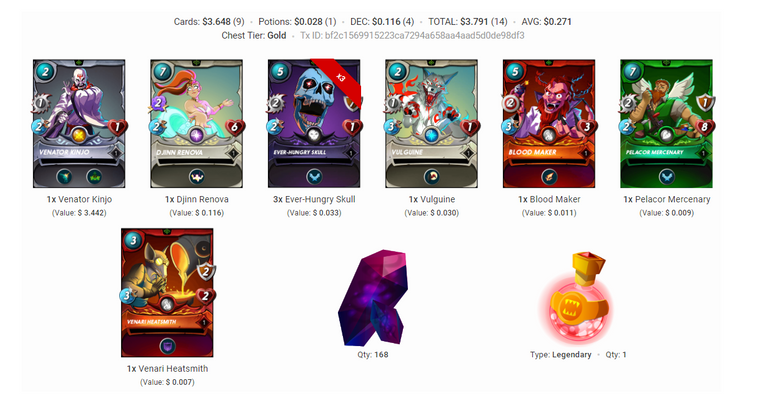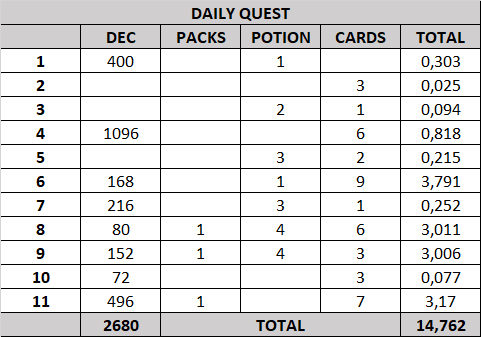 End of Season Rewards
Throughout the season I managed to accumulate 76 chests to open at the end of the season that were opened in the Gold League. In total there were 16 common, 6 rare and 2 epic cards; 26 portions and 24688 DEC.
It was a great season for me, from DEC alone I got approximately $24 which I immediately traded for 2 Gold cards from Splinter of fire.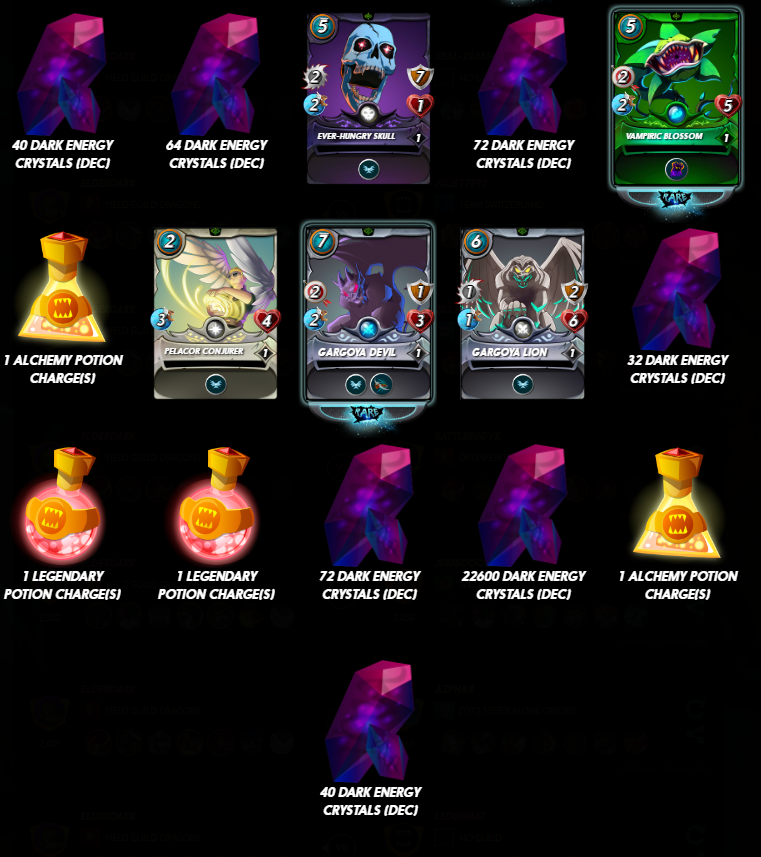 My goal in Splinterlands is to get Gold foil cards whenever possible, because they are assets that have a higher tendency to appreciate in the future and the RP (Reward Points) earned in the matches are better.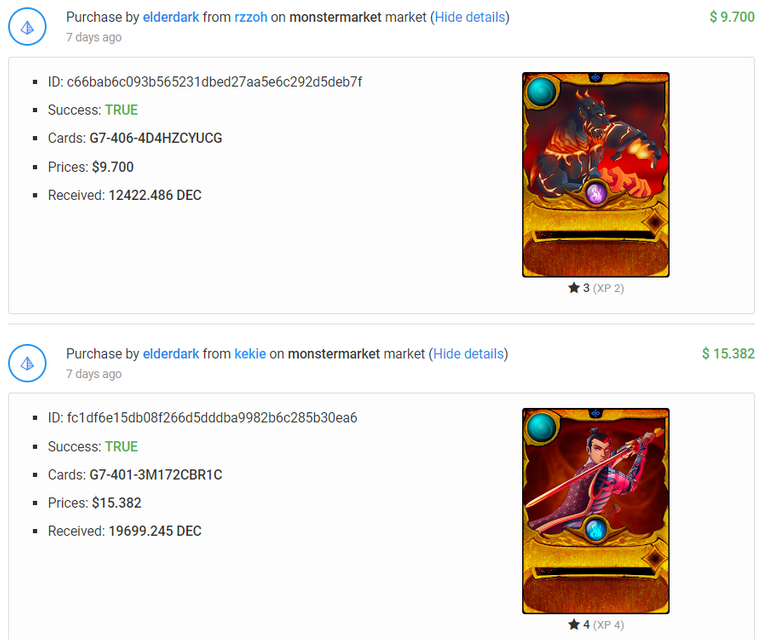 In conclusion, the end of the season was wonderful and we got great rewards in both the Daily Quest and the*** End of Season***. Adding up the rewards alone, we earned about $38. Imagine if the cryptocurrency market were in an up cycle like Splinterlands would be!
Images: @splinterlands e @peakmosnters

[PT] MINHAS RECOMPENSAS DO FINAL DE TEMPORADA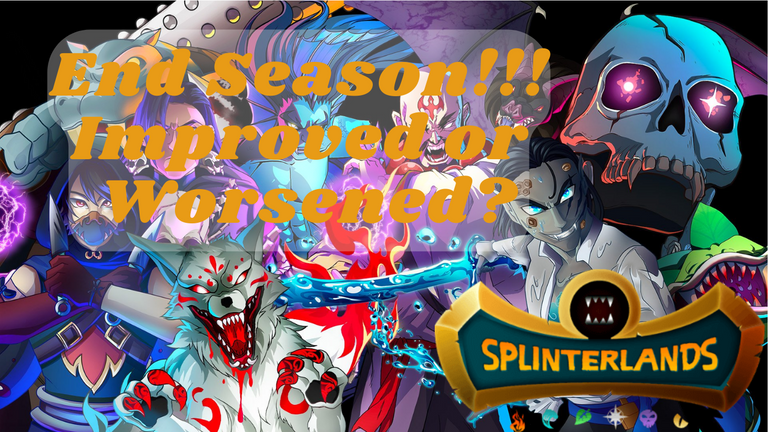 Olá comunidade Splinterlands! Ando um pouco sumido da comunidade, minha última semana foi muito agitada e fiquei sem tempo de postar conteúdo aqui na comunidade. Neste pôster vou compartilhar minhas impressão da última temporada, bem como as recompensas recebidas ao final da mesma.
Após as últimas Atualizações do Novo Sistema de Recompensas, que animou a comunidade, @splinterlands tornou-se um jogo mais competitivos, pois agora o sistema recompensa que tem mais ativos investido no jogo e que tiver as melhores estratégias de batalhas, a fim de vencer mais partidas e acumular mais baús de Daily Quests e End of Season.
Daily Quests
Antes dessa atualização eu jogava todos os dias completava a Daily Quests e na grande maioria das vezes fechava o jogo para fazer outras atividades de meu interesse. Com essa nova atualização dar até prazer de jogar, pois quanto mais partidas vencemos acumulamos mais baús para serem abertos ao final do Focus e ao final da Season.
Estava fazendo análise sobre as recompensas recebidas através da plataforma da @peakmonsters foram 11 dias de recompensas durante a última temporada, que a valores presentes se tivesse vendido todos os ativos recebidos valeriam aproximadamente $14,76. Enfatizando, estes valores são do momento em que escrevo, pois a Peakmonsters apresenta os valores dos ativos na cotação de mercado atual.
Abaixo é apresentado a recompensa do 6º dia da Daily Quest e uma tabela com um resumo de todas as Daily Quest da última temporada.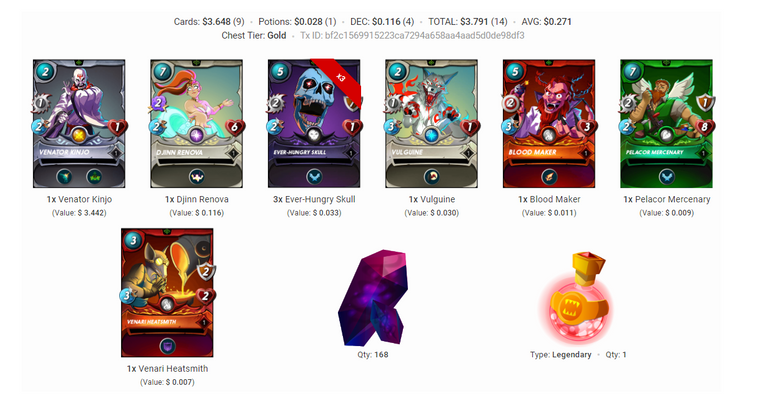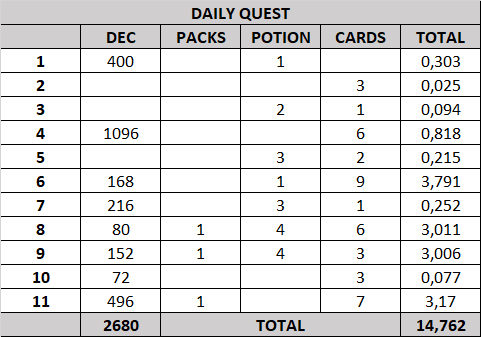 Recompensas do Final de Temporada
Ao longo da temporada consegui acumular 76 baús para abrir no final da temporada que foram abertos na Liga Ouro. Ao todo foram 16 cartas comuns, 6 raras e 2 épicas; 26 porções e 24688 DEC.
Foi uma ótima temporada para mim, somente de DEC obtive, aproximadamente, $24 que de imediato troquei por 2 cartas Gold do Splinter de fogo.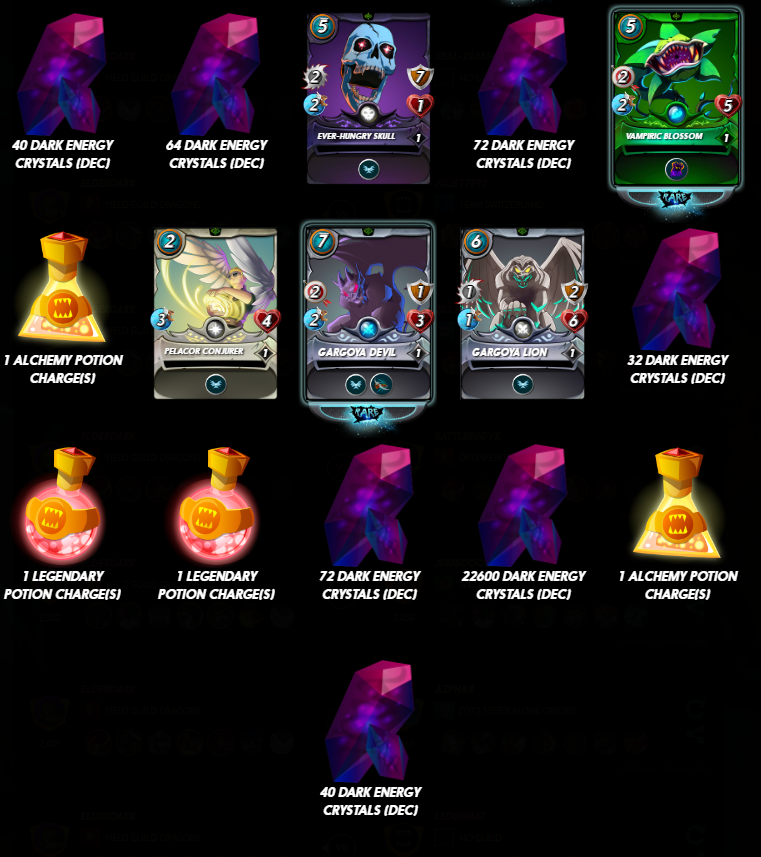 Meu objetivo em Splinterlands é obter sempre que possível cartas em folha de Ouro, pois são ativos que tem uma tendência maior de valorização no futuro e os RP (Reward Points) ganhos nas partidas são melhores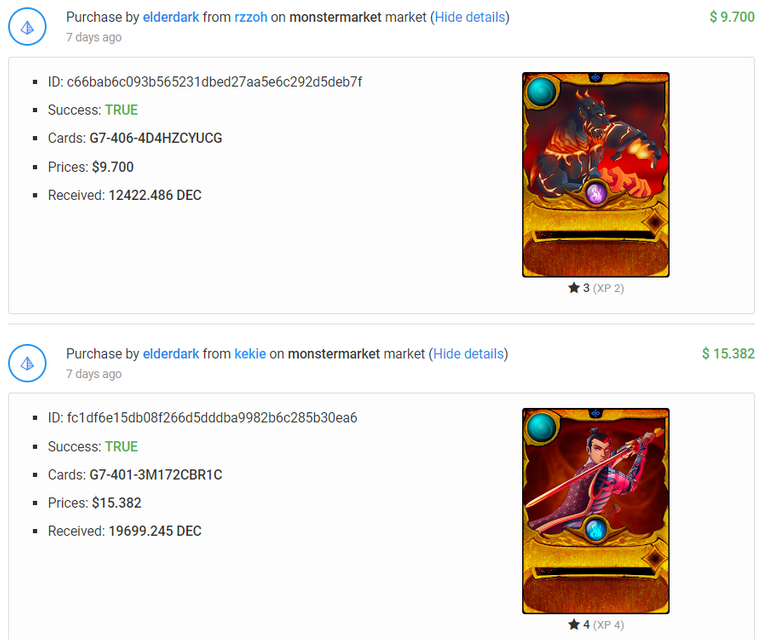 Concluindo, esse final de temporada foi maravilhoso obtemos ótimas recompensas tanto nas Daily Quest como no Final de Temporada. Somando somente as recompensas, ganhos aproximadamente $38 imagine se o mercado de criptomoedas estive em um ciclo de alta como Splinterlands estaria!
Imagens: @splinterlands e @peakmosnters

---
---