[PT/EN] Discovering Abilities: Immunity and Cleanse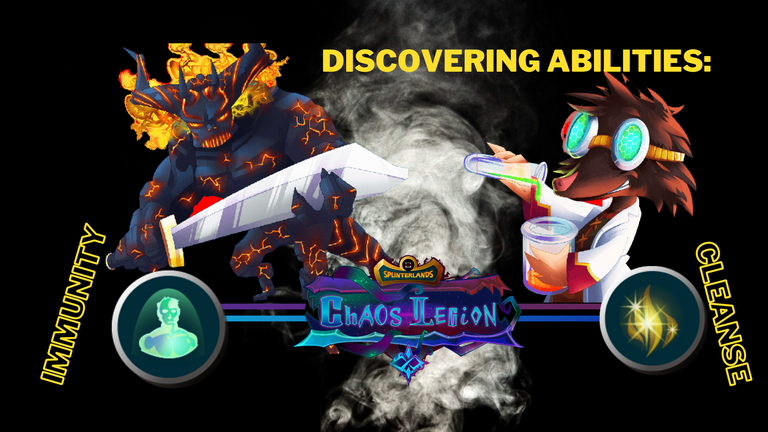 Hello Splinterlands Family! Today we are going to analyze a battle with the Noxious Fumes combat rule, that boring little rule where all monsters are poisoned.
When we come across this combat rule in our battles, we immediately think of using monsters with a lot of health, or with the Heal ability

and, in the best of the world, monsters with the Immunity ability.

Another option is to use monsters that have the Cleanse ability

, which cleans the negative effects of the first position monster. And then there is the Summoner Scarred Llama Mage, who has this ability.
With the arrival of the Chaos Legion edition and the new Rewards, we now have more affordable cards to compose our deck. So, today we are going to present two cards that I particularly like to use in battles with Noxious Fumes.

Forgotten One is an epic rarity melee attack card, which from level 1 has the Immunity ability. And know that only this card and two more have this ability at the initial level.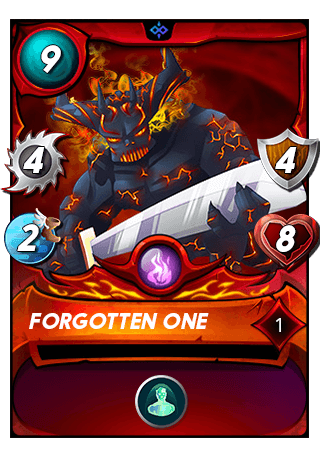 At level 3, this card gains the ability Retaliate

, which has the possibility to fight back an incoming physical attack. At level 5, this card becomes even more powerful with the ability to pierce through the opposing monster's armor, Piercing.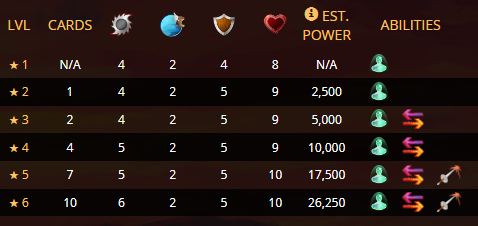 The second card is the Scavo Chemist, which doesn't have any attacks, but from the initial level it has the Cleanse ability, which, as already mentioned, cleans the negative effects of the first monster.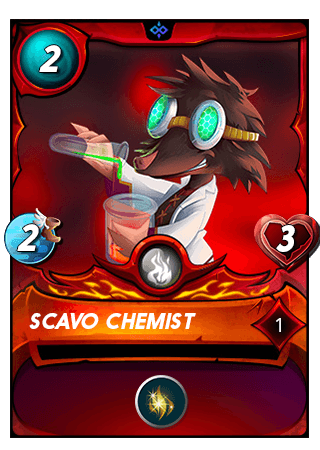 As you can see, this mole doesn't have any type of attack, but on the other hand, it has abilities that can help you win a battle. At level 6, it has the Slow ability

, which slows all enemy monsters by (-1) speed. And at max level it has the Headwinds ability

, which reduces the ranged attack by (-1) of all enemy monsters.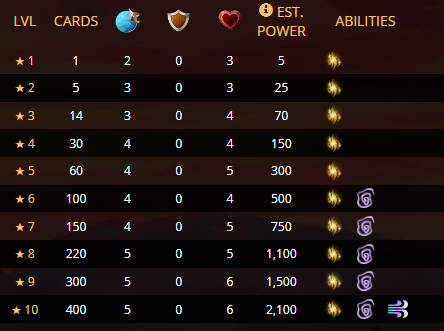 Given combat rules, Super Sneak

and Noxious Fumes

, plus (29) mana. We didn't think twice, and immediately used the cards described above.
Meanwhile, I chose Fire Splinter focused on immunity and attack power with Summoner Tarsa. My opponent only focused on attack power with Life Splinter and the famous Summoner squire Tyrus Paladium, which gives (+1) armor.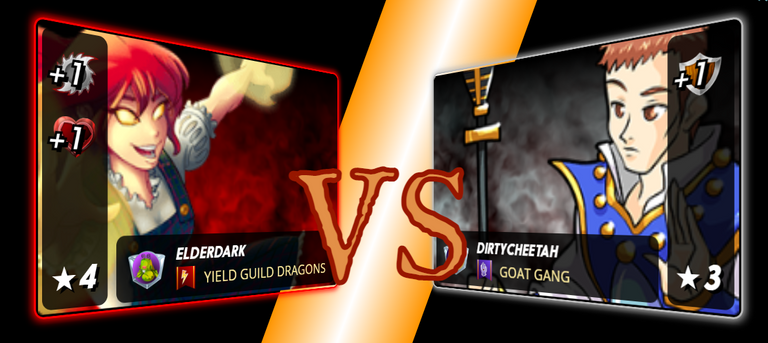 Having chosen the Summoner, the next step is choosing our team. Below I present the scaling reason for each card, where most of it was melee attack due to Summoner Tarsa:
| CARD | STRATEGY |
| --- | --- |
| | Initially, I chose GRUM FLAMEBLADE as a tank, as it has a lot of health. Despite being slow he has the Bloodlust ability, which increases by (+1) all stats after killing a monster. |
| | Then we scale SERPENTINE SPY with only (1) health is here as a crasher, as with the Noxiuos Fume rule he won't be alive until the second round. |
| | Soon after, we chose SCAVO CHEMIST, which has the Cleanse ability to clean the negative effects of our GRUM. |
| | Next, we climbed FORGOTTEN ONE, with its Immunity and Retaliate abilities, perfect for being in last position and receiving the attacks of all melee attack monsters, thanks to the Super Sneak rule. |
| | Finally, we scaled FURIOUS CHICKEN as a discard card to receive the first attack in last position. |

And our game starts with the Summoners buffs, while my monsters gained (+1) melee attack, my opponent gained (+1) armor. My opponent also gained (+1) melee attack on all his cards, thanks to Silvershield Knight.
So, my enemy's attack power was even higher, without counting the additional armor on all cards, as my cards are all melee attack we were at a disadvantage. Really my enemy's formation is very strong.
We have three enemy cards with melee attack attacking our last position, FORGOTTEN ONE, but due to its vitality and amount of armor we can hold a lot of attacks and still fight back with its ability.
Meanwhile, GRUM FLAMEBLADE held back some magic attacks from our enemy. And received healing from poisoning from SCAVO CHEMIST, becoming immune from Noxious Fumes, which deals (-2) damage at the beginning of each round.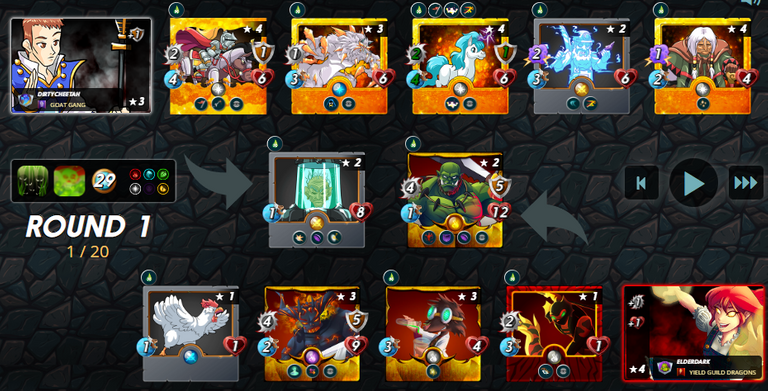 After the poisoning that happens at the beginning of the second round, we lost two cards, FURIOUS CHICKEN and SERPENTINE SPY, and our enemy lost only the last position card.
Thanks to the Retaliate ability, FORGOTTEN ONE was able to take down yet another enemy monster, CRYSTAL WEREWOLF.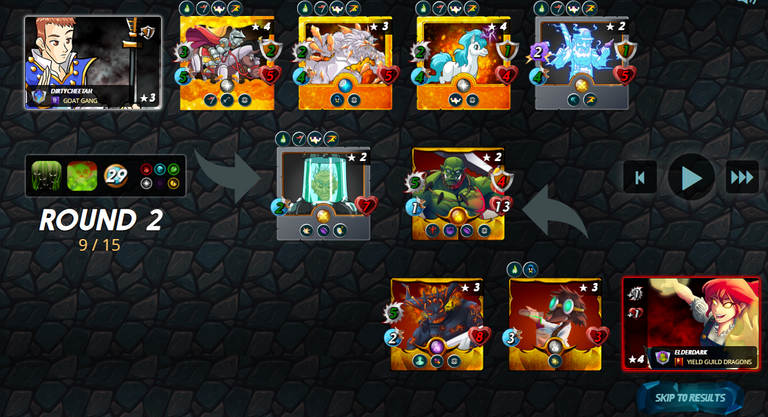 If this battle was not governed by the Noxious Fume rule, we would certainly have lost as our enemy had more attack power and speed, in addition to extra armor which leaves melee attack cards at a disadvantage.
But luckily, GRUM held out until the end and even activated his Bloodlust ability, increasing all of his stats. In the end, we get the victory thanks to our strategy of having two cards on the field with plenty of health and immune to poisoning. To watch the full battle click on the image of the first round!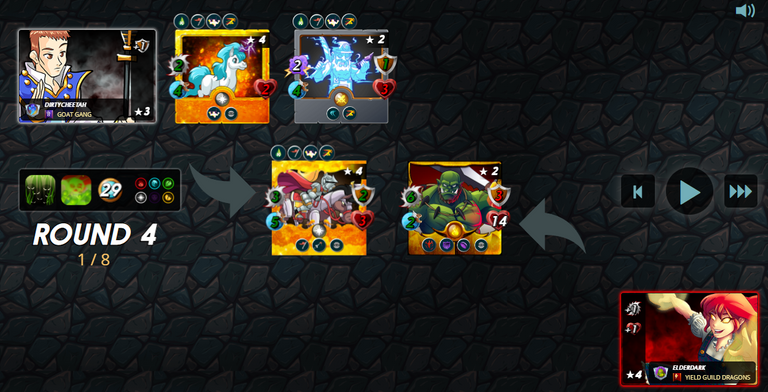 In conclusion, SCAVO CHEMIST and FORGOTTEN ONE are great cards to have in battles that have poisoning, whether in the Noxious Fume rule or against a team that uses a poisoning strategy, such as Death Splinter. And what we can see from this battle is that the combat rules can change the course of a battle in Splinterlands, so always pay attention to them before setting up a strategy.

If you are parachuting in this post and liked this game Click Here!! to get started in the game. So you help me and I of course can help you grow by delegating cards to facilitate your growth in Splinterlands.
[PT] Descobrindo Habilidades: Immunity e Cleanse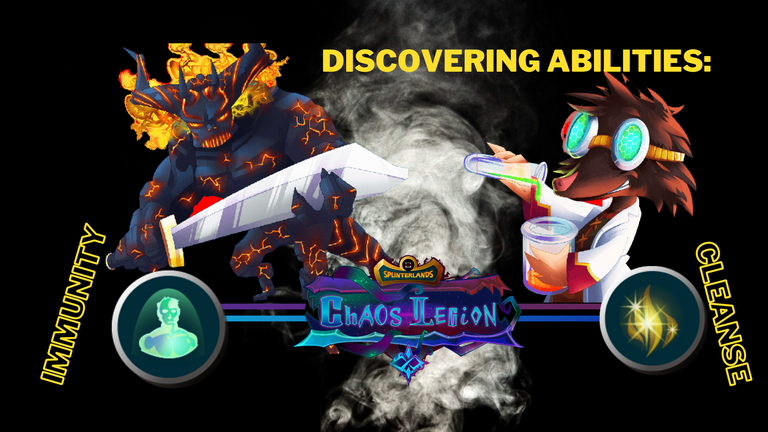 Olá Família Splinterlands! Hoje vamos analisar uma batalha com a regra de combate Noxious Fumes, aquela regrinha chata onde todos os monstros ficam envenenados.
Ao nos deparar com essa regra de combate em nossas batalhas pensamos de imediato utilizar monstros com bastante vida, ou com a habilidade Heal

e no melhor dos mundo monstros com a habilidade Immunity.

Outra opção é utilizar monstros que possuam a habilidade Cleanse

, que limpa os efeitos negativo do monstro da primeira posição. E ainda existem o Summoner Scarred Llama Mage, que possui esta habilidade.
Com a chegada da edição Chaos Legion e as novas Rewards hoje temos cartas com preços mais acessíveis para compor nosso baralho. Então, hoje vamos apresentar duas cartas que eu particularmente gosto de utilizar em batalhas com Noxious Fumes.

Forgotten One é uma carta de raridade épica de ataque melee, que desde o nível 1 possui a habilidade Immunity. E saiba que apenas essa carta e mais duas possui essa habilidade no nível inicial.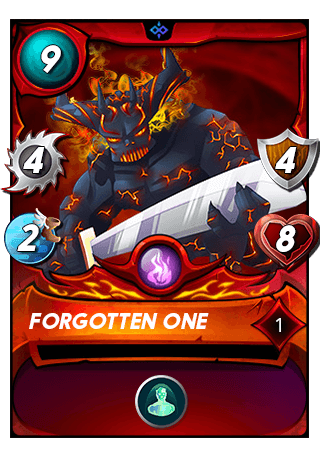 No nível 3, esta carta ganha a habilidade Retaliate

, que tem a possibilidade de revidar um ataque físico recebido. Já no nível 5, esta carta fica ainda mais poderoso com a habilidade de atravessar a armadura do mostro adversário, Piercing.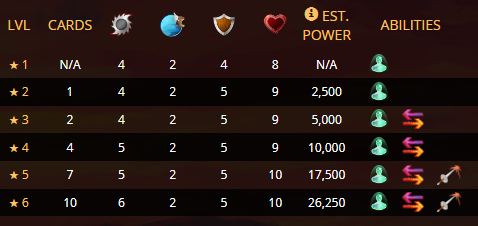 Já a segunda carta é o Scavo Chemist que não possui nenhum ataque, mas desde o nível inicial possui a habilidade Cleanse, que como já mencionado limpa os efeitos negativos do primeiro monstro.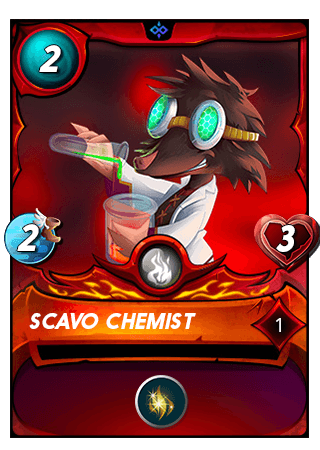 Como se pode notar esta toupeira não possui nenhum tipo de ataque, mas em compensação possui habilidades que podem ajudar na vitória de uma batalha. No nível 6, possui a habilidade Slow

, que retarda todos os monstros inimigos em (-1) de velocidade. E no nível máximo possui a habilidade Headwinds

, que reduz o ataque ranged em (-1) de todos os monstros inimigos.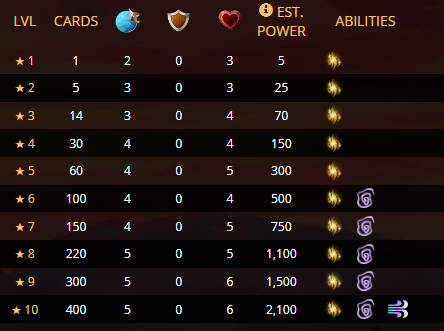 Dado as regras de combates, Super Sneak

e Noxious Fumes

, além de (29) de mana. Não pensamos duas vezes, e de imediato utilizamos as cartas já descritas anteriormente.
Enquanto, escolhi o Splinter de Fogo focado em imunidade e poder de ataque com a Summoner Tarsa. Meu adversário apenas focou em poder de ataque com Splinter de Vida e o famoso escudeiro Summoner Tyrus Paladium, que dar (+1) de armadura.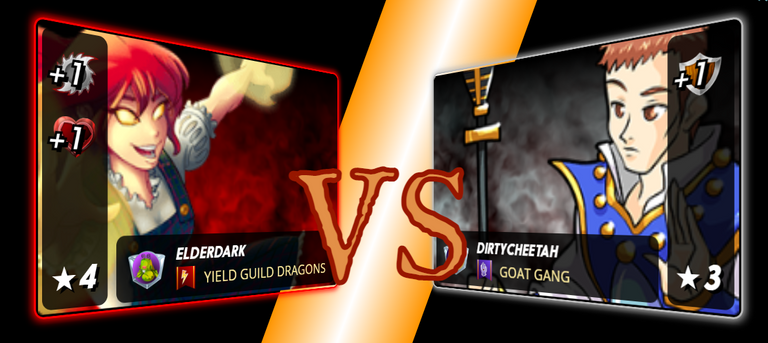 Escolhido o Summoner, o próximo passo é a escolha do nosso time. Abaixo apresento o motivo de escalação de cada carta, onde a maioria dela foi de ataque melee devido a Summoner Tarsa:
| CARD | STRATEGY |
| --- | --- |
| | Inicialmente, escolhi GRUM FLAMEBLADE como tanque, pois ele possui bastante vida. Apesar de lento ele possui a habilidade Bloodlust, que aumenta em (+1) todos os status depois de matar um monstro. |
| | Em seguida, escalamos SERPENTINE SPY com apenas (1) de vida está aqui de penetra, pois com a regra Noxiuos Fume ele não ficará vivo até o segunda rodada. |
| | Logo após, escolhemos SCAVO CHEMIST, que possui a habilidade Cleanse para limpar os efeitos negativo do nosso GRUM. |
| | Em seguida, escalamos FORGOTTEN ONE, com suas habilidades Immunity e Retaliate, perfeito para ficar na última posição e receber os ataques de todos os monstros de ataque melee, graças a regra Super Sneak. |
| | Por fim, escalamos a FURIOUS CHICKEN como carta de descarte para receber o primeiro ataque na última posição. |

E nossa partida se inicia com os buffs dos Summoners, enquanto meus monstros ganhavam (+1) de ataque melee, meu adversário ganhava (+1) de armadura. Meu adversário também ganhou (+1) de ataque melee em todas as suas cartas, graças a Silvershield Knight.
Então, o pode de ataque do meu inimigo ficou ainda maior, sem conta com as armaduras adicional em todas as cartas, como minhas cartas são todas de ataque melee ficamos em desvantagem. Realmente a formação do meu inimigo é muito forte.
Temos três cartas inimigas com ataque melee atacando nossa última posição, FORGOTTEN ONE, mas devido a sua vitalidade e quantidade de armadura conseguimos segurar bastante ataques e ainda revidar com sua habilidade.
Enquanto, GRUM FLAMEBLADE segurou alguns ataques mágicos do nosso inimigo. E recebeu de SCAVO CHEMIST a cura do envenenamento ficando imune do Noxious Fumes, que dar (-2) de dano no começo de cada rodada.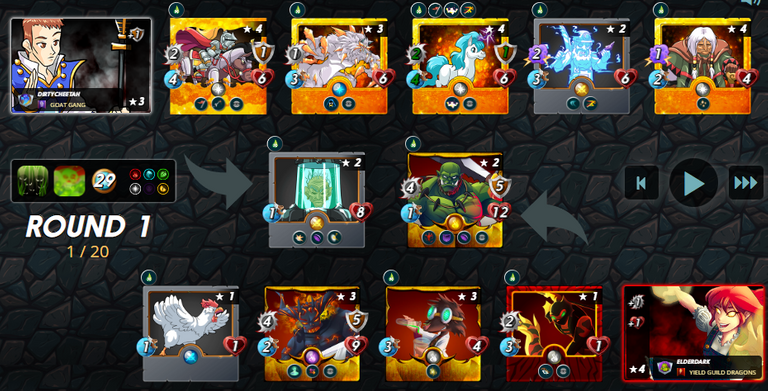 Após, o envenenamento que acontece no início da segunda rodada perdemos duas cartas, FURIOUS CHICKEN e SERPENTINE SPY, e nosso inimigo perdeu apenas a carta da última posição.
Graças a habilidade Retaliate, FORGOTTEN ONE conseguiu derrubar mais um monstro inimigo, CRYSTAL WEREWOLF.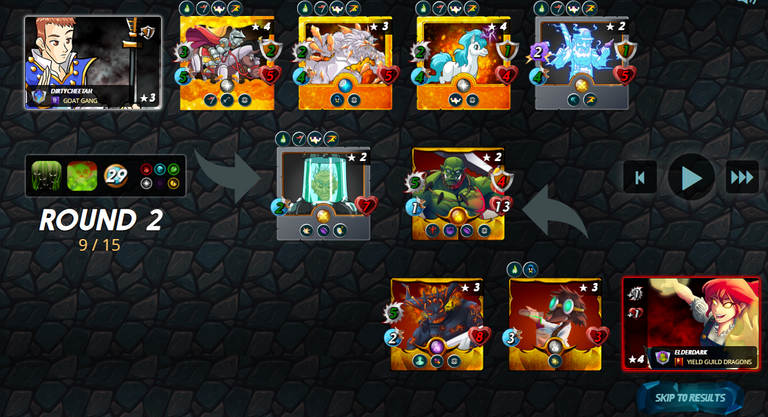 Se está batalha não fosse governada pela regra Noxious Fume, certamente teríamos perdido pois o nosso inimigo tinha mais poder de ataque e velocidade, além de armadura extra o que deixa cartas de ataque melee em desvantagem.
Mas felizmente, GRUM resistiu até o fim e ainda ativou sua habilidade Bloodlust, aumentando todos os seus status. No fim, obtemos a vitória graça a nossa estratégia de ter duas cartas em campo com bastante vida e imunes ao envenenamento. Para assistir a batalha completa clique na imagem da primeira rodada!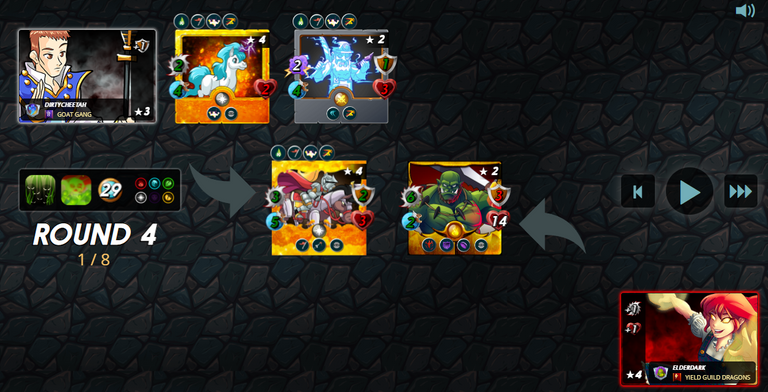 Concluindo, SCAVO CHEMIST e FORGOTTEN ONE são ótimas carta para se ter em batalha que tenha envenenamento, seja na regra de Noxious Fume seja contra time que utilize estratégia de envenenamento, como Splinter de Morte. E o que podemos perceber dessa batalha é que as regras de combates podem mudar os rumos de uma batalha em Splinterlands, por isso sempre estejam atentas a elas antes de montar uma estratégia.

Caso esteja caindo de paraquedas neste post e gostou deste jogo Clique Aqui! para começar no game. Assim você me ajudar e eu é claro posso te ajudar a crescer delegando cartas para facilitar o seu crescimento em Splinterlands.
---
---