[En-Es] Spilostethus pandurus
Hello dear Insects of the world community.
Days ago I found this colorful bug perched on the leaf of one of the oregano plants.
It spent a while preening itself, unfolding and retracting its wings. Then it left, I guess flying.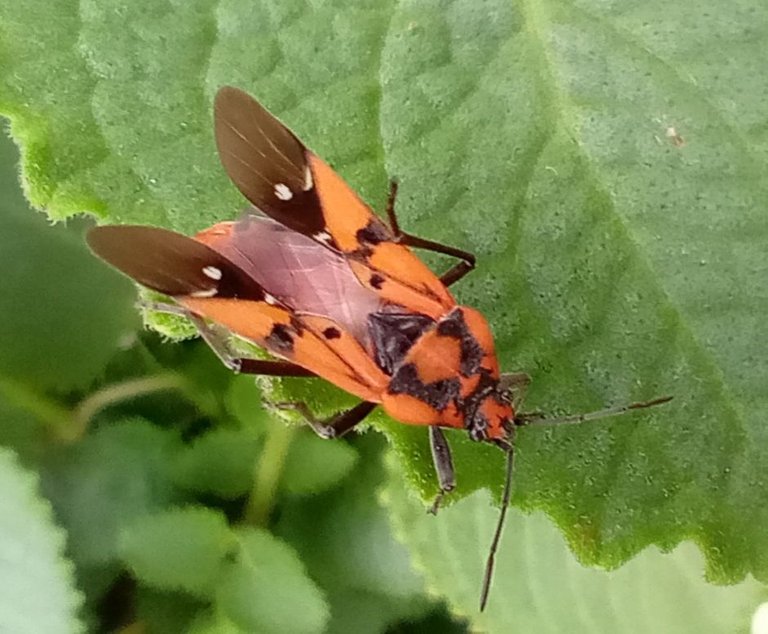 Hola querida comunidad de Insects of the world.
Hace días encontré este colorido chinche posado sobre la hoja de una de las plantas de orégano.
Estuvo un rato acicalándose, desplegando y replegando sus alas. Después se fué, supongo que volando.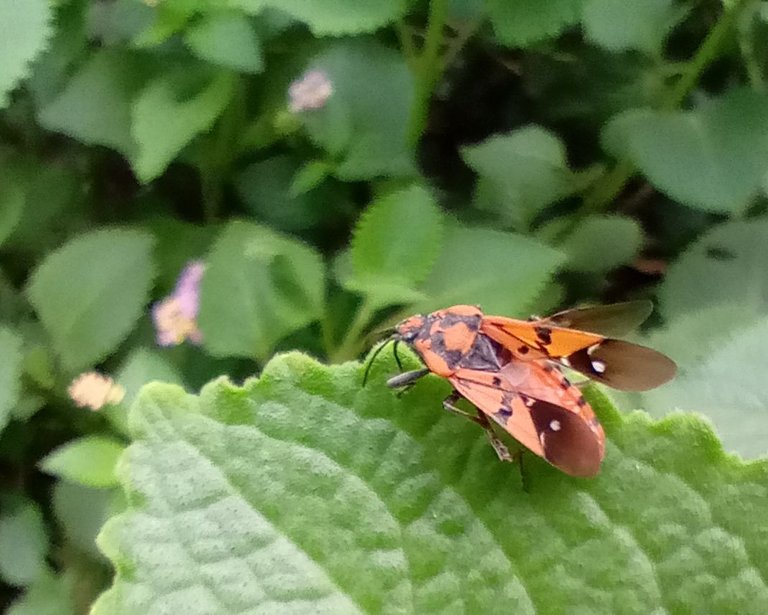 According to visual coincidences, it is Spilostethus pandurus, an insect of the order hemiptera (true bugs, cicadas, leafhoppers, aphids and allies), and lygaeidae (seed bugs) family that is distributed almost all over the world and causes damage to some crops.
It is about 15 millimeters long, with orange and dark brown colors on the head, thorax and elytra. The legs, eyes, pronotum and antennae are brown. It has white markings on the membranous part of the wings.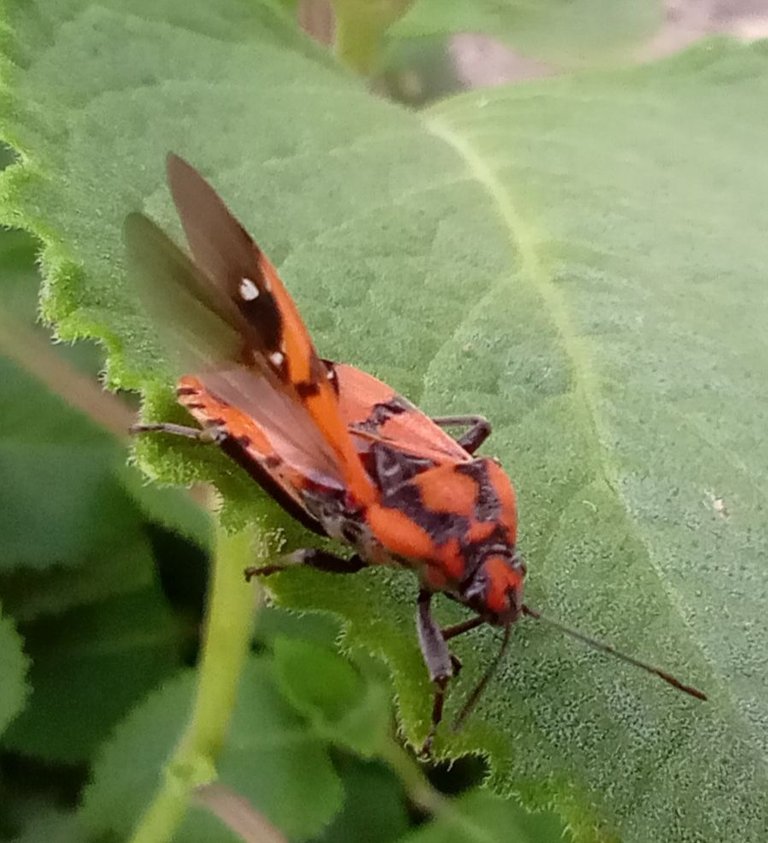 Según las coincidencias visuales se trata de spilostethus pandurus, insecto del orden hemiptera (chinches verdaderos, cigarras, saltahojas, pulgones y afines) y familia lygaeidae (chinches de semilla), que se encuentra distribuido en casi todo el mundo y causa daños en algunos cultivos.
Tiene unos 15 milímetros de largo, con colores naranja y marrón oscuro en cabeza, tórax y élitros. Las patas, los ojos, el pronoto y las antenas son marrones. Tiene marcas blancas en la parte membranosa de las alas.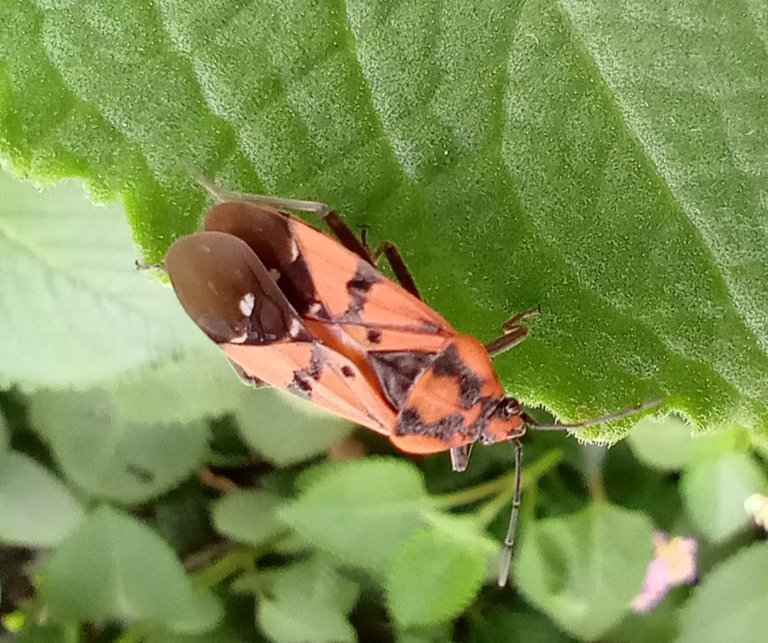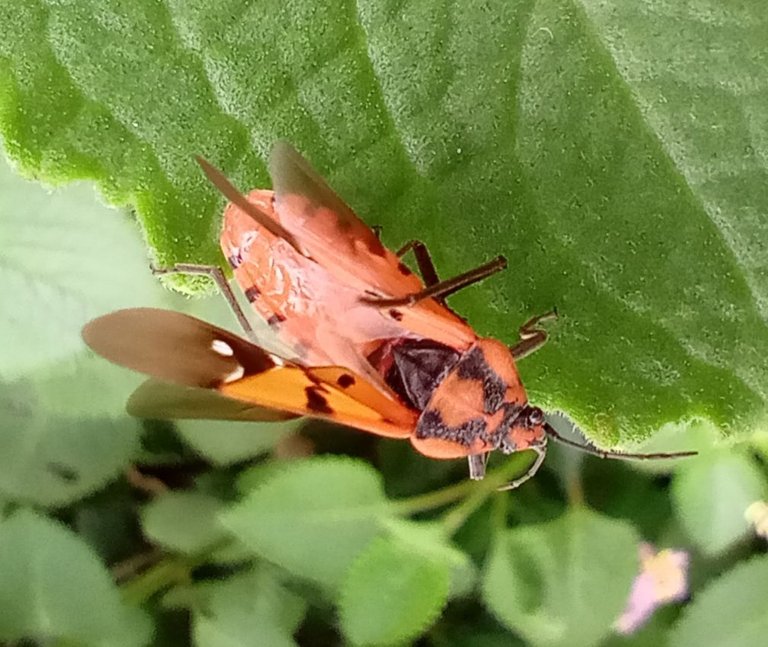 Being polyphagous, they feed on the leaves and flowers of various plant species, including the jimson weed (Datura stramonium) and oleander (Nerium oleander) in Europe. From some of them they take toxic glycosides that are used to scare away predators. They do this through glandular secretions with an unpleasant smell that are activated when they feel in danger.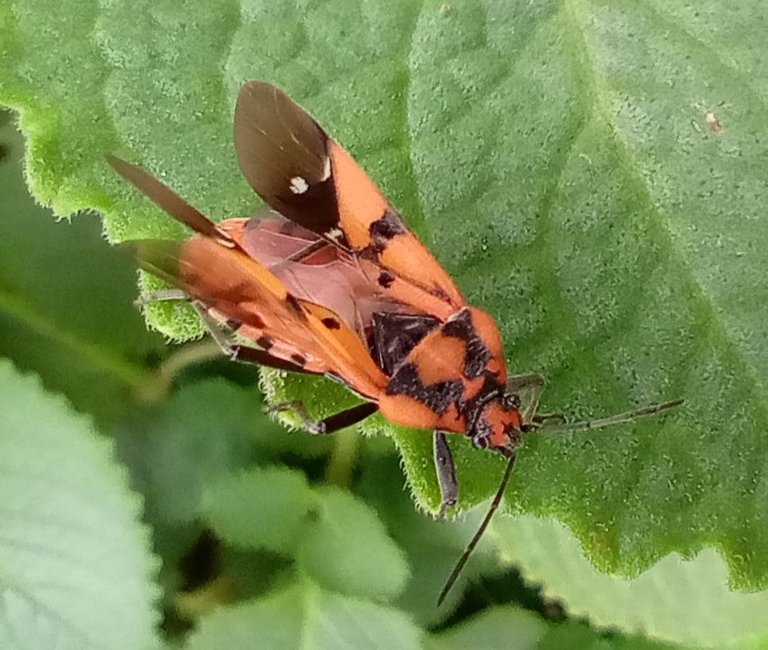 Al ser polifagos, se alimentan de hojas y flores de diversas especies de plantas, incluyendo el estramonio (Datura stramonium) y la adelfa (Nerium oleander) en Europa. De algunas de ellas toman glucósidos tóxicos que son usados para ahuyentar a los depredadores. Lo hacen mediante secreciones glandulares de olor desagradable que se activan cuando se sienten en peligro.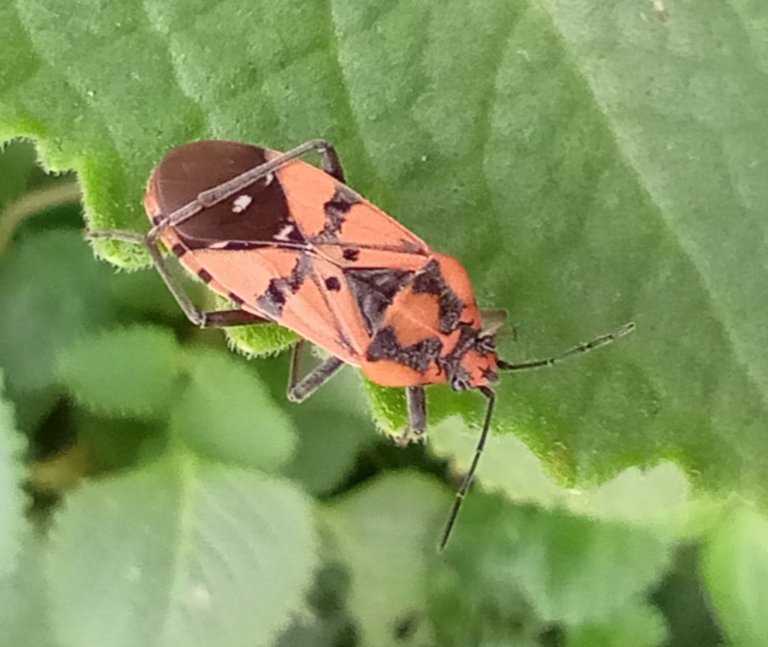 The striking color of its body, both in the offspring, (bright red), and in the adult stage serves to warn possible predators about its bad taste and toxicity (Aposematism).
El color llamativo de su cuerpo, tanto en las crías, (de color rojo brillante), como en etapa adulta sirve para advertir a los posibles depredadores sobre su mal sabor y toxicidad (colores aposemáticos).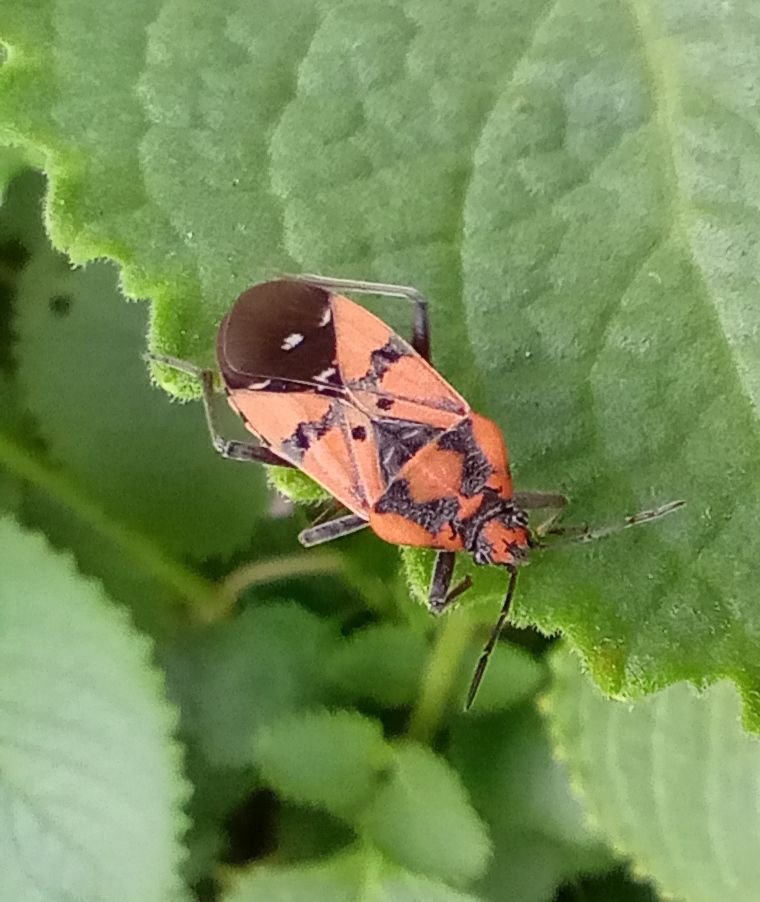 In India they cause damage to sesame (Sesamum indicus) crops. They have also been reported in other cereal crops such as sorghum (Sorghum bicolor).
En la India son causantes de daños en cultivos de sésamo (Sesamum indicus). También se han reportado en cultivos de otros cereales como el sorgo (Sorghum bicolor).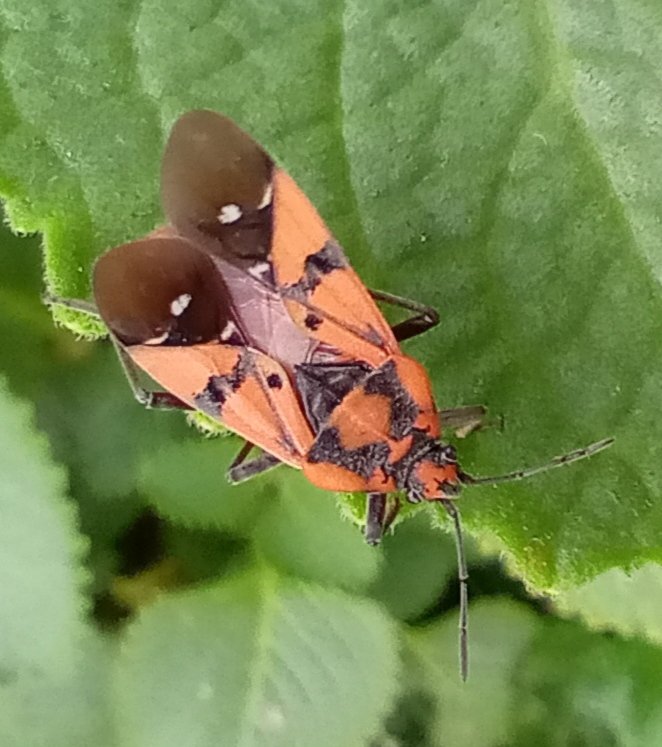 Place and date of discovery: July 26, 2022, in the Libertador municipality, Carabobo state, Venezuela.
Lugar y fecha del descubrimiento: 26 de julio de 2022, en el municipio Libertador, estado Carabobo, Venezuela.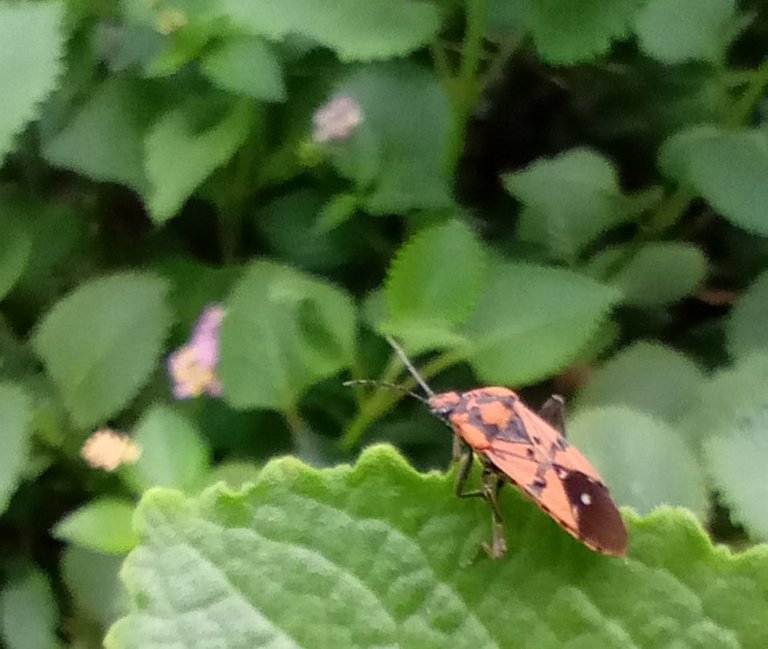 All photos were taken by myself, @elentogether, with my Xiaomi Redmi 9C smartphone.
Todas las fotos fueron tomadas por mí misma, @elentogether, con mi teléfono inteligente Redmi 9C de Xiaomi.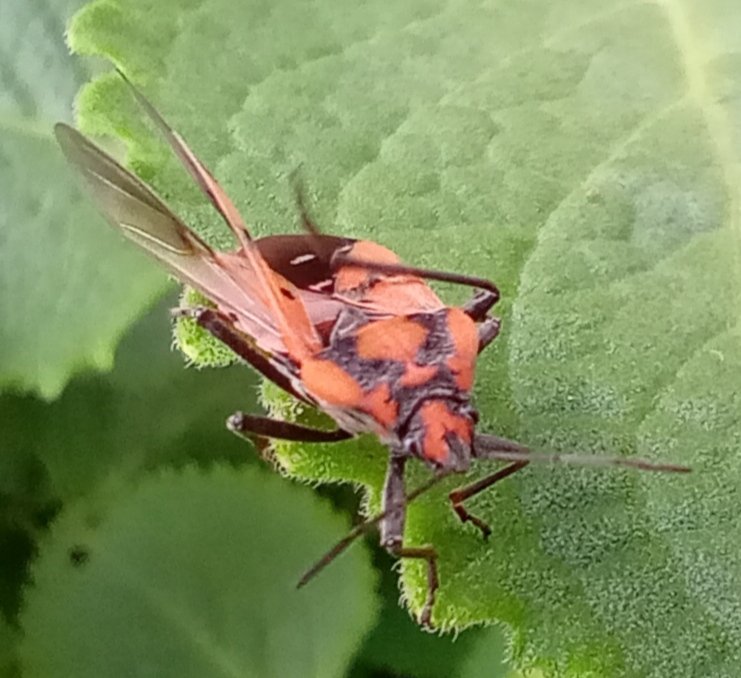 To gather information I have used articles about spilostethus pandurus in Wikipedia and about family lygaenidae in BugGuide.
Para reunir información he usado artículos sobre spilostethus pandurus en Wikipedia y sobre familia lygaenidae en BugGuide.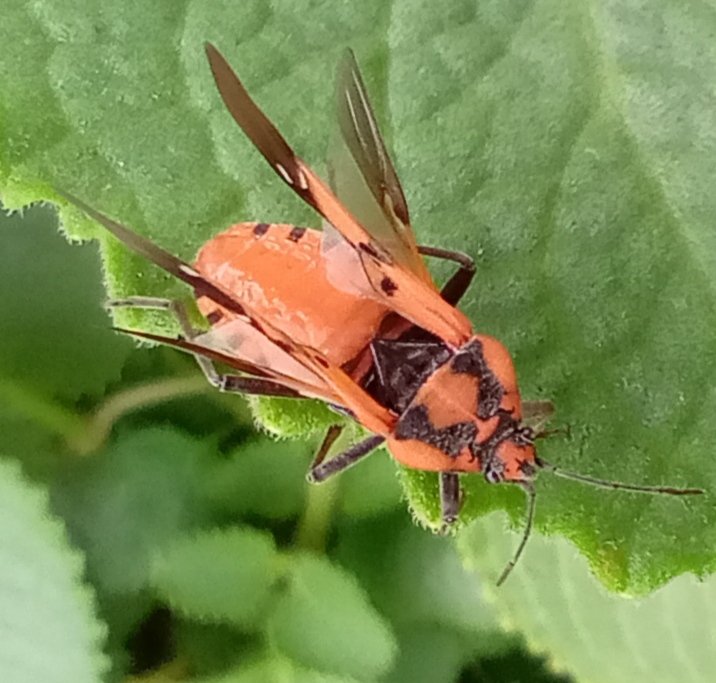 Thank you!
Thanks so much for stopping by and reading about my find.
Muchas gracias por detenerse y leer sobre mi hallazgo.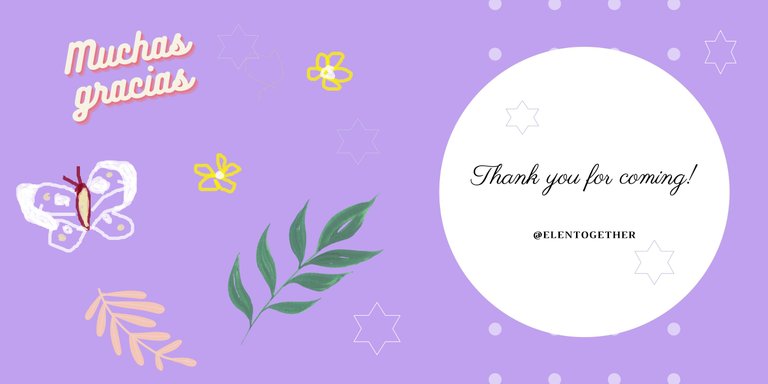 Image made with / Imagen hecha con: Canva y Paint.
Translated with / Traducido con: Google translator.
References / Referencias:
https://es.wikipedia.org/wiki/Spilostethus_pandurus
https://bugguide.net/index.php?q=search&keys=Lygaeidae&search=Search
---
---