Syngamia florella [En-Es]
Best regards, friends of Hive and the Insectsoftheworld community.
Today I want to tell you about an insect that I was surprised to find almost at dusk, on one of the lantana plants. It fed on nectar, but it didn't look like a butterfly and it was too early to think it was a night moth.
I found her again the same day, but at night, near a light bulb.

Saludos cordiales amigos de Hive y de la comunidad de Insectsoftheworld. Hoy quiero hablarles de un insecto al que me sorprendió encontrar casi al anochecer, sobre una de las plantas de lantana. Se alimentaba de néctar, pero no tenía aspecto de mariposa y era muy temprano como para pensar que se tratara de una polilla nocturna. La volví a encontrar el mismo dia, pero en la noche, cerca de un bombillo.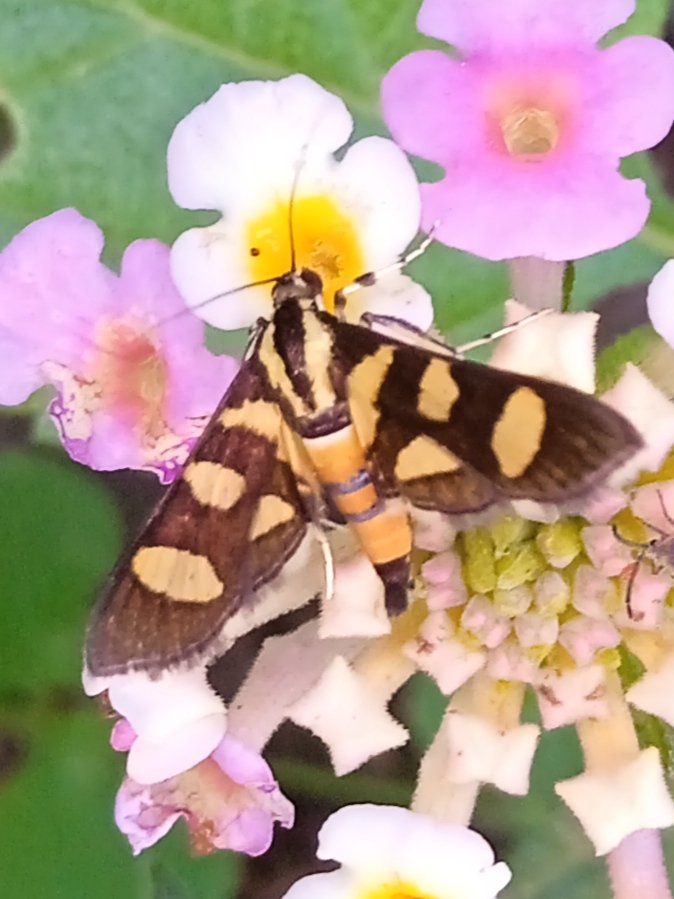 It turned out to be a diurnal moth of the Crambidae family (Crambidae snout moths), it has a 15-millimeter wingspan, yellow abdomen with bluish-brown stripes, brown front and rear wings with yellow spots, white legs with brown. The thorax is yellow with a brown band running down the middle towards the head. The eyes are brown.

Resultó ser una polilla diurna de la familia Crambidae (polillas del hocico Crambidae), tiene 15 milímetros de envergadura, abdomen amarillo con franjas marrón azuladas, alas delanteras y traseras marrón con manchas amarillas, patas blancas con marron. El tórax es amarillo con una banda marrón que lo recorre en el medio hacia la cabeza. Los ojos son marrones.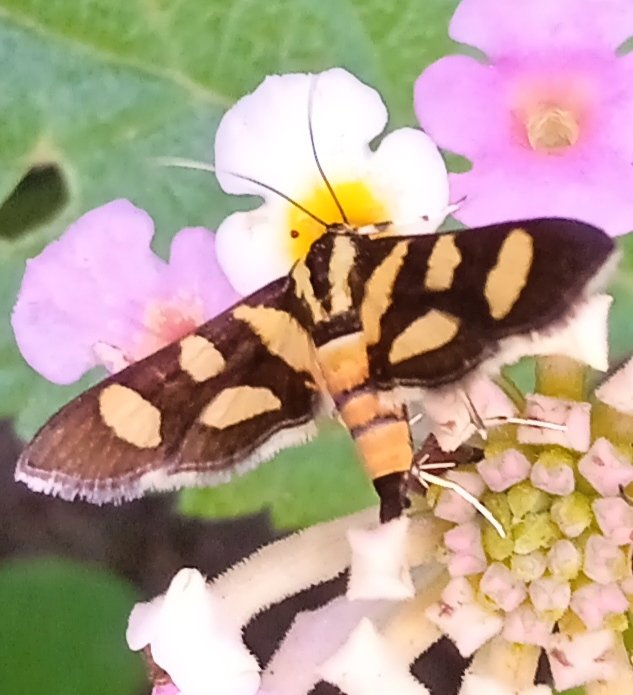 Taxonomy

Kingdom Animalia (Animals)

Phylum Arthropoda (Arthropods)

Subphylum Hexapoda (Hexapods)

Class Insecta (Insects)

Order Lepidoptera (Butterflies and Moths)

Superfamily Pyraloidea (Pyralid and Crambid Snout Moths)

Family Crambidae (Crambid Snout Moths)

Subfamily Spilomelinae

Genus Syngamia

Species florella (Red-waisted Florella Moth - Hodges#5284)

Source

Taxonomía

Reino Animalia (Animales)

Phylum Arthropoda (Artrópodos)

Subfilo Hexapoda (Hexápodos)

Clase Insecta (Insectos)

Orden Lepidó noptera (mariposas y polillas)

Superfamilia Pyraloidea (Polillas de hocico Pyralid y Crambid )

Familia Crambidae (polillas de hocico Crambid)

Subfamilia Spilomelinae

Género Syngamia

Especie florella (Polilla florella cintura roja - Hodges#5284)

Fuente

*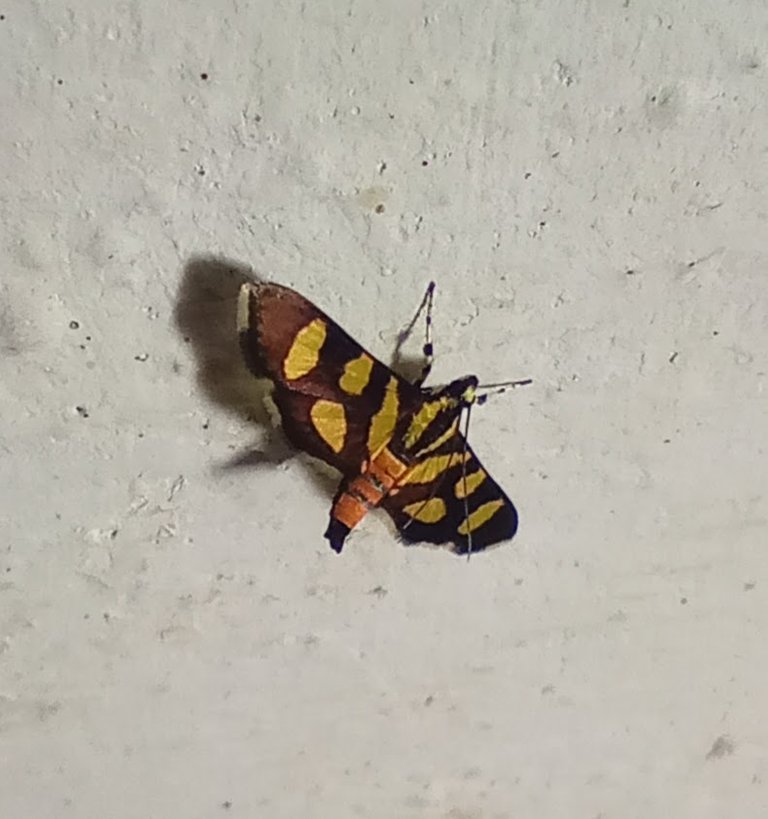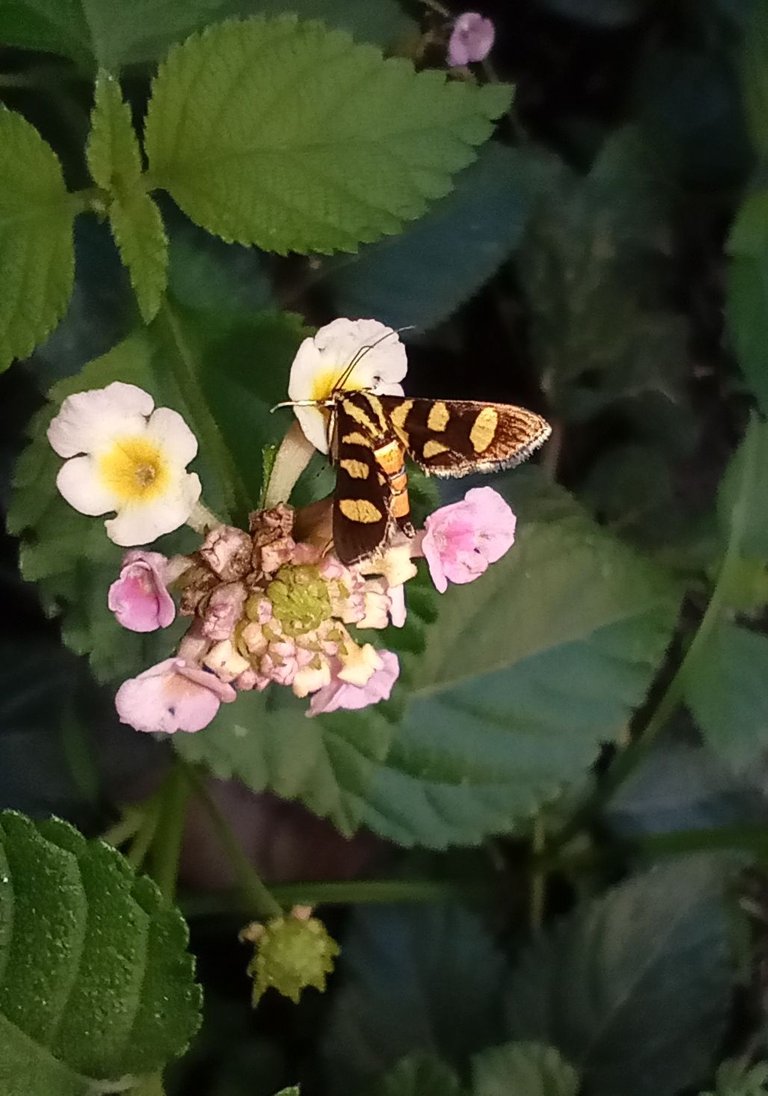 They can be seen from South Carolina, Texas, Florida, Bermuda, to Mexico and South America, including Argentina. They have been reported year-round in Florida, but the main flying season is considered to be July through December, in the rest of the range.

Se pueden ver desde Carolina del sur, Texas, Florida, Bermudas, hasta México y Sudamérica, incluyendo Argentina. Se han reportado todo el año en Florida, pero se considera que su temporada de vuelo principal es, en el resto del rango, desde julio hasta diciembre.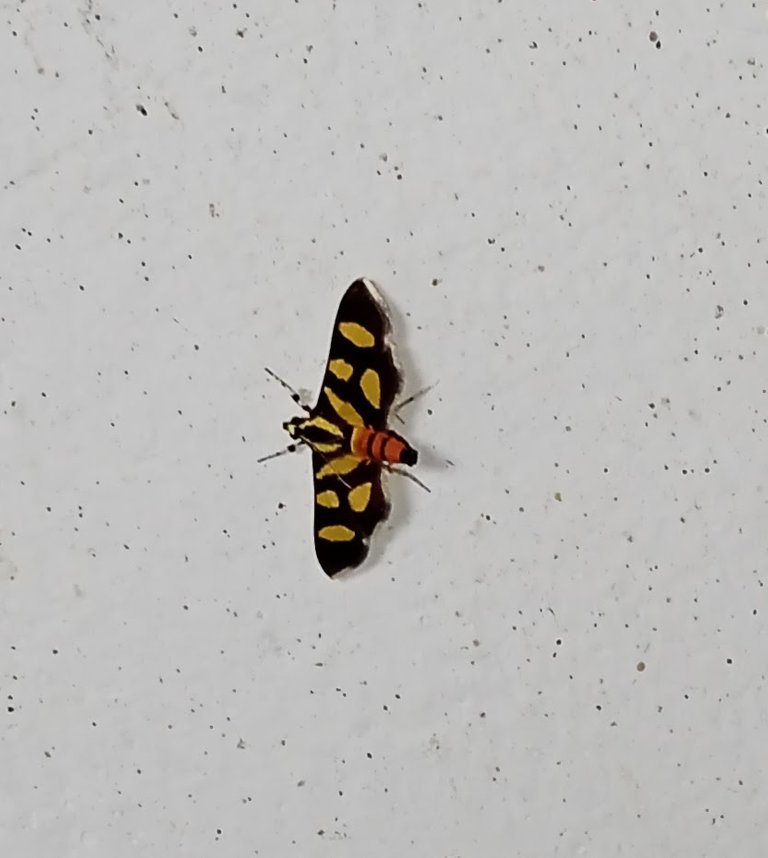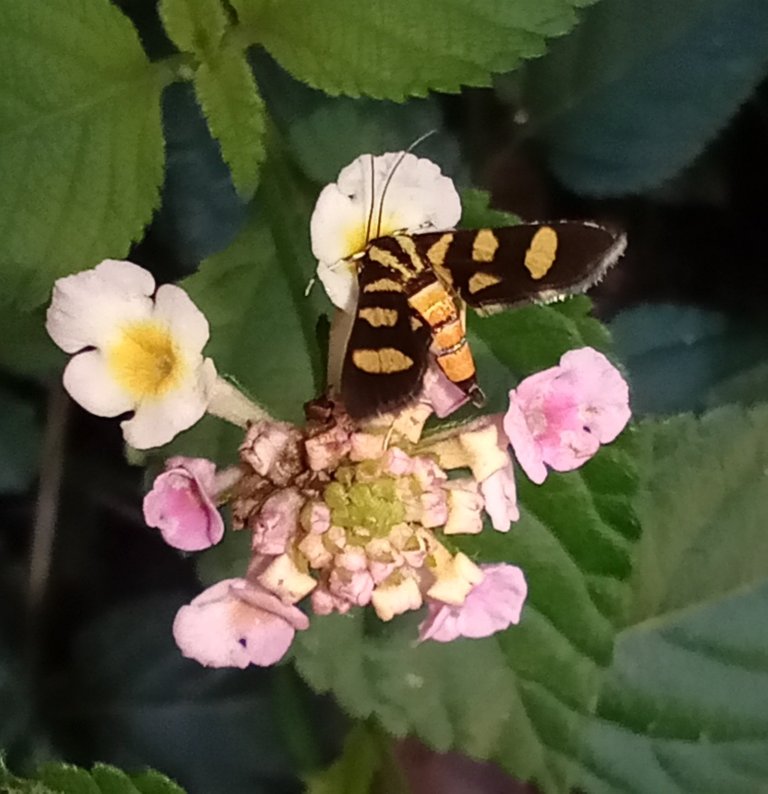 They feed on flower nectar in adult stage, the larva feeds on Rubiaceae. It is also known as the orange-spotted flower moth or the red-waisted florella moth.

Se alimentan de néctar de flores en etapa adulta, la larva se alimenta de Rubiaceae. Es conocida también como Polilla de la flor con manchas naranjas o polilla florella de cintura roja.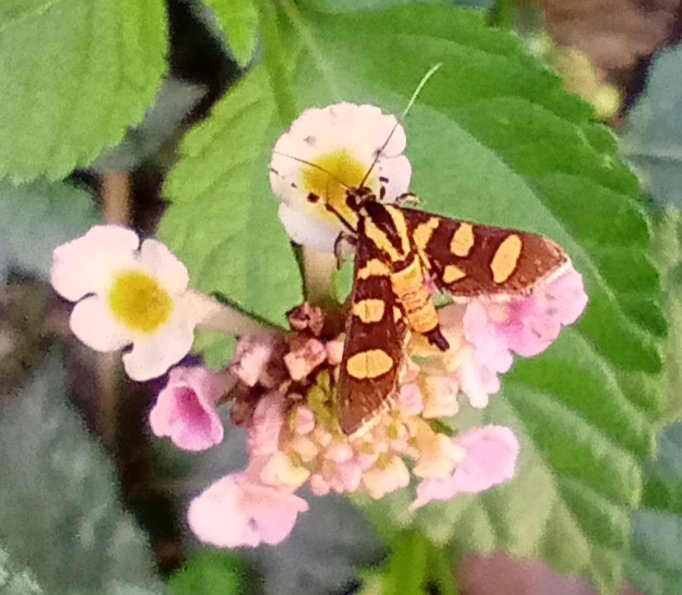 Date and place of discovery: July 22, 2022, in Libertador municipality, Carabobo state, Venezuela.

Fecha y lugar del descubrimiento: 22 de julio de 2022, en municipio Libertador, estado Carabobo, Venezuela.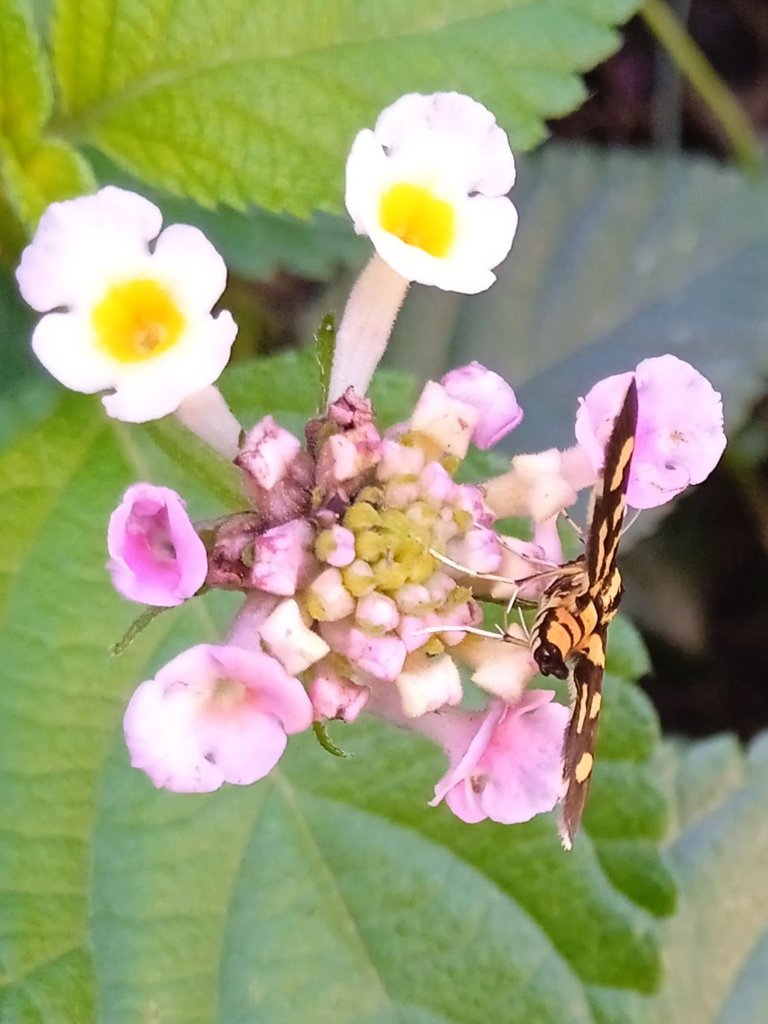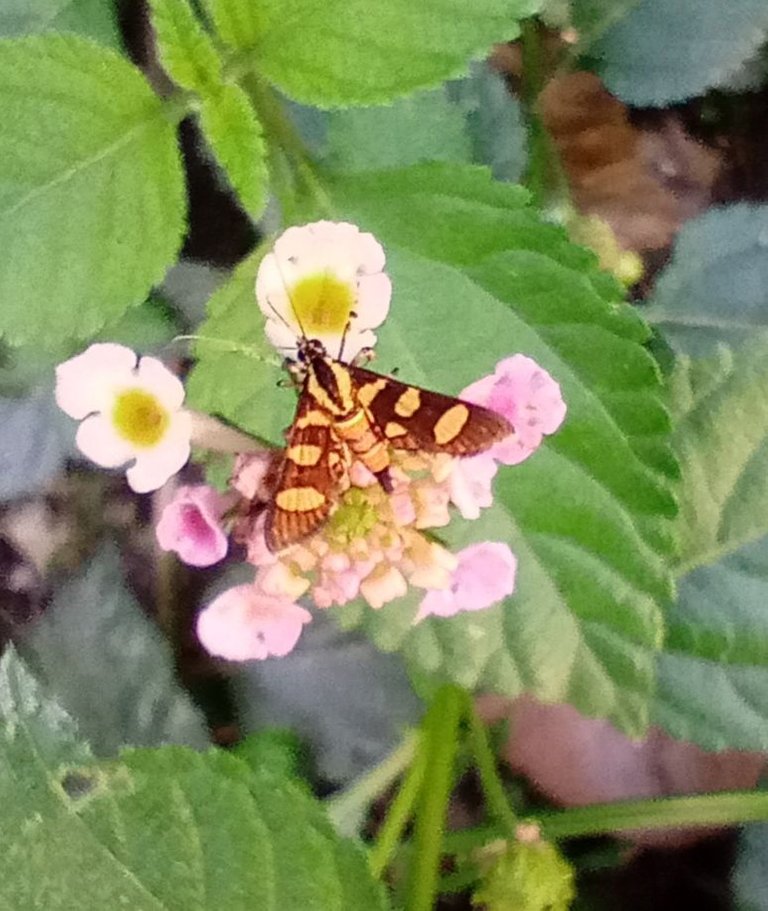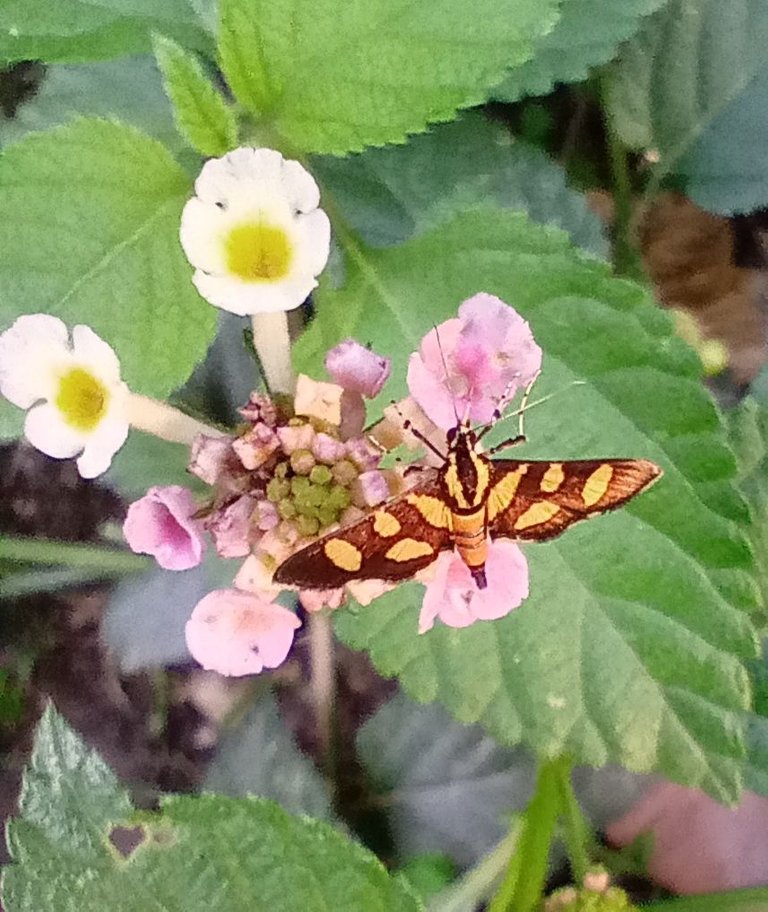 All photos were taken by myself,

@elentogether

, with my Xiaomi Redmi 9C smartphone.

Todas las fotos fueron tomadas por mi misma,

@elentogether

, con mi teléfono inteligente Redmi 9C de Xiaomi.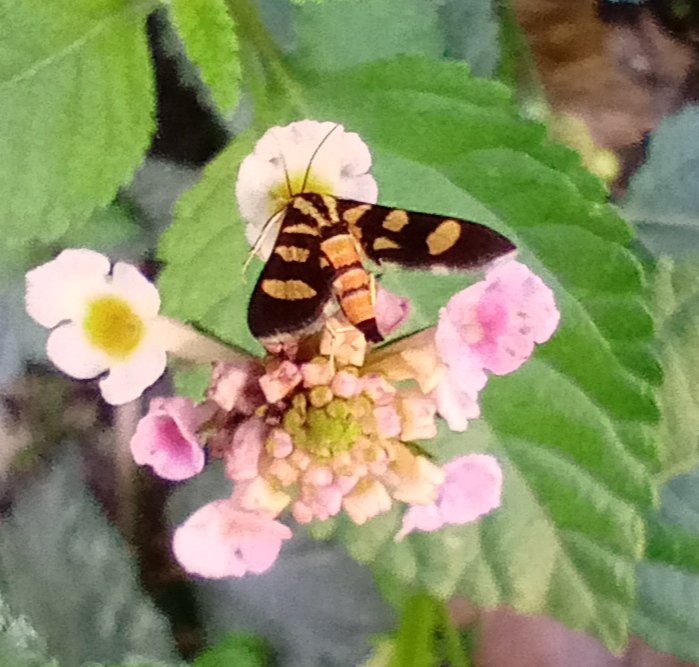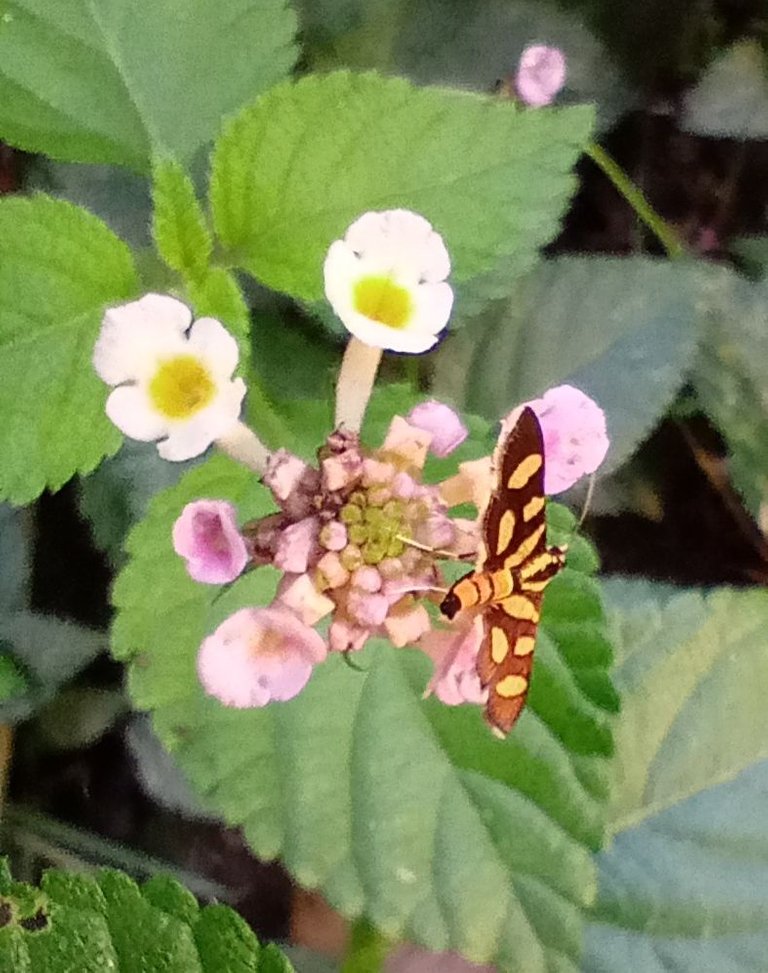 To gather information I used articles on this species from Wikipedia and BugGuide.

Para reunir información usé artículos sobre esta especie de Wikipedia y BugGuide.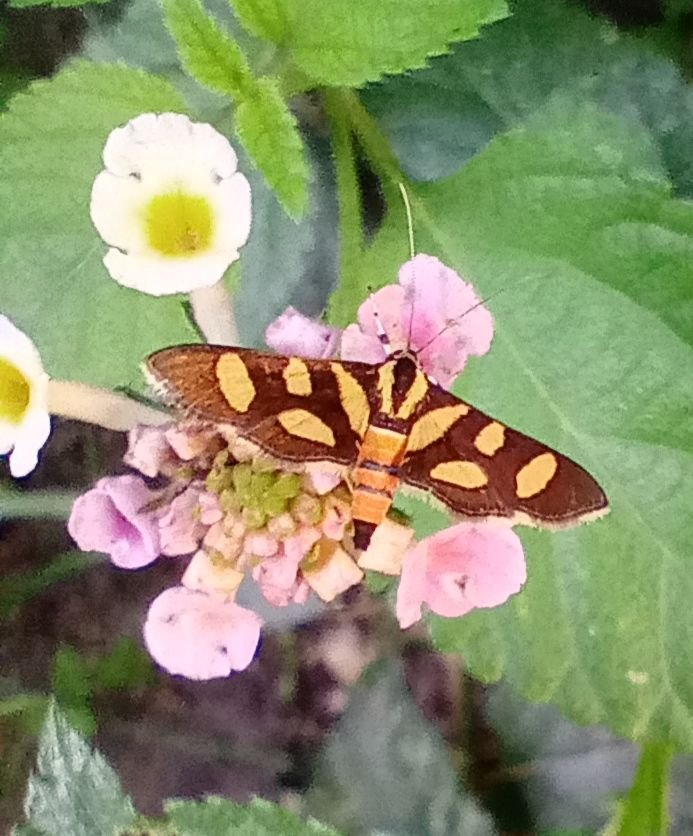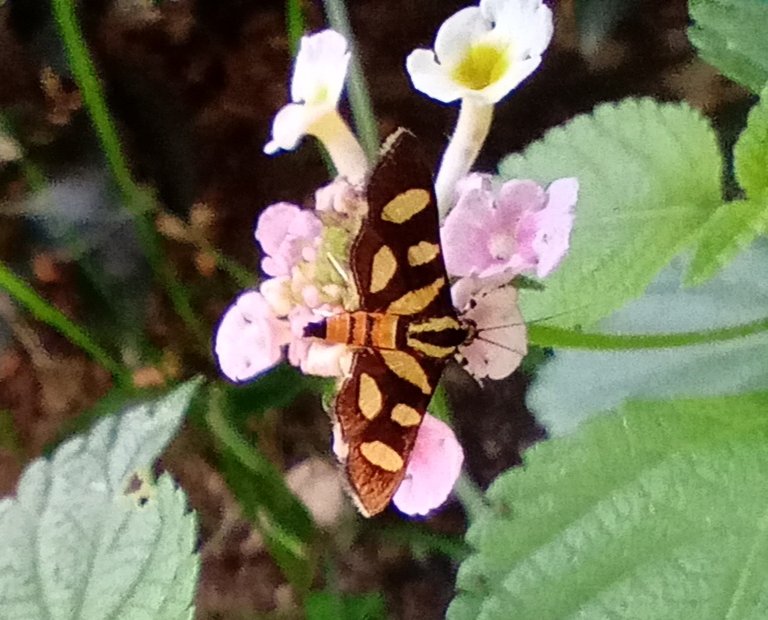 Thank you so much for stopping by and reading about my discovery.

Muchas gracias por detenerse y leer sobre mi descubrimiento.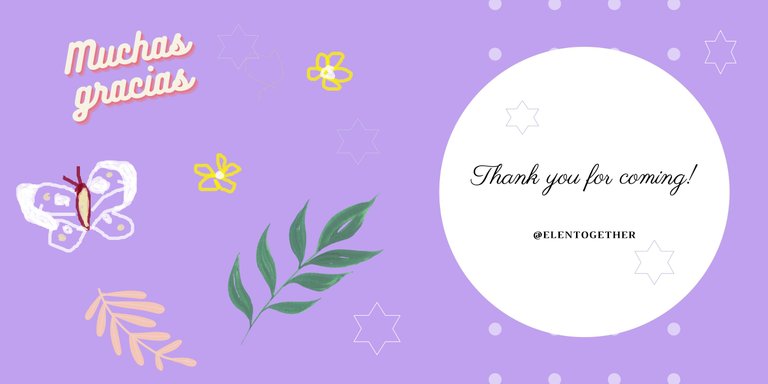 Image made with / Imagen hecha con Canva y Paint.
References / Referencias:
https://bugguide.net/node/view/8604
https://en.wikipedia.org/wiki/Syngamia_florella
---
---