The 3 C's - Strategies to Thrive on Hive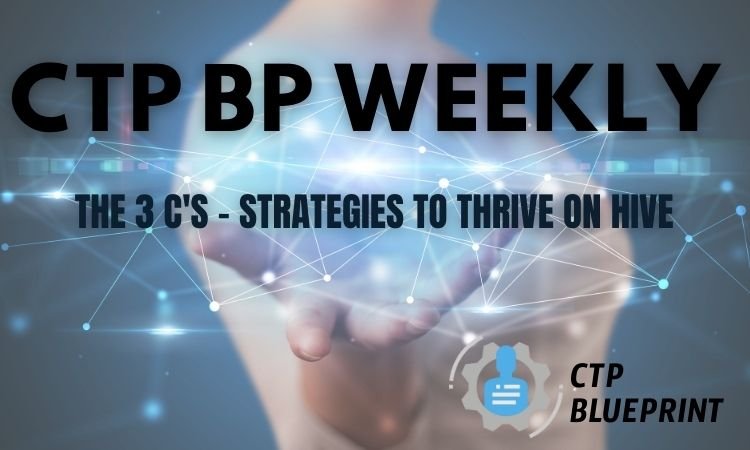 Hello, awesome people!
Welcome to the CTP Blueprint Weekly!
Some webinars ago, Jon and Blain talked about some strategies to thrive on Hive and of course back then I made an infographic summing up all the things they mentioned but I believe I never shared it with anyone besides them, or probably just share in our Telegram Group.
Either way, it's never too much to talk about this as some new people come around and joins our big and beloved Hive Family and it's also a good reminder to those still hiding on the sides just watching the prices go up and down.
So the Three C's are Content, Comments, Consistency!
I can't believe this was months ago already lol but here's the webinar where Jon and Blain talk about this!
Let's dive in!
Content
This little monster that almost everyone fears can be tamed very easily if you keep it simple. I know you have that feeling that you don't have anything to talk about or you don't have an interesting life. But one thing I know, actually there are three things I know and you might also know that:
There are things that you like
There are things that you would like to do and/or learn
There are things that you have passion for!
Also, there is also something beautiful on Hive called Communities!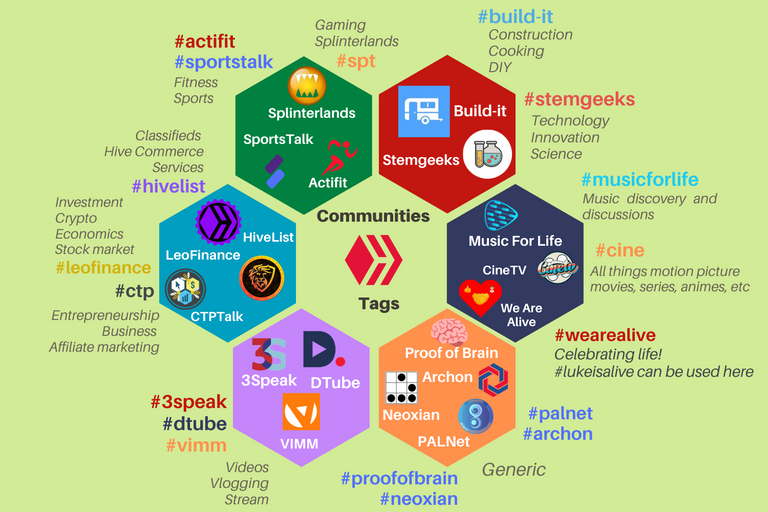 Maybe this infographic I made a while ago is already outdated with so many other communities out there but these are just a few examples where you can look around and see what brings you interest, read some posts and probably you will get inspired to write something!
Speaking of Communities...
Comments
If you are still not sure or not comfortable writing a post, commenting is the next best way to create some smaller content as well as get visibility from others. By going to other people's posts and engaging with them by replying you are starting a new connection with people!
There are also specific accounts where you can talk through their post's comment section where you and a few more people can join and share your thoughts and get questions answered, like @ctpchat and @leomarkettalk!
Another way that I use now to get some comments are by reading and comment posts promoted through ListNerds. I know it's a shameless promotion but it works even to promote your own posts! Visibility peeps!
If you are creating your own blog posts and people are adding comments, please don't ever miss replying to them! Those are also opportunities to build a connection!
Consistency
Whichever way of creating content you are going to focus on (ideally is to have some kind of balance between your own content and comments but if you are just starting to choose one of them), you need to do them consistently!
There is no better way to be on someone's radar than by being on their radar all the time!
So you need to build that consistency, turn it into a habit more than your crazy habit of scrolling through traditional social media! Here is much more rewarding for sure ;)
Alrighty then! So...how do I start this adventure?
Write, list, plan!
Ok so you are on day 0 - pick a day (or start right away as soon as you finish reading this) and dedicate a good chunk of your day, like a 4-hour block for example, and list everything you want to talk about! Then turn into topics - the more narrow and niche-specific the more effective it is. Grab a calendar and fill it with all the topics for each day of the week.
We had a content challenge some time ago and I created a calendar template that you can use if you want something fancy:
Save it, print it and start filling it! And stick to somewhere visible so you don't forget or get sidetracked.
The next day, block an hour of your day and write about the topic you have on your plan, post it and go read other people's posts. Comment and reply to your post's comments. Do this for the next 30 days.
Rinse and repeat!
Tip: Every time you read, listen or watch something interesting that inspire you to have some ideas, write them down right away somewhere! Might be a good way to complete your calendar or even plan a new one!
Of course, you can use this way for any other social media you want to tackle, but here on Hive, you start earning as soon as you write your first blog post and/or comment!
No, you won't win millions right away but I can promise you that if you keep doing this, you will get better at writing and socializing, you will get noticed and you will get more rewards! And it keeps compounding!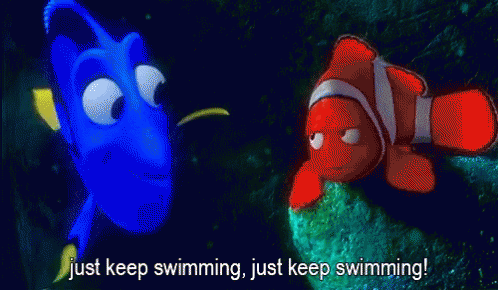 Hope this helps you somehow and let me know in the comments your opinion, tips and tricks or any questions you may have that I can help you with or even blog/do a video about it!
Thank you so much for reading!

Like and follow the pages below to get notified about the webinars coming live!
https://www.facebook.com/ClickTrackProfit
https://www.facebook.com/ctpblueprint
Thank you so so much for your support!!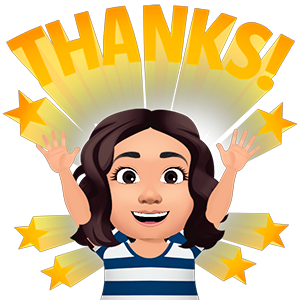 ---
---