The Winners of the CTP BP HalfAnniversary Contest are...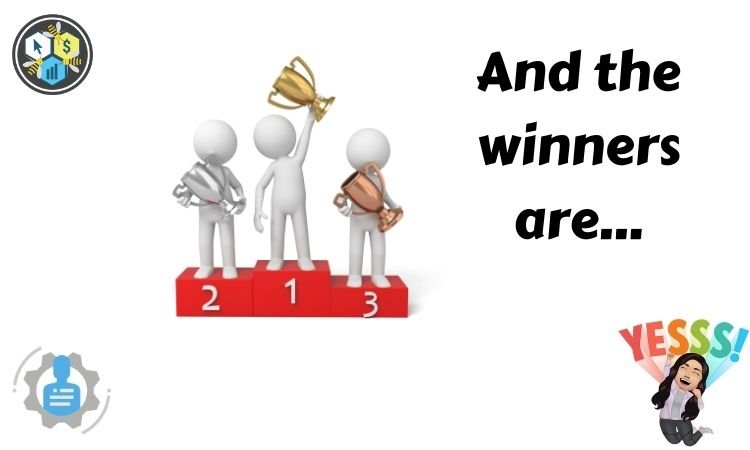 Hello Buzzy Bees!
A few weeks ago CTP Blueprint turned 6 Months old and I decided to celebrate it with a little contest. You can check the contest post here:
https://ctptalk.com/contest/@elianaicgomes/ctp-bp-halfanniversary-contest-because-i-like-inventing-words
Since we got three participants I decided to spice things a bit by throwing a poll on Twitter for a couple of days to help get more exposure on their posts and reach some unbiased peeps to help out on the voting.
Before I share the results, here are the participants:
@lisamgentile1961 post: https://ctptalk.com/hive-119826/@lisamgentile1961/6-months-old-and-still-growing-celebrating-the-halfversary-of-ctp-blueprint
@elizabetamt post: https://ctptalk.com/ctp/@elizabetamt/ctpblueprintcelebrates6months-xw6vms1jwtzg3f5wr2r0
@imfarhad post: https://ctptalk.com/hive-119826/@imfarhad/ctp-blueprint-and-beyond
Thank you, again, for participating!
The prizes in game are:
1st Place - 1 Month of the CTP BP Video Membership for free! Plus 5000 CTP Power Delegation
2nd Place - 3000 CTP Power Delegation
3rd Place - 2000 CTP Power Delegation
Here are the results of the poll: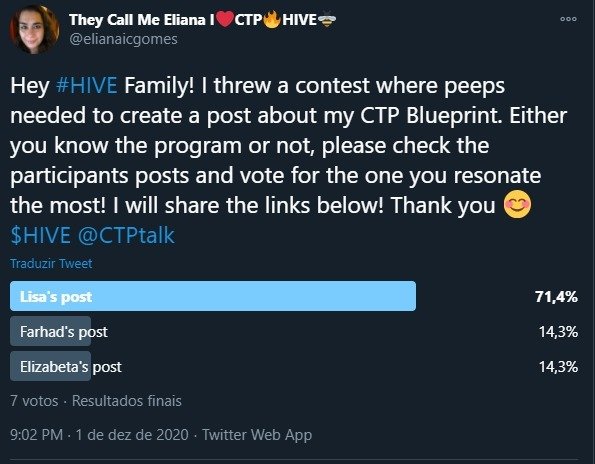 Even though there were a few votes, the first place seemed unanimous!
Congrats Lisa!!
And since there's a tie, I decided to give the same second prize, so both will get 3000 CTP Power delegation!
Thank you Elizabeta and Farhad!!
Good job everyone!
Appreciate all your effort and support!
Happy Thursday!
---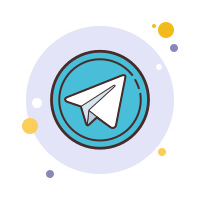 ---
---