HIVE Open Mic 104 | Paz en la tierra - cover by @eliigonzalez
---
Hi friends of HIVE OPEN MIC in its 104th week, I am pleased to be with you again sharing this space in which our voices come together.
On this occasion I bring you the theme "Peace on Earth" with which I want to invite you to reflect on each gesture we give and the way in which we relate to others, because I believe peace is born of each one of us as the saying goes. song and it is only in this way that we will be able to build spaces in which we feel fully, starting from our home, the locality in which we live and in this way take it to achieve peace between nations.
We need lots of hugs of peace to make this world the place we want it to be.
A hug for you who read me.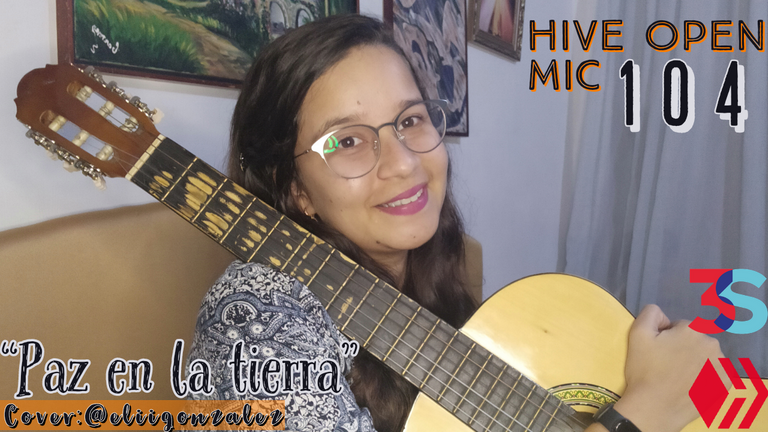 Hola amigos de HIVE OPEN MIC en su semana 104, estoy complacida de estar nuevamente con ustedes compartiendo este espacio en el que nuestras voces se unen.
En esta ocasión les traigo el tema "Paz en la tierra" con el cual quiero invitarles a reflexionar sobre cada gesto que damos y la manera en la que nos relacionamos con otros , porque la paz considero que nace de cada uno de nosotros como dice la canción y es sólo de esa manera en la que podremos construir espacios en los que nos sintamos en plenitud, comenzando desde nuestro hogar, la localidad en la vivimos y de esa manera llevarlo hasta lograr la paz entre naciones.
Necesitamos muchos abrazos de paz para hacer de este mundo el lugar que deseamos que sea.
Un abrazo para ti que me lees.

Letra
/ Paz en la Tierra, paz en las alturas
que el gozo eterno reine
en nuestro corazón /2
Da la paz, hermano, da la paz.
Constrúyela en tu corazón
y con tu gesto afirmarás
que quieres la paz.
Que tu paz, hermano,
sea don
es el mejor signo de amor
que tú nos puedes ofrecer.
Abrazo de paz.
/ Paz en la Tierra, paz en las alturas
que el gozo eterno reine
en nuestro corazón /2
Lyrics
/ Peace on Earth, peace on high
may eternal joy reign
in our hearts /2
Give peace, brother, give peace.
Build it in your heart
and with your gesture you will affirm
that you want peace.
May your peace, brother
be a gift
is the best sign of love
that you can offer us.
Embrace of peace.
/ Peace on Earth, peace on high
may eternal joy reign
in our hearts /2

🕊️Translated
💕Letra/Lyrics
🕊️Edición de fotografía - Banner - separadores CCExpres
💕Video captado con mi teléfono Redmi Note 8
🕊️Edición de video FilmoraPro

---
▶️ 3Speak
---
---