Talent Sound Music: Mes Febrero - Celebremos el amor y la amistad Categoría: Voz - @eliigonzalez - T
---
I am very excited to participate in this Talent Sound Music that celebrates love and friendship, I believe that those ties bring out the best in each of us.
I also believe that love is the most powerful force that exists, although it sounds like a trite phrase it is. In my particular, love has transformed every moment of my life and has made me feel very beautiful things.
I chose this song called Te Amo by the Venezuelan singer-songwriter and musician Franco De Vita, who is one of my mom's favorite singers and I remember listening to it at home when I was little.
I hope you enjoy this cute theme.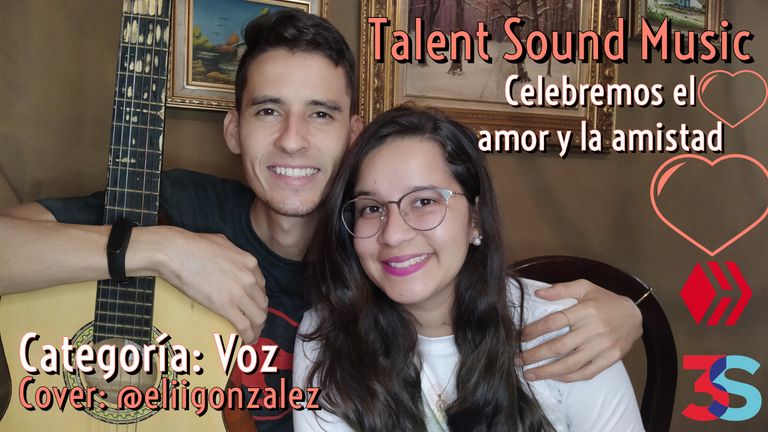 Estoy muy emocionada de participar en este Talent Sound Music en el que se celebra el amor y la amistad, creo que esos lazos sacan lo mejor de cada uno de nosotros.
También creo que el amor es la fuerza más poderosa que existe, aunque suene a frase trillada es así. En mi particular, el amor ha transformado cada instante de mi vida y me ha hecho sentir cosas muy bonitas.
Escogí esta canción que lleva por nombre Te Amo del cantautor y músico venezolano Franco De Vita que es uno de los cantantes favoritos de mi mamá y que recuerdo haberla escuchado en la casa cuando era pequeña.
Espero disfruten de este lindo tema.
Invito a esta iniciativa a @wbrandt @dilorenzodayana y @zullyscott

Te Amo
Franco De Vita

Ay! Si nos hubieran visto
Estabamos alli sentados
Frente a frente
No podia faltarnos la luna
Y hablabamos de todo un poco
Y todo nos causaba risa
Como dos tontos
Y yo que no veia la hora
De tenerte en mis brazos
Y poderte decir
Te amo
Desde el primer momento en que te vi
Y hace tiempo te buscaba
Y ya te imaginaba asi
Te amo
Aunque no es tan facil de decir
Y defino lo que siento con estas palabras
Te amo
Y depronto nos sobro el silencio
Y nos miramos fijamente
Uno al otro
Tus manos entre las mias
Talvez nos volveremos a ver
Mañana no se si podre
Que estas dudando
Me muero si no te vuelvo a ver
Y tenerte en mis brazos
Y poderte decir
Te amo
Desde el primer momento en que te vi
Y hace tiempo te buscaba
Y ya te imaginaba asi
Te amo
Aunque no es tan facil de decir
Y defino lo que siento con estas palabras
Te amo
Te amo
Oh! If they had seen us
we were sitting there
Facing
We could not miss the moon
And we talked about everything a little
And everything made us laugh
like two fools
And I did not see the time
to hold you in my arms
and be able to tell you
Love you
From the first moment I saw you
And I've been looking for you for a long time
And I already imagined you like this
Love you
Although it's not so easy to say
And I define what I feel with these words
Love you
And suddenly the silence left us
And we stare at each other
each other
your hands in mine
Maybe we'll meet again
Tomorrow I don't know if I can
What are you doubting?
I'll die if I don't see you again
And hold you in my arms
and be able to tell you
Love you
From the first moment I saw you
And I've been looking for you for a long time
And I already imagined you like this
Love you
Although it's not so easy to say
And I define what I feel with these words
Love you
Love you

🌺Translated
🌺Letra/Lyrics
🌺 Edición - Banner - separadores CCExpres
🌺 Video captado con mi teléfono Redmi Note 8
🌺 Edición de vídeo Inshop

---
▶️ 3Speak
---
---