HIVE Open Mic 107 | Valiente - cover by @eliigonzalez
---
Hi friends of Hive Open Mic, week 107 has arrived and I am very happy to share with all of you the theme song "Valiente" original song from the Disney youth series Soy Luna. I must tell you that I was a faithful follower of the series when it was on the air and when I read this week's theme "Brave Mind" I remembered it.
The particularity of this song is that it manages to convey that sense of security and bravery that is required when we go through times when we feel fragile and afraid, it seems that in that situation everyone can see a great potential in us but it is very difficult for us to perceive it. I believe that keeping a brave mind is not an easy task, much less when we are constantly facing changes that make us panic.
My message to you as the song says "whatever you want you can achieve it".
I send you a big hug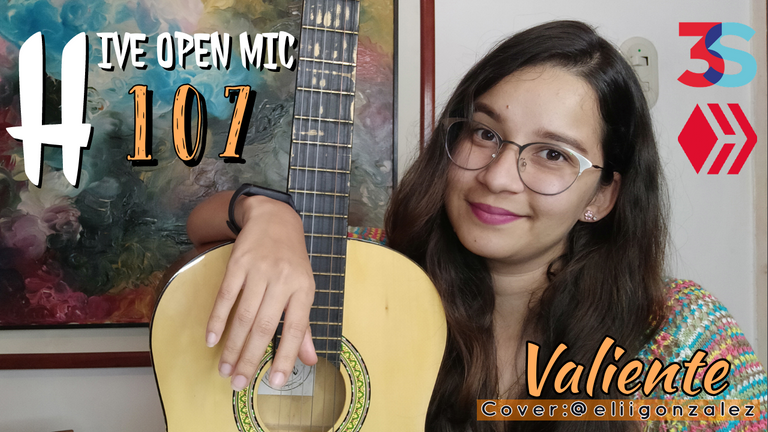 Saludos amigos de Hive Open Mic, llegó la semana 107 y estoy muy feliz de compartir con todos ustedes el tema "Valiente" canción original de la serie juvenil de Disney Soy Luna. Debo comentarles, que fui una fiel seguidora de la serie cuando estuvo al aire y al leer la temática de esta semana "Mente Valiente" la recordé.
La particularidad de esta canción, es que logra trasmitir esa sensación de seguridad y gallardía que se requiere cuando pasamos por momentos en los que no sentimos frágiles y con miedos, al parecer en esa situación todos logran ver un gran potencial en nosotros pero nos cuesta muchísimo lograr percibirlo. Considero que, mantener una mente valiente es no una tarea fácil, mucho menos cuando nos enfrentamos constantemente a cambios que nos generan pánico.
Mi mensaje para ti como dice la canción "todo lo que quieras lo podrás alcanzar".
Te mando un gran abrazo.



Valiente
Brave

Siempre vas rodando en la vida
Y te ves tan decidida
A buscar la luz que hay en todo
A cambiar el mundo a tu modo
Sé muy bien que eres valiente
Y luchas por lo que sientes
Una canción siempre va contigo
Para abrir nuevos caminos
Vas a crecer, vas a despertar
A descubrir para deslumbrar
En busca de tus sueños
Tienes el valor y vas a volar
Vas a sentir, vas a encontrar
Vas a vivir para demostrar
Que eres tan valiente
Todo lo que quieras lo podrás alcanzar
Oh-oh-oh, oh-oh-oh
Oh-oh-oh, oh-oh-oh
Oh-oh-oh, oh-oh-oh
Todo lo que quieras lo podrás alcanzar
Porque estás siempre en tu mundo
Eres quien decide su rumbo
Solo es ver las cosas más simples
Para ti no hay nada imposible
Sé muy bien que es este el momento
Ser feliz, sin formas ni tiempo
Lograrás todo lo que intentes
Porque en ti está ser valiente
Vas a crecer, vas a despertar
A descubrir para deslumbrar
En busca de tus sueños
Tienes el valor y vas a volar
Vas a sentir, vas a encontrar
Vas a vivir para demostrar
Que eres tan valiente
Todo lo que quieras lo podrás alcanzar
Oh-oh-oh, oh-oh-oh
Oh-oh-oh, oh-oh-oh
Oh-oh-oh, oh-oh-oh
Conozco bien el valor que hay en ti
Y lo que intentes podrás lograrlo, siempre
Vas a crecer, vas a despertar
A descubrir para deslumbrar
En busca de tus sueños
Tienes el valor y vas a volar
Vas a sentir, vas a encontrar
Vas a vivir para demostrar
Que eres tan valiente
Todo lo que quieras lo podrás alcanzar
Porque eres valiente
Todo lo que quieras lo podrás alcanzar
(Oh-oh-oh, oh-oh-oh) vas a crecer, vas a despertar
(Oh-oh-oh, oh-oh-oh) vas a sentir, vas a encontrar
Eres tan valiente y lo vas a alcanzar
You're always rolling through life
And you look so determined
To look for the light in everything
To change the world your way
I know very well that you are brave
And you fight for what you feel
A song always goes with you
To open new paths
You're gonna grow, you're gonna wake up
To discover to dazzle
In search of your dreams
You've got the courage and you'll fly
You'll feel, you'll find
You're gonna live to prove
That you're so brave
Anything you want you can achieve
Oh-oh-oh, oh-oh-oh-oh
Oh-oh-oh-oh, oh-oh-oh-oh
Oh-oh-oh-oh, oh-oh-oh-oh
Anything you want you can achieve
Cause you're always in your world
You're the one who decides its course
It's just seeing the simplest things
For you nothing is impossible
I know very well that this is the moment
To be happy, without forms or time
You will achieve everything you try
Because it's in you to be brave
You will grow, you will wake up
To discover to dazzle
In search of your dreams
You've got the courage and you'll fly
You will feel, you will find
You're gonna live to prove
That you're so brave
Anything you want you can achieve
Oh-oh-oh, oh-oh-oh-oh
Oh-oh-oh-oh, oh-oh-oh-oh
Oh-oh-oh-oh, oh-oh-oh-oh
I know the courage that's in you
And whatever you try you can do, you can always do
You're gonna grow, you're gonna wake up
To discover to dazzle
In search of your dreams
You've got the courage and you'll fly
You're gonna feel, you're gonna find
You're gonna live to prove
That you're so brave
Anything you want you can achieve
Because you're brave
Anything you want you can achieve
(Oh-oh-oh-oh, oh-oh-oh-oh) you're gonna grow, you're gonna wake up
(Oh-oh-oh-oh, oh-oh-oh-oh) you're going to feel, you're going to find
You're so brave and you're gonna get it

🎶Translated
🎤Letra/Lyrics
🎶Edición de fotografía - Banner - separadores CCExpres
🎤Video captado con mi teléfono Redmi Note 8
🎶Edición de video FilmoraPro

---
▶️ 3Speak
---
---