lifestyle : Visit to in-laws and a birthday party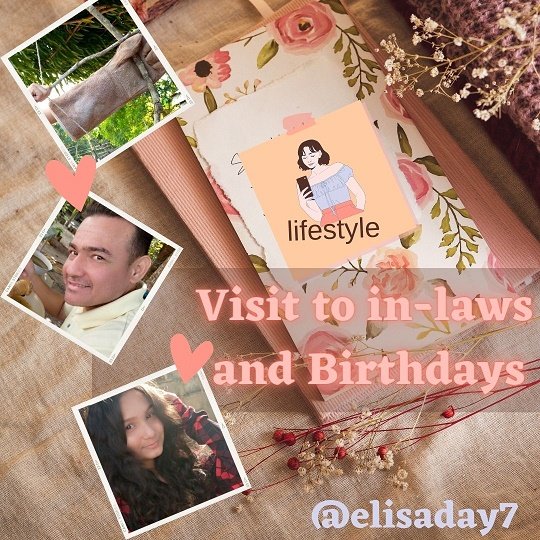 Image designed in Canva by @elisaday7
---

---
🌸Family time🌸
When I was a little girl playing with my dolls, I wondered what my family would be like. Today when I see them I feel like a Blessed woman, enjoying their company is a precious gift
🌸Tiempo en Familia🌸
Cuando era niña y jugaba con mis muñecas, me preguntaba cómo sería mi familia. Hoy cuando los veo me siento una mujer Bendecida, disfrutar de su compañía es un precioso regalo
---

---
ENGLISH🌷
¡Welcome to my Blog! 🌷
🌸 Sharing Family Time, not only refers to a time of the year, while we have the opportunity to share with our loved ones we should take advantage of it, this activity is very positive for each of us and fills us with a lot of well.
🌸 Family time gives us beautiful memories and this time I want to share with you an important day in our lives, an occasion of enjoyment in my family:🌸my husband's birthday🌸
🌸 Usually on weekdays I always go as a family to visit my husband's parents, who prepared a tasty soup to celebrate my husband's birthday.
🌸 My Husband's Parents own a property with ample spaces ideal for recreation, where all the children of the family have fun and enjoy nature.
---

---
SPANISH🌷
¡Bienvenidos a mi Blog!🌷
🌸 Compartir Tiempo en Familia, no solo se refiere a una época del año, mientras tengamos la oportunidad de Compartir con nuestros seres queridos debemos aprovecharlo, esta actividad es muy positiva para cada uno de nosotros y nos llena de mucho bienestar.
🌸 El Tiempo en familia nos regala bonitos recuerdos y en esta ocasión quiero compartir con ustedes un día importante en nuestra vida, una ocasión de disfrute en mi familia:🌸EL CUMPLEAÑOS 41 DE MI ESPOSO
🌸 Por lo general en los días de semana siempre voy en familia a visitar a los padres de mi esposo, quienes prepararon una rica sopa para celebrar el cumpleaños de mi esposo.
🌸 Los Padres de mi Esposo poseen una propiedad con amplios espacios ideales para la recreación, donde todos los niños de la familia se divierten y se disfruta de la naturaleza.
---

---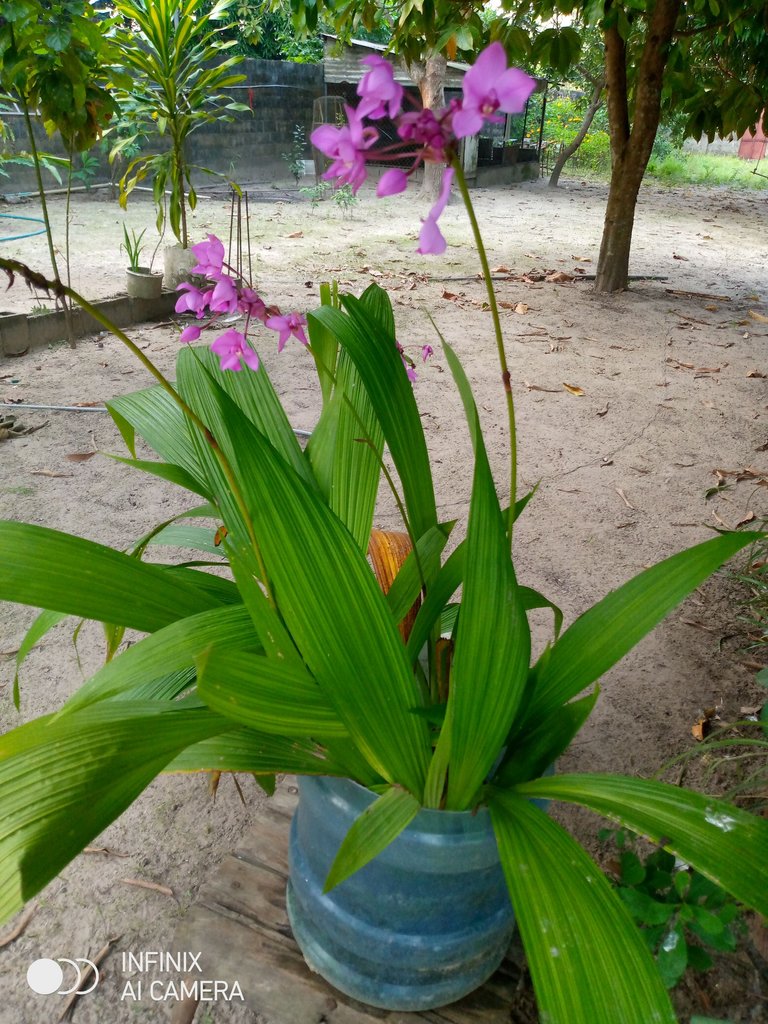 Image courtesy of @elisaday7
---

---
ENGLISH 🌸
🌸 The MY SPOUSE'S PARENTS are very attentive people and in our plans was not to celebrate the birthday, our savings were saved for other expenses.
🌸 My husband has very special parents who are always looking out for us and for the happiness of their Son they prepared a nice meal for him, to take care of him and show him their affection.
🌸 It is that when you share family time, shows of affection are important, you feel loved .
🌸 Laughter was not lacking, jokes and anecdotes, that moment we all talked, a moment of unity that sometimes many families do not have.
---

---
SPANISH🌷
🌸 Los PADRES DE MI ESPOSO son personas muy atentas y en nuestros planes no estaba festejar el cumpleaños, nuestros ahorros estaban guardados para otros gastos.
🌸 Mi esposo tienes unos padres muy especiales que siempre están pendiente de nosotros y para la felicidad de su Hijo le prepararon una rica comida, para atenderle y mostrarle su afecto.
🌸 Es que cuando compartes tiempo en familia, las muestras de afecto son importantes, te sientes amado .
🌸 Las risas no faltaron, los chistes y las anécdotas, ese momento todos conversamos, un instante de unidad que a veces muchas familias no tienen.
---

---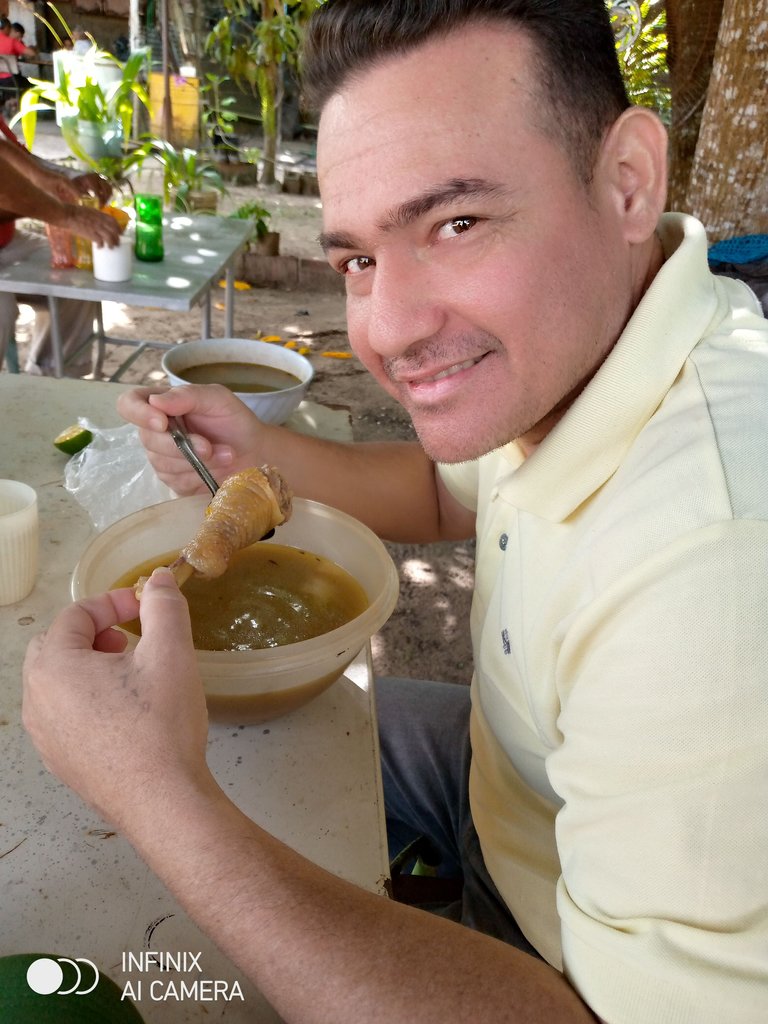 Image courtesy of @elisaday7
---

---
ENGLISH🌷
🌸 Many times people wait for Christmas to eat as a family, but preparing family meals at any time of the year is wonderful.
🌸 Getting together and preparing a family meal is much needed, sometimes time passes and many opportunities to share are missed.
🌸 My mother-in-law always makes delicious lunches and invites her children, this day we all shared making the meal, from chopping the dressings to peeling the vegetables.
🌸 Fruit drinks could not be missing, the rich lunch was accompanied with lots of fruit juice, coconut candy and the cake that can be missing in a birthday.
🌸 When you enjoy family time you relax, the place where we were outdoors allowed us to rest for a while under the shadows of the trees.
---

---
SPANISH🌷
🌸 Muchas veces se espera navidad para comer en familia, pero preparar comida en familia en cualquier época es maravilloso.
🌸 Reunirse y preparar una comida en familia, hace mucha falta, a veces el tiempo se pasa y se pierden muchas oportunidades para compartir.
🌸 Mi suegra siempre hace ricos almuerzos y invita a sus hijos, este día compartimos todos haciendo la comida, desde picar los aliños hasta pelar las verduras.
🌸 Las bebidas de frutas no podían faltar, el rico almuerzo fue acompañado con mucho jugo de frutas, dulces de coco y la torta que puede faltar en un cumpleaños.
🌸 Cuando disfrutas del tiempo en familia te relajas, en lugar donde estábamos al aire libre nos permitió descansar un buen rato bajo las sombras de los árboles.
---

---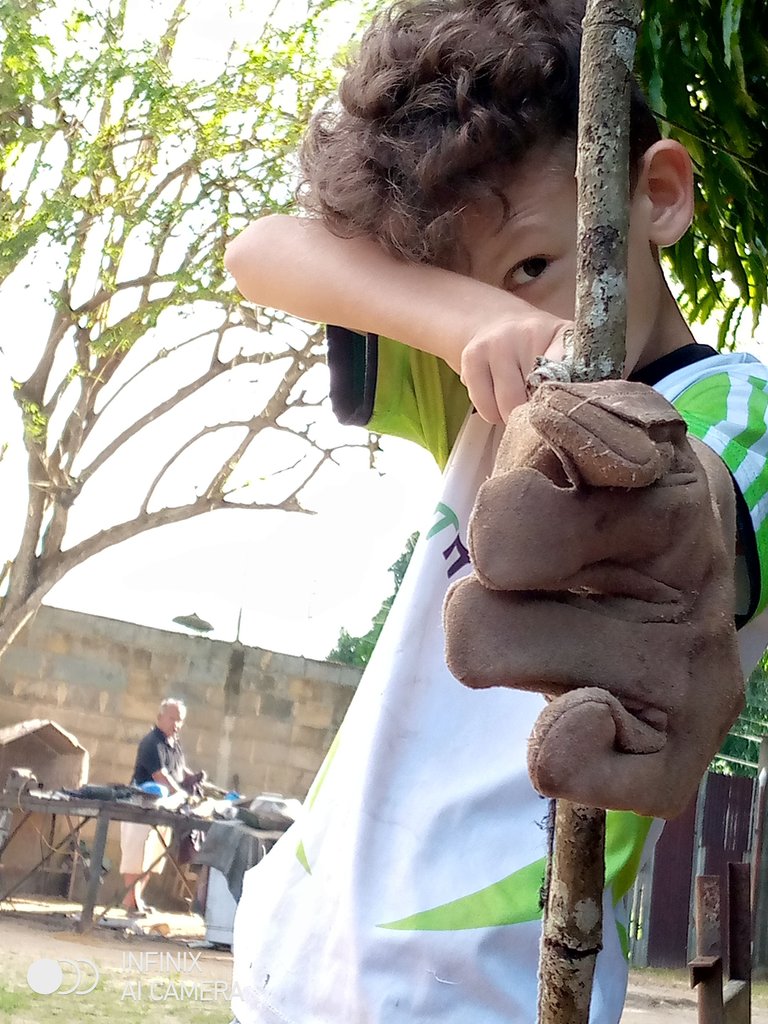 Image courtesy of @elisaday7
---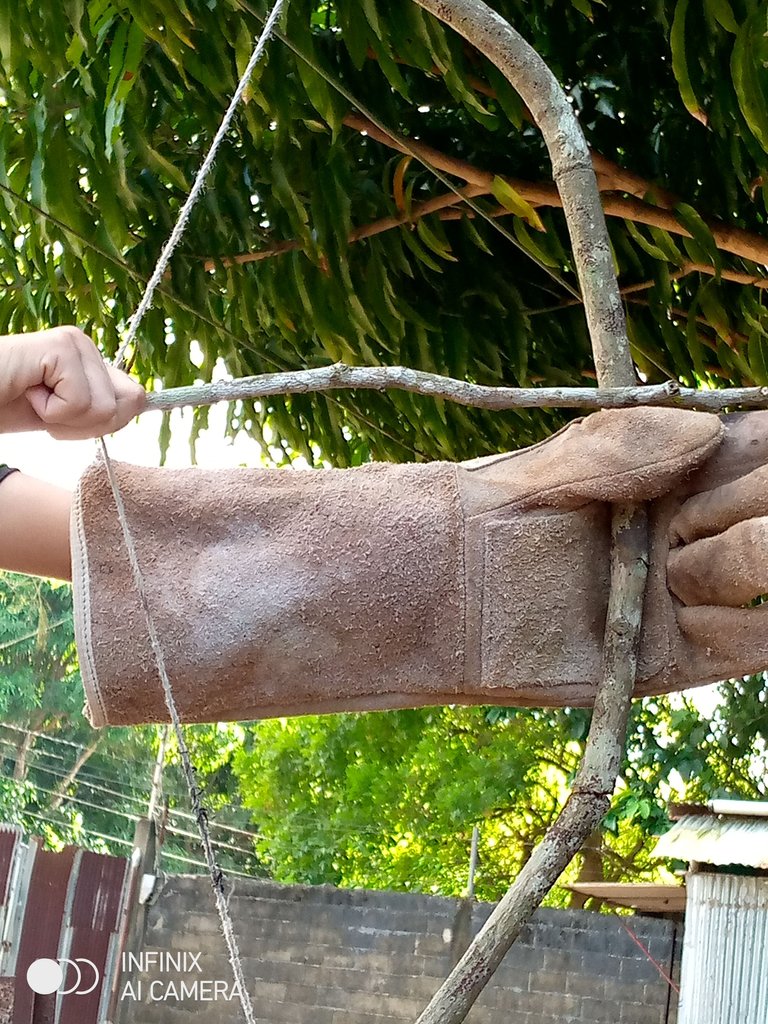 Image courtesy of @elisaday7
---

---
ENGLISH🌸
🌸 Enjoying quality time with our children is important, this occasion of celebration at my husband's parents' home, allowed the children to enjoy the games and the company of their relatives.
🌸 My son loves going to his grandparents' house, that day he designed a bow with some sticks he found and together with threads he managed to create this piece .
🌸 It is important that our children share with the family, it was an occasion to listen to them, advise them and admire their witticisms.
🌸 This is my first post in the community, I have shared with you a special day in the life of my family, our family time.
---

---
SPANISH🌷
🌸 Disfrutar tiempo de calidad con nuestros hijos es importante, esta ocasión de celebración en el hogar de los padres de mi esposo, le permitió a los niños disfrutar de los juegos y de la compañía de sus familiares.
🌸 A mi hijo le gusta mucho ir a la casa de sus abuelos, ese día diseñó un arco con unos palos que encontró y junto a hilos creó esta pieza
🌸 Es importante que nuestros niños compartan con la familia, fue una ocasión para escucharlos, aconsejarlos y admirar sus ocurrencias.
🌸 Este es mi primer post dentro de la comunidad, he compartido con ustedes un dia especial en la vida de mi familia, de nuestro tiempo en familia.
---

---
🌸INFINIX HOT 10 LITE phone camera.
🌷Photography by @elisaday7
🌷Location Venezuela
🌸Author @elisaday7
🌷Cámara de teléfono de INFINIX HOT 10 LITE
🌸Fotografía por @elisaday7
🌷Location Venezuela
🌸Autor @elisaday7
🌸Traducción realizada con DeepL / Translated made with DeepL.
🌸Banners realizados en Canva por @elisaday7 con los recursos disponibles en su versión gratuita
🌸Banners made in Canva by @elisaday7 with the resources available in its free version.
---

---

---
---