Religion around the world
Today which happens to be Sunday and where majority who are christains goes to church to worship. So I decided to discuss something on religion. As humans we are made up of spiritual and the physical side which is the religious and the secular.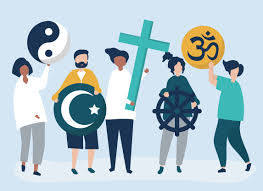 source
It is quite said or known that most religious believes in supernatural, where others refer it to a type of living. In most cases religious generally seek to discover values which can also attract men to them through worship and discipline.
Every religion around the world includes what we call ethics or codes of conduct in the aspect. It is well known that the word "Religion" is a very powerful force, which I believe many have died for it in the process.
We have different types of religion around the world today which only few have a large following and these religions are the christainity of today, Islam, Hinduism and Buddhism. It is also quite known that there are people who don believe in any religion or any God as been said, whereas we refer to such people as atheists.
In the christainity part, it is founded on the teaching of Jesus Christ which has many denominations and the teachings about Jesus the saviour can be found in the holy book of christains called the "Holy Bible". With these christain doctrines it teaches about God's love and the crucifix which is also a symbol of the christain Faith.It is quite known that most christains gather in the church to pray.
Another religion on the other hand are the Muslims who are believers in Islam and followers of the doctrines prophet Mohammed which is well known in the Holy Quran. The Muslims believes in one God called Allah and they always worship in the mosques on Fridays.
It is quite known that according to the tenets of Islam, a good Muslim should always go or embark on a pilgrimage to Mecca which can be done at least once in his life time. And also a good Muslim should always pray five times a day.
Religion in other words can be said to be a driving force and people who theses excessive zest in religious issues are said to be referred to as fanatics.
---
---