Opinion: Expect higher highs

         Wow, look at those numbers for Bitcoin this week. What a bloodbath! Or is it? I hope by this point, people won't revere personalities as gods or heroes in crypto. From Roger Ver (@rogerkver) to Elon Musk, I guess heroes can turn into villains. Sometimes, they are villains in disguise. Anyhow, this is how famous people tend to behave. Don't read too much into it.
         For crypto newbies, it's super scary seeing that sort of drop in a matter of week. I don't blame them. If you've been in crypto for a while, then you should know better.
         In 2017, there was a similar drop in the middle of July. I can show you the data @coingecko archived on their site.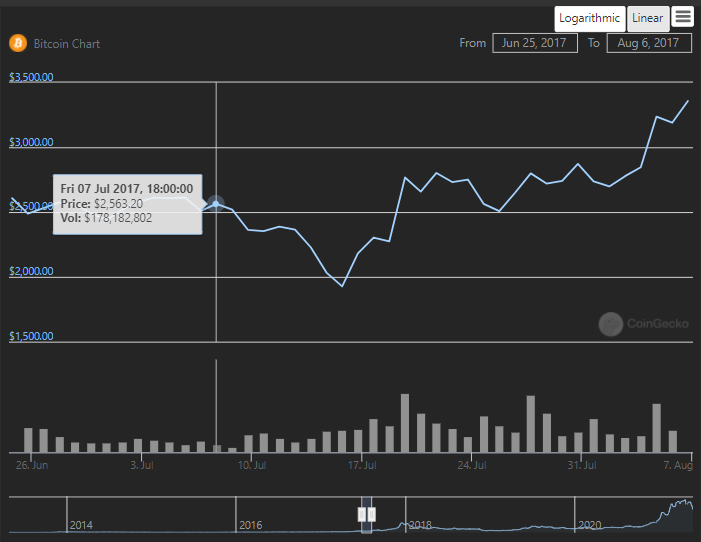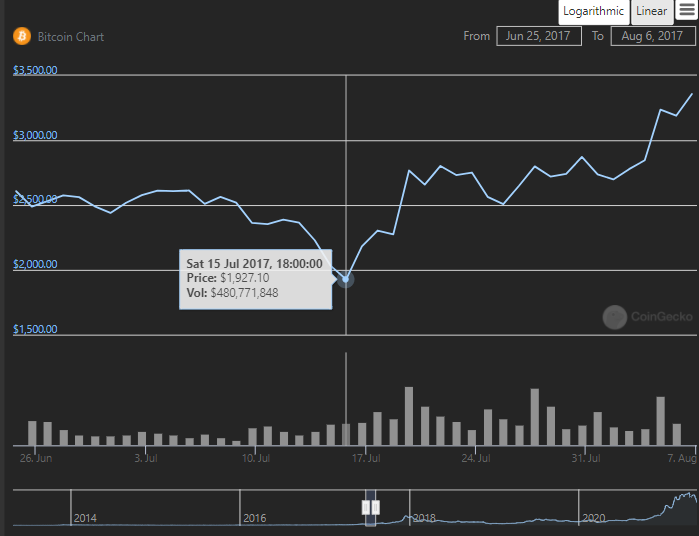 In the span of a week, BTC went from $2563 to $1927. That's about a 25% drop. What caused it? I don't know. I didn't bother to dig that far. In fact, it was much higher earlier that month. If you take that higher price into account, BTC lost almost 30% of its value.
         Translate those percentage to a $50-60K BTC. Yeah, that's a lot of money. But, watch the lines afterwards. Recovery, then new highs, and the conclusion of the cycle.
         Point being, history tends to repeat itself. The catalysts for these events may be different, but the principles remain.
         Ask yourself, are institutions still buying crypto assets? Ignore the Microstrategy and Grayscale for a moment. What about Fidelity, PayPal, and Square? Institutions don't acquire assets for the short-term. They especially don't dump because some personality decided to instigate drama.
         Institutions are looking to hedge because of inflation. I'm sure some of you caught wind of the price of lumber. That's only the beginning. Check out this CNBC headline:

         Well, I guess that 7% raise I got this year was not much different than my usual 3% any other year thanks to this rate. The extra I received already got erased and it's only Q2.
         If you think institutions are going to dump because Musk, what are they moving into? You may want to follow their lead. I can tell you that anyone who dumps right now without going into another asset is a fool. Your money is losing value at a rapid pace.
         Rich people are rich not because they hold a lot of fiat. It's because they own things. Fiat only serves as liquidity, that's it.
         At the end of the day, remember what you have right now is what the market terms unrealized losses, if you are new. All the stories you see people having "lost x amount of money" is that for the most part. People who have stuck around for a while may have less unrealized gains instead. Even my portfolio is still up as I have been accumulating since 2018.
         The people who lost tons of money are those doing leverage trading and in long positions. That's a personal choice with often severe consequences. This actually makes what Elon Musk did even more horrifying in context. Those folks lost billions of dollars thanks to his tantrum.
         I see this downturn as last stretch accumulation before things pick up again. Refer to the charts from Coingecko, Bitcoin broke new highs in the following months and into $20K.
         This is no financial advice.
Posted Using LeoFinance Beta
---
---