🍀My Ides of Christmas🤶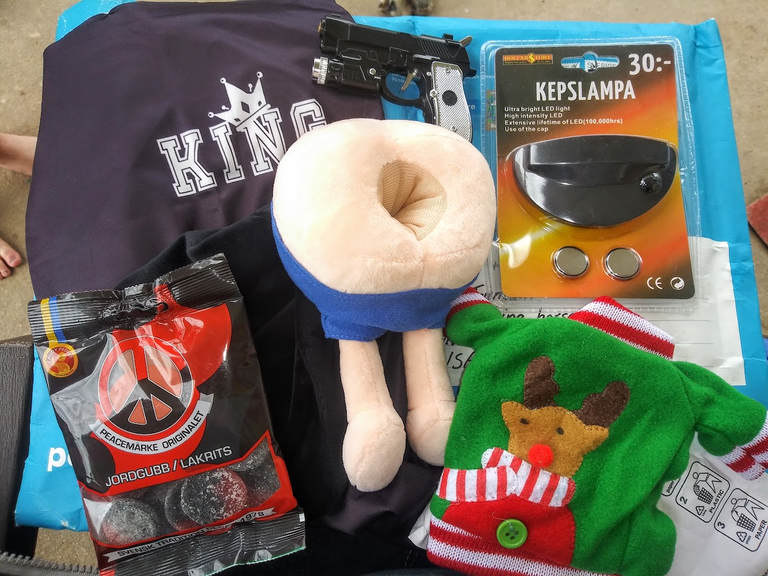 I got a package today! Due to some crazy things that some post offices do in other countries, I have just gotten a Christmas care package from @saffisara! If you aren't already laughing at the picture, then well, I don't know what to tell ya. I have been giggling all day.
I love her sense of humor on top of her practical thinking. The cute little Rudolf is for my #wine bottles. The headlamp because she knows I like to fish at night (very thoughtful one there). The candy? I didn't even get any. But it smelled pretty good. I'll have to not open packages around the princesses. 😁 A gaiter that says 'KING' which fits very well considering I just got the title in Vegas. And a butt! The butt, omg, I guess I can use it as a tissue holder or maybe put it on a door knob or I'm sure there are other uses. She knows I like ass.🤣
The lighter deserves it's own little snippet here. Of course, it is killer because, shit, it's a little mag. It also has a LED light for darker areas. A built in lighter that took me a minute to figure out how to light. But best of all, the trigger is what gets ya! I thought that was how you lit the lighter, but NOOOOO. It shocks the fuck outta you! LMAO!
It's all awesome Saffi, thank you, I love you! Put a huge smile on my face today. Especially once you all see the sweet ass silver she dropped on me too. But, that deserves it's own post. It may have to be listed as NSFW. Haven't decided yet. Thanks for being my PIMP sweets and I love that I don't have to tell you to REMEMBER TO BE YOU! I always am, even when I get addicted to shock therapy.
In Cooperation With:
Official Witness Representing:


Is Voting #WITNESSES difficult?
Let me do it for you!
Set Witty as your --->PROXY VOTER!<---


---
---