🎠The Putnam County Fair🎢 (Epic Awesomeness & Cuteness Overloads Inside!)

This is the last year of the current location for the Putnam County Fair. These fairgrounds have stood for as long as I can remember and have seen a Taco Bell, a WalMart, a massive apartment complex and multiple other buildings slowly surround the area. I imagine it is now prime real estate and the county is going to cash in on it. So, it was with a sense of nostalgia that I got to take the girls and their cousin (my niece) to the last day of the last carnival and county fair here.
This year, it was a barrel of laughs and absolute fun. Though little Freya was not able to get on all the rides she wanted, we made up for it by playing some games and winning a few prizes. We were there most of the day and on into the night. One of the favorites was 'The Scrambler' which whips you around and makes it look like you're going to smash into the other people. As you can see here, Luna had a blast on that one. Fun and disorienting. Wanted to share a few more pictures of the carnival rides and activities with you before going into the actual fair part of the whole thing.
| Pictures atop the Ferris Wheel of the fair grounds, a selfie of Freya and I shows her enjoyment. | The white buildings in the distance are the county activities which we'll get to in a little bit. |
| --- | --- |
| Back to the 'Barrel o' Fun! | A mirror Maze? Awesome!! |
| --- | --- |
That mirror maze. As the other people gathered their children and I and another pretty young lady moved closer to the exit, we heard a few bumps and "Ouch" things happening, but none like the one which neither of us could contain the laughter of. A young boy, who was quite smartass upon entering and budging past Luna and the girls, got all the way through, without fudging the way once. Until he saw us waiting near the end and plum smacked his dang face so hard into the glass!
OMG, this kid fell over and the girls past him giggling as he struggled to get up and leave. Was so funny, the lady and I busted some loud guts and turned some heads. There was another fun house and several other rides, but that was actually not the main attraction for the princesses. It was when we entered this place, that it all came together for a vivid pleasant (future) childhood memory.
Grandma's Barnyard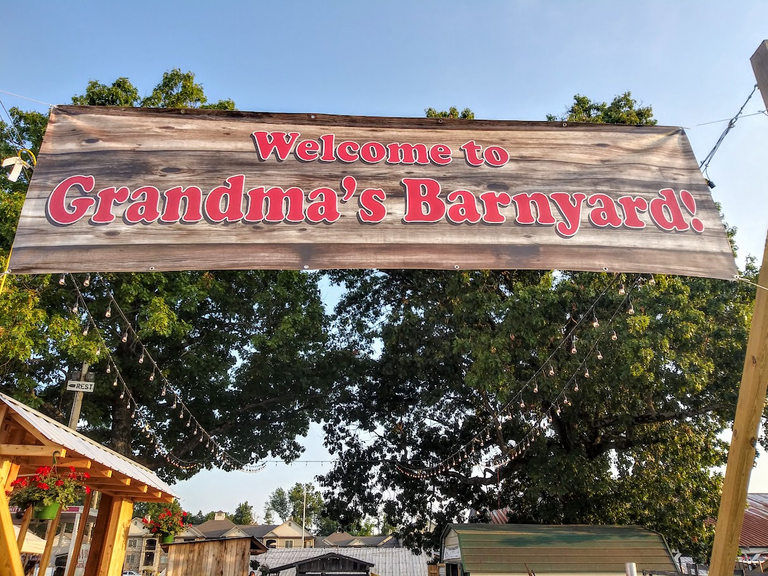 The sign should pretty much tell you what this part was about. This was the actual county fair. Not the carnival that gets invited to make money off of everyone and slide some the city's way. The barnyard though, that is what is represented by the local farmers here. There was a first this year for all three of them, and I couldn't have had a better time enjoying their glee.
Pony Rides!
What kind of dad would I be if I said, "No, you can't ride the ponies."? So of course, I let them! And it was all smiles to the hilt. But, if you'll notice in the background of most of those pictures, you'll see a stage. The pony that Khaldeesi was on, did not like the song that started playing as it had some heavy drums or maybe the lady singing off tune, idk. But, it started getting hostile and all crazy eyed and bucking her pretty hard. Was a good thing the lady was there holding the reigns or else, who knows?
It was a splendid first for all three of them. Sure, we have horses all over the place, but no ponies. And, the horses are for show so don't get ridden by just anybody around here. Tennessee Walking Horses and all. They did end up getting an extended ride as they had to stop the live carousel and calm the pony down. The look on her face though in the last shot, that picture is worth a million words.
| Underground view of some (somewhat dry) carrots. | Underground view of some beets and scallions. |
| --- | --- |
| Let's feed the frig'n goats! | Ha ha! That tickles! |
| --- | --- |
| Don't know why I loved this orange tractor. | Maybe because it wasn't a big green one. |
| --- | --- |
| Is that a goshdarned llama? | Why yes, yes it is. |
| --- | --- |
| I absolutely love those sexy camels. | Can't get over the way they hump. | Especially ones with clean toes. |
| --- | --- | --- |
Hope you enjoyed the little outing we had last Saturday and I am thankful to be privileged enough to share it with you. Pictures I didn't get, were of the girls on my shoulders as I held them up in turn to watch the demolition derby. We also discovered that there is a camera club here in town and they actually had a display with awards and prizes alongside the veggies and quilts! I should have gotten a picture of them totally devouring a funnel cake, that was hilarious! Anyhooz, on your way doing what it is you do, REMEMBER TO BE YOU! I always am, even when it's not hump day.


Is Voting #WITNESSES difficult?
Let me do it for you!
Set Witty as your --->PROXY VOTER!<---


---
---