Have fun with me playing Minecraft Skywars (ENG/ESP)
---
Jugando una partida de Minecraft Skywars
Playing a very fun game of Minecraft Skywars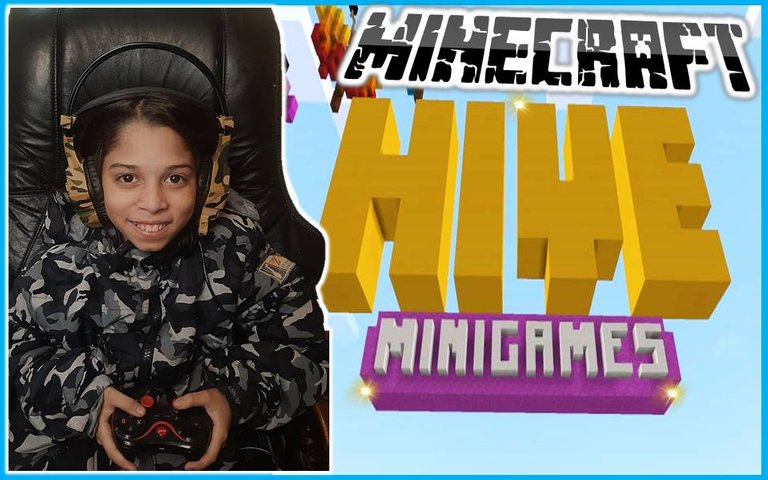 This image is my own, captured from my cell phone screen and was edited by me using PowerPoint

ENGLISH
Video Descriptión
Have fun with me playing Minecraft Skywars
This time I bring you a video of Minecraft playing Skywars, in which you will see several games, as it is totally different from Bedwars server.
Skywars are short games, where you must fight a lot to survive.
When I start the game I start on my island, I grab the armor, weapons and equipment that suit me best (a pearl of ender, armor and my sword) which help me at the time of a battle.
Normally at the beginning of the game the first thing I do is mine the minerals, preferably emeralds, diamonds and redstones, then I throw the pearl to the island of my enemies to see if I can get hold of their minerals and chests, well, who knows if the opponent of that island is not chetado, this means in minecraftian terminology powerful with all the armor, and enchanted diamond weapons Xd, if he is not so I try to defeat him, and thus go eliminating opponent.
In this video you will be able to see several games, where one of them I won, and sometimes I also lose, but nothing happens, hehehehehe. I make the videos to have fun, and for this great community of friends to enjoy my adventures in the variety of my content as much as I enjoy it, and I also watch videos on 3Speak to learn.
This image is my own, captured from my cell phone screen and was edited by me using PowerPoint
Learn What is Minecraft Skywars?
It is a mini game where there are 12 teams of different colors (Red, Orange, Pink, Sky Blue, Light Grey, Green, Blue, Lime, Yellow, Purple, Dark Grey and Aqua Marine), and each team has an island, there are quite a few so the battles will be epic.
Additionally there are 4 semi centers, where the only thing you can do is to mine.
Finally there is a center, with a loading time that when it reaches zero, a chest appears that has a high probability of giving you some cheated stuff, so you can be the winner, or at least give a good fight, the hard part is that they let you grab it.
This server has 2 objectives, Survive and Win with the scarce resources that the mini-game gives you.
Here you only have one life, for which you must battle hard to be on the podium of three winners.
You have to collect the objects or items from the chests that are all over the islands.
You must mine the minerals that are on the ground, whose loot is as follows:
Important Minerals
-Diamond: It can give you diamond sword and diamond armor.
-Emerald: Here you can find powerful swords, enchanted armor, nemo knockback (it's like a kind of push stick from Bedwars but here it's a fish).
Normal Minerals.
-LapisLazuli: You get books that with right click (pc), left trigger(console), you leave pressed the screen (phones) gives you special powers to be able to defeat faster the opponent.
-Redstone: This mineral is very nice, because with it you will get extra hearts and thus be able to continue fighting until the end and try to be the winner.
Minerals NOT important
Have fun with me playing Minecraft Skywars
-Gold: Loot or random objects hahahaha (and the truth is that I forgot that gave the gold XD but I'm sure they were useless things)
Ore to discover that you get
-Iron:(never mine it) I promise to do it in a next video, or if you do it leave me a comment and so we learn together, in this huge world that is Minecraft.
Translated with www.DeepL.com/Translator (free version)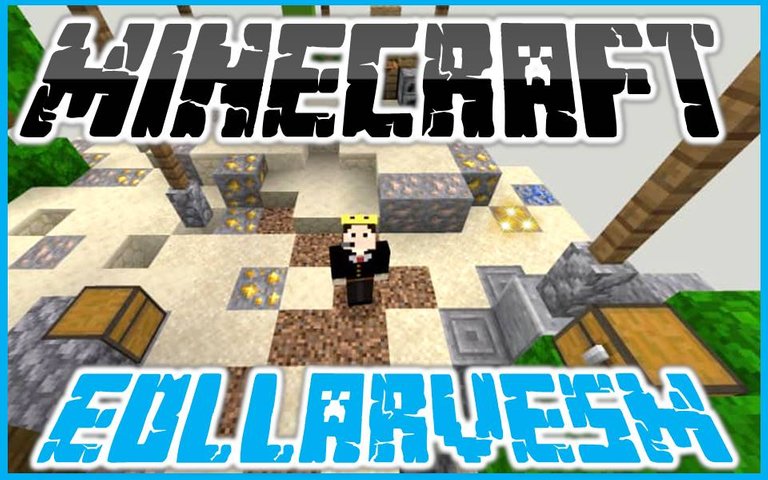 This image is my own, captured from my cell phone screen and was edited by me using PowerPoint
See you in a future post.
Thank you for your support

Template Info:
This Template is free!
AWESOME GAMING INTRO
https://panzoid.com/tools/clipmaker?c=422936
Music:
Track: Unknown Brain x Rival - Control (feat. Jex) [NCS Release]
Music provided by NoCopyrightSounds.
Watch:
Free Download / Stream:
http://ncs.io/ControlYO
Fonts:
https://www.dafont.com/flash-rogers.font
https://www.dafont.com/video-games.font
Feel free to use this template

ESPAÑOL
Descripciòn del Video
Diviertete conmigo jugando Minecraft Skywars
En esta oportunidad les traigo un video de Minecraft jugando Skywars, en la cual verán varias partidas, ya que es totalmente diferente al servidor de Bedwars.
Skywars son partidas cortas, donde debes luchar mucho para poder sobrevivir.
Al iniciar la partida comienzo en mi isla, agarro las armaduras, armas y equipos que más me convienen (una perla de ender, armaduras y mi espada) la cual me ayudan a la hora de una batalla.
Normalmente al empezar la partida lo primero que hago es minar los minerales, preferiblemente esmeraldas, diamantes y redstones, luego lanzo la perla hacia la isla de mis enemigos para ver si puedo apoderarme de sus minerales y cofres, bueno quien quita que el rival de esa isla no este chetado, esto significa en terminología minecraftiana poderoso con toda la armadura, y armas de diamante encantados Xd, si no está así trato de derrotarlo, y así ir eliminando contrincante.
En este video vas a poder observar varias partidas, en donde una la ganó, y a veces también pierdo, pero no pasa nada, jejejeje. Hago los videos para divertirme, y para que esta gran comunidad de amigos disfruten con mis aventuras en la variedad de mis contenidos así como yo disfruto, y también veo videos en 3Speak para aprender.

Aprende ¿Qué es Minecraft Skywars?
Es un mini juego donde hay 12 equipos de diferentes colores (Rojo, Naranja, Rosa, Celeste, Gris Claro, Verde, Azul, Lima, Amarillo, Morado, Gris Oscuro y Aqua Marina), y cada equipo tiene una isla, Son bastante así que las batallas serán épicas.
Adicionalmente existen 4 semi centros, donde lo único que puedes hacer es minar.
Por último tiene un centro, con un tiempo de carga que cuando llega a cero, aparece un cofre que tiene una gran probabilidad de darte cosas chetadas, para que logres ser el vencedor, o por lo menos dar buena pelea, lo difícil es que te dejen agarrarlo.
Este servidor tiene 2 objetivos, Sobrevivir y Ganar con los recursos escasos que te da el minijuego.
Aquí solo tienes una vida, por la cual debes batallar duro para quedar en el podium de tres vencedores.
Tienes que recoger los objetos o ítems de los cofres que están por todas las islas.
Debes minar los minerales que están en el suelo, la cual su loot es lo siguiente:
Minerales Importantes
-Diamante: Te puede dar espada de y armadura de diamante
-Esmeralda: Aquí puedes encontrar espadas poderosas, armaduras encantadas, nemo knockback (es como una especie de palito de empuje de Bedwars pero aquí es un pez)
Minerales Normales
-Lapislázuli: Obtienes libros que con clic derecho (pc), gatillo izquierdo(consola), dejas oprimida la pantalla (teléfonos) te da poderes especiales para poder derrotar más rápido al oponente.
-Redstone: Este mineral es muy simpático, porque con él obtendrás corazones extras y así poder seguir luchando hasta el final y tratar de ser el vencedor.
Minerales NO importantes
Oro: Loot u objetos random jajajaja (y las verdad es que se me olvido que daba el oro XD pero estoy seguro que eran cosas inútiles)
Mineral por descubrir que obtienes
Hierro:(jamás lo mine) prometo hacerlo en un próximo video, o si tú lo haces déjame un comentario y así aprendemos juntos, en este enorme mundo que es el Minecraft.

Información de la plantilla de la Intro en el video:
AWESOME GAMING INTRO
https://panzoid.com/tools/clipmaker?c=422936
¡Esta plantilla es gratis, fue creada por shadowboy
Música:
Pista: Unknown Brain x Rival - Control (feat. Jex) [NCS Release]
Música proporcionada por NoCopyrightSounds.
Ver:
Descarga gratuita / Transmisión:
http://ncs.io/ControlYO
Fuentes:
https://www.dafont.com/flash-rogers.font
https://www.dafont.com/video-games.font
Siéntase libre de usar esta plantilla

---
▶️ 3Speak
---
---