Renewable Energy Marketplaces In 2021
Renewable energy is the future, and maybe the only way to supply energy, as the speed of resource consumption is scary. Pollution and cost of energy are also two aspects that must be taken into consideration when it comes to producing energy.
Bitcoin mining has made the news not only for its ATH but also for the energy consumption of mining farms and the pollution the energy production needed for mining.
Every problem has a solution. Blockchain technology and tokenization is playing a big role in solving this problem. I've been looking into the market as I see a great potential and there are a few options available one can choose from. There is a group of cryptocurrency projects that connects energy buyers and sellers using blockchain technology through a flexible marketplace.
Today I'd like to talk about 3 energy-focused projects that have seen triple-digit gains since the beginning of 2021.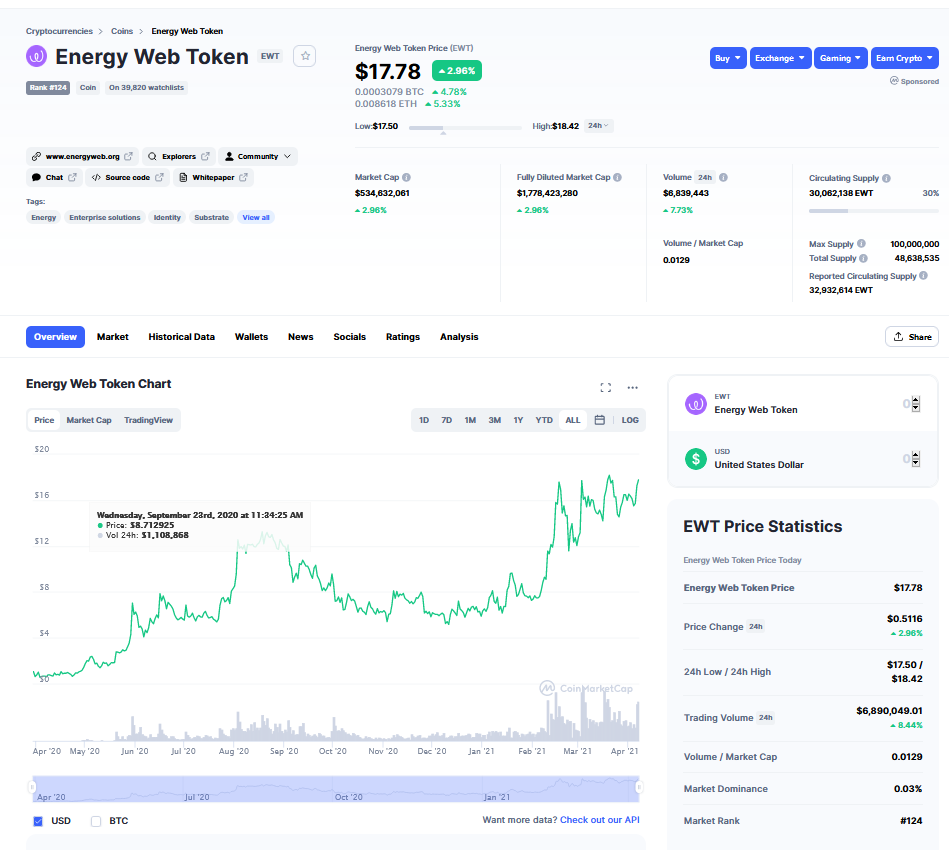 source
Energy Web Token (EWT)
The project was launched two years ago, in June and it's already partnering up with well known companies like Volkswagen, Siemens and Hitachi.
It's open source technology, available on GitHub, and according to the whitepaper, the main focus is on enhancing energy sector traceability and unlocking grid flexibility from customer-owned resources.
Meanwhile, the EW Chain itself is one of the only public blockchains among any industry worldwide whose validator nodes are run by known corporations, many of them some of the largest and most-respected energy companies globally. To date, we count more than 25 established companies hosting validator nodes across 15 countries spanning 17 time zones.
The total market value of circulating EWT is $525,123,884 at the moment and it's growing. Max token supply is capped at 100,000,000 and the total supply is 48,638,535, which is basically 48.64%.
The market shows early adopters are already in a green zone, can pocket a nice profit by selling their stake. However, I don't think it's time to sell yet. The energy sector is going to boom very soon. The need of renewable energy is extremely high and it's going to be come even higher in the near future.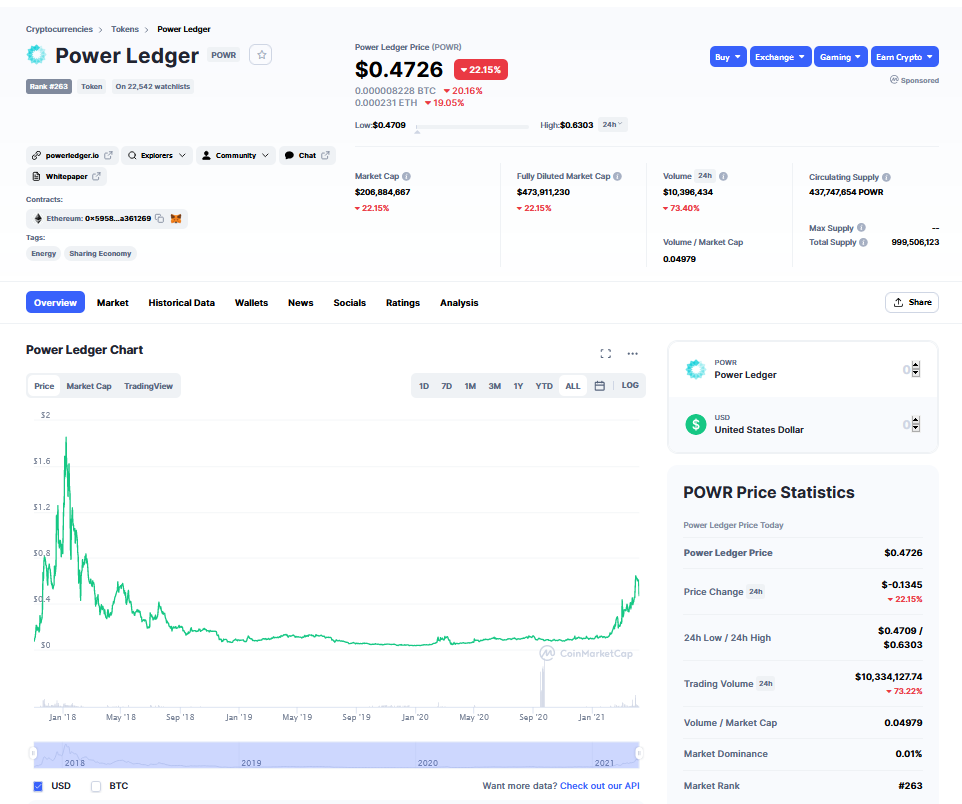 source
Power Ledger (POWR)
The next project worth looking into it is Power Ledger (POWR), the power behind new energy.
Power Ledger is the operating system for new energy markets enabling tracking and trading of energy, flexibility services and environmental commodities. source
The company is developing software that allows consumers and producers to track, trace and trade every kilowatt of energy. Transparency is key in every business and using blockchain technology to grant access to data is becoming more and more common in every sector.
We are developing systems that bring resilience and flexibility to electricity grids. Our technology is helping clients like TDED in Thailand, CUB in Australia and ekWateur in France bring new ideas and forms of energy to powering their clients and workplaces. source
The only thing I don't like about POWR is that operates on the Ethereum (ETH) network. It utilizes a two-token system comprised of POWR and Sparkz, which is a stable token used when units of electricity (kWh) are bought and sold on Power Ledger's platform.
The project started in 2016, one year later the whitepaper was released, including the technology roadmap in today the company is present in 9 countries with more than 20 projects globally.
If you look at the chart, POWR reached its ATH in January 2018, peaking at $2.01. In March 2020 the market registered POWR's ATL at $0.03183. At the time of writing POWR is trading at $0.4682 and has an upward trend.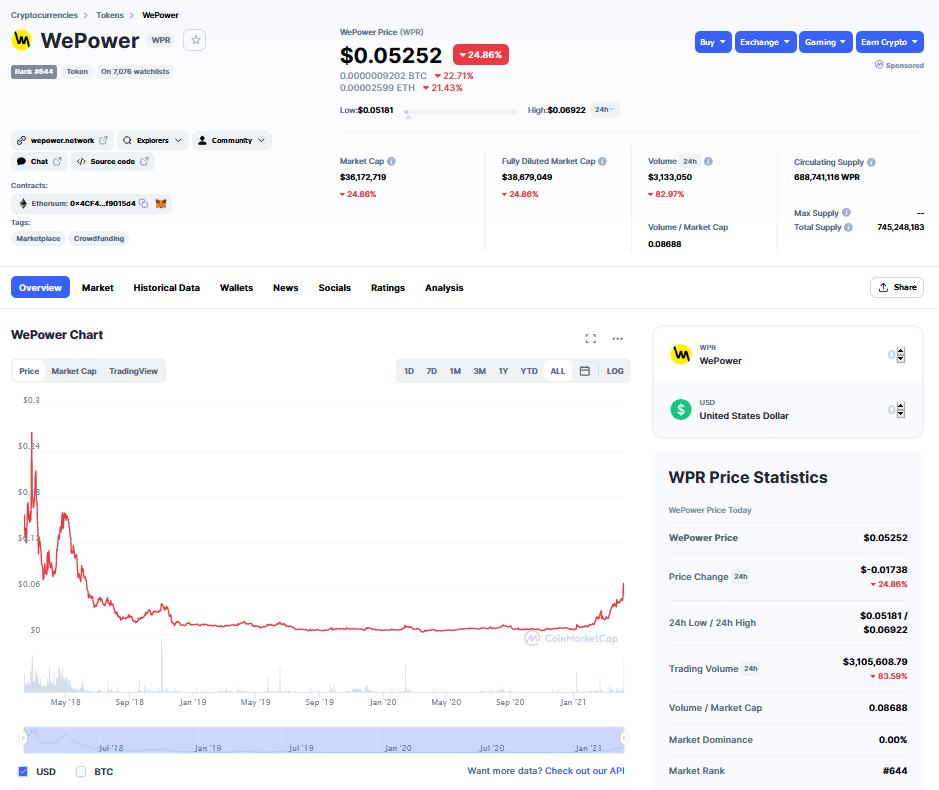 source
WePower (WPR)
WePower is a platform connecting energy suppliers, corporate buyers and energy producers for easy, direct green energy transactions. You can buy green energy directly from local producers, and can easily manage all aspects of your energy consumption and reporting. WPR is an ERC-20 token that functions as a payment method on the WePower Network.
I believe this is what we need today. Those days when a few companies monopolizing the market had the possibility to exploit the situation are gone. With distributed ledger technology transparency is real and can help you make the best decision for your company.
If you look at the chart, there's a certain similarity between WPR and POWR. They both peaked at the beginning of 2018, reaching the ATH ($0.2898 in case of WPR), then after two years of quasi stagnation, the market started to become interesting, showing an upward trend in February, March this year.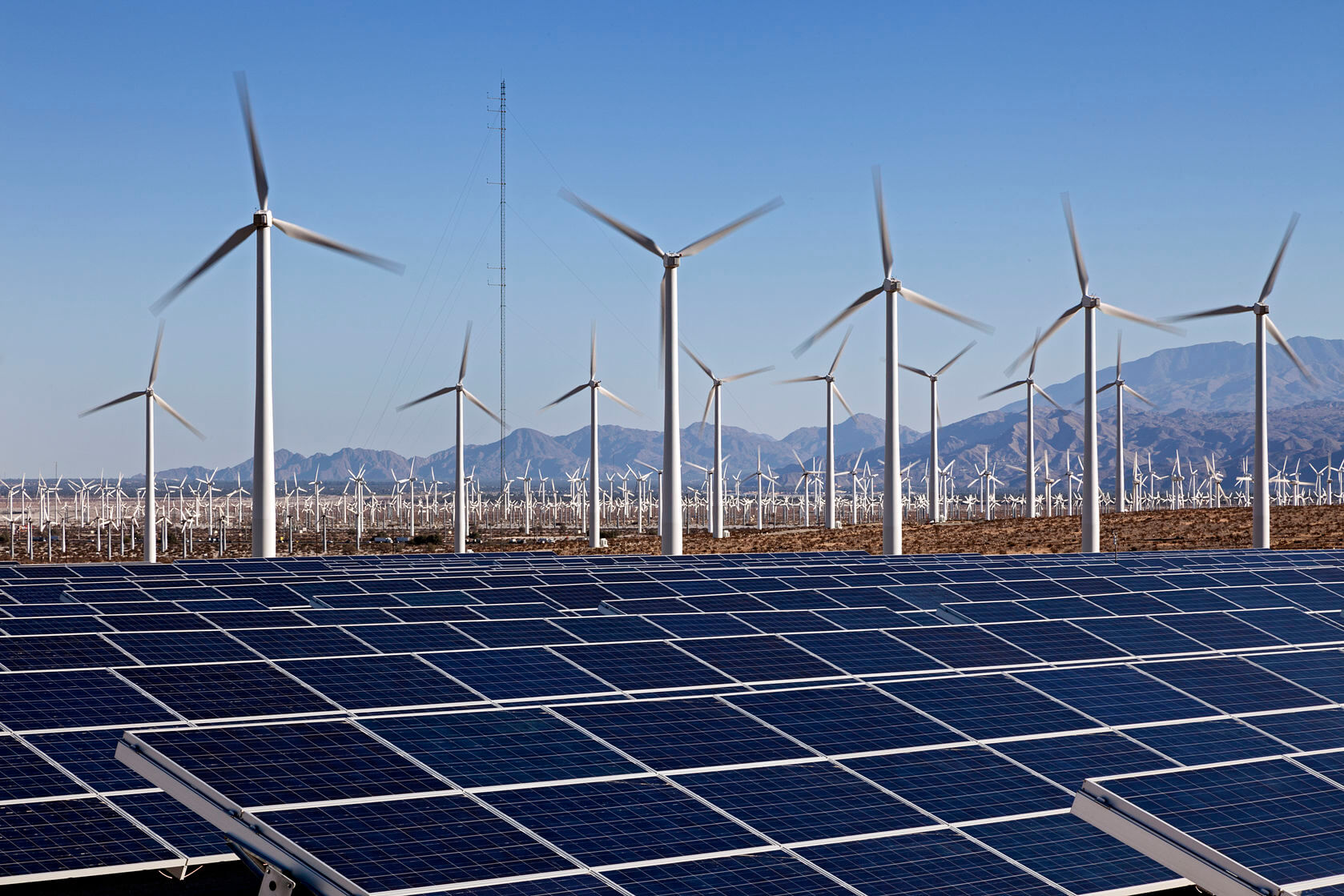 source
At the beginning of March this year, EWT was listed on the US-based Kraken cryptocurrency exchange. The effect is visible on the market chart, the price of the token went up considerably but this wasn't the only reason. The partnership with Volkswagon was also announced on March 4, followed by the release of the EasyBat battery compliance app on March 16. These factors combined contributed to establish a new all-time high of $19.85.
The price rise that can be seen on the chart is due to the announcement of Power Ledger's partnering up with India's largest integrated power company Tata Power-DDL at the beginning of March this year. POWR reached $0.504, its highest level since 2018.
The launch of the Elemental retail energy marketplace, delivered to Mojo Power on Feb. 1 caused the price of WPR shoot from $0.011 to $0.05.
These are all good projects that I need to keep an eye on. My plan is to invest in one or more project in the near future. It would be great to be an early adopter and buy before the first ATH, but I think it's still not too late to invest in these projects as are still at the beginning.
Posted Using LeoFinance Beta
---
---