$8 Or A New ATH?
This is the second bull cycle for our platform as we had one in 2017 as well. Those who have registered to Seem/Hive before the first one may have bitter sweat memories, those who registered during, may have only bitter memories.
1st Cycle
My story is quite simple as I joined in January 2018, on the 20th to be precise, without any investment and very little expectations. STEEM was trading around $4 at that time and was dropping day by day. My feed was full of posts about the price fluctuation, investment plans and strategies. Most of the users considered that STEEM under $1 is a bargain and jumped in both feet when the price hit levels under $1.
I still remember a few users posting about their investment, being happy to be able to make such a good deal. Then all hell broke lose and on the 17th of December, 2018, STEEM hit $0.21. Some of those who invested at $1 disappeared right away, others have never mentioned their investment ever again.
It's a long way from $8.19 to $0.21, or not, as it happened in 1 year roughly and what came after that was hovering in that region till we forked. Hoping to get their investment back at some point has been in vain.
The question is, can we compare the two cycles, or can we expect this cycle to be something similar to the last cycle?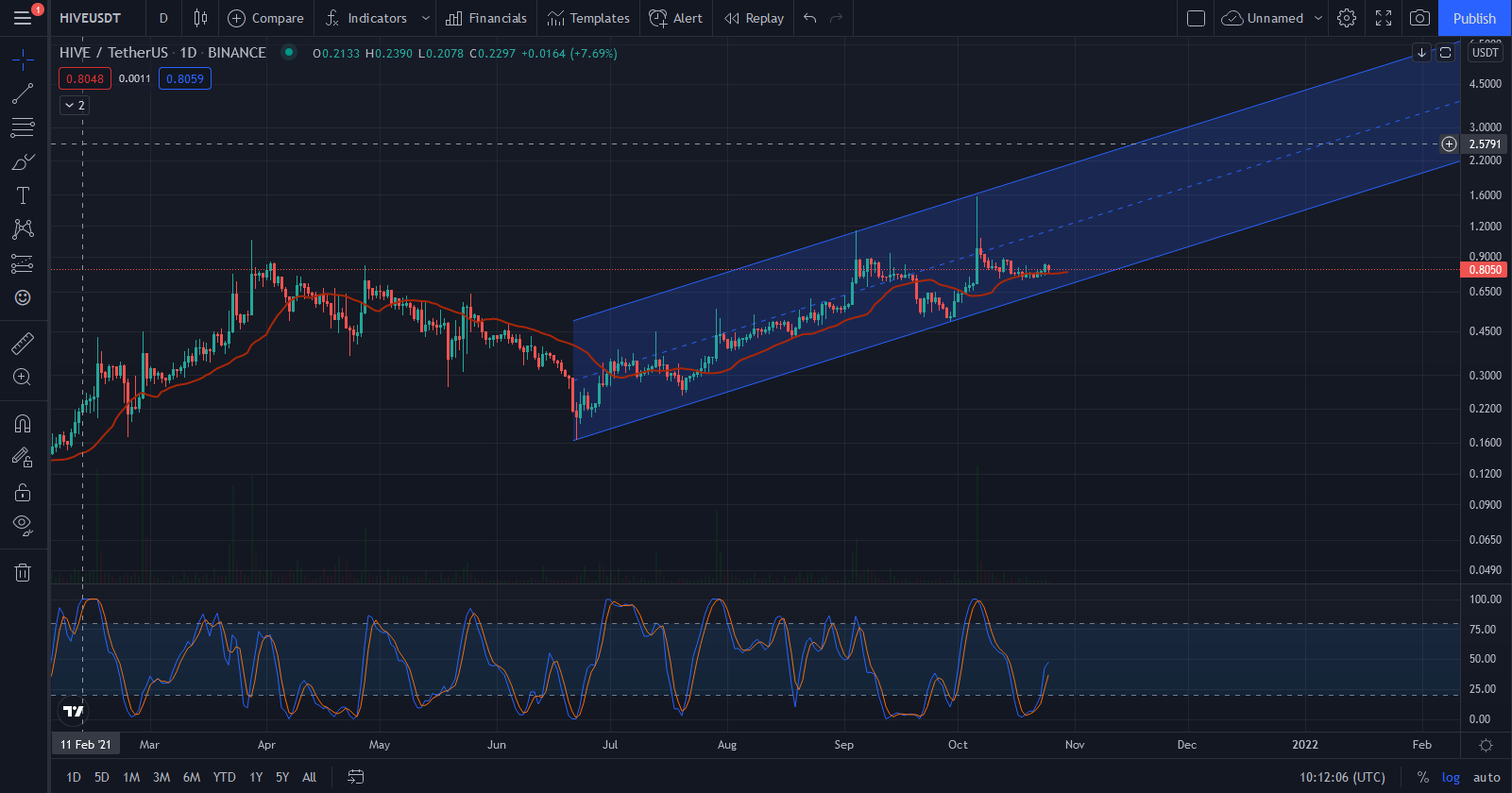 source
If I draw the channel and extend it till February (just a guess as this cycle can take longer), the chart says HIVE could reach $6 - $7, even $8 till then. Obviously no one can guarantee the price will stay in the channel, it can break up or down, depending on what people think about the asset and what their action will be during the last leg of the cycle.
STEEM has already reached $8 once, that was the ATH but I don't think we can attribute that to HIVE as well. After more than one year of independence, HIVE has it's on life now and it's time to write its own history. So as far as I'm concerned, the ATH for HIVE is $1.48, that was reached on October 6 this year.
What Does It Mean For The Platform
Reaching $7 would mean a 10x from where we are now and would mean a very new ATH. Many are prepared to sell HIVE high and buy back low. I suppose deep pockets are prepared to go big as this is not an every day occasion. Taking profits is normal and has many ways to do it.
After some thinking, I decided to take little bits of profits on the go but not power down my stake at all. I mean it would be great to make some profit in HIVE (sell high, buy back low and power up), would be amazing to have more to curate with and delegate to projects, but not now, maybe next time. I have other assets to gamble with, HIVE serves other purpose in my portfolio.
However, what I'm interested in is how this bull cycle is going to end for HIVE, what the level of entrancement will be when the cycle is over. I suppose those who are planning to buy have the best interest for the platform and most of the Hive will be taken off the exchanges and will return to the platform, where will be put to good use. If I were to predict a bottom for Hive after the bull run, I couldn't, but I truly hope it will be way above the level we're at right now. Falling below these levels would be a real shame and I don't think it's going to happen.
There's a difference between pump and dump and having an increase due to rise in value. Our platform has been developing with high speed and it's just a matter of time till we double or triple our userbase, which will also bring a rise in price value.
This is a question I don't have the answer to. It happened on the 6th of October this year. It's possible others know who it was and what's happened with the HIVE bought. Let me know.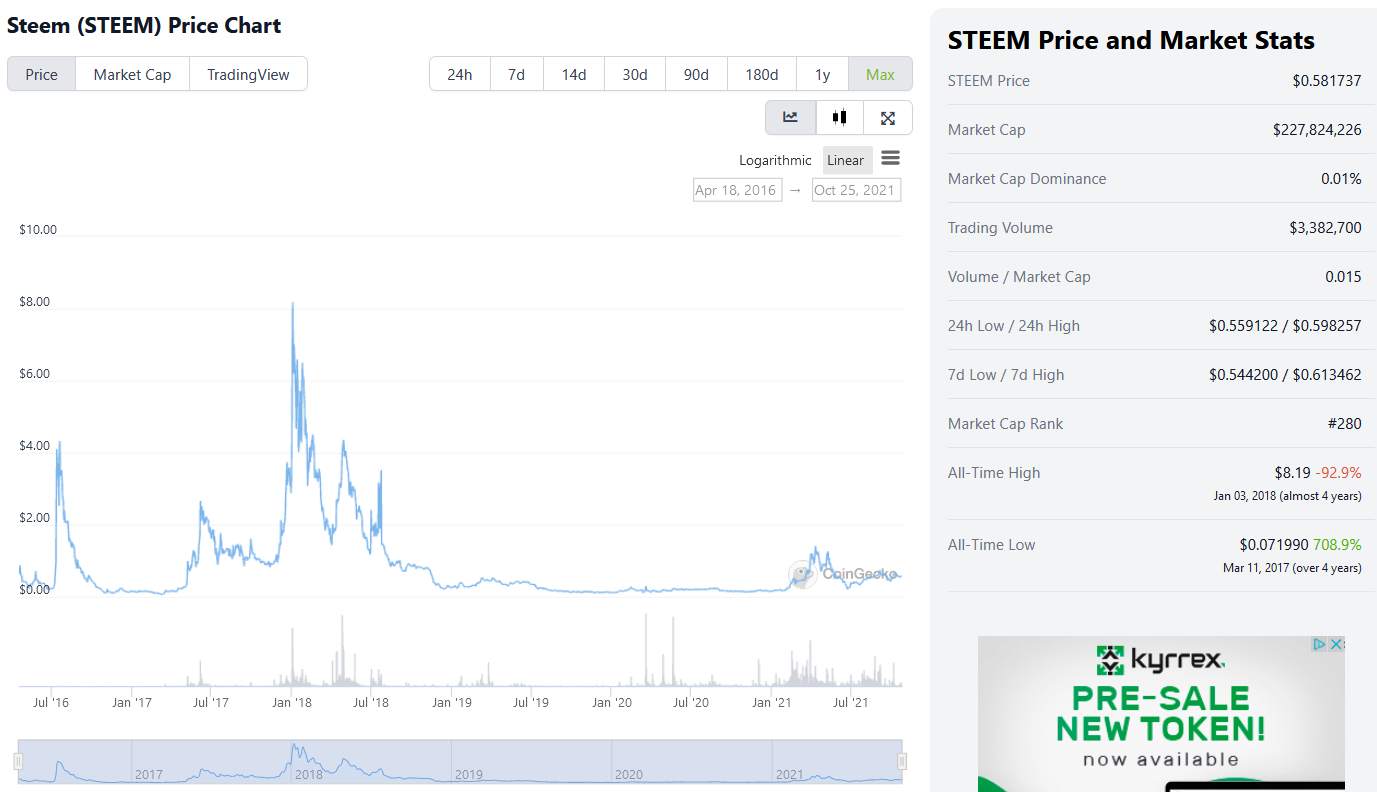 source
The Grass Is Always Greener On The Other Side
Just for the record, I'm not holding any STEEM, nor have any interest in the platform, but if I look at the chart and see where they are after 5 years, oh boy! 🙈 STEEM at $0.591269 is like back to square one and all this after 5 years.
So in this case the grass is greener on our side as for us the only way is up. We've been holding this $0.75 - $0.8 level for some time and we're going to have a nice leg up next.
What's Your Prediction?
This post is going to serve as a diary. I'm going to check back after the bull cycle is over, to see how accurate my prediction was, although I'm not considering this prediction, it's just something that can happen, or not.
So, tell me, what's your prediction? What is your crystal ball telling you? :)

Posted Using LeoFinance Beta
---
---