What You Want And What You Get
A few days ago I saw a finfluencer publishing a call that was given in their paid group. You don't see that often as paid groups are for members only for a good reason. At first it made me smile, then I thought let's see how that's going to play out. I need to mention the call was published a good few hours after it was given in the group, when there was no way to get that entry anymore, so whoever saw the call, could think damn, this is what I am missing, by not being in the group.

BTC/USD chart at April 28 2022
Approximately this was the setup given. SL under previous low, obviously, at around $37400. With the first TP set to a little over $43k, it would have given anyone a 10% profit. 10% may not seem much, but with a considerable position size, you can make a nice profit. And this was only the 1st TP point, the rest was left for later.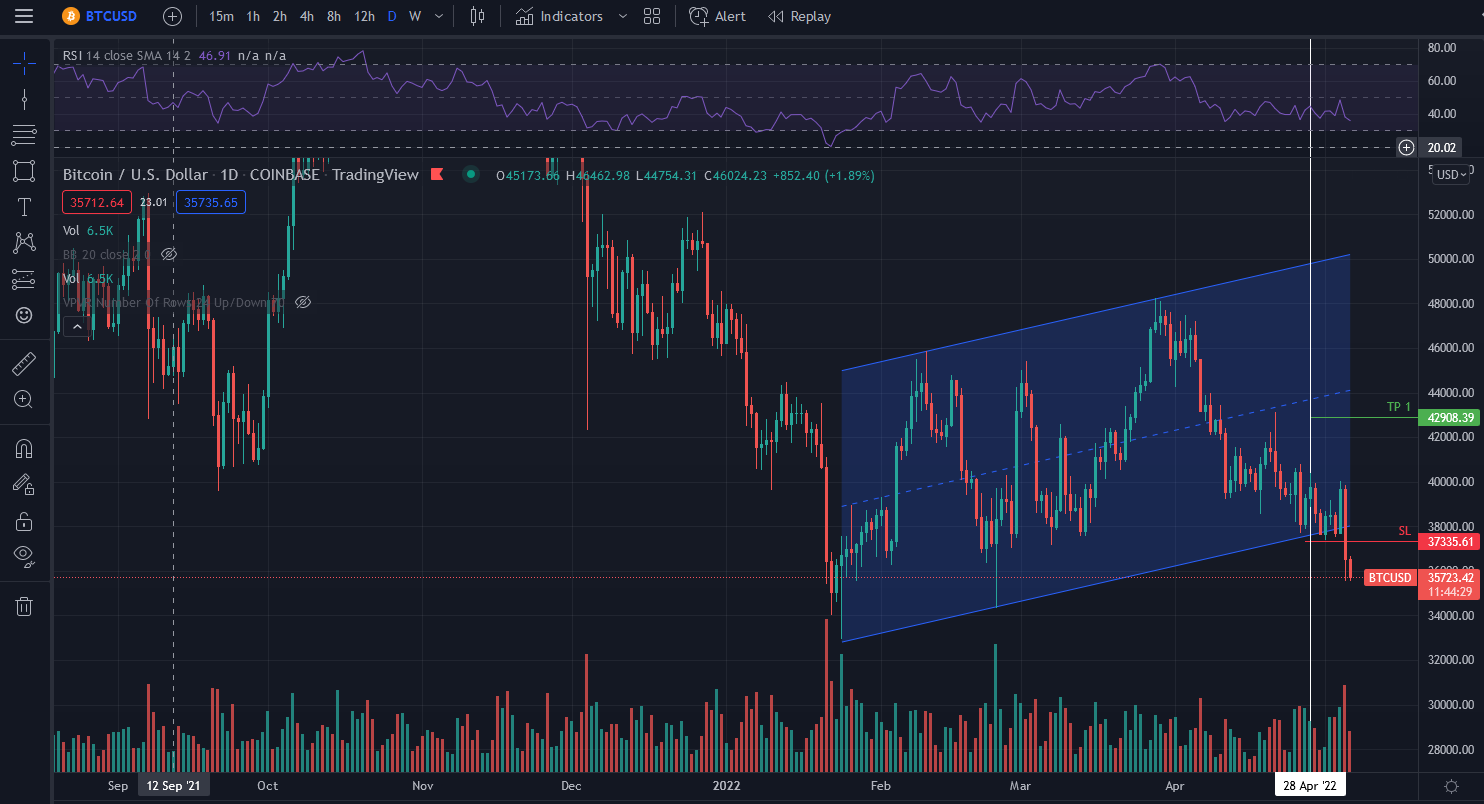 BTC/USD chart at May 6 2022
Since the call was made, BTC has been going up and down, getting too close to the stop loss quite a few times. Then yesterday all hell broke lose, we had the dump that looked like a bungee without a rope. Imagine how many stop losses got hit, how many accounts got liquidated.
The golden rule in trading is, stop loss under previous low, everyone knows that, including market makers and manipulators.
What Do Paid Groups Offer
It depends on the group, but usually they offer a mix of TA and calls to satisfy everyone's need. There are different levels of memberships, the more you pay, the more info you get. Don't ask me for specifics as I've never been part of one, but usually this is how it works.
What Do Subscribers Want?
Without any thinking, subscribers want results. Some subscribers are there to learn in order to be able to stand on their own feet one day, while others are paying to get the calls and get rich without learning. No one can blame them as learning is not easy and you can lose quite a lot by trying to do it on your own.
What they don't always know is that TA is about probability and not certainty. There's no such thing in TA as certainty. Charts and indicators can tell you the probability of something to happen, but that doesn't mean it's going to happen. No one knows what's going to happen.
In this case, the market took a turn and broke down, instead of breaking out. Unless they gave a new call before the dump, to get out of their position, I suppose they got liquidated. This happens to any trader from time to time as you won't find a single one with 100% win rate (if a trader tells you he or she has a 100% win rate, that is a lie), this is why we have stop losses. However, getting stopped out constantly may raise some questions.
Outrage Against Paid Groups
You may have seen crypto influencers, finfluencers harshly criticizing paid groups. They say there's enough info for anyone to learn trading for free, there's no need to fill the pockets of paid group owners or in many cases let yourself be ripped off. Unfortunately there are so many scammers that gave paid groups a very bad name.
We all know these paid groups are not cheap and we also know how they are making money. How many times I've seen them trying to shame people after a pump. The worst is when you see them telling people they will die poor if they haven't bought an asset when they called it. These are cheap shots and should be taken as warnings. I could never respect anyone who is trying to make money by shaming others for not buying.
However, this doesn't mean I am against paid groups. I'd never pay for a membership, I'd rather learn how to fish, instead of buying the fish. I just wanted to show an example of how things can work out. If you think you have no time to lean, or you don't want to, just be aware that no call is a guaranteed success, no matter who's making the call. There are risks and you're the one wearing the consequences.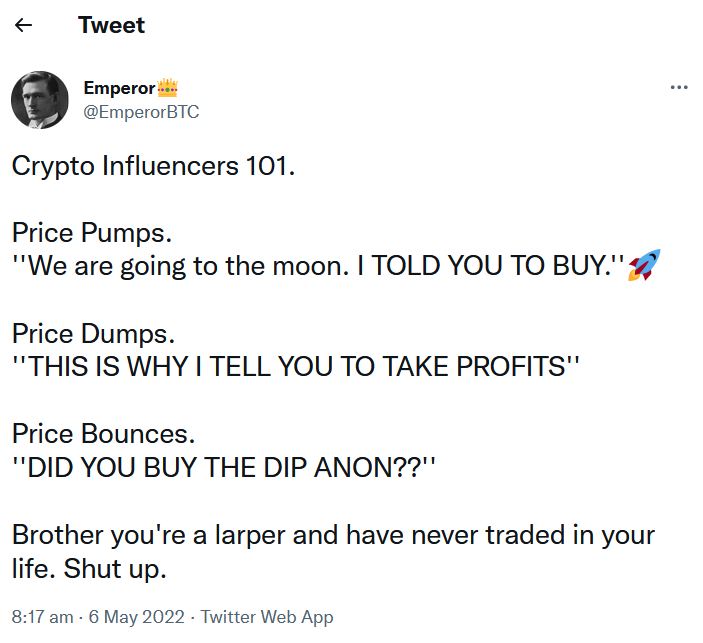 source
Emperor is always voicing his opinion about finfluencers and paid groups. This morning he posted this tweet, which is definitely worth reading and kept in mind.
Crypto is here to stay, so the more you're learning now, the better will be for you in the future. Fill your own pocket, instead of making others rich.

Posted Using LeoFinance Beta
---
---