Consumer Token Offerings (CTO) - How Does CTO Work?
In this post, we are going to check out Consumer Token Offerings (CTO) and how does it work and where it is used. The aim is to give the simplified view of the CTOs so that anyone new to this concept can use this guide.
---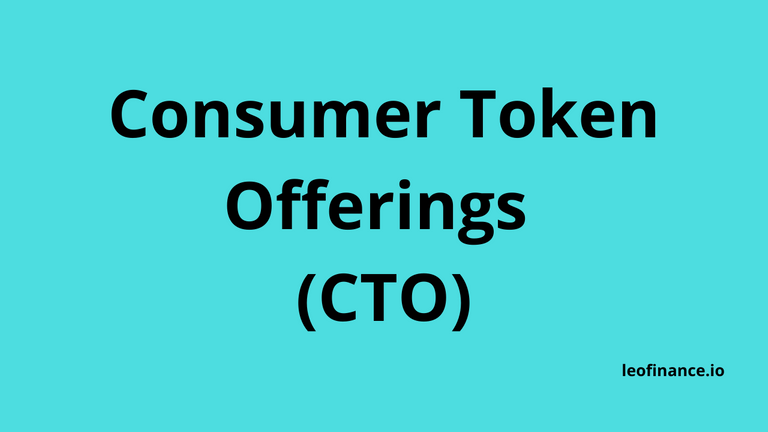 ---
First we will take a look at what is CTO and then we will see why do we need CTOs. We will also take a look at what are the benefits of running CTO campaign for any particular project.
---
What Is a Consumer Token Offering (CTO)?
---
Consumer token offerings are like utility token offerings except here with CTOs you are only able to purchase the service or product being displayed under the CTO. For example, let's say a financial institution releases a CTO through which you can buy their assets. Any asset that you could buy with any other DeFi based utility token could give you access to other services but in case of CTO you get only exclusive set of the access to the specific product or service.
---
Why do we need Consumer Token Offerings?
---
A lot of blockchain projects want some sort of transparent governance and the reward structure inside their non-profit or profit hierarchy. And in order to reward the stakers for buying certain content, product or service they reward using CTO based tokens.
CTOs are often preferred over IDOs and ICOs is because none of the laws are violated in any govt legal structure when the CTOs are distributed. So a lot of CeFi and venture backed blockchains consider them over ICOs and IDOs.
---
What are the benefits of Consumer Token Offerings (CTO)?
---
There are many benefits of CTOs for the projects who choose to raise the funds through this model.
Project can comply with SEC (In united states) or with other legal govt framework while deploying the CTOs.
Service or Products or the specific item in the blockchain can be sold through CTOs.
Risks from the rug-pull in DeFi is minimized in the consumer token offering a lot compared to any other anonymous blockchain project.
Though this looks like a good set of benefits for the CTOs but the thing is that more benefits against DeFi means the model leans more towards regulation and CeFi friendly.
---
What are the Blockchains on which CTO can be developed?
---
Currently there are two blockchain projects that are making use of the Consumer Token Offerings (CTO).
FOAM : This project is being used for the vehicle navigation system to avoid location pointer issues as an alternative to GPS.
CIVIL : Think of this project as a newspaper subscription token, where subscribers get access to content based on the tokens paid.
---
Conclusion
---
Though CTOs appear to be utility tokens but they are much more than that. They not only side on the compliance side of the things. They can also be more better on the value generation and scalable in nature.
Consumer Token in the offering peg to specific product or service in the offering so they don't increase in value. Which is turn makes it easier for compliance. And for many brands, business and the services they can be a good solution.
Posted Using LeoFinance Beta
---
---