Fantom (FTM) vs Solana (SOL)
This section is a part of Fantom (FTM) crypto Guide and Solana (SOL) guide. In this section we are going to compare two blockchains - Fantom (FTM) and Solana (SOL).
---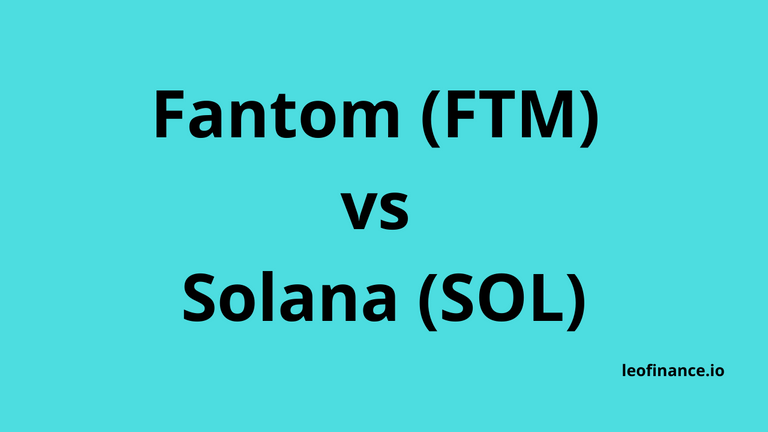 ---
Introduction
---
This guide is meant to show you unbiased feature set comparison of blockchains in discussion. Below table shows you the comparison points between the two blockchains.
---
| | |
| --- | --- |
| Fantom (FTM) | Solana (SOL) |
| Fantom blockchain was first came into concept in 2018 & released the token in 2019 on it's mainnet OPERA. | Solana as a project started in 2017 by Anatoly Yakovenko & in 2020 the token was released. |
| Fantom has coin supply of 3,175,000,000 and circulating supply of 2,545,000,000 FTM coins. | Solana has coin supply of 489 million SOL tokens & 260 million SOL tokens in circulation. |
| Fantom's Proof of stake is based on aBFT consensus algorithm. It has given it faster performance and scalability. | Solana has proof of history consensus algorithm & the consensus was designed with performance & scalability in mind. |
| Fantom has open source code and partial core team governance for it's token development & growth. | Solana too has it's code opensource and it's core investors and team behind the development. |
| Fantom supports various development SDK's which includes Ethereum Virtual Machine & Vyper for development of smart contracts & dApps. | Solana too supports Ethereum virtual machine for it's development of the smart contracts and dApps both on & off chain. |
| Fantom has comparitively lower transaction fees than bitcoin & ethereum. | Solana too has been relatively cheaper in transaction fees compared to Ethereum & bitcoin. |
| Fantom has total transaction per second rate of 50,000. | Solana has total transaction per second rate of 40,000. |
| Fantom has FTM as it's native token which can be traded in exchange and stake in certain stake groups. | Solana has SOL as it's native token which can be staked and traded in exchange. |
| Fantom allows Solidity as it's language for development of dApps and smart contracts. | Solana has Rust as it's primary programming language, which also supports C and other SDK specific extended languages. |
| Fantom allows development of the cross chain bridges, smart contracts and dApp development. | Solana too has means for development of smart contract, dApp and cross chain bridges. |
You may want to check out the comparison between - Solana vs Ethereum and also Fantom vs Ethereum.
---
Fantom or Solana - Which one to choose?
---
If you are looking at both the blockchains from the development perspective, you may notice that Solana has been picked up by the financial tech companies. And it has been increased in demand lately. Compared to the Fantom which is being chosen by the projects which are in need of Ethereum alternative without having to write different code for dApps, you'd find FTM getting more demand.
From investors perspective, you may find that both SOL and FTM are worth investing into. They are being adopted by many small projects which would keep the price moving. You would not go wrong either way, so you can pick any one of them.
---
Conclusion
---
At the end, you'd find the FTM more useful due to it's open source nature along with the active development. Solana is another good alternative you'd choose over Ethereum. You are not going to be wrong with your investment regardless of which coin you choose for investment or blockchain you choose for development.
Posted Using LeoFinance Beta
---
---