Hive Needs More Blockchain Games
Hive has some exciting games. We have a card game - Splinterlands, a farming game - dCrops, and a few others. Each game has its value and a specific community that will appreciate the game as it comes.
However, if we compare the Hive with other blockchains like Solana, Ethereum, Polkadot, and a few others, we may notice that they have various gaming genres. Those genres make use of the NFTs in the game. Moreover, the developers keep the game sustainable.
So what are some of the types of games Hive needs in its ecosystem?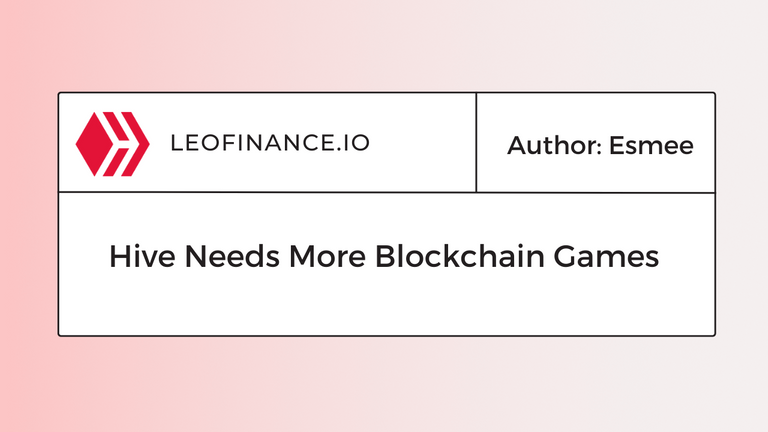 Role-Playing Games
---
I recently checked out a game named - Chumbi Valley. This game is in the RPG category. This game in the RPG category will be a good addition if such games get added to the Hive blockchain. It is a good game genre for those who like exploratory games.
The RPG category is expected in the Solana and the Ethereum blockchain. Many game developers are experimenting with this game genre. Moreover, the NFTs, too, would get added to those games, improving the overall value of NFTs and bringing more cash flow from new game users.
MOBA (Multiplayer Online Battle Arena Video Games)
---
Have you played League of Legends and the Mobile Legends: Bang Bang? I am sure you must have seen this genre of games. Some new such games in this genre are coming, and they are mainly deployed on the Polygon and Solana.
Shortly, if the Hive developers or the game developers use the blockchain component in the MOBA genre. I love some of such games in the genre because they are worth playing and also fun to play in general. NFTs would add more value if such games were deployed on Hive.
FPS (First Person Shooter) Games
---
First-person shooter games are new to the blockchain genre. Moreover, when you want to build better games in this genre, you may have to take inspiration from those mobile-based games. There are a lot of such games out there.
FPS games have many quests, enemies, and items to acquire. Moreover, for that, NFTs can be an excellent component to add into. So they can create a sustainable model for the cash flow in the game ecosystem.
What about Metaverse?
---
I feel like this requires a post on its own. What type of Metaverse would be suitable for Hive. Moreover, what are some of the things that your Metaverse should have to attract users?
I hope that some of the game developers bring some more graphics, code, and concept wise talent to turn the idea of the Metaverse into reality. Metaverse is something that would bring more users to the Hive too, which also means more cash flow.
What do you think?
---
I love playing games and Metaverse. However, I am picky with games because I am a girl and cannot stand some of the genres for a longer time. So I hope some new genres of blockchain games come to the Hive.
What is your opinion on this?
Posted Using LeoFinance Beta
---
---