LeoThreads - How to Get Most out of Micro Content
LeoThreads is officially launched, and we are all busy creating content and replying to some of the excellent questions thrown out there. Now that we have settled into this new thread concept, it is time to maximize this content format. It is a micro content format that can get you a good amount of traffic and answers to some of your questions. However, how can we optimize for our benefit?
So today, I thought, why not try and explore how the LeoThreads can be used in a power user way? Like we are using it to maximize the returns we get from engagement and the exposure for our short-form content. If you have any different observations than those listed below, give me a comment below that would be a good conversation starter here too.
Here is my observation on how LeoThreads can be a good place for content creators who wish to use Micro Content.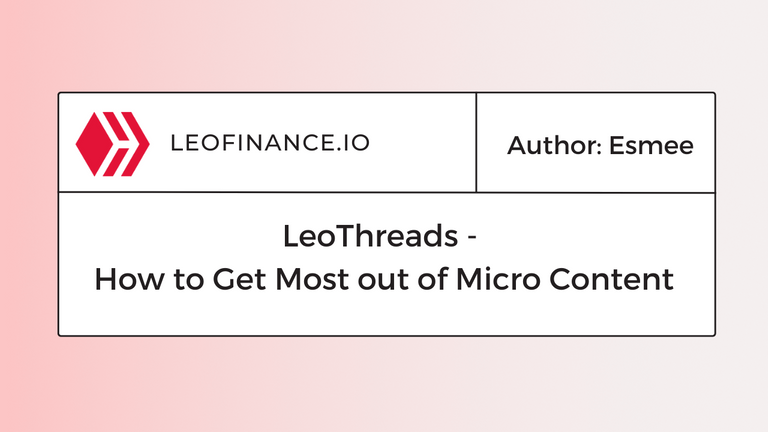 Asking Questions
---
The most significant use case for the threads is the part where we get to ask questions. Getting an answer on your threads is a golden opportunity because we have people active there. Once the saturation point comes in, the questions would remain dormant for a long time until someone wishes to answer. So the asking and answering question would be a good use case on the LeoThreads.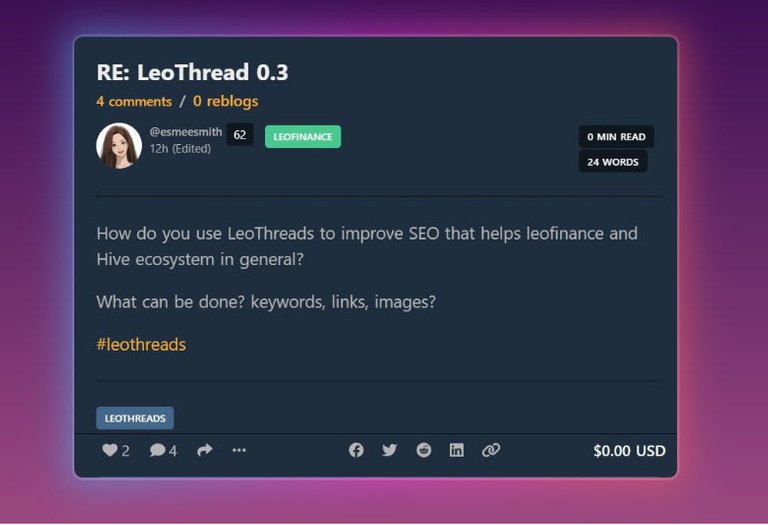 Another thing is that you can get some different perspectives on financial, personal, and other questions that are out there in your life. Sometimes having the QA mindset and the ecosystem around helps a lot. Look at how Twitter flourished around accounts that ask or answer the questions. The same can happen on LeoThreads if things work out positively with the community.
Hashtag based Threads
---
Just like Twitter, after some time, LeoThreads would be facing a traffic issue. Like, say even 100 people actively start threading. That would lead to much traffic, and then sorting the threads based on the Hashtag becomes one of the most important things out there. You can use the right-hand sidebar for this. Moreover, this would narrow your interest in the community. Like, say you want to narrowly search for content regarding the HBD or say Ethereum, etc. You can do so with the help of Hashtag.
One more interesting use case with the threads that use the Hashtag is that you can easily have a series of content to get hold of different content in the Hashtag. You can also move from one Hashtag to another simply using the sidebar, which saves your time. I realized that Hashtag based threads could be a good option for content creators and, in general, anyone who wishes to use LeoThreads to narrow their interest.
Personal Perspective on Trending News
---
I have a lot of personal views on the economic changes that are happening out there. Also, I feel like having a perspective on the world trends and the trends in crypto. When I share those views, I hope to get some positive criticism of those views. I follow the taskmaster and his views on his blogs. He writes some excellent long-form content. Imagine if someone writes short and sweet yet actionable content over finance, crypto, and other similar topics around leofinance.
I know having Naval Ravikant like people on leofinance is less likely. However, if we do find some good people who can share micro-content, that would be good for the community for now. This would also help keep the community active, and they would be finding good content. Something many people on leofinance are desperately in search of is finding content that they can connect with.
Engagement on Threads
---
I remember I used to ask many questions on LeoTalk. Moreover, I made some new connections on the Talk thread. Having a dedicated feed of small content can be a good option for anyone to form an engagement. It can also make the content reading and to-the-point discussions easier. Also, considering the content that appears in our comment tabs, we can easily access it.
LeoThreads has an option to get your content across to many people if they happen to follow the Hashtag. I feel engagement on LeoThreads can help Hive and Leo in both places. Moreover, if the ability to embed the thread becomes possible, as we do with Twitter, then that would open up another set of doors for engaging our content, which is an excellent long-term view for this thread feature.
What do you think?
---
LeoThreads his new toy. We have many benefits if we choose to use this feature the right way. LeoThreads can be a good tool for building the influence with the microcontent, and if we get the embedding option, that would be a good traffic mover for the leofinance. So many things to learn in due process.
So what do you think about it?
Posted Using LeoFinance Beta
---
---