Initiative: Who is your favorite historical character and what would be his or her contribution to Hive?[ENG-ESP]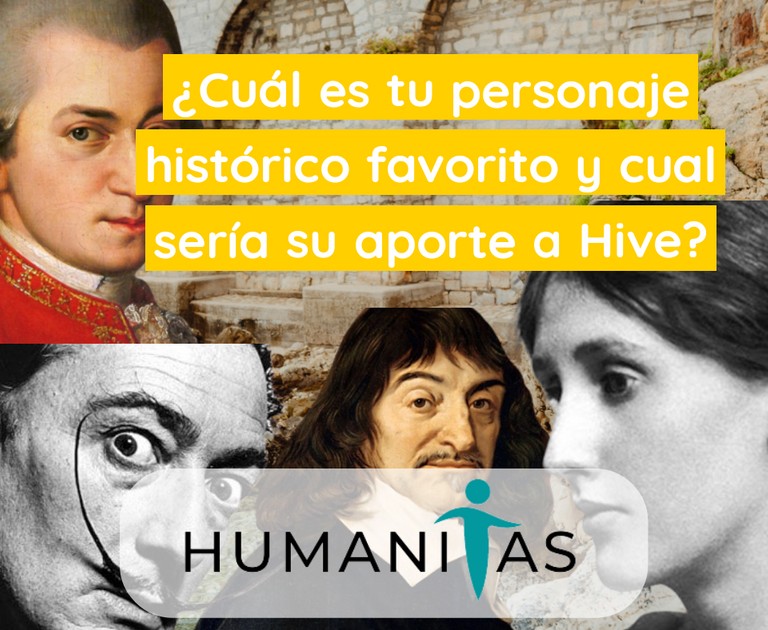 Greetings dear Hivers, I hope you are in a great way, it is a pleasure to be able to communicate the new initiative that I communicate to you today on behalf of the community, but, before entering the topic itself, I intend to tell you how the idea of this initiative was born.
Last Sunday April 10, in the evening hours I was participating as a listener in the #Espawow program, if you have not heard about Espawow I can tell you that it is a weekly broadcast program on the Discord de Aliento channel, a program conducted by the moderators of the Espavlog community, and this time the guest has been one of the hivers that I respect and admire in the ecosystem, nothing more and nothing less than our friend @fermionico, and perhaps dear reader, you are wondering what all this has to do with the initiative, well, in one of the segments of the program was allowed to ask the guest a question and as I am passionate about history, it was impossible for me not to contain my curiosity and I asked him: Who is your favorite historical character? , his answer was:
Leonardo Da Vinci
I immediately thought of Da Vinci's prolific ingenuity and it occurred to me to say: "It would be interesting to know what Leonardo would have done with Hive", and at that moment my wife looked at me and said, it would be a good idea to talk about the historical character and Hive.

Then I spent some time thinking about this idea. Trying to shape it, and after sleeping on it, I decided to put it this way:
What is your favorite historical character and what would be his or her contribution to Hive?
Although they are two questions in one, you are invited to participate, I will also leave below a series of questions that although you are not obliged to answer them, I hope they will serve as a support in the construction of your publication.
What role would you play on the platform, would you be a whale, a curator, a project leader, or a content creator?
What kind of content would you create for Hive?
What community would you do life in most of the time?
Could you be a blockchain witness?
Questions to consider.
Like every community we have our policies, and this initiative is no exception, and while it is not a contest where we are chasing a prize, quality is something we promote in the community. So:
Minimum 400 words (per language) in the case of writing.
No plagiarism.
Good spelling.
You can publish it in video format.
Share it on twitter.
Invite your friends to participate.
We can't guarantee votes as we don't have the resources to promise a big upvote yet, but if you do well, there's a good chance you'll get the attention of a curator.
Remember to use one of the tags we suggest in the community, especially #humanitas.
I look forward to your participation...
thanks for your time.
Translated with www.DeepL.com/Translator (free version)
The images have been edited with the CCExpress app.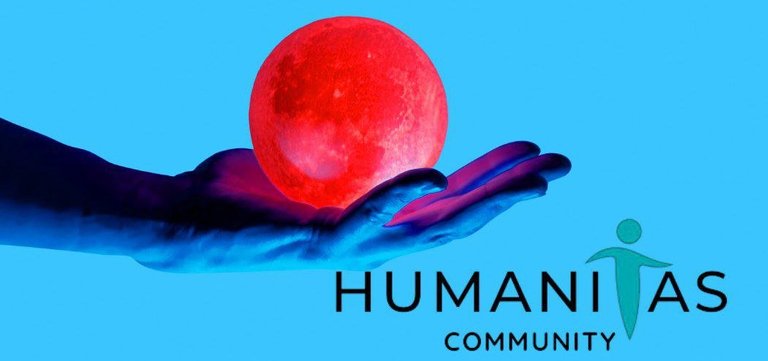 VERSIÓN EN ESPAÑOL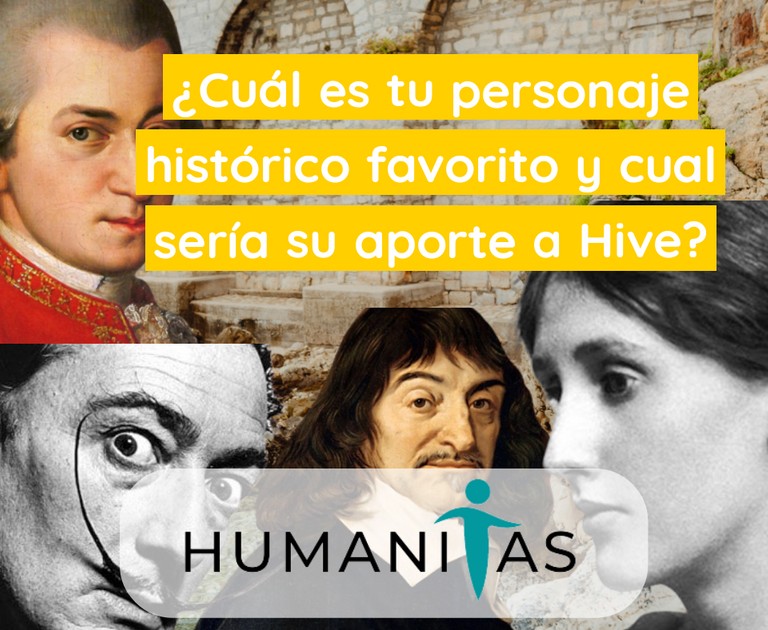 Saludos estimados Hivers, espero se encuentren de manera estupenda, es un placer poder comunicarles la nueva iniciativa que les comunico hoy en nombre de la comunidad, pero, antes de entrar en el tema en sí, les pretendo contar cómo ha nacido la idea de esta iniciativa.
El pasado domingo 10 de abril, en horas de la noche me encontraba participando como oyente en el programa de #Espawow, si no has escuchado sobre Espawow puedo decirte que es un programa de emisión semana en el canal Discord de Aliento, programa conducido por los moderadores de la comunidad Espavlog, y en esta oportunidad el invitado ha sido uno de los hivers que más respeto y admiro en el ecosistema, nada más y nada menos que nuestro amigo @fermionico, y quizá estimado lector, ud se esté preguntando qué tiene que ver todo esto con la iniciativa, pues, en uno de los segmentos del programa fue permitido hacerle una pregunta al invitado y como a mí me apasiona la historia, me fue imposible no contener mi curiosidad y le pregunté: ¿Cuál es su personaje histórico favorito?, su respuesta fue:
Leonardo Da Vinci
Enseguida pensé en el prolífico ingenio de Da Vinci y se me ocurrió decir: "Sería interesante saber qué hubiese hecho Leonardo con Hive", y en ese instante mi esposa me mira y dice, sería una buena idea lo del personaje histórico y Hive.
Luego pasé un rato reflexionando sobre esta idea. Intentando darle forma, y tras consultarlo con la almohada he decidido plantearlo de la siguiente manera:
¿Cual es tu personaje histórico favorito y cual sería su aporte a Hive?

Aunque son dos preguntas en una, estas invitado a participar, también te dejaré a continuación una series de preguntas que aunque no estás obligado a responderlas, espero te sirvan como un apoyo en la construcción de tu publicación.
¿Qué papel desempeñaría en la plataforma? ¿sería ballena, un curador, un líder de proyecto, o un creador de contenido?
¿Qué tipo de contenido crearía para Hive?
¿En qué comunidad haría vida la mayor parte del tiempo?
¿Podría ser un testigo de la blockchain?
Cuestiones a considerar
Como toda comunidad tenemos nuestras políticas, y esta iniciativa no es la excepción, y aunque no es un concurso donde se persigue un premio, la calidad es algo que promovemos en la comunidad. Así que:
Mínimo 400 palabras (por idioma) en el caso de hacerlo escrito.
Nada de plagio.
Buena ortografía.
Puedes publicarlo en formato de video.
Compártelo por twitter
Invita a tus amigos a participar.
No podemos asegurar votos ya que no contamos aún con los recursos para prometer un upvote de peso, pero si lo haces bien, hay una gran posibilidad que llamar la atención de un curador.
Recuerda usar alguna de las etiquetas que sugerimos en la comunidad, en especial #humanitas
Espero tu participación…
Gracias por tu tiempo.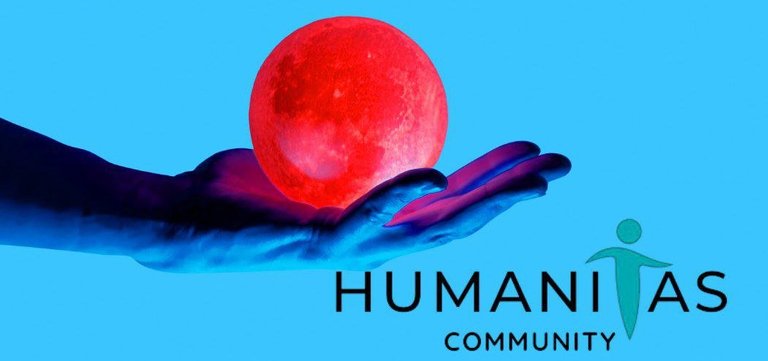 Las imágenes han sido editadas con la app CCExpress
---
---