Wednesday Walk And Rice Grain Under The 40 Degree Celsius Outdoor.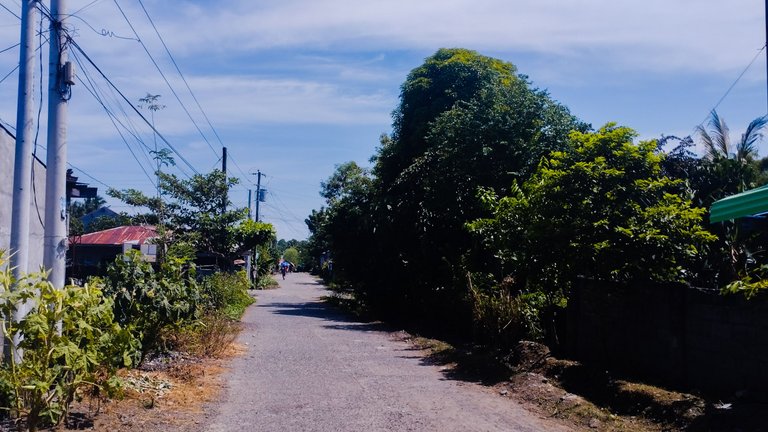 Happy Wednesday, and every Wednesday, there is a new story to tell, a new place to explore. Under the name of eunoia, let me travel you to the life of probinsyado, or province boy living in Cagayan, and how it feels a day after harvest, the season of rice, the heat high and index, and the life of a farmer.
I suddenly remembered last 2018, before the pandemic, one relative of us living in cold countries went to visit us in the Philippines; I could not control asking things about my cousin, something I am curious about, and points that I wanted to learn. One is that "What was your expectation in going to the Philippines, and what does this give in reality?" i
They laughed, same as they thought "they expected that going to the Philippines could cause sunburn," and we laughed.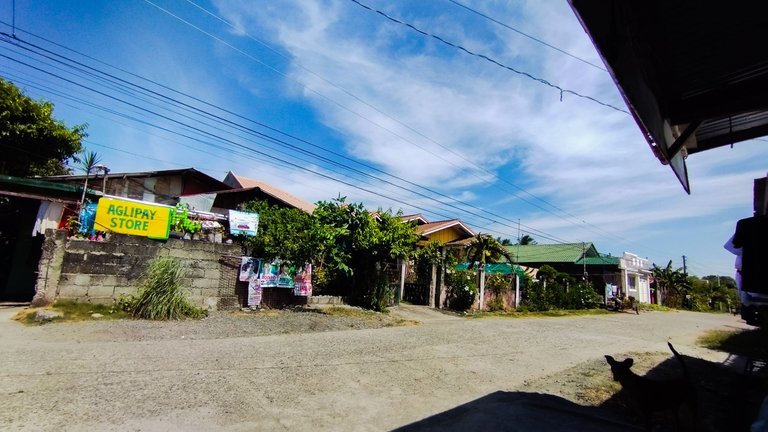 Maybe we have been exaggerating, writing, and documenting the weather condition in my country. It is recorded that 40 degrees Celsius is outdoors, hot temperate, right? But that was outdoor, and we still have a lot of trees and shady places, especially in the province, so the 40-degree Celsius is still manageable. Goes out and looks for a cold spot. That is how life is for a province boy like me.
Enjoying the weather wash your clothes and let them dry in the open field.
But I cannot argue that the temperature has been rising abruptly this past month's effect of global warming indeed, where the feeling of you get off from the shower and the following hours you were already sweating. Still thankful that water is abundant, we could shower as long and as much as we want. In my case, I do showers twice a day, and when it rises too much, three times is acceptable.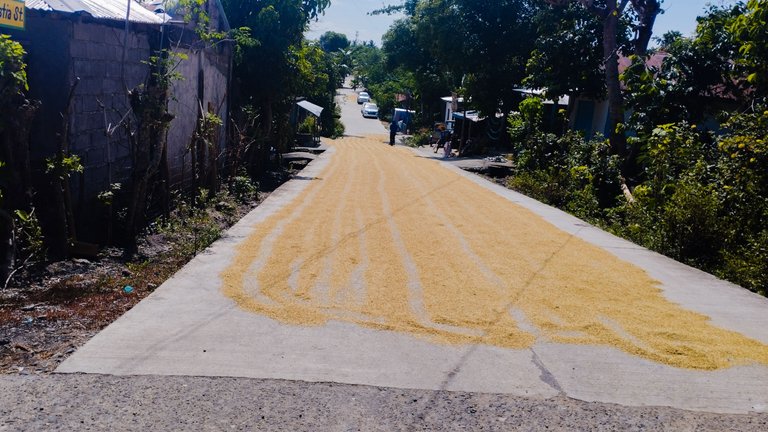 But there will always be a blessing. Some people hate the sweaty weather, and some love it, one of which is the farmers. A 40-degree Celsius is a best and most appropriate temperature to dry the grains for storage or the customer's wish. The drier the grain, it might store longer, and the drier the grains vary in a reasonable price, for a collector or middleman won't invest in drying it anymore.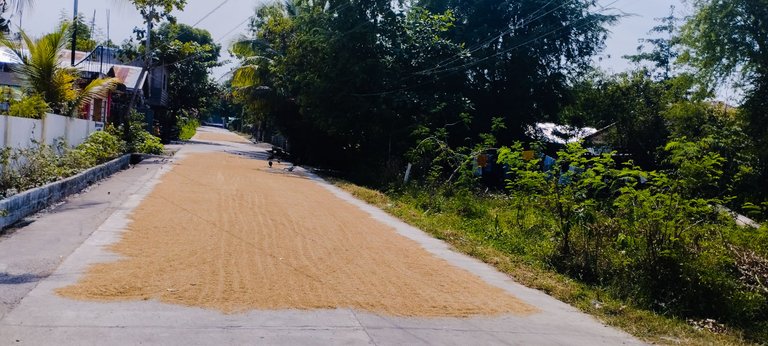 This also shows how friendly and peaceful the neighborhood was. You will witness a simple kindness. People allow farmers to dry up in the streets, whereas some places I have been to don't let it. Vehicles such as motorcycles and four-wheels respect the people drying up and never disturb or pass the grains. We understand that the wheels of cars also affect the quality of rice they are drying. A simple act of kindness that farmers appreciate the most.
So if you have a vehicle and have seen some farmers drying up, please don't pass by the grains. Possibilities are that might rice grain will be pulverized or broken.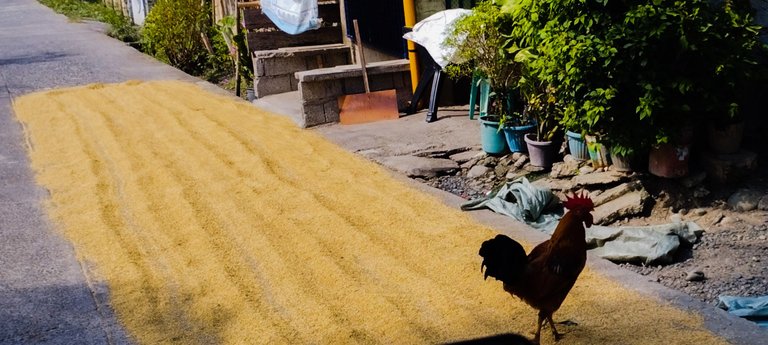 Moreover, it's not only the farmers and the grains that will benefit from the heat, livestock like chicken also benefit from the drying palay, and I heard an old man saying, "let them be. They cannot eat all the rice dried up" when one tried to scare the chicken. Birds, specifically sparrows, are having an absolute feast from the drying waste scattered on the pavement, the food chain, and the food web happening in urban places.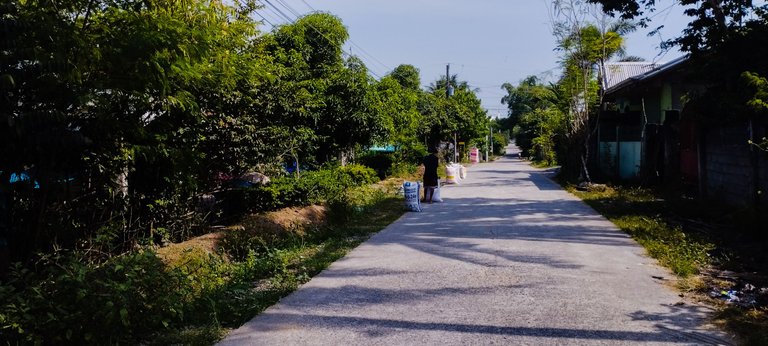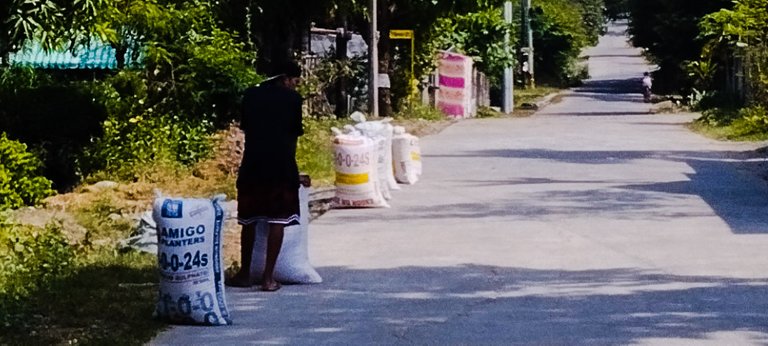 This is the supporting site of what I mentioned earlier. The first photo focuses on the trees, where even at high temperatures still, nature is trying its best to keep us safe from high heat. The second one was a zoom photograph where the man is now preparing his palay, for he might be satisfied with the texture and dryness of the grains he owned, or maybe he will directly sell his play to the traders. Drying is not an easy task. You need to spread the grain in the field, and it takes time to flip it to ensure all the grains will have the same moisture content. Then at 3 PM, they again work to bag the grain they spread on the pavement.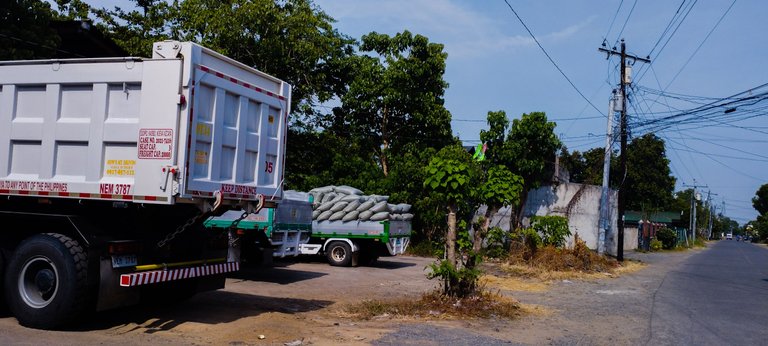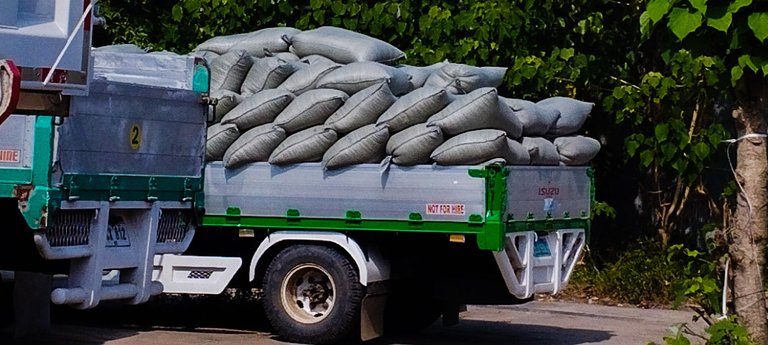 --
Traders and middle man, after drying, some farmers will immediately sell their products to the local brokers. It's up to the prices depending on the dryness, especially that palay intended for hoarding and future warehouse. The cost of grain is still low, and some farmers don't feel any good. Some farmers hoard rice instead for their consumption, which was better.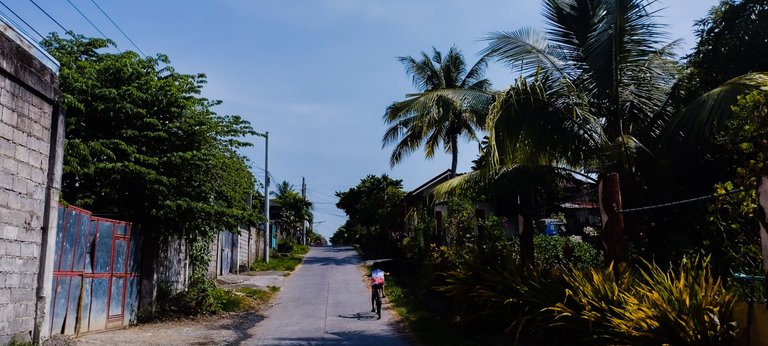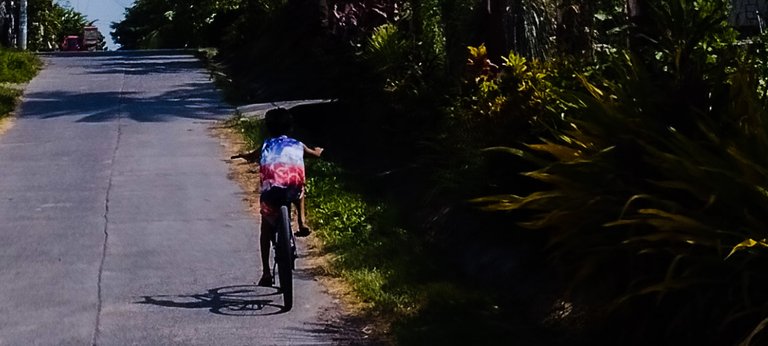 --
Going home from the walk, I have seen a boy practicing a bike, and he is trying his best as the cycle is far bigger than him. I suddenly remembered myself, the youthfulness where biking also struggles. I learn to bike on my own, and no one teaches me. One day I decided to try my cousin bike and tried to control the handle holding it as I was nervous for the first time.
First, they cannot control it, and then I have a smile where my instinct gives me the balance I need. Still afraid but happy for just a minute, I learned to bike on my own. Some people still don't know how to balance there self in bikes. There was just a smile on my lips remembering things, for I was like a boy like him, trying the bigger bike.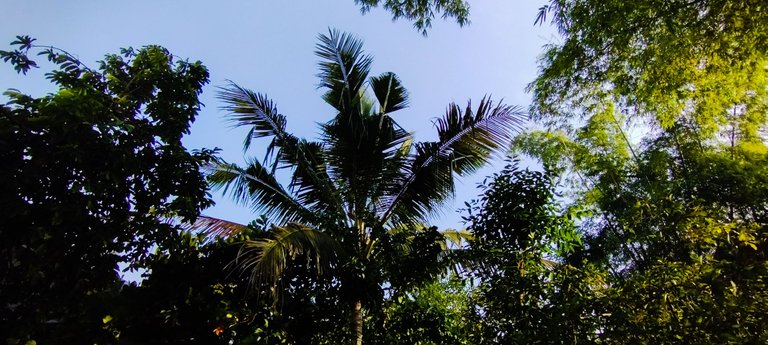 Wednesday always have some fun by walking, exploring might not be far just in my surroundings. A life where nature, animals, and people are living. I loved exploring things and touring you guys into my life. Some might have a similar living style as I do. Others might be different and strange when they see my ways, but that is how the goodness starts, at the end of the day, we could visit each other and the way of life that I have soon also you could see and same as mine to you.
Every Wednesday, there were stories to tell, to walk and talk in writing, so Happy Wednesday and happy walking, everyone. See you again next week, Wednesday Walk Community.
---
---