Amazing Nature Contest: Thematic Challenge - #2/5/21 | AQUATIC AND MARSH PLANTS // PLANTAS ACUÁTICAS Y PALUSTRES [Esp-Eng]

Hola apreciados Hivers amantes de la naturaleza de nuevo aquí estoy con mi presentación al concurso de #AmazingNature con este atractivo tema :
Hello dear Hivers nature lovers again here I am with my submission to the #AmazingNature contest with this attractive theme :
---
AQUATIC AND MARSH PLANTS
PLANTAS ACUÁTICAS Y PALUSTRES
---
Esta semana de flexibilización tuve la dicha de poder visitar el Parque Los Caobos un espacio de diversa vegetación en media la ciudad de Caracas - Venezuela, y que en estos tiempo más que en ningún otro, ha resultada una buena opción para ejercitarse al aire libre y realizar diversas actividades culturales y de encuentro.
This week of flexibilization I had the joy of visiting Los Caobos Park, a space of diverse vegetation in the middle of the city of Caracas - Venezuela, and that in these times more than any other, has turned out to be a good option to exercise outdoors and to carry out diverse cultural and meeting activities.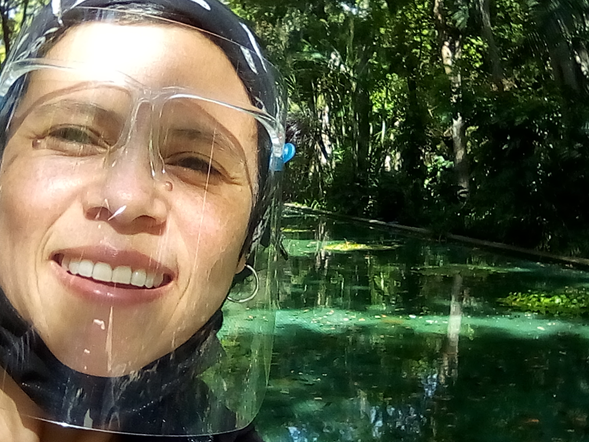 Vale destacar que el Parque Los Caobos está muy cerca del Jardín Botánico Dr. Tobías Lasser el cual poseer los jardines acuáticos del Instituto Experimental de la Universidad Central de Venezuela. Allí se localiza una gran diversidad de flora, planta y árboles de Latinoamérica para su preservación y reconocimiento, lamentablemente hoy día está cerrado para la visita de transeúntes, si quieren conocer más al respecto de este exótico lugar, les invito a visitar Plantas acuáticas vasculares en los ambientes acuáticos del Jardín Botánico de la UCV
It is worth mentioning that Los Caobos Park is very close to the Dr. Tobias Lasser Botanical Garden which owns the aquatic gardens of the Experimental Institute of the Central University of Venezuela. There is located a great diversity of flora, plants and trees of Latin America for its preservation and recognition, unfortunately today is closed for the visit of passers-by, if you want to know more about this exotic place, I invite you to visit Aquatic vascular plants in the aquatic environments of the Botanical Garden of the UCV

En el Parque los Caobos logre distinguir algunos estanques o humedales secos y otros con reserva de agua, son piscinas ornamentales que entre espacio terrestre y acuático cumple la función de armonizar el ambiente y contribuir a la oxigenación del agua, donde percibí de algún modo es el agua de lluvia y también los drenajes artificiales lo que mantiene la vegetación acuática que en este lugar se logra observar.
In Los Caobos Park I was able to distinguish some ponds or dry wetlands and others with water reserve, they are ornamental pools that between terrestrial and aquatic space fulfills the function of harmonizing the environment and contribute to the oxygenation of the water, where I perceived somehow is the rainwater and also the artificial drains what maintains the aquatic vegetation that in this place can be observed.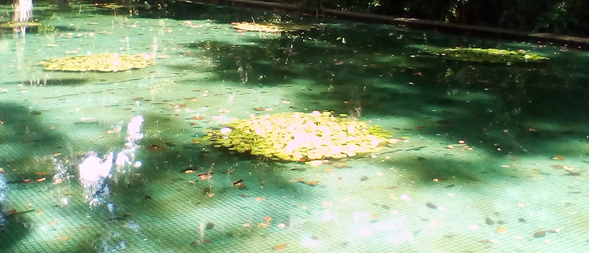 Nymphaea
Mi recorrido fue realmente interesante, ya que este lugar lo he transitado muchas veces incluso en algunas oportunidades he estado sentada frente a este estanque sin percatarme de la elegancia de estas plantas flotantes que también se encuentran dentro del jardín botánico y que logré recordar tras mis pasado visitas realizadas en ese hermoso lugar.
My tour was really interesting, since I have visited this place many times, even on some occasions I have been sitting in front of this pond without noticing the elegance of these floating plants that are also found in the botanical garden and that I managed to remember after my past visits to this beautiful place.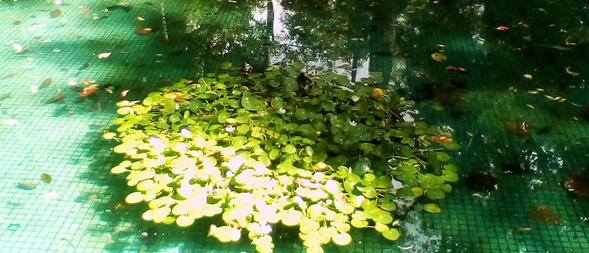 Nymphaea
Lo primero que me llamo la atención fueron los pequeños cúmulos aislados de vegetación, flotando en el estanque artificial, lo Imagine como una gran comunidad y dentro de ella otras pequeñas haciendo su propio ecosistema tal cual como en HIVE. Buscando información logre reconocer que reciben el nombre de nenúfar, planta acuática que pertenece a la familia de las ninfeáceas cuyo nombre científico es Nymphaea teniendo en si misma variadas especies, en este caso visibilice algunas con pequeñas flores blancas y otras de color rosa que crear una característica partcular en cada islote, también se le conoce como lirio de agua.
The first thing that caught my attention were the small isolated clusters of vegetation, floating in the artificial pond, I imagined it as a large community and within it other small ones making their own ecosystem as in HIVE. Looking for information I managed to recognize that they receive the name of water lily, aquatic plant that belongs to the family of the nymphaceae whose scientific name is Nymphaea having in itself varied species, in this case visibilice some with small white flowers and others of pink color that create a particular characteristic in each islet, it is also known as water lily.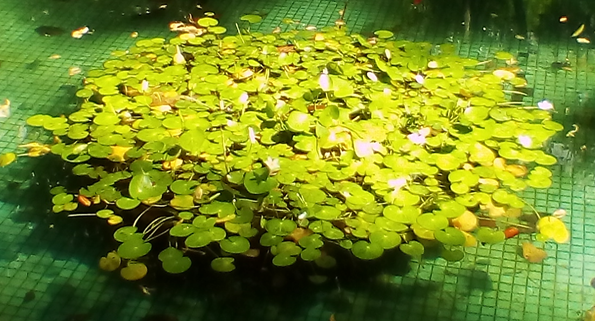 Lirio de agua | water lily
Otra que me causo impacto fue una pequeña planta que distinguí en medio de un nenúfar, es de tallos largo y en la parte superior sus hojas caen como cintas, me recordó a la palmera de jardín. El nombre científico de esta curiosa planta flotante es Cyperus alternifolius también conocida como paragüitas, papiro de agua o cipero, es una planta decorativa que según sus referencia puede ser colocada en pequeños y grandes estanques en cualquier ambiente.
Another one that caused me impact was a small plant that I distinguished in the middle of a water lily, it has long stems and at the top its leaves fall like ribbons, it reminded me of the garden palm tree. The scientific name of this curious floating plant is Cyperus alternifolius also known as paragüitas, water papyrus or cypero, it is a decorative plant that according to its references can be placed in small and large ponds in any environment.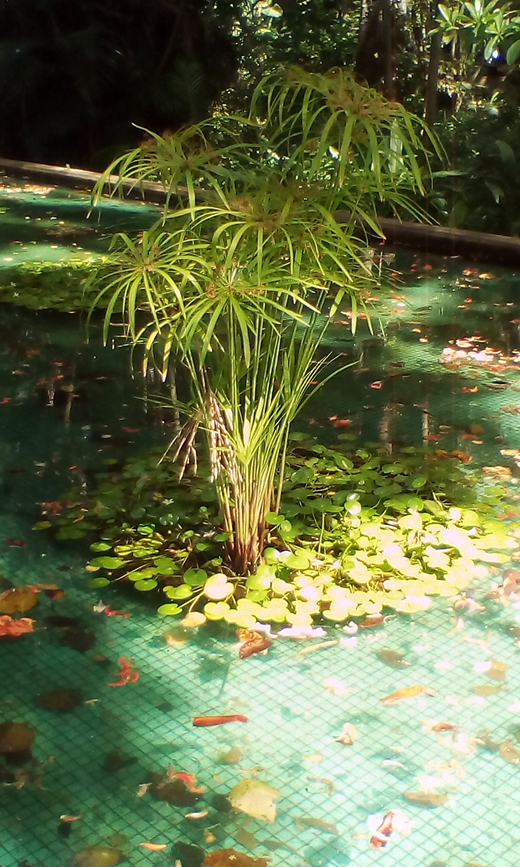 Cyperus alternifolius
Gracias @bucipuci por la iniciativa que semana a semana me permite explorar, admirar y atreverme a ir un poco más allá de lo evidente para resignificar a mi amada naturaleza.
Thank you @bucipuci for the initiative that week after week allows me to explore, admire and dare to go a little beyond the obvious to resignify my beloved nature.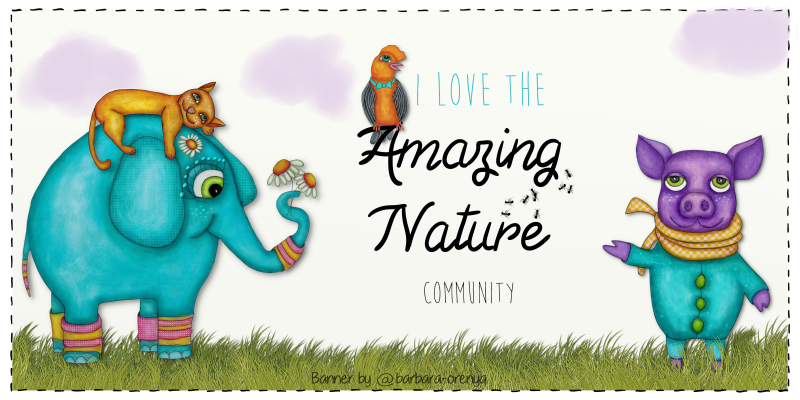 banner by @barbara-orenya

Fotos tomadas con mi teléfono ZTE A 110
¡Saludo fraterno hasta un próximo encuentro!
Fraternal greetings until the next meeting!
---
---