Is Argentina passing their best time ? Let's discuss...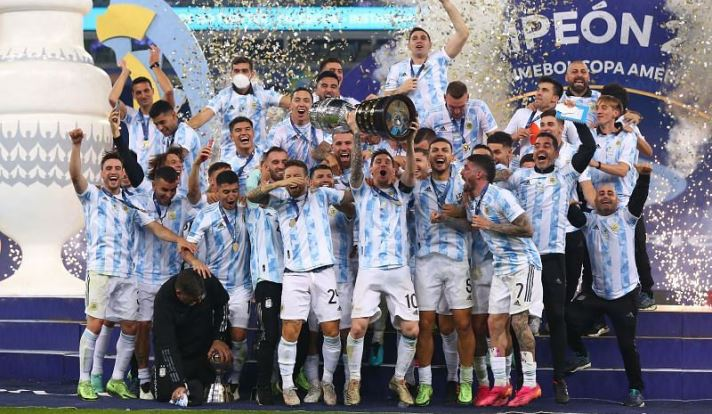 source
Argentina is one of the most popular and strongest football playing nation in the world. They have many world class players who can make the difference any time. They have Lionel Messi who is the best football player of present time. They also have Di-Maria, Martinez, Rodrigo De paul, Otamendi, Parades and many others in the team. All the players are represented many popular clubs around the world.
Currently the Argentina team is in much better form. A few days ago, they win against Brazil and became the champions of Copa America. They won any international trophy after many years. They are currently unbeaten in 20+ international matches.
But a few days ago the situation was completely different, the team could not become the World Cup champion for the third time after losing to Germany in the World Cup final in 2014. After this, Argentina lost against Chile in the 2016 Copa America final and missed the international title again. The team lost against France in the 2018 World Cup and out of the contest. Then again they lost against Brazil in a semifinal match of Copa America tournament. They became upset. The Argentine football federation changed coaching staffs for better performance. But due to lack of team combination the team became downfall. At a time, they also lost their position in top 10 of world football ranking.
Argentine coach Lionel Scaioni then took charge of coaching the team. Since then there have been many changes in the team. The coach started working on the team combination. Argentina team started getting good results in a few days. After a long time, they become the champion of Copa America. Messi, the best player of the time, won his first international title with team Argentina. This trend continues in the matches of the World Cup qualifiers. They have not lost a single match in the World Cup qualifiers yet. So far, they have played 10 matches and they are in the 2nd place at points table with 6 wins and 4 draws. Considering their current performance, Argentina is being considered as one of the favorite teams of the 2022 World Cup.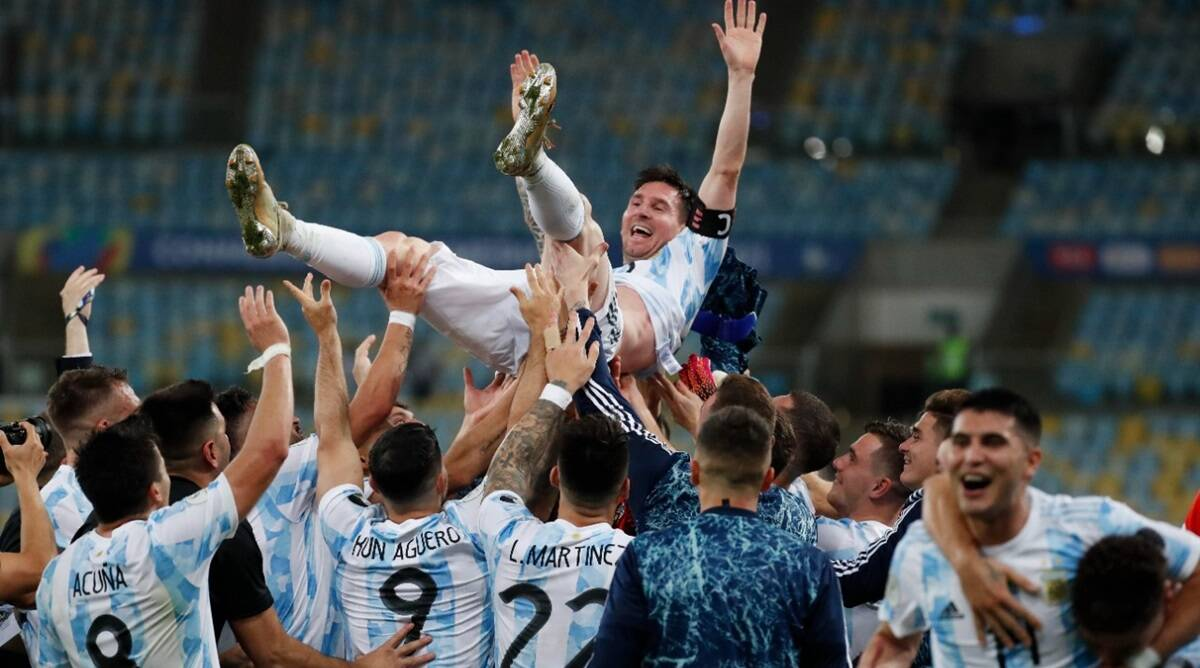 source
Now i want to analysis a big match played by Argentina team in recent time.
Argentina vs Uruguay match analysis :
Argentina played last international match against Uruguay in word cup qualifier match. In this match Argentina played outstandingly well. They placed their full strong team against Uruguay in the field. Both teams dominated first 30 minutes of the match. But in 38 minutes of the game Argentine striker Lionel Messi scored a goal with a brilliant placement of the goal post. After few minutes Argentine player Rodrigo De Paul scored again and gives Argentina 2-0 lead against stronge opponent Uruguay. After the break in 62 minutes another argentine striker Lautaro Martinez scored for the team and gives a huge 3-0 lead of this game. Uruguay couldn't scored any goal due to an excellent performance from Argentine goalkeeper D.Martinez. He obtained a cleen sheet in this match. Total team performance was excellent in that match. In every site they played well. Finally they win this match by 3-0 goal difference. This kind of performance gives them hope for do better in future matches.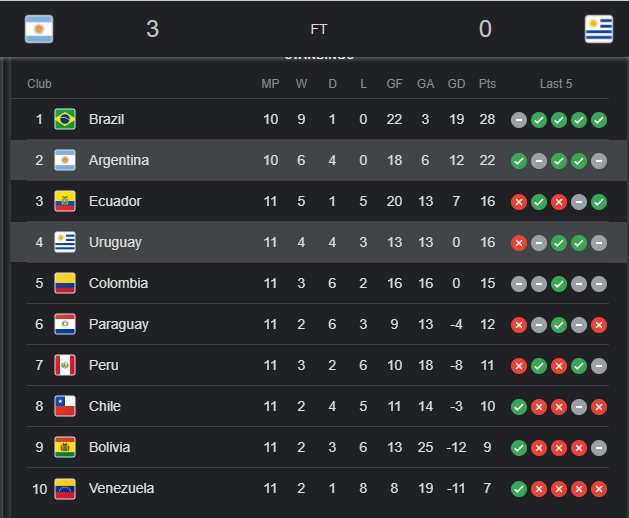 screenshot taken from google.
Argentina already preparing their team for 2022 world cup in Qatar. They are really hopeful to win the next world cup. This is also the last world cup for their legend Lionel Messi. Recent form also in favour with them.
In my opinion Argentina's strong team for 2022 Qatar world cup will be:
Goalkeeper: D.Martinez
Defender: C. Romero, N. Otamendi, N.Molina, N. Tagliafico. Midfielder: L. Parades, R. De Paul
Strikers: Leo Messi, Di Maria, Lautaro Martinez, Joaquin Correa.
---
---