Steps to Researching My Family History - Step 3 - Branching Out (part 1)

{Previous Post: Steps to Researching My Family History - Step 2 - Expanding the Foundation}
Last time, on "Steps to Researching My Family History" (SRMFH), I filled out the trunk of my tree by processing all of the hints for my grandparents. This added my great grandparents and siblings for each of my grandparents. This pretty much reaches the limits of people that I remember. From here on out, we will have to depend on whatever documents I can find in hints or the memories of other people. My goal in this post is to start branching out to the great grandparents on my father's side of the family (I'll discuss my mother's side in the next post).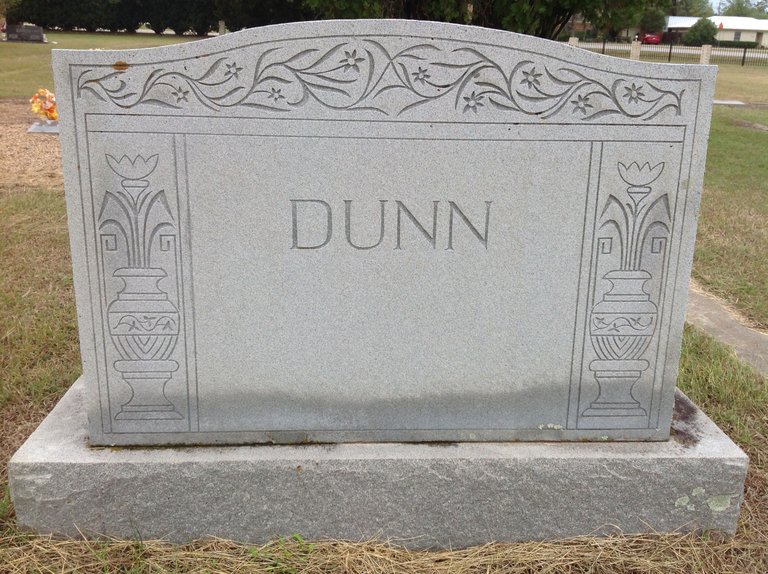 At this point, I have a bunch of new people in my tree and they all (literally) have hint leaves on them. This is a good sign. If there you have people in your tree that you have added recently that don't have hints, there is a possibility there is an error somewhere in your data entry. You could still have an error if you linked to the incorrect person, but no green leaf now is definitely a red flag.

With that said, I am going to ignore the hints on all of the children and siblings that have added to my tree and focus on the parents (in this case, my great grandparents).
In order to help keep things a tad bit easier to follow, I will start using names at this point (since all of these people are already dead). The names probably won't mean anything to you, but at least you will have a tag to associate with each position in the tree. I will also try to use a bit of visual help when I can.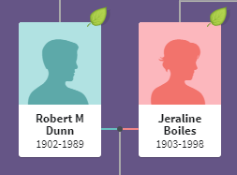 At you can see in this image, my father's parents were Robert Marvin Dunn and Jeraline Boiles (no middle name). The topic of this post will be each of their parents. Robert's parents were Thomas Deroser Dunn and Alta Lee Williams. I am not completely sure of Tom's middle name was and nobody I have talked to is sure exactly what it was. This includes may father and Jeraline (before she passed away). Most of the documents bearing his name only included his middle initial and the few that do have a middle name all seem to have something different.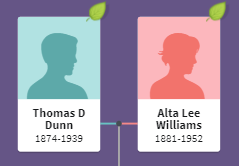 Jeraline's parents were Burleson Boiles and Laura A. Cross. We must remember at this point, that we have not begun processing the hints associated to these people, so some of the information (names, dates, etc.) may be incomplete. Some of it may change as we work through their hints.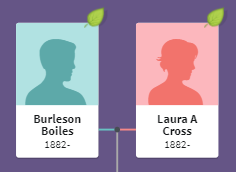 Let's start our search with more information with Tom and Altie (as they were affectionately known). I want to touch on a couple of procedural things at this point. The first things I look for are birth records (in this case of either Tom, Altie, or any of their children) or marriage records. We want to process birth records for the children because it could contain some useful, as yet uncovered, information about either of the parents. Marriage or divorce records could also help in building a better understanding of their life and possibly lead to other unknown offspring. Also, draft cards were probably filled out by the individual in question, so this is generally good, first hand information, too.
When I open the hints for Tom, here is the list that appears: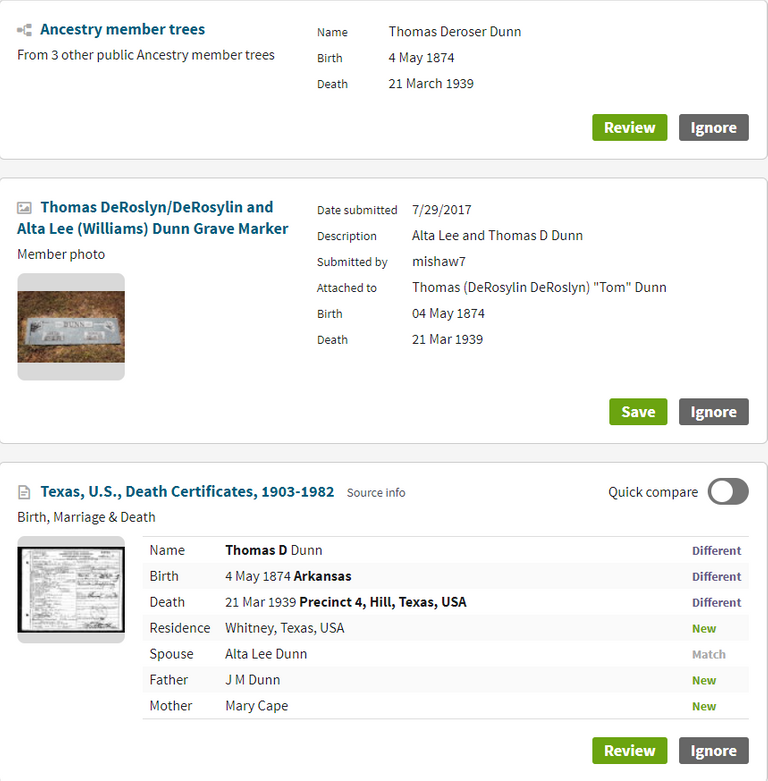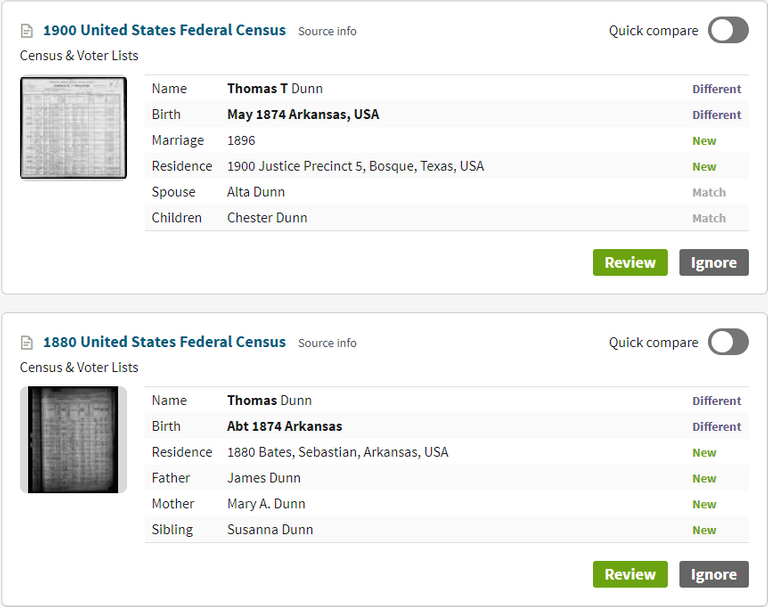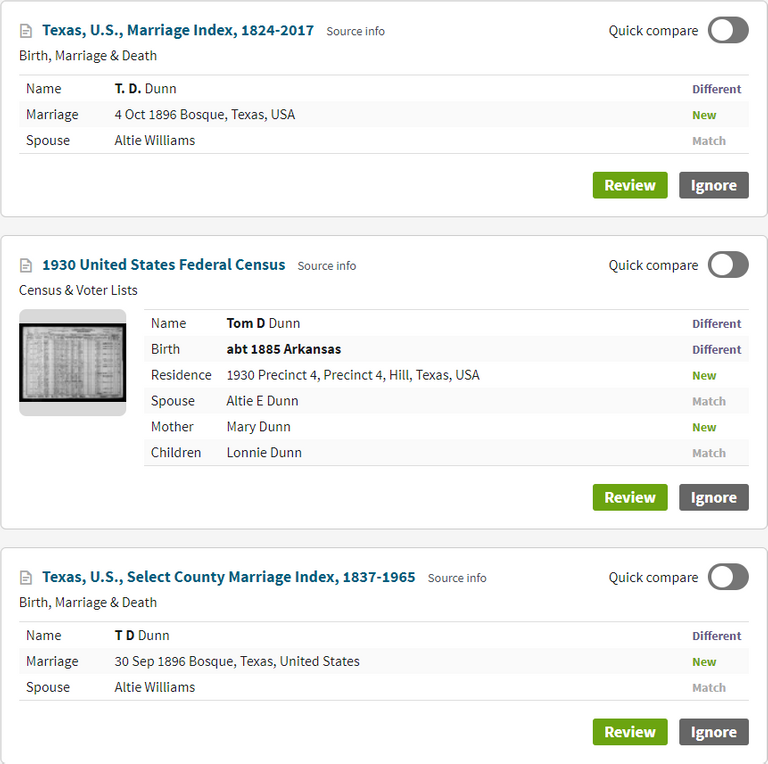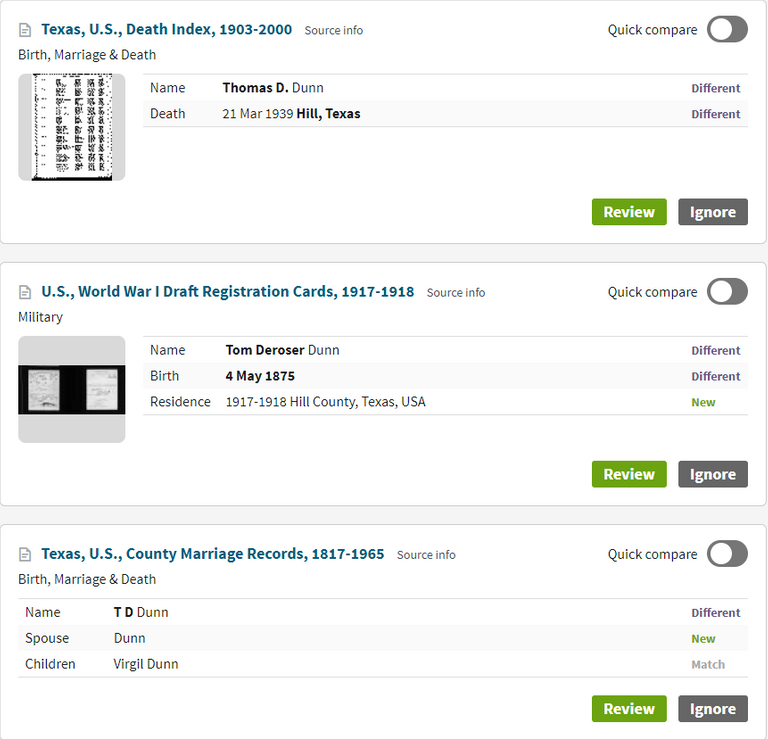 As you can see, there are three different marriage records listed. Unfortunately, there are not images associated with any of them. Also, the last one also includes the name of one of their children, Virgil. Some marriage records include the name of one or both parents of the groom and/or bride. So, this is probably Virgil's marriage record and not Tom & Altie's. After processing this hint, I can confirm that was the case. Lastly, the two remaining marriage records show two different dates. What I have learned about marriage records is that that can contain the date the certificate was requested, the date of the marriage, the date the certificate was filed, or, in the case of published wedding announcements, the date of the publication. Therefore, without the image for either of these hints, we cannot know which date is actually correct. In cases like this, I do not process either hint until I get more (documented with an image) information.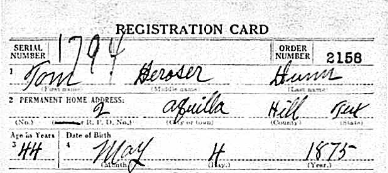 On the other hand, there is an image attached to the draft registration. This is the document I have used in the past to establish his middle name (I figured, short of a birth certificate, if anyone would know what Tom's middle name is, it would be him). As you can see, however, it lists his year of birth as 1875, but every other document I have found says he was born in 1874.

Here is a portion of the birth index that is a part of the list. As you can see in the line that I highlighted, this unnamed child was born on 7/3/1913.

However, We do not have a record of a child born in 1913 to Tom and Altie. However, there is a large enough gap between kids that would allow for the feasibility that this is one of their children. We can be fairly confident that this is the correct Thomas Dunn (even though the middle name is a bit different than what I have in my tree) and the county is correct. Since this is a documented event, I will go ahead and add this child to Tom and Altie and leave the first name field blank.
After I have gone through birth and marriage records and draft cards, I look at death records (again, both for the individual and any children) and obituaries. Often, the obituary hints do not contain the actual image of what was published or the text that it contained. You can get this information, but it requires another upgrade to your Ancestry account. Even though you don't have an image of the article, the hint will show names, dates, and relationships. While this is not as good as reading the actual published data, it is good information to be able to process. And while I am here, I put cemetery headstones in this same category, as well. Like death certificates, the information on a headstone is coming from a person who may or may not have information that is completely accurate.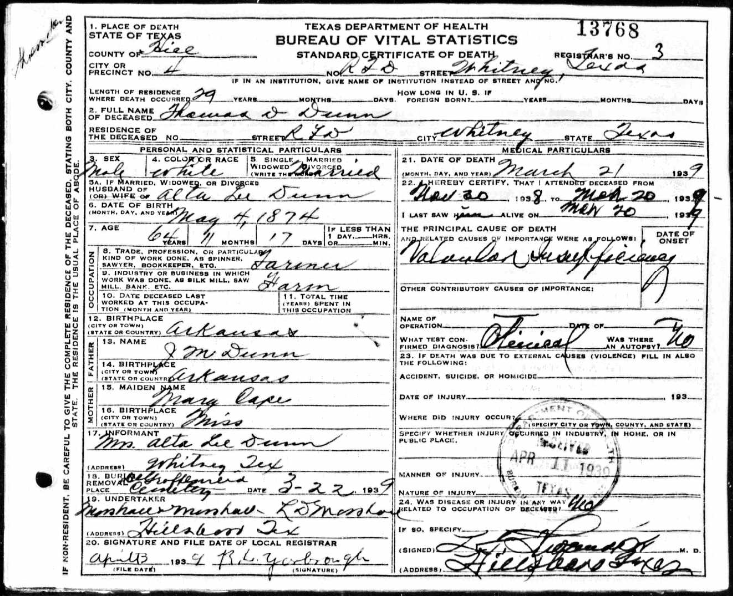 We do have Tom's death certificate. As I indicated before, this is one of the documents that shows his birth date is in 1874. As you can see, death records frequently contain spouse's name, birth date, birth place, death date, death place, occupation, cause of death, and parent's names and birthplaces. Therefore, it is always good if you can find a death certificate, even if it is not as reliable on the information it contains (hopefully, it is close enough to get you some more hints).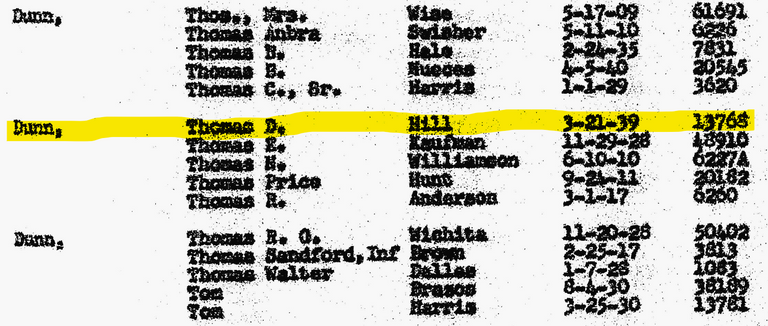 Here is a portion of the death index which will corroborate the date and county of his death (I have highlighted the pertinent information). You will notice there is a Mrs. Thomas Dunn listed as well, but Altie lived past Tom and she did not die in Wise County, Texas, so this is not referring to her.
At this point, the only records that I have not processed of the marriage records we discussed earlier, the photo of their headstone, "Ancestry member trees", and the census records. I am not going to add the marriage records right now because I am going to hold back until I can find more marriage information. Even though I might save the headstone photo to my computer along with my other documents, I don't usually attach to the record in my tree because the photo could get set as the default for that profile and I don't want it showing up in my tree listing. The "Ancestry member trees" show the profile of the person in question (Thomas Deroser Dunn in this instance) of three other members that have some information that is different than mine. This does not mean theirs is right and mine is wrong. Many people will go blindly accepting all of the information from other members that they do not already have without checking it out first. This is how a lot of people can end up with the same wrong information that other people have. Finally, I generally don't add census data right away. Once I get some other data that matches some of what is in the census, then I will import the census data into my tree to add missing information.
Well, I hadn't intended to go into all of this explanation of the various types of documents and how I use them, but as I got into this, I felt like it would be better to touch on this information early in order to get a better feel for the process and so you will understand what I am doing as I skip over steps in future posts.
In summary, I had planned to finish the hints for both sets of Robert Marvin Dunn's parents in this post. However, it took a while to discuss the different document types and I only finished incorporating the hints of Thomas Deroser Dunn. In my next post, I will move on the Alta Lee Williams's hints and possibly do the hints for the parents of Jeraline Boiles. I look forward to climbing higher in the ever expanding branches of my family tree with you next time. As a teaser, I will start looking to incorporate this data into my Family Stories "site" before we get too far up the tree. I want to start adding the information we have just discovered into the site while it is still fresh on our minds. If you have any questions about anything I discussed in this post, please leave me a comment. If you have any suggestions on starting a new tree, feel free to share that information in a comment, as well.
{Next Post: Steps to Researching My Family History - Step 3 - Branching Out (part 2)}
---
Other posts in the series:
Steps to Researching My Family History - Introduction
Steps to Researching My Family History - Step 1 - Building the Base
Steps to Researching My Family History - Step 2 - Expanding the Foundation
---
---