Thankful For Veterans (#MoT - Day #11)
I feel it would be inappropriate, on this day of recognizing veterans, for my not to do likewise for the veterans in my family in this Month of Thanksgiving. I'm sure you have some in your family, as well. Honor them. Thank them. Be thankful for them.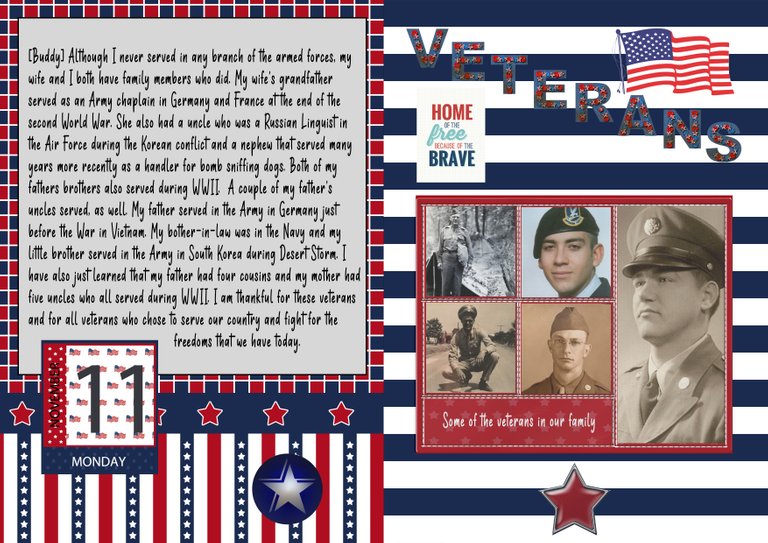 Although I never served in any branch of the armed forces, my wife and I both have family members who did. My wife's grandfather served as an Army chaplain in Germany and France at the end of the second World War. She also had a uncle who was a Russian Linguist in the Air Force during the Korean conflict and a nephew that served many years more recently as a handler for bomb sniffing dogs. Both of my fathers brothers also served during WWII. A couple of my father's uncles served, as well. My father served in the Army in Germany just before the War in Vietnam. My bother-in-law was in the Navy and my little brother served in the Army in South Korea during Desert Storm. I have also just learned that my father had four cousins and my mother had five uncles who all served during WWII.. I am thankful for these veterans and for all veterans who chose to serve our country and fight for the freedoms that we have today.
Veterans gave a part of their lives, a part of themselves, in order to "secure the blessing of liberty to ourselves and our posterity". This fact is much appreciated by me and I am proud to be associated with the ones in my family.
---
---