How does Christmas Grinch spend Christmas Eve?
Saturday, 24th of December 2022
It's xmas eve and although for years now I have been insisting on not celebrating xmas, my friends insist on me joining their celebrations. My only contribution is the 4 hrs drive, 2 bags of shopping and my beautiful person 😁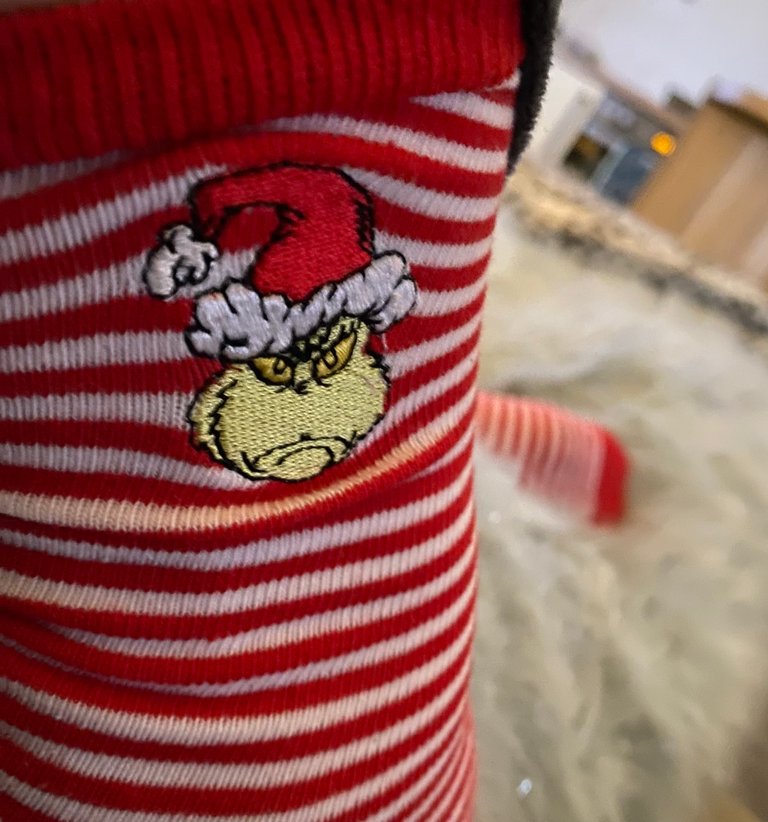 So here is me… a Christmas Grinch, with my grinchy socks as a statement, driving around the tiny village with my friend and her daughters, singing Christmas songs and deliver gifts to daughters friends. Just like you do.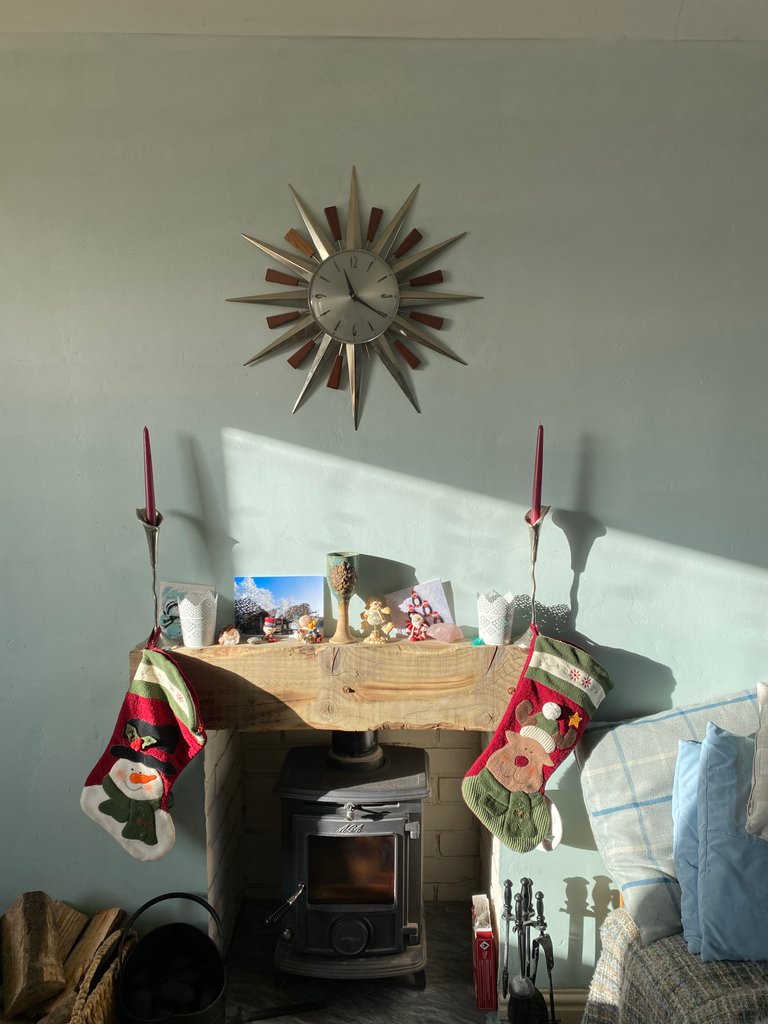 The only thing I did before Christmas in my house is cleaning. I tidied up my house and did some washing, so when I come back home on Boxing Day it feels good to be in a clean space and my clothes are ready for a salsa party.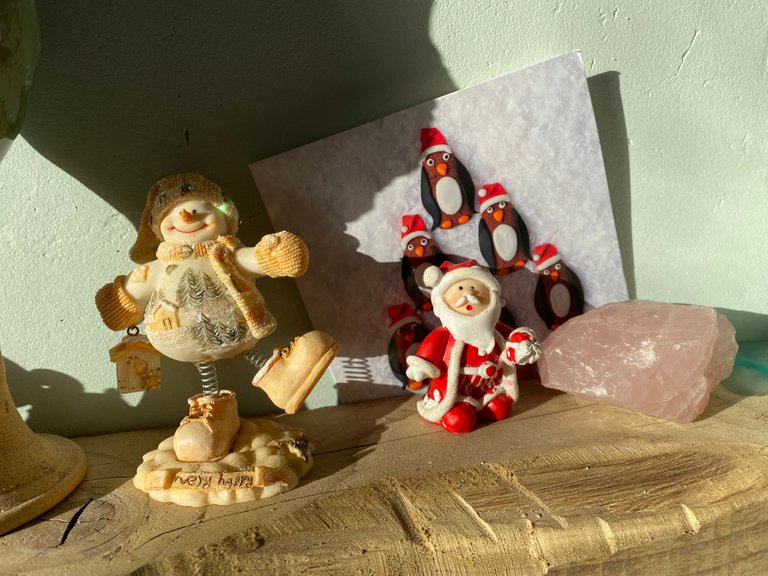 My friend however went all out with her Christmas decor. She has a good taste in picking just the right things, I must give it to her. Everything fits nicely together and creates a lovely, cosy ambiance and a perfect place for a family of 6 (including myself 😁).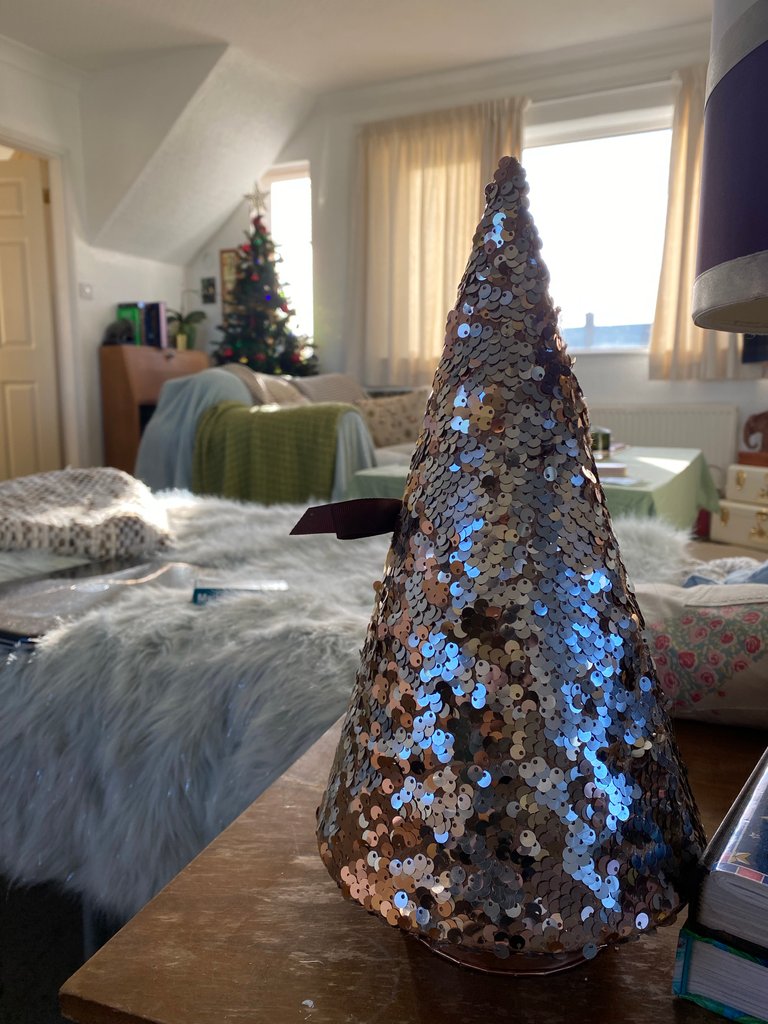 Since the house is full, C created a perfect sleeping place for me. I mean, most days I fall asleep on the sofa in my living room anyway, so this feels very homely for me. It's also a perfect place to chill during the day, with Baileys coffee on the bed-site table, decorated by a tiny, shiny xmas tree and my laptop on my laps, writing, playing and chatting with everyone.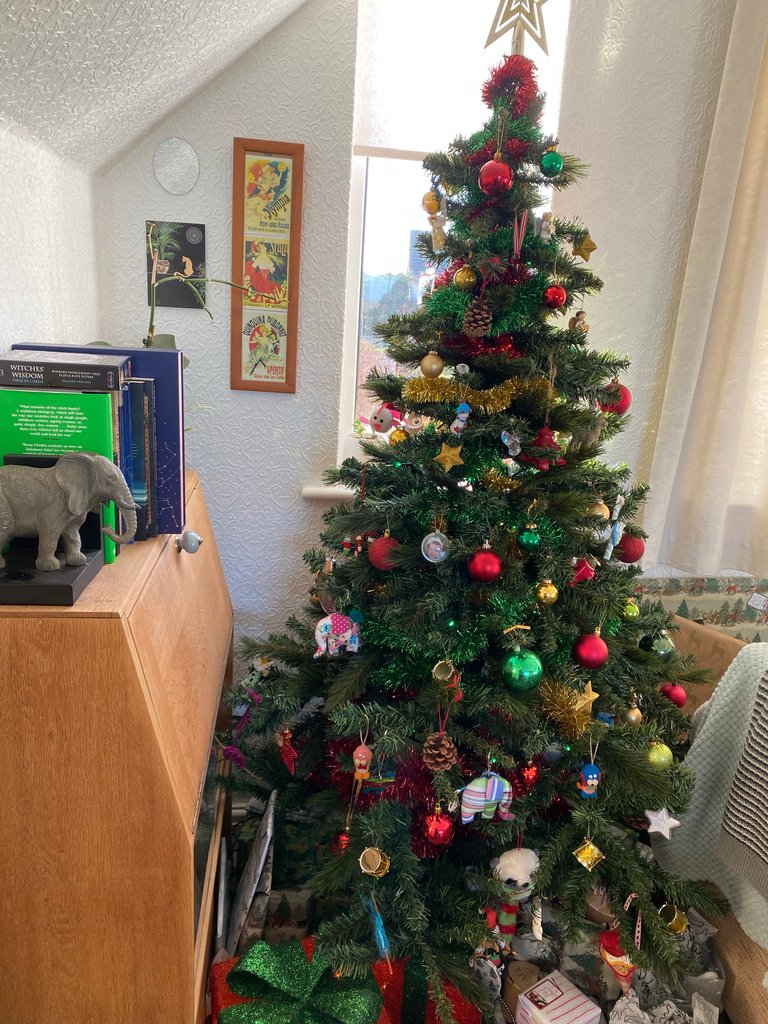 The Christmas tree is lovely and very personal. It shows the family story in a cute way.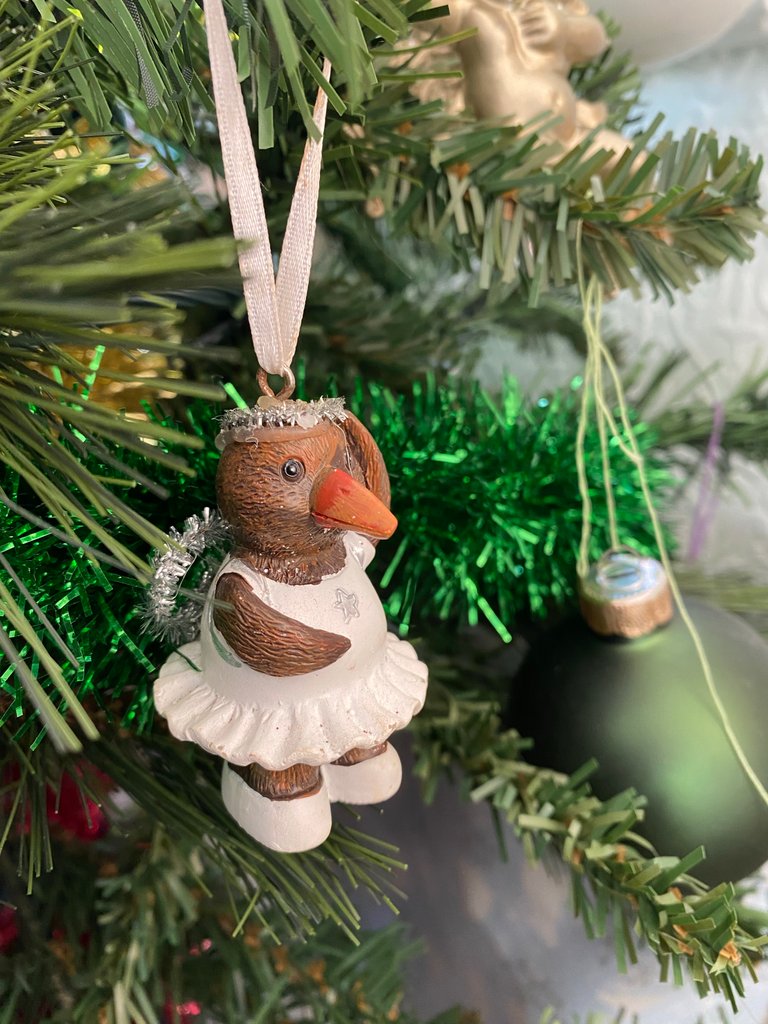 There are Christmas decorations with the names of the kids, probably each one with its own little story to it.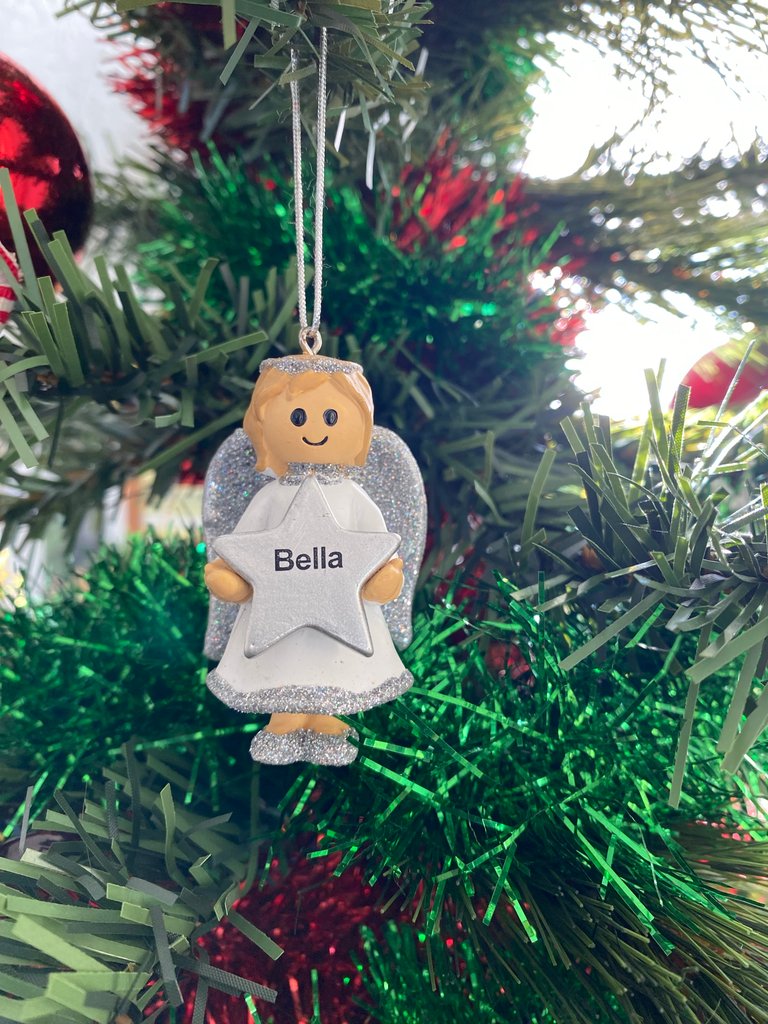 Forgive me the quality of this one below 👇 I saw a sunshine sneaking through and got carried away trying to chase the light. I needed a little rainbow addition to my day.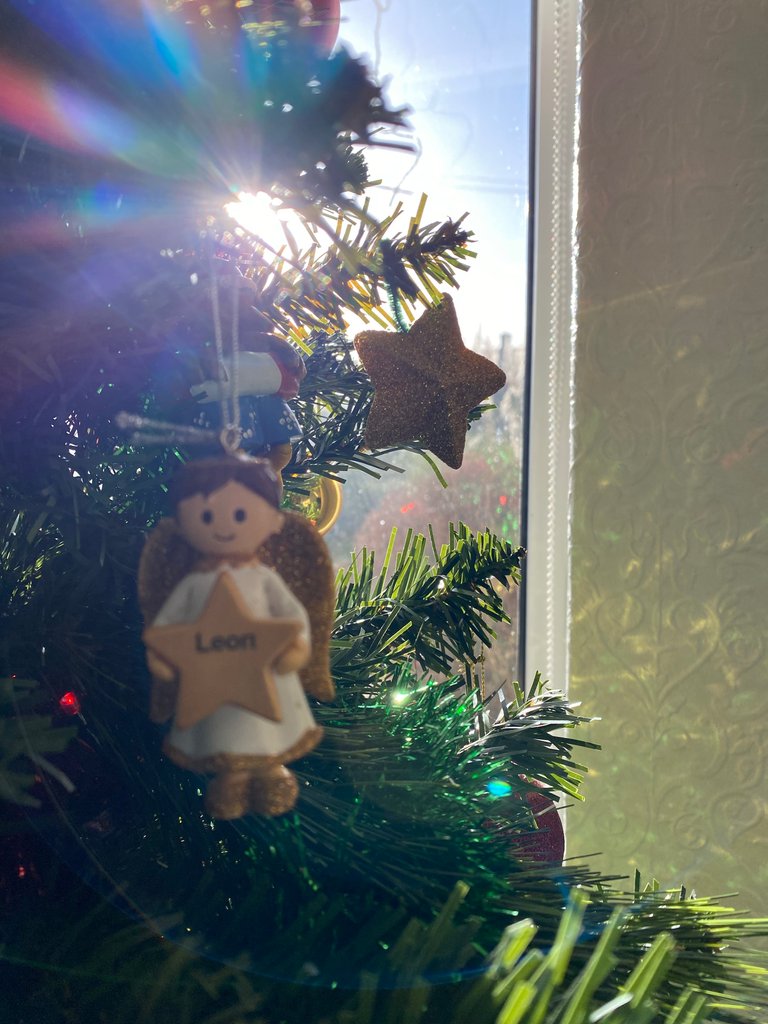 My personal favourite is this blue bauble. How predictable am I? Always drawn to everything blue 💙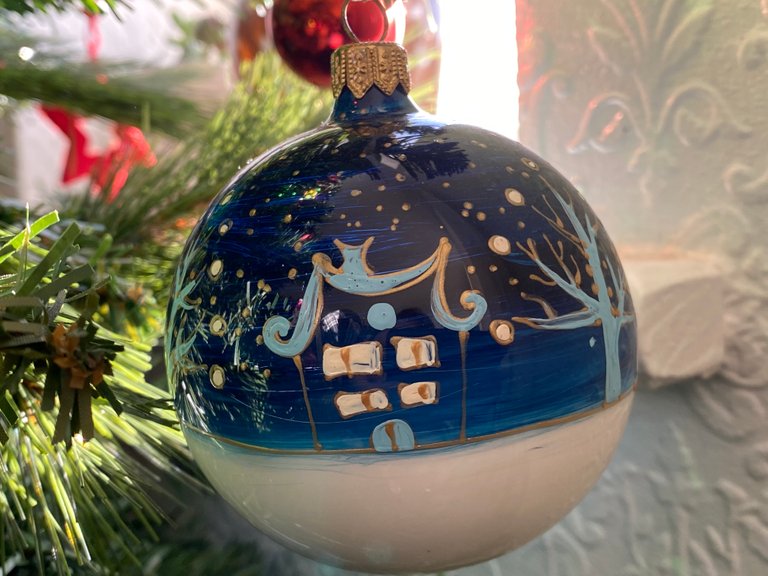 Of course, there are plenty of Christmas gifts for everyone. That's one thing I didn't participate in. Ernesto just wouldn't have it.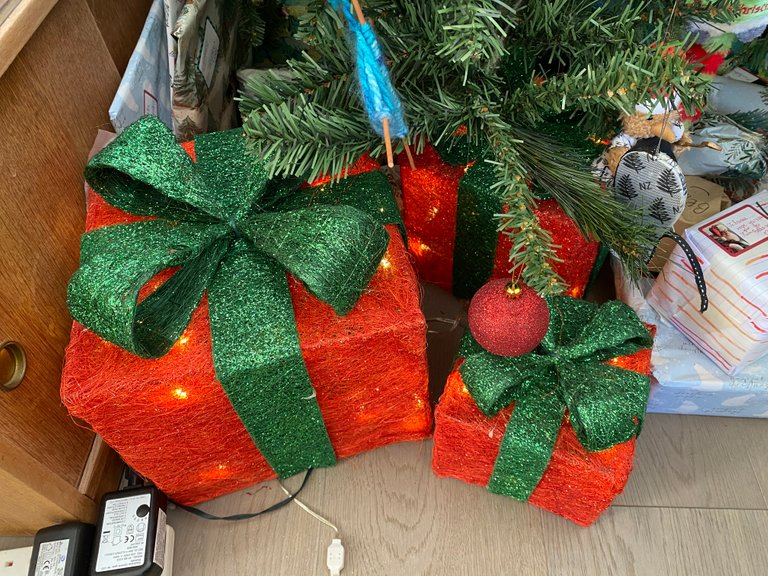 I did get a cute tarot colouring book for Bela, which I asked my friend to give her last week, but of course she didn't. She wrapped it up and singed - Love, Monika! 🙈 When Bela arrived home today she was excited and asked me if it's true that I have a Christmas gift for her. So I explained it wasn't meant for Christmas and I asked her not to shout out 'I have a gift from Monika!' tomorrow morning, so others don't feel neglected.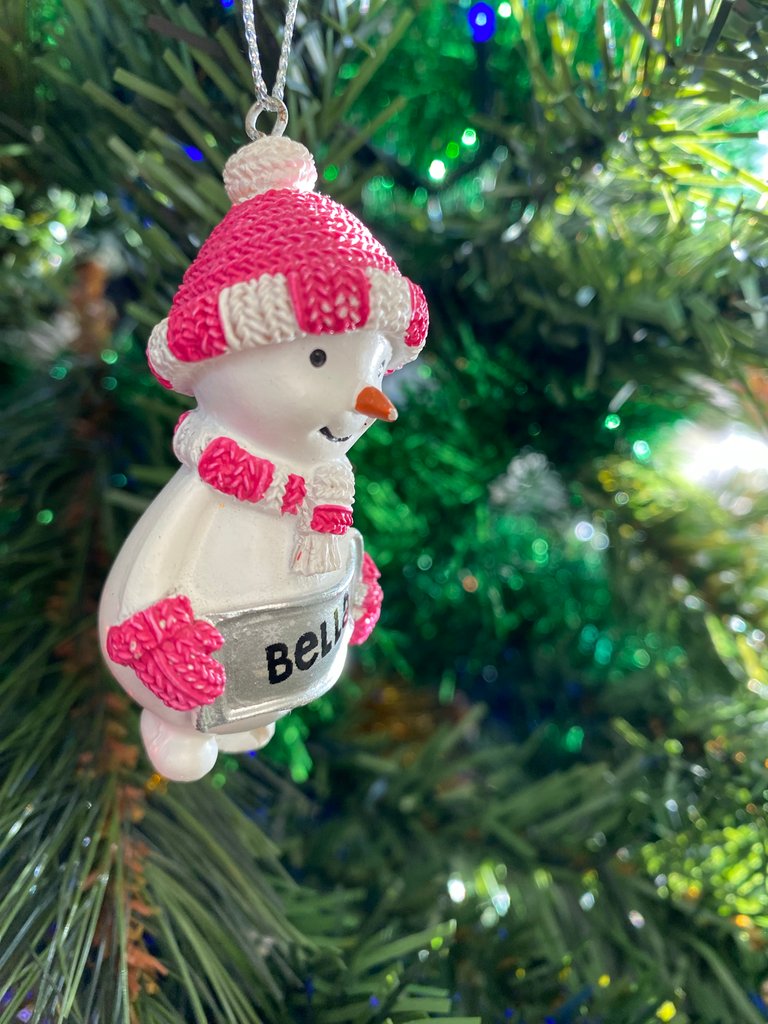 The Christmas eve day was a very sunny and rather warm one. I spent a lot of time outside smoking, drinking coffee, playing with Kylo and of course taking lots of pictures of the garden and surroundings for my next article. Kylo spends most of the days outside these days. He's incontinent, which is a bit troublesome, plus there is a new cat in the house, which he'd happily eat alive 😂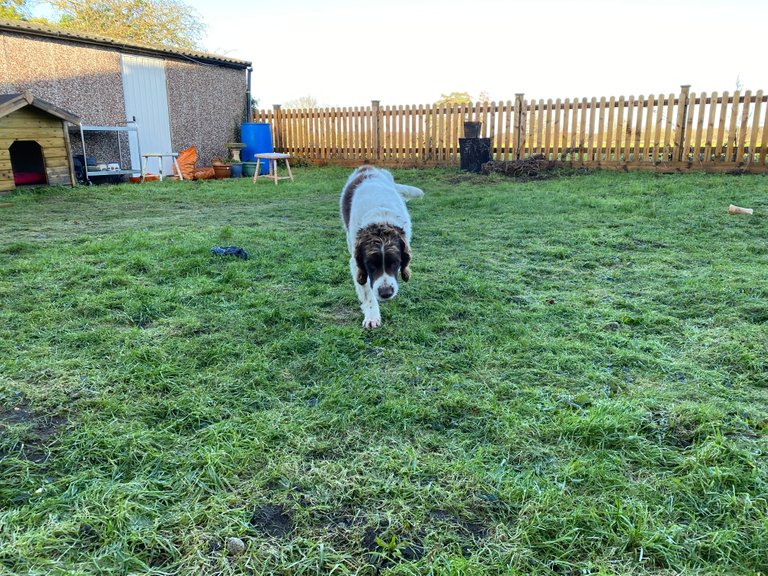 In the evening he's allowed back indoors and he sleeps downstairs, while baby cat - Luna - has the run of upstairs. I mean, I'd also like to eat the cat if it took my Number 1 pet place away from me.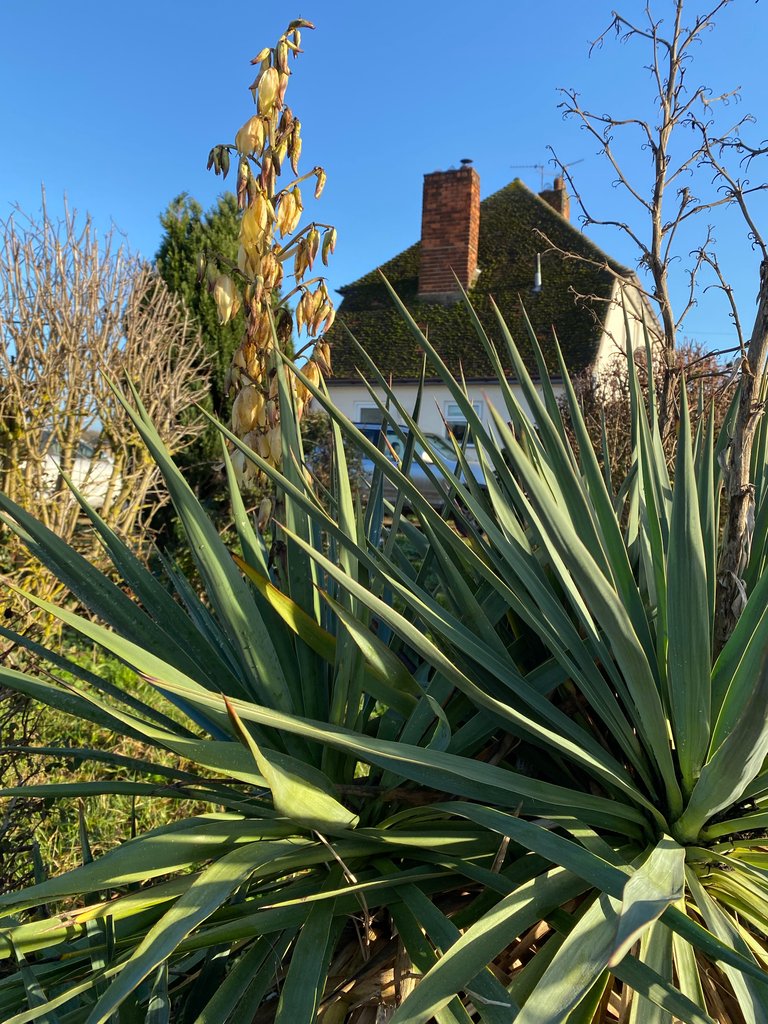 On the picture above I give you a sneaky peak of what's to come… well, whenever I find a moment to write about it. Surely not today, as I'm already pushing it by typing this on my phone, while everyone else is watching a movie or chatting.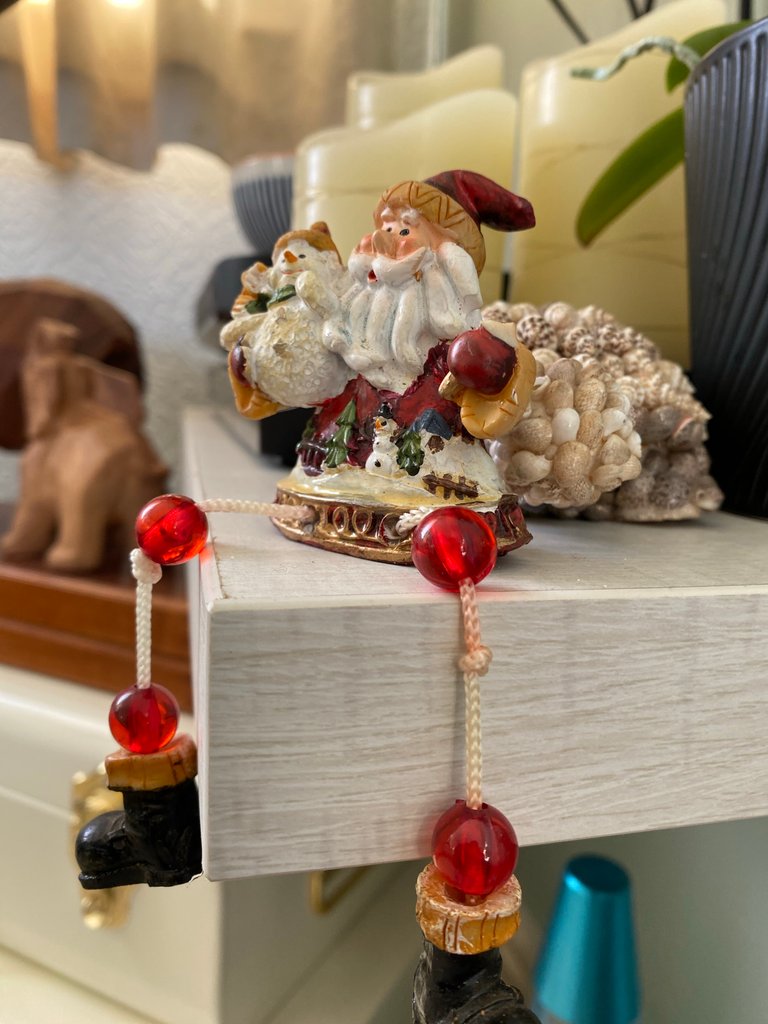 Let's get back inside though. There are still a few cute pieces I want to show you all. Firstly, let me show you the view from her kitchen (and all bedrooms) windows. Such a serene looking scene 🥰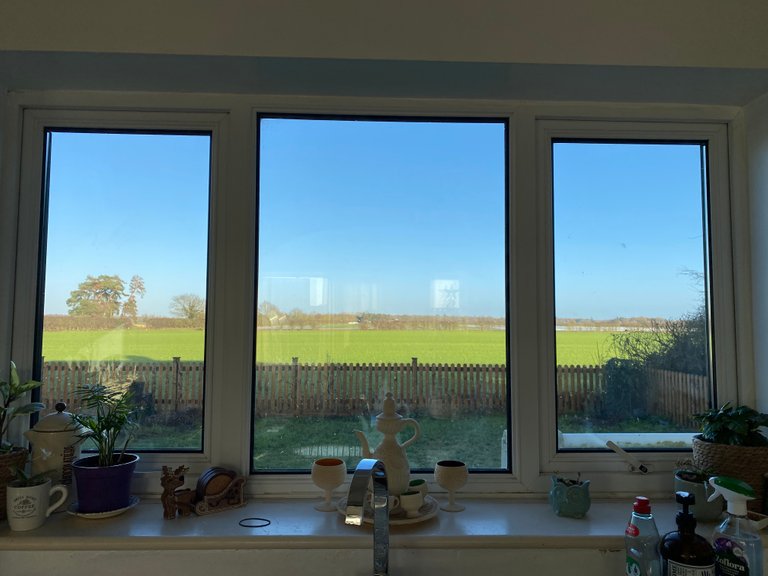 C really has a good eye for stylish decor. There is none of this in my house, but if there were, they'd be very similar to hers. Interesting pieces that you can enjoy and admire the detail and textures.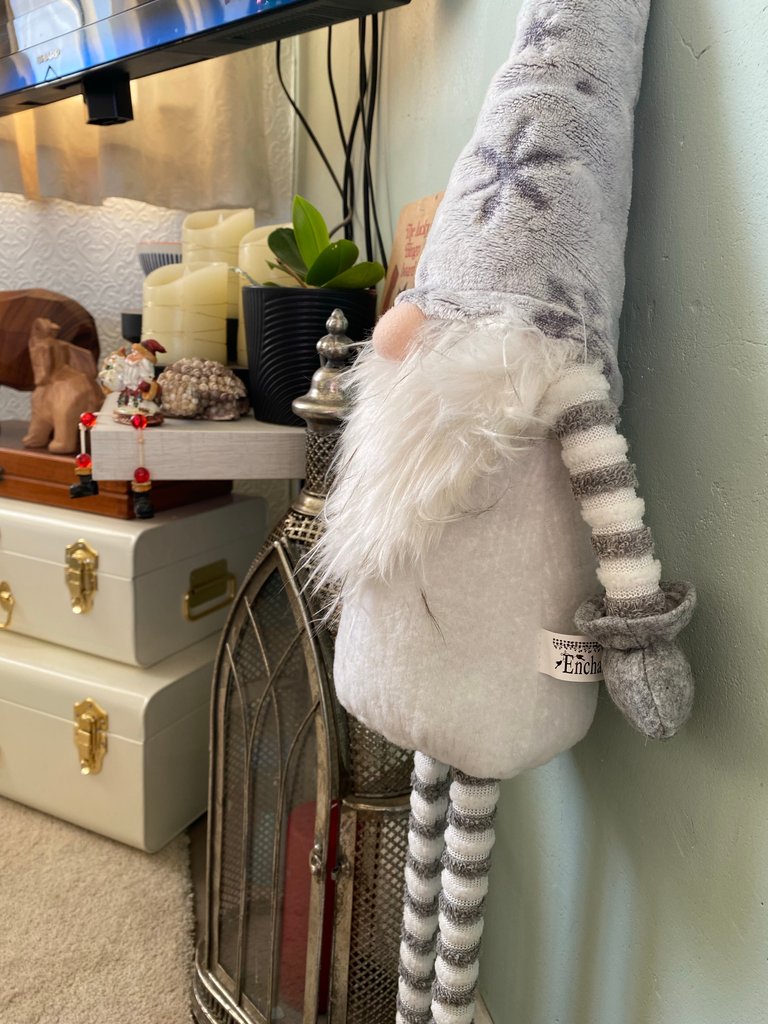 Look at this funky guy above 👆 He looks so cute, guarding the fireplace on his overly long legs. These kind of decorations seem to be in fashion these days. My other friend also has couple of them in her place.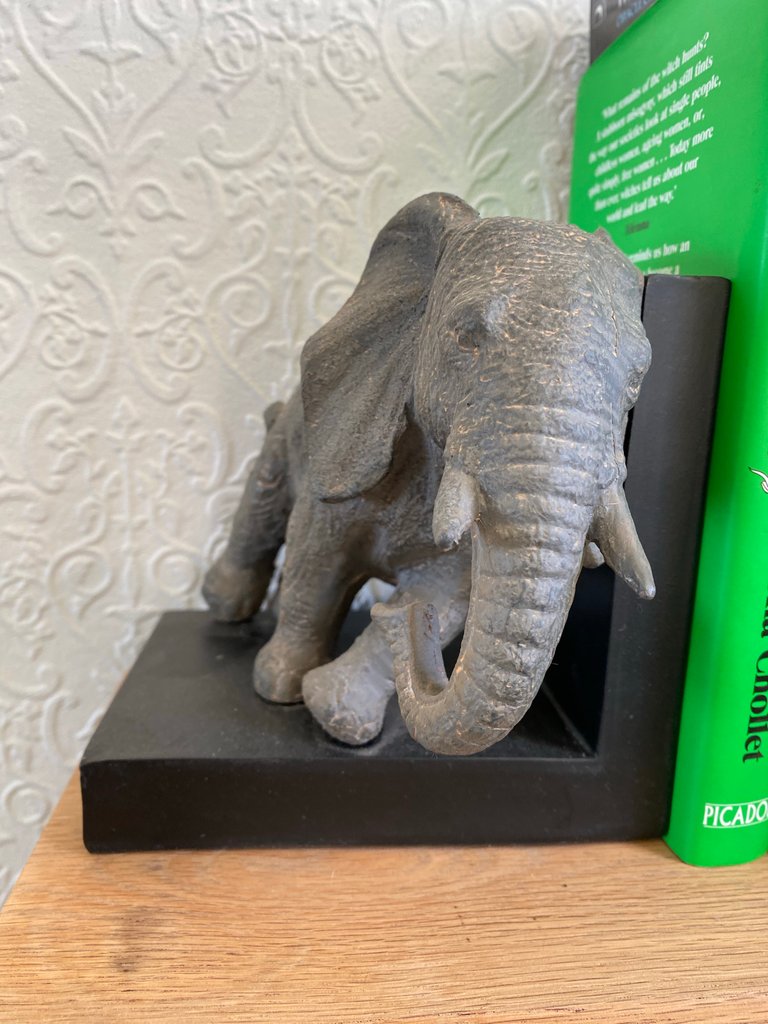 Those two elephants are not exactly Christmassy, just another interesting decor. I very much love all the elephants. I used to collect them back in a day, but the condition was that they have to have their trunk facing upwards. For luck apparently!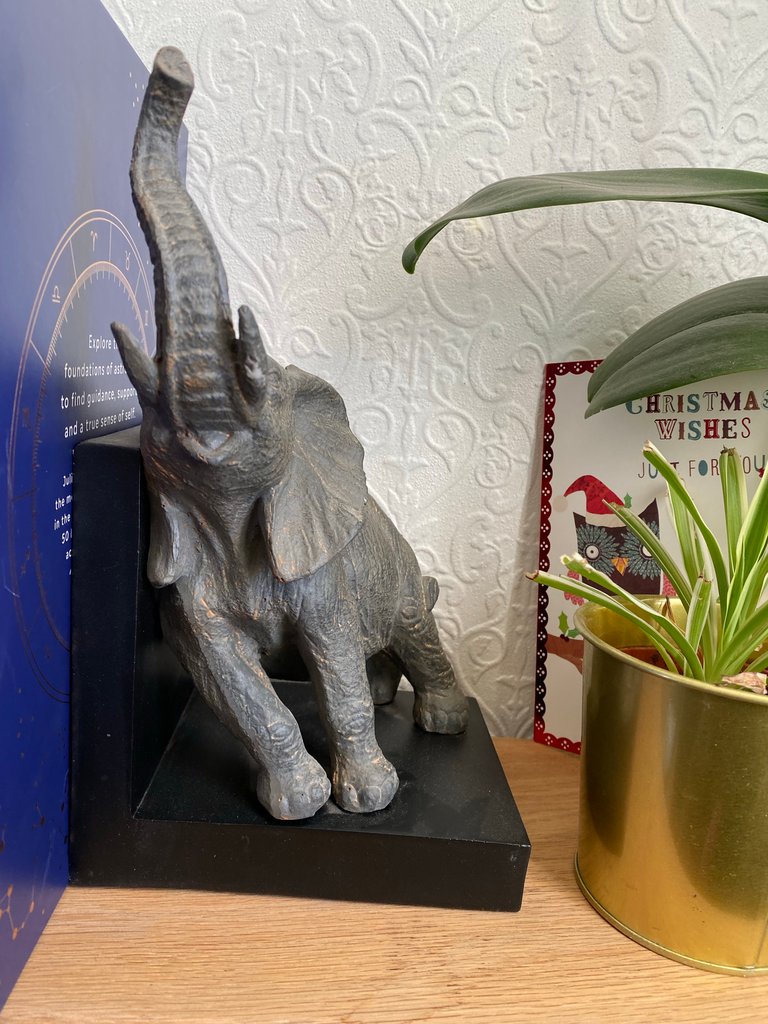 I was thinking about this while cleaning an elephant pot in my house on Thursday. My only elephant in the house has a downward facing trunk and since I no longer believe in luck, I love it to bits. I found it on the carboot sale some years ago. Now he is a home for my Brassia orchid. While I was cleaning up the old leaves from her I noticed around 4 or 5 new p/bulbs. Maybe I'll even see some flowers on her again next year?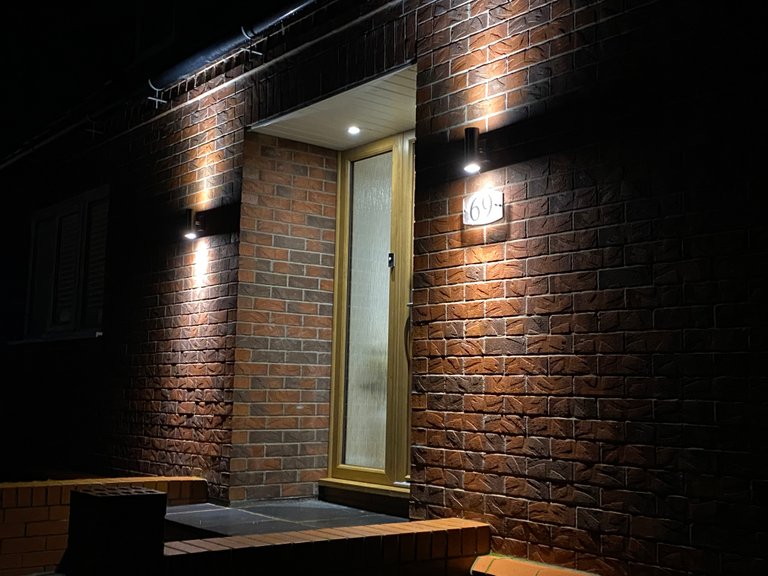 Once we delivered all the gifts and everyone had a shower, we got ready and left to C's parents house. It's a huge house with not one but 3 entrances. You can literally get lost there, but you'll still arrive outside no matter which direction you pick. Look at the entrance of the house number 69. Even their 15 years old grandson thought they have a wicked sense of humour.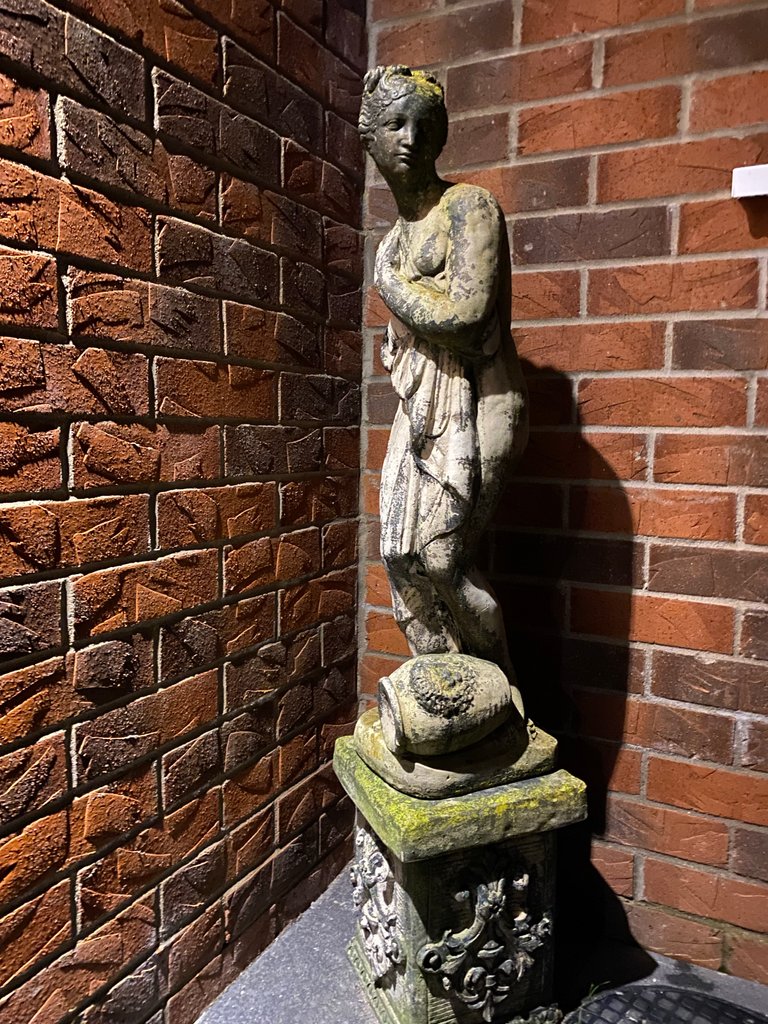 First couple smoke breaks I spent trying to type a few more sentences of this article, while the shy lady above was trying cover herself from my curious eyes and camera.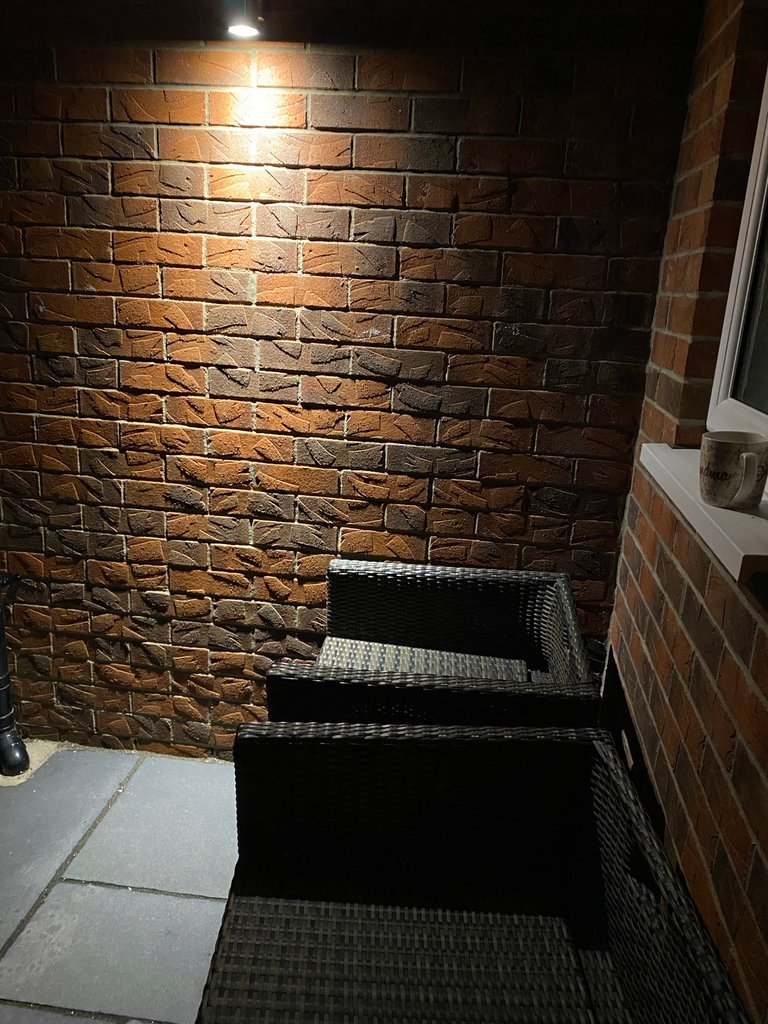 Next time I was given a nicer spot with light and sitting area. Like C, her mum also has a very good taste. There is never anything tacky around. Everything shows a great taste and attention to detail. N is a proper Virgo.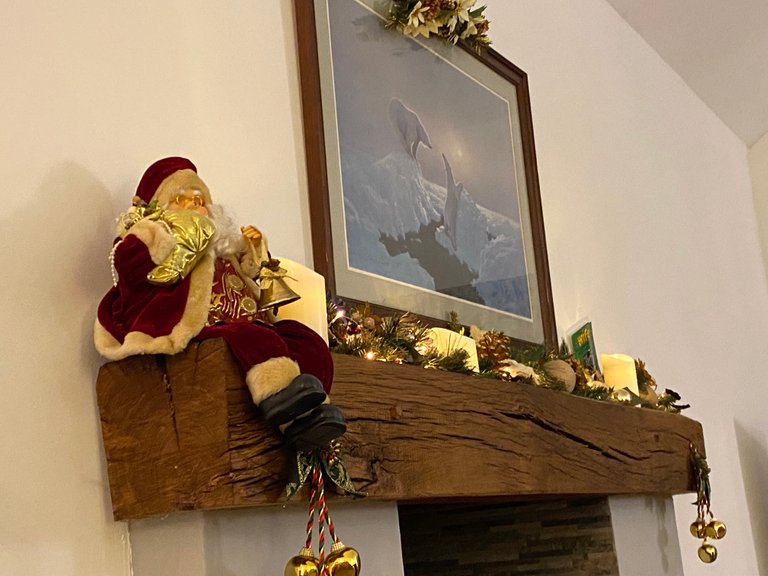 I had my half an hour of enjoying a hot spot by the fireplace on a super comfy recliner sofa.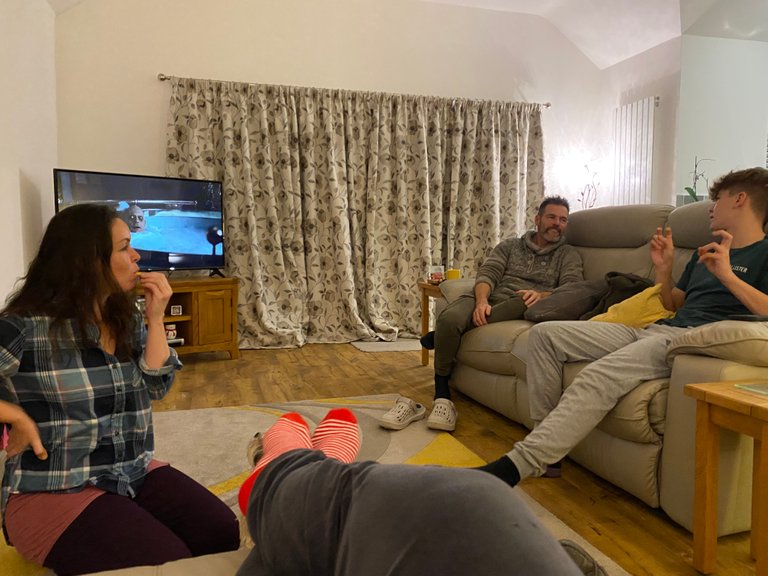 Once all 5 kids, or shall I say teens, finished their food and I went outside to the next smoke break I have lost my spot, so I took the one that gave me a perfect opportunity for taking pictures. Right in front of the fireplace, on the comfy carpet.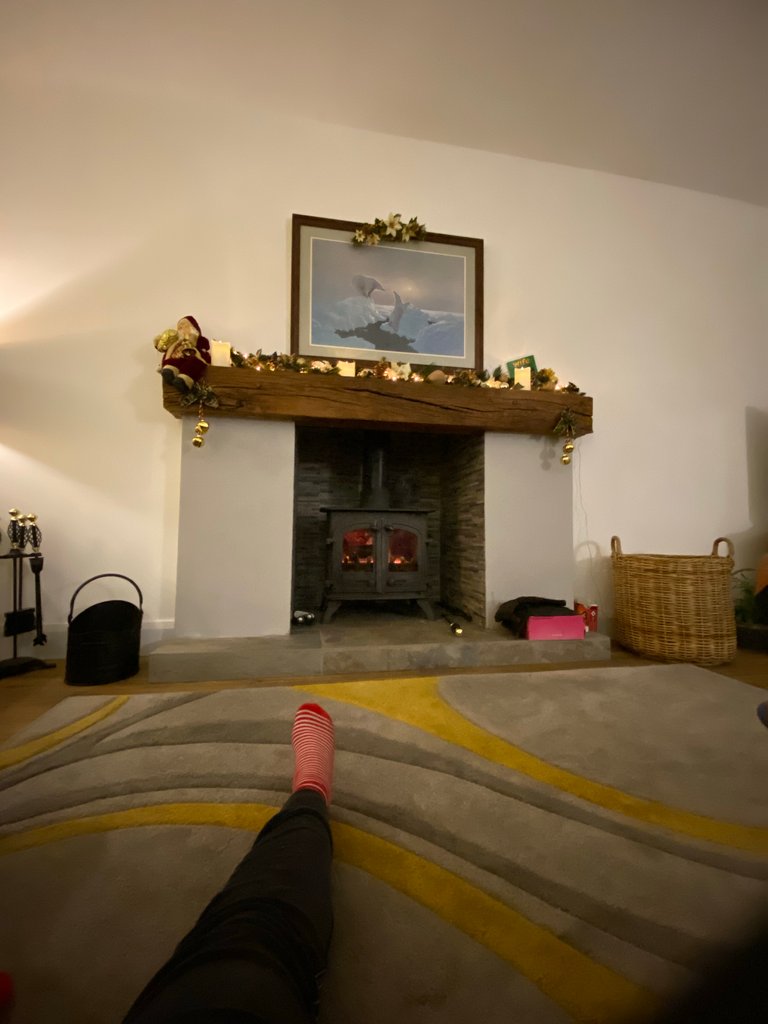 As you can see I didn't make much effort and didn't dress to impress 😂 The leggins that I packed for this occasion turn out to be too tight, as I gained a few pounds in the last weeks, so my tracksuit bottoms had to replace them 😂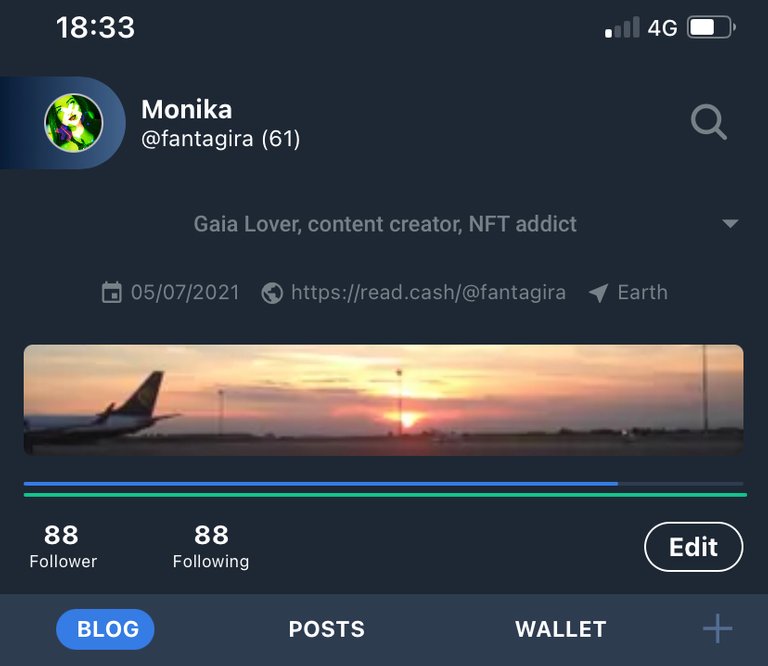 Before I leave to enjoy the rest of my evening with my friends, let me share my tiny Christmas wish that I've made this morning. As I noticed that my number of people I follow is a nice 88, while my followers were at 82. So I made a wish to have 4 times 8 for the Christmas Day and as I got busy interacting with people, I was surprised to see that my wish came true already this evening 😍
Looks like even Christmas Grinch gets one wish granted during the magical Christmas Eve 🎄💙


Until next time 💙
---
---